Disclosure: I may receive commissions for purchases made through links in this post.
Let me ask you a question, did you know how to cook when you left home?
I don't mean opening cans and dumping them into a pot, although good job if you did. I mean real cooking. The kind that "sticks to your ribs" as my grandparents like to say.
I can say I did know how to cook, not just follow a recipe, thanks to the hard work of my mom.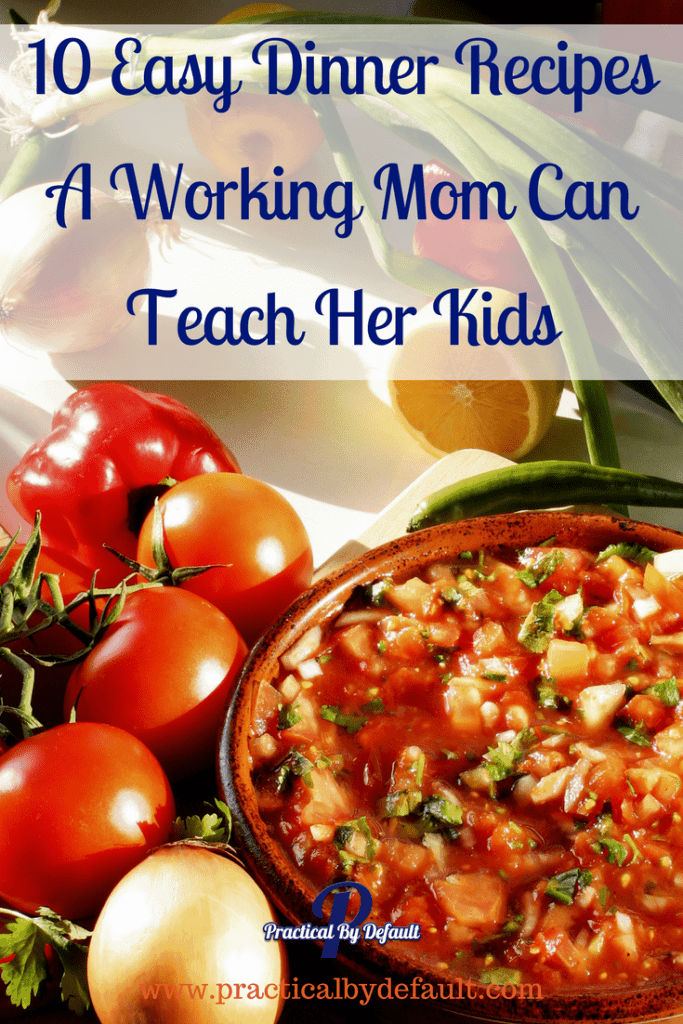 One of my goals for my children is to prepare them for life. I've been working on teaching them to fend for themselves in the kitchen over the last few months and honestly, they are doing really great.
My kids are both in double digits now (13 and 15), and I'm happy to say that I can count on them to make their own breakfast on a daily base. They also make most of their own lunches and snacks. I've taught them basic cooking skills. They can use the stove and the oven. I trust them with the kitchen knives. Or I will after this summer course 🙂 
Therefore we are ready to move on to the dinner menu.
I started collecting recipes I want to teach them to make. I scoured the internet in search. Oh who am I kidding? Pinterest!
These recipes had to fit criteria to be deemed worthy to make the list:
Healthy
Affordable
Easy to follow
Hearty, they are teenagers after all 😉
10 Easy Dinner Recipes to Teach Your Kids:
This recipe uses ingredients found locally. We will probably be skipping the hot sauce since both my kids and I are wimps when it comes to spice. Takes about 20 minutes total for 4 patties. There are 4 of us in the house so they get to work on a few math skills of doubling the recipe as well. This served with a side dish of choice would make a great, healthy, quick dinner.
When talking about meals they wanted to learn to make stir fry was at the top of their list. I was happy to find this easy 30 minute meal. She includes a video for visual learners. My daughter will be happy to see she mentions those who dislike mushrooms can add more broccoli. The only ingredient I was slightly worried about was oyster sauce but I found it in my local store. Yay!
I really love my slow cooker recipe but the kids wanted to make one on the stove top. I chose this one for the reason it is fast and simple. There is also a list of changes others made mentioned if the children want to experiment.
10 easy dinner recipes to get your kids cooking!
Click To Tweet
4. Homemade Pizza
A number one requested Friday night meal therefore a must! I chose Quick and Easy Pizza Dough from Belly Full .
My kids love "taco anything" so I saved this Taco Pizza Recipe from Living Well Mom. We will be using the homemade pizza dough linked above instead of the crescent rolls in the recipe. She also mentioned you can make taco seasoning from scratch instead of using the prepackaged.
This looks great and easy, of course 1 cup of pasta isn't going to cut it with these guys but let the math skills begin. I hope they omit the peas but my kids love peas so I highly doubt it. The adults however all them green snot balls. (ha!)
Chinese food is a favorite here and this looks great, easy and yummy. Total cooking time is 20 minutes.
Soup is often created for lunch but this makes a great dinner meal on chilly days. My children already make this bread .  Paired together it will be awesome.  I do not have an immersion hand blender but we do have a food processor. This looks amazing.
I love lasagna and the kids say mine is the best. I'll take it. They made it with my help several times but never on their own completely. It is simple and delicious.

The ingredient list is long on this one but easy to get. The recipe is great and has peas! So the kids will be thrilled. I chose this one as casseroles to me are just one of those meals you should learn to make.
I really wanted them to learn to make a one pan recipe in the oven, this one fits the bill perfectly. Takes about 45 minutes and the recipe comes with great instructions including a step by step video.
There you have it 10 easy dinner recipes you can teach your kids!
Teaching our kids to cook builds confidence, practical skills, and sets them up for life. I use these steps to teach my children but if you don't have the time or desire to teach them…Kids Cook Real Food online e-course is perfect for you. Learn how to teach your kids to cook without stress and be sure to check out the curriculum map. 
Other Resources you might be interested in: