Disclosure: I may receive commissions for purchases made through links in this post.
Inside you will find all the recipes you need to make delicious gluten-free glazed donuts. So easy your kids can make them. Mine did! Yum! 
One of the foods I miss the most when I went gluten-free is donuts. Donuts filled with REAL whipped cream.
I *may* have been whining about it.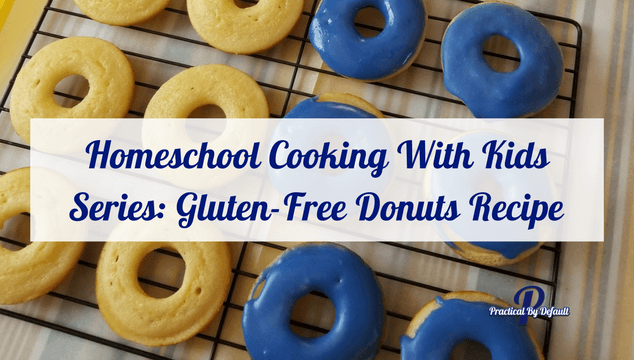 When my daughter spotted this Wilton Donut Pan at Michaels on sale, she asked her dad to take her in so she could buy it and make me some donuts.
Isn't she the sweetest?
These donuts are best served with coffee for breakfast 😉
They are also great swiped frozen from the freezer. I've yet to wait until they have defrosted but if I ever wait, I'll let you know how they taste!
My daughter has really grown in her self-confidence in baking. This is her 3rd recipe for tackling gluten-free baking.
Not including the Gluten-Free Chocolate Chip Cheesecake Cookies, she helped me with.
We've been working hard to find something she can call her own and I am proud to say I have a feeling baking just might be it.
By the way, I've been using two tools to help her overcome her self-doubts and build her up.
The Big Life Journal has really helped her open up and have great positive conversations. You can read how I use that with her here.
The other is the Kids Cook Real Food Classes. Giving your kids the skills they need even when you DON'T have them yourself is vital. Read our personal experiences with that here.
Overcoming Obstacles
She was looking for specific requirements in her recipe for donuts.
There are so many gluten free recipes out there that call for expensive flours or call for a ton of ingredients.
And the second was she wanted to find a "baked" donut not fried.
She found this recipe snag it here: Gluten-free Vanilla Birthday Cake Donuts. This recipe fulfilled both of her requirements.
Please always double check your ingredients for gluten. It likes to hide! I am in Canada my products may have different ingredients.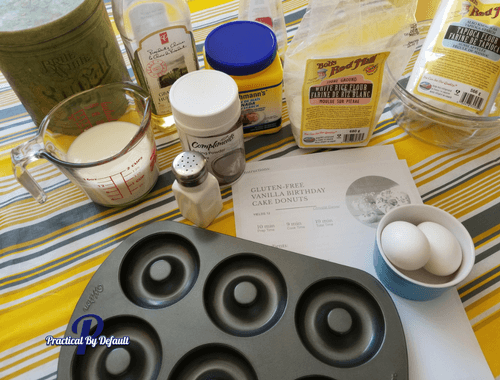 3 Ingredient Gluten Free Flour Mix:
She modified the recipe for Gluten Free Flour
Here are her changes:
Note: This is an all-purpose blend and will yield about 2 cups of flour which is what you need for these donuts.
What you need: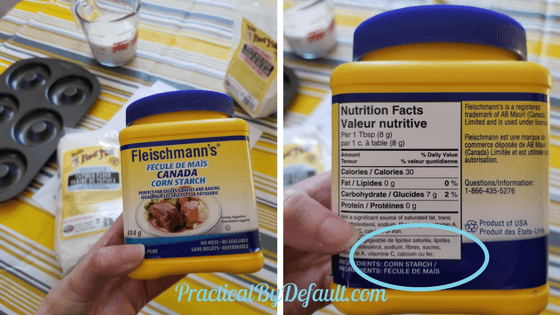 What you do:
Mix the ingredients into a bowl and whisk to combine.
⇒Note: If you decide not to make these donuts, although I can't figure out why not, you can store in an airtight container until ready to use. Just give it a shake before you use it.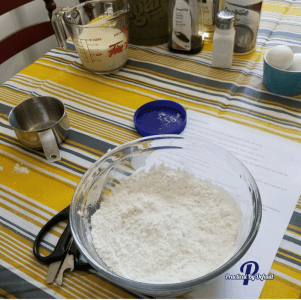 How To Make Buttermilk:
The recipe called for buttermilk which we never have.
But it is so easy to make your own.
All you need is two ingredients! You can see this one pictured in the photos above.
What you need:
Just shy ¾ cup of white whole milk
1 tbsp of white vinegar or lemon juice
What you do:
Mix the two ingredients together in a glass measuring cup and set aside for at least 5 minutes or more. You can use this in any recipe that calls for buttermilk!
Making Donuts + Following Directions:
Gather all your ingredients together, including your homemade gluten-free flour and buttermilk.
She says to follow the recipe and then fill your baking pan with batter. Make sure you grease your pan well, you don't want the donuts sticking.
She used two spoons to get the batter into the pan. She found her batter was not as thick as it sounded in the original recipe.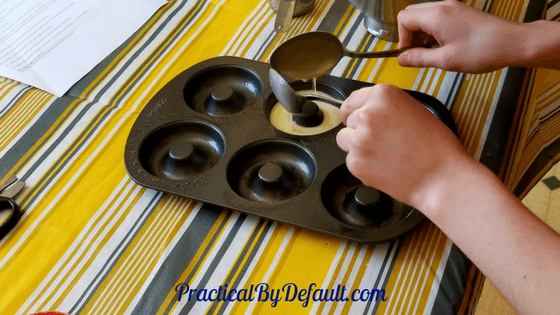 She found that annoying as she followed the recipe. She hates it when I don't follow a recipe or measure, remember when she kicked me out of the kitchen in these gluten-free butter pecan tarts? Yeah. That. 
Also, if you decide to use a different donut pan instead of the Wilton Donut Pan she used you will get less donuts! She ended up with 24 regular sized donuts.
Bake until golden.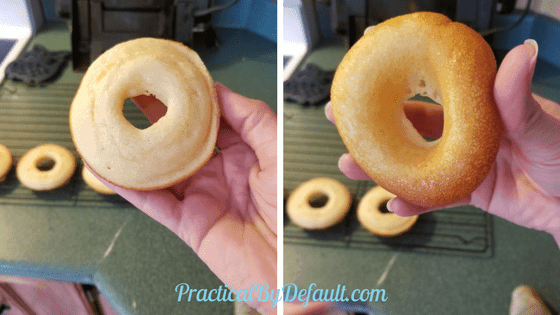 Let cool on the rack and make your glaze.
How To Make Donut Glaze:
She made two colors blue and green.
For the blue she stuck to the recipe and found the glaze set before you were done making it too difficult to use.
She changed the recipe up for the green color. She asked me to share her changes to the glaze for the second color as these small adjustments made the glaze shiny and it didn't set as quickly.
Here is the recipe with changes:
This will make enough for 24 regular sized donuts.
What you need:
2 1/2 cup of powdered sugar
4 tbsp whole milk
Food coloring (optional)
What you do:
Mix the powdered sugar and milk together. You can use a hand mixer or whisk. Mix until smooth.
If you are adding color do so now. She decided on two colors. I recently bought her the Wilton Color Right Performance Color System. With it comes this great chart that shows how to blend the colors.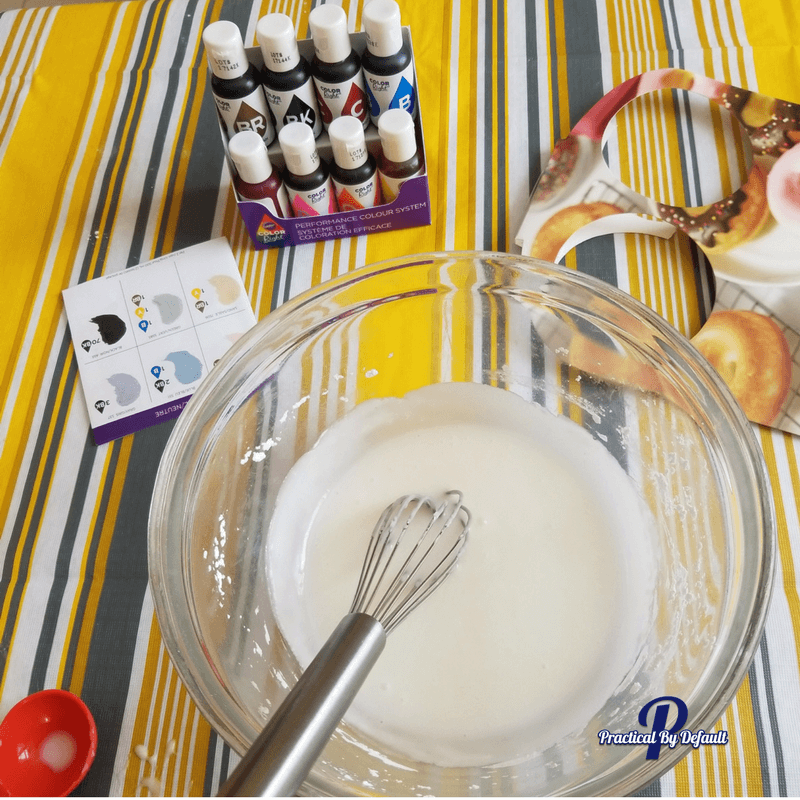 The problem is it is designed for buttercream not glaze which resulted in the colors being a bit off. You can adjust accordingly.
Add your drops and whisk well to mix.
Set up your drying racks with wax paper underneath for easy cleanup.
Dip your donut and place carefully on the rack to dry. You do not need to wait long for them to set.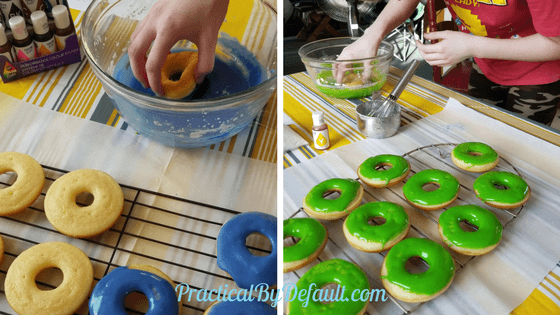 Lastly, eat!
I hope you enjoyed visiting our kitchen and seeing that you CAN make gluten free glazed donuts at home.
These were so good. She has an entire list of baked goods to make but I've already got my next "donuts" idea picked out. Dipped in melted chocolate and whipping cream! Doesn't that sound delicious?
How would you top your donut? I'd love to know!
Take care,
Jen
PS. If you want other gluten-free recipes check out my daughters Gluten-Free Mini Cheesecake Recipe! So good!  Or my own Gluten-Free Chocolate Chip Cheesecake Cookies!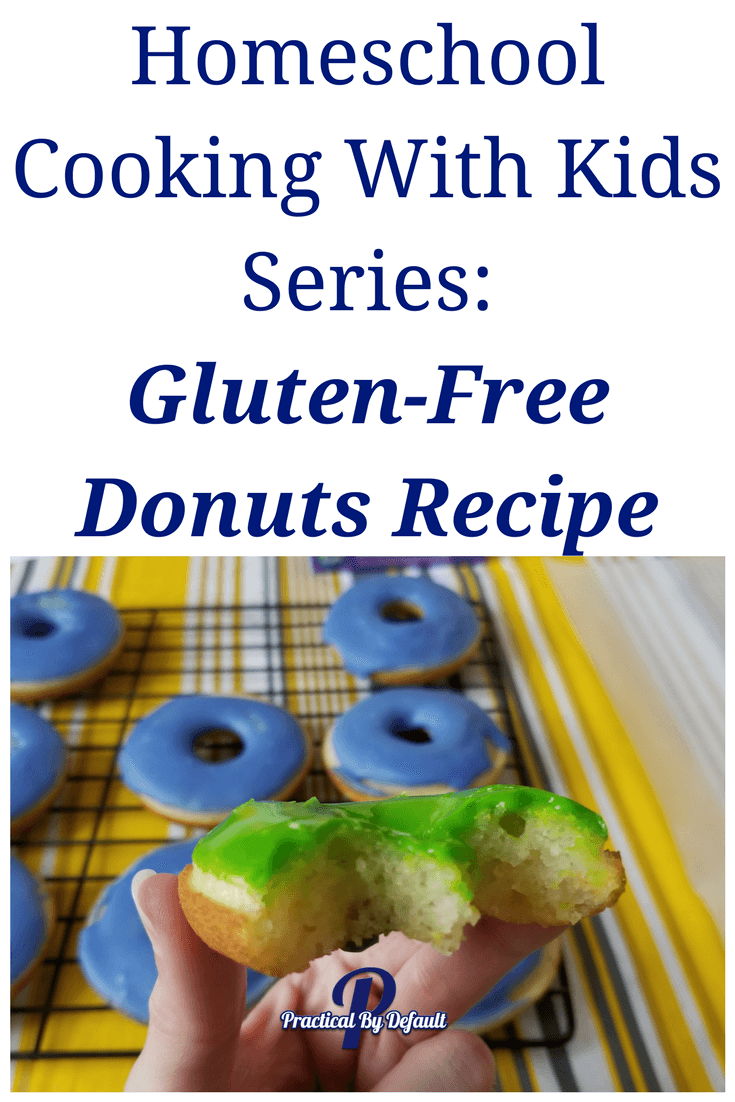 Hi, I'm Jen. I help working parents balance work and homeschooling by providing encouragement, support, and inspiration. You are warmly invited to Join the Online Community Here!