Disclosure: I may receive commissions for purchases made through links in this post.
Cooking is a life skill our kids need to learn. Finding the time, on the other hand can be tricky. Grab these tips and get cooking with your children today! 
My children are quite capable in the kitchen.
My daughter loves to bake and has often gone ahead found a recipe online, gathered the ingredients, made her creation and cleaned up all on her own.
My son just yesterday decided he wanted pancakes and went ahead with the same process. Except, he ate the whole batch himself because …teens.
When I share these photos moms ask me how I find time to teach them to cook with my busy schedule. It is a challenge. But you can do it.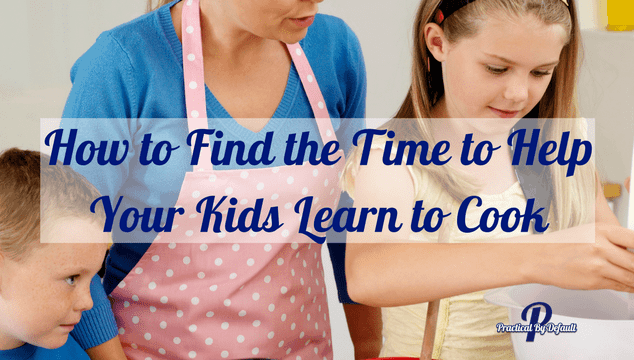 The best way to get yourself out of the kitchen is to teach someone else to cook.
As much as you might want to help your kids learn to cook, one thing might be holding you back. TIME!
Every year I put cooking skills on our curriculum to do list. Every year at the start of the school year we rocked out cooking classes for about …a week or two.
Then as life picked up, things begin to slide to the wayside and before I knew it I was preparing the end of year reports and realized we "forgot" to do cooking classes.
Apparently cooking class during our regular school year doesn't work for us. Either way, my children have learned to cook.
Here is how I managed to teach them basic cooking skills in spite of having a busy schedule.
Teach One At A Time:
I highly recommend teaching them one at a time.
I relearned this valuable lesson when teaching how to make bread a few weeks ago. Needless to say, one loaf is bigger than the other and not because of raising issues. It was a "refusal to split it evenly" issue.
Did you really think just because you homeschool your kids will get along 24/7? Sorry to bust that bubble. 😉
Also, those kids that learn completely different from each other in school learn completely different out of "school" as well. Including cooking.
The arguing and "discussing" almost drove me crazy. I have one child that is very by the book and another who is not.
Now I teach them in turns.
Make Sure You Have Lots Of Time:
What takes you 10 minutes will take them 3 times longer. Chances are you have been doing this a long time and most of what you are doing may come second nature. But to your brand new sous-chef, it is all new territory.
If you need to have a meal on the table quickly maybe pick another time instead of rushing them, getting frustrated when they ask a million questions and move like cold molasses.
When I get them to help me with supper I start at 3:30 pm if I want it done by 5:30 pm. , yes that is two hours. For a 30 minute meal. Lots of time for unexpected fails, spills and lost utensils.
Life happens. Give yourself and them some grace.
Find the time to help your kids learn to cook with these simple tips.
Click To Tweet
Let Them Cook With You:
If you are whipping up your favorite dish get them to help you. They will watch and learn.
Teach them skills such as how to handle a knife, break an egg, keep the stove handles in.
Explain what you are doing and why. Things you take for granted they may not know.
From simply keeping raw meat cutting boards separate from veggie cutting boards, to why you are starting the baked potatoes long before anything else.
I get them to read me the recipe, hand me the ingredients, do the mixing and other small tasks while we chat about our day.
Bonus: This is a great way to connect with your kids.
Start Simple:
Start them off with simple tasks that are age and skill appropriate. Check this list of Cooking Skills by Age.
Get them to help make a side dish from start to finish while you work on the main dish. This means you are there to answer any questions,  provide needed encouragement, and direction but they are free to try to problem solve on their own.
Be Patient:
They are going to make mistakes.
They are going to ask you the same question over and over again.
They will forget what you just told them two minutes ago. They will try you. They push your patience.
They are kids! It's what they do!
If you are having a bad day, exhausted, not feeling well or already fried…maybe put it off for another day.
You want cooking to be a positive experience. So when things go awry and they will... take a deep breath and look past the flour spills and smoke for the humor.
Let Them In On The Planning:
Let them explore your old cookbooks, family recipes and favorites to choose something to make.
We have a few older cookbooks but in talking with Allyson from Bacon Coffee Mama she highly recommends this great book for cooking and learning called The New Kitchen Science: A Guide to Know the Hows and Whys for Fun and Success in the Kitchen.
Either way let them explore the books you have, shop for new ones with you, and explore!
Take them with you shopping for the ingredients and get them involved in the whole process.
Kids that cook the meal are more likely to eat the meal. Even food you couldn't beg them to eat before.
Keep Your Eye On The End Goal:
The goal is to teach them to cook. To feel like they are a useful member of the family, much like the same reason I give my kids chores.
So be sure not to make it a competition between your children or the neighbor's kids. Keep your eye on the goal.
Making it work for us:
I always say do what works for you,  your child and your family.
We've learned that as great of a cook as daddy is he is not the one to teach them to cook. According to him, that is what YouTube is for. 😉 and he's right. There are lots of great resources on YouTube for teaching your kids to cook or learn basic skills. Grab the list below for 10 awesome channels to get your child cooking!
I love spending time with mine one on one in the kitchen. I pick days I am home. I love hunting around in old cookbooks or letting them decide how to change the recipe to suit our tastes.
We've had some interesting things come out of our kitchen most of them we were able to eat. Some not so much.
We started on breakfast meal ideas moving on to lunch and lastly supper meals. It is nice to watch their confidence grow.
If you are in need of a few ideas of meals your kids can make on their own:
Lastly I learned that even if adding it to our curriculum plans for the year didn't work there was still a need and by being flexible, learning from mistakes and taking advantage of the time we did have I was able to give my kids the gift of time and a well cooked meal.
How do you teach your child to cook? I'd love to know.
Take care, 
Jen
PS. What if you don't have time to teach your kids to cook or the desire? Check out Kids Cook Real Food. This is an full curriculum cooking class all online, ages 2-teen, and do it at your own pace. Find out more!
Or read my full review that includes not only what I think of the program but what my kids thought too! Read: Homeschool Cooking Curriculum We Love – Our Experience With the Kids Cook Real Food Program
Linking up with Life Skills Our Kids Need Before They Leave Home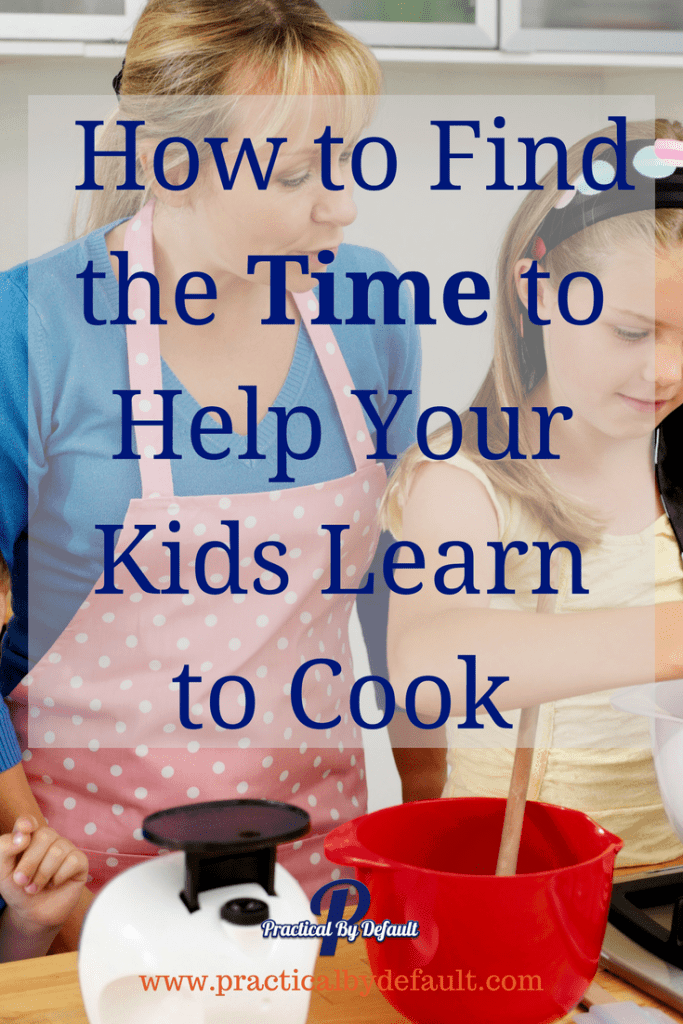 Hi, I'm Jen. I help working parents balance work and homeschooling by providing encouragement, support, and inspiration. You are warmly invited to Join the Online Community Here!