Disclosure: I may receive commissions for purchases made through links in this post.
Inside: Are you trying to teach your children to cook but unsure where to start? We are using Kids Cook Real Food. Find out how we are using it to teach our children cooking skills for life!
Children need to learn to cook.
I was raised by a single mom.
A mom who worked hard to make sure I was prepared for life.
She wanted to make sure if anything happened to her, I'd be okay. I could handle it. I'd be able to figure it out.
And, perhaps to her dismay, she passed that strong desire to me. That crazy need that drives me to make sure my kids can handle whatever life throws at them.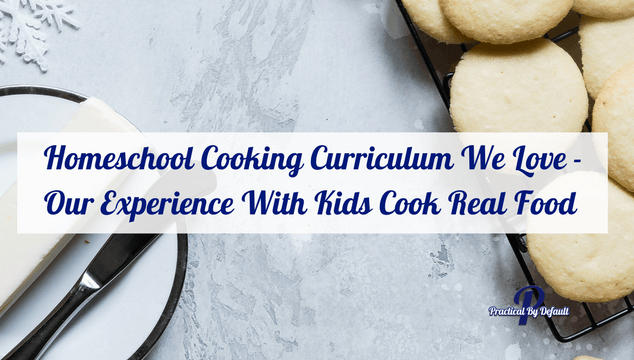 There are certain things I feel strongly about teaching my kids and they have nothing to do with test scores!
Cooking, how to handle money, and other life skills being a few of them.
The problem is life is busy. Time flies.
Before I knew it there were certain things my kids should have known ages ago I didn't get too. Like how to use a sharp knife correctly.
But as the saying goes…better late than never!
How I Found The Real Kids Cooking Programs
When a friend read my post about finding time to cook with your kids she asked me if I had heard of Katie and her cooking courses.
She thought it would be perfect for me. Her daughter had tried the knife skills classes and loved them.
I checked out her courses. I like to test courses out first before purchasing a larger course. The reason being, I don't want to waste my hard earned money on curricula that just doesn't work.
Which is why I love asking other homeschool moms what works and what doesn't.
The moms using the programs usually have great insight on how to use a program which in turn allows me to figure out if I can flip it around to work for me.
This is also why I love sharing how a program "should" be used and how I ignore that and use it my way to make it work for our busy lives. Ha!
Click here to skip to the FAQ.
Anyway, as I was saying before I got distracted…sorry!
Katie, the mom behind Kids Cook Real Food, currently has 3 online courses:
Before we go any further I want to be upfront with you. Most people purchase the All Level VIP because it is the best value for your money.
But I didn't.
I started with the knife skills course because I didn't want to spend the money on a full course if I didn't like it or it didn't work for my kids.
Why I Purchased My Teens A Knife Skills
I was flipping through Katie's courses on the computer and out of the corner of my eye, I see my son.
He's in the kitchen.
At the time he was 14, and was trying to cut cheese with a serrated knife. Have you ever tried to do that??
Not only were the pieces of cheese totally crooked but he almost hit a finger or two. Whew! Nerve wrecking. At that moment I realized something.
Mom Fail!
I completely forgot to teach them knife cutting skills. Oops!
Since the Knife Skills Class was on sale, I snapped it up and told them this was our project for the next week. This ended up being a perfect idea because I got to see if her teaching style and methods would work for my kids.
Gonna be honest I wasn't quite sure. As I mentioned in the video above, I got the Knife Skills Class right at the end of Summer. Would they fight me? Would they like the videos? Most importantly …would it work?!
My kids were teenagers and the children in the videos were younger. There was a bit of eye rolling going on. A few remarks. The best thing was because it was a video Katie couldn't hear them. Lol!
I watched the adult videos and practiced my own knife skills. I learned the proper way to hold things and used the skills I was learning.
Next time I saw my son cutting cheese he was using the wrong knife. I casually asked how that was going? Then I suggested just trying what he learned in the videos. Sure enough, it worked.
I don't know about your kids but sometimes my kids will listen better to someone else-yes even a video-better than they do me.
Not more than a week later they were reaching for my super sharp Jamie Oliver knife set and handled them like a pro. Before watching the lessons I didn't even like using these knives. Yes, the knives you see below.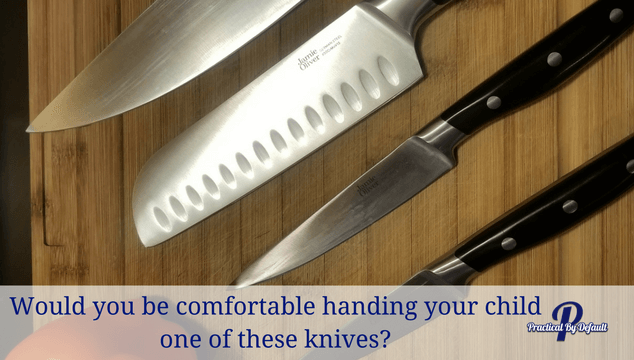 Now they are the most used knives we own.
If I had only one cooking course to recommend, it would be the Knife Skills Class.
As much as I love her Instant Pot course (because I LOVE my Instant Pot), I feel knife skills are a necessary skill because they are used every single day in preparing and cooking food.
Plus, this course helps to avoid the 7 mistakes you're making in the kitchen with your kids!
Slow Cooker & Instant Pot Recipes Kids Can Make Course:
Because the knife skills went so well I decided to try out the full program, Kids Cook Real Food.
The great thing about it was both my kids choose cooking as an elective this year for high school.
We've been using this course for a few months, however we started it when we began the school year. Then life got a little crazy and it got pushed aside. Does that ever happen to you? Ugh!
BUT then I got my Instant Pot! Which was perfect because Katie released her Slow Cooker & Instant Pot Recipes Kids Can Make course.
This course made promises of kids making a whole meal. As a busy mom, having kids that prepare meals while I do other things sounded like heaven.
More importantly, she covers safety. I can not tell you how many people told me my Instant Pot was going to blow up and hurt me and my kids when I got it. *sigh*
You can read my safety tips here if you are brand new to the Instant Pot but the short story is, used correctly the Instant Pot is very safe.
I asked if I could share a recipe inside the course with you so you can see how it works. Check out the video below to see her 5 year old son use the Instant Pot!
Mac and Cheese Video Recipe:
>>>Slow Cooker & Instant Pot Recipes Kids Can Make Course<<<
By the way, my son made this and he took longer than the 5-year-old. Ha!
Make sure you give your new chef lots of time to think and figure things out.
This is my second favorite course. If you don't want the full course and you have an Instant Pot, having kids that are comfortable and know how to use it safely is awesome.
I highly recommend this course. Seriously. Love it. Check out her Slow Cooker & Instant Pot Recipes Kids Can Make Course.
Online Cooking Course for Kids: Kids Cook Real Food.
After we completed those courses we moved into the full course.
The full course is massive and designed to be done at your own pace or you can set up email reminders.
There are 3 levels you can purchase at this time:
Let me break it down for you so you can see what each level is and what you get.
Single Level:
This is perfect if you have an older child who needs Advanced levels or wants to test out the course. Add more later if you wish, although all-access is a better deal.
You get: 8 All-Kid lessons, 8 more videos for one skill level + PDF lesson plans, 12 printable flashcards to remember the kid-friendly language. Three Levels to choose from: Beginner, Intermediate or Advanced Level and you have access for 12 months.
All Level:
This is perfect if you have children of all ages and want to teach them all in a year.
You get: All 3 levels, 45 videos, over 200 pages of PDFs, 43 flashcards, 24 total weeks of classes – or teach 8 weeks to all ages at once and you have access for 12 months.
All-Level +VIP:
This is the best deal plus you get access for life which is perfect if you want to take your time. Teach all your children how to cook over time and revisit as the lessons as your kids get older.
You get: All 3 levels, 45 videos, over 200 pages of PDFs, 43 flashcards
LIFETIME access, Downloadable videos – play them anywhere (flash drive available for additional fee), Exclusive Facebook group support, Super Healthy Kids' Fast & Fresh Kitchen Success eCourse, Special hospitality class, 15 more eBooks, videos and printables to make your kitchen time more enjoyable!
You can check all of the levels here: Kids Cook Real Food
The neat thing about this course is Katie teaches methods to help the parent teach the child. Which is great especially if you have younger kids because they will need more support and guidance.
I am a big believer in doing things your way. In the course Katie recommends you start at with the Adult videos and then move on. You can see the curriculum map here.
FAQ For Kids Cook Real Food
Q. Can my kids do the lessons on their own?
A. It depends on your child. The course is designed to help adults teach kids to cook. My children are older and watch the lessons on their own before doing the kitchen work.
For safety reasons, the course is not intended to be fully self-study. But if your children are comfortable in the kitchen, they can work while you are nearby.
Q. What kind of recipes are included in the Kids Cook Real Food eCourse?
A. All kinds! You can check all the titles here in the Curriculum Map. They're all 100% real food, from scratch, no processed stuff.
Q. Do I need any special supplies for the classes?
A. No, not really. Chances are you have everything you need already in your kitchen.
You do get a supply list when you get your membership. You will need a knife for that fits your child. You'll want a paring knife and knives no longer than 6 inches in length for best success with smaller hands, such as a 4-inch utility knife and a Chef's knife.
Make sure they are sharp. Less mistakes happen if the knife is sharp!
OR check out the Concierge Experience and get 1-on-1 time with the teacher, a kid-friendly supply box in the mail, and more!
Q. Can I upgrade my membership later?
A. Yes, you can upgrade at any point.
Q. What if it doesn't work for my family? What is the return policy?
A. Not everything works for everyone. While most digital products have a no refund policy, you'll have 30 days from your purchase date for the memberships.
Do do so, email your request to ecourse at kitchenstewardship. com within the refund period.
For the flash drive there is a $10 service charge to return and of course the product itself must be mailed back.
Do you have more questions? Visit Kids Cook Real Food and choose FAQ at the top of the page. (You may need to choose "enroll now" and scroll up to the top)
Click here to return to the top.
Making Kids Cook Real Food Work For Your Busy Homeschool Life:
I did watch them but then we set out a schedule that works for us.
I'm going to share that with you in a minute but the key is always make any program, book, e-book, what ever you use work for you. It doesn't matter what it is-it should be flexible enough to adjust to your life.
Thankfully this course is totally designed to be flexible and fit your schedule. Here is how we use it.
We do a two-week rotation:
In week one the kids start by watching the videos in order. They watch 3 videos that week. Take any notes that they want, print off any printables, recipes, flashcards etc. and put them in a binder.
My kids like paper. They like to print off recipes and mark all over them.
In week two they each pick a recipe to make, each. I encourage them to pick a recipe from one of the lessons they watched that week so they can practice what they learned.
Sometimes they pitch in and cook alongside me or dad. This is a great way to connect with your kids and still get supper on the table.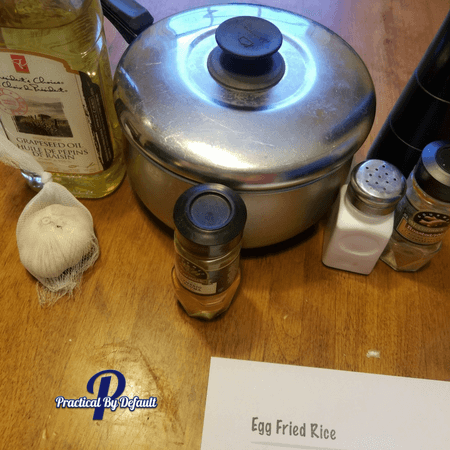 For the record, we rarely let the kids cook together in the kitchen.
If we do, we end up with fights over a potato. On a slim occasion, I get pinwheel cookies ♥
What My Teenagers Think of Kids Cook Real Food
At first, they thought the videos were childish. The kids in the videos rang in age but are generally not teenagers.
I heard lots of "remarks" in the beginning. I started second guessing if it was worth it.
However, when they got cooking and told me how to make rice, the proper way to boil potatoes, and didn't freak out when handling sharp knives, new recipes and stopped trying to get out of helping in the kitchen – I knew this was working!
My son says he is learning a lot. The practice he is getting is helping him learn to move slightly above snail pace, which is nice. He's one of those really thoughtful kids. No jumping in before checking and rechecking everything first.
My daughter, on the other hand, has taken over my kitchen. She is my baker. And, yes, I blame this course for her confidence.
She has taken off and I couldn't be more proud.
Since starting this course my daughter has gotten so brave in the kitchen. Her confidence has soared.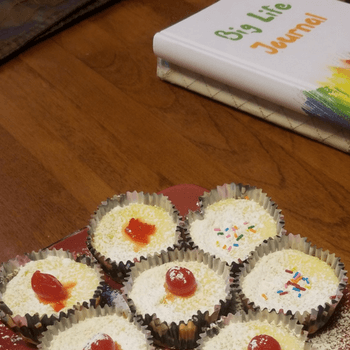 She's tackled things I wouldn't dream of such as creating her own Gluten-Free Mini Cheesecake Recipe! Also shown is her Big Life Journal.
And she was the one who encouraged me to keep trying even when my cookies fail…miserably.
I am not a cook. I tend to alter recipes as needed, which in a sense is a skill. After all, adjusting a recipe is half the fun, right?
My goal in this course is to teach my kids how to cook properly. Beyond the "let's throw it in a pot and see what happens" approach I use. Ha!
But I got so much more. I got confident kids that actually really help out on crazy busy days. Instead of just making a mess kind of helping.
Not that mess doesn't happen-it totally does!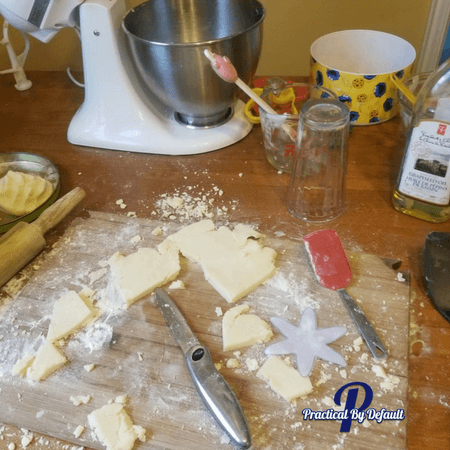 But now you can at least eat what they made AND they clean up!
If you are wanting a great course that walks them through step by step skills they need for life I highly recommend Kids Cook Real Food courses.
I started with the Knife Skills Class then the Instant Pot and lastly, we are working our way through the full online program. If you want the best deal, don't be me. Start with All Level VIP because it is the best value for your money.
If you aren't sure, I totally recommend starting with the Knife Skills Class. You'd be surprised how quickly at ease you will feel once your kids start practicing safe knife handling.
Have you tried any cooking lessons out with your kids?
Take care,
Jen
PS. We've been using cooking as a way to build my kids confidence, learn new skills and help us out for a while now. We are really enjoying the Kids Cook Real Food program for a great video course.
If you want to test it out first like I did I highly recommend the Knife Skills course, click here to check that out! Although most people buy the All Level VIP because it is the Best Value for your dollar. You can check that out here!
PLEASE PIN ME: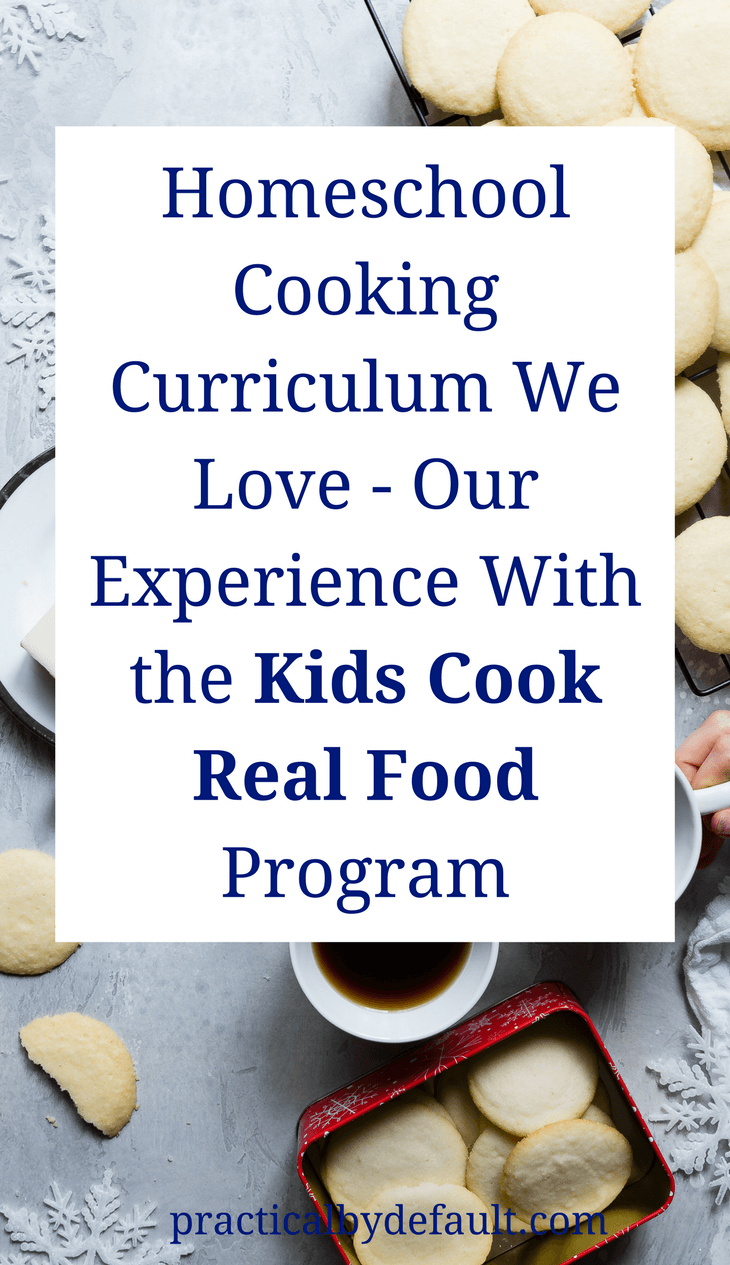 Hi, I'm Jen. I help working parents balance work and homeschooling by providing encouragement, support, and inspiration. You are warmly invited to Join the Online Community Here!