Breakfast used to be a hassle. Finding things the kids not only liked to eat but also kept them full longer than an hour was half the battle. The other half was finding time to make it for them when I am rushing around.
I no longer have this problem. We came up with a list of breakfast ideas the kids can make on their own.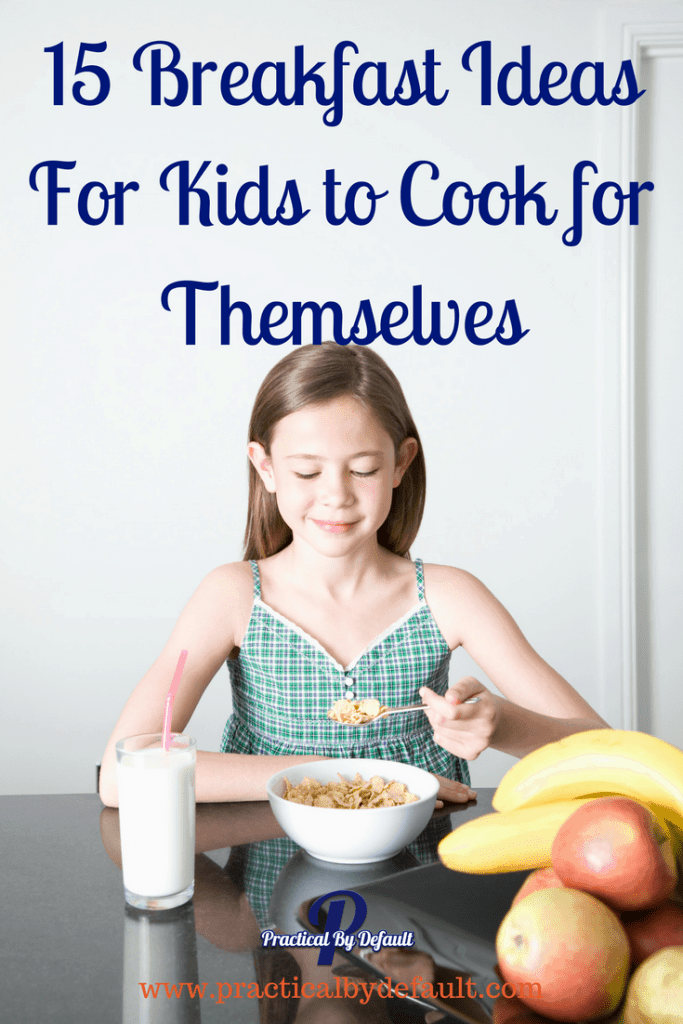 As much as a struggle it was and a strain on my patience to teach them to cook these meals. I am oh so thankful I have! (read: How to teach your children to cook when you don't have time.)

Hot breakfast:
We go through a ton of eggs in our house each week. We make them a variety of ways.
1. Fried Eggs:
Our number one cooked breakfast meal is fried egg and toast. The kids have learned through trial and error that non-stick frying pans work best along with some grapeseed oil.
For the record we use a frying pan every morning between the four of us. We were burning through frying pans left, right and center. We found this T-Fal  Non-stick was the best. We went through several different brands in a few months. This one has lasted almost a year so far.  I never realized the wear and tear on a frying pan before!
They've also learned that you shouldn't use a plastic spatula to scrape off any egg that ends up on the burner on a flat top stove. Also, our smoke detectors work. Always good to know.
2. Omelets/Scrambled Eggs:
Omelets are currently a work in progress in my house and thus often get "saved" by turning into fancy scrambled eggs. Filled with cheese, spinach and sliced sandwich meat.
3. Baked Potato Hash browns:
Taking a baked potato from the night before, cubing it up and frying it makes excellent homemade hashbrowns. Scramble an egg, add toast and you are all set. If we don't have a leftover baked potato they will also use bagged hash browns.
4. Breakfast sandwiches:
English muffins, toasted, a fried egg or poached egg, topped with cheese and tomato slices. Easy as pie!
5. Breakfast burritos:
Scrambled egg, cheese, salsa and a wrap. Add applesauce and you are good to go. These can be made ahead of time if you wish, wrapped and frozen.
6. Pancakes:
This is one of our favorites. I either pick up a boxed mix that you just add egg or water. Or I make my own and add the instructions to the top of the bin. My go to pancake recipe is my favorite! For me, these Grain free Pumpkin Pancakes look amazing!
Get kids cooking! 15 Breakfast ideas they can make on their own.
Click To Tweet
7. Oatmeal:
They will add raisins, cinnamon, nuts, and seeds. Next, add water and microwave. We prefer to use rolled oats or in a pinch boxed instant oatmeal. We love this one.
8. Frozen waffles:
Frozen waffles and frozen boxed pancakes are a major treat in our house. We grab these on days we need to be out the door quick like a bunny.
9. Bagels and cream cheese:
More-so my daughter's favorite than my son but it is nice to have an easy filling breakfast.  Everything bagels and cinnamon raisin being the top requested along with plain cream cheese.
Cold Breakfast:
10. Muffins:
 My daughter loves to bake and even though cupcakes and cookies are her "go to", she will also make the odd batch of muffins for breakfast. I will admit, it is mom and dad that eat the majority as I've been informed that muffins are a better snack than breakfast.
11. Boxed cereal and milk:
I try to get less sugar and food coloring but I don't do the grocery shopping. They like pretty much everything except Raisin Bran. This is also a treat for running out the door because mom is late type breakfast.
12: Fruit and Yogurt Parfaits:
One of the easiest breakfast as they chuck the layers into a glass and top with granola. If you put this in to a "grab and go" container it makes an awesome breakfast for those rushing days.
Make Ahead Breakfast:
These are a few older kids can make on their on and reheat in the morning or eat and go!
13: Breakfast Casserole:
There are many different versions out there such as Quick & Easy Breakfast Casserole.
Honestly we just took the idea and changed it up. Ours takes boiled white potatoes, eggs, scramble fried hamburger drained, peppers chopped and we bake it until the eggs set. Then add shredded cheese.
Made the night before and cooled. In the morning you  have two options, reheat in the oven as whole or take out a square and reheat in the microwave. Yum!
14: Overnight Slow Cooker Oatmeal:
We've only tried this a few times as we are all so picky in the texture of our oatmeal. One child likes it running the other does not. This recipe is easy to make but it will not be both runny and dry.
15. Baked Oatmeal:
This one we have not made in forever! I completely forgot about it until now. We made this Baked Honey Berry Oatmeal and it was absolutely easy and good! You can eat it hot or cold the next day.
There you have 15 easy breakfast ideas for your kids to make all by themselves.
I appreciate having to not worry about making sure the kids are fed before we dig into our read aloud and school for the day or when we are running out the door.
Do your kids cook breakfast? What is their favorite breakfast food?
Other Resources you might be interested in: