Disclosure: I may receive commissions for purchases made through links in this post.
Getting creative in the kitchen is fun.
Doing it day in and day out for a picky eater? Not so much.
I love that my kids got bored enough to start making their own lunches.
A few moms have been asking for a list of cold lunches their kids can make themselves or take with them when they are on the go.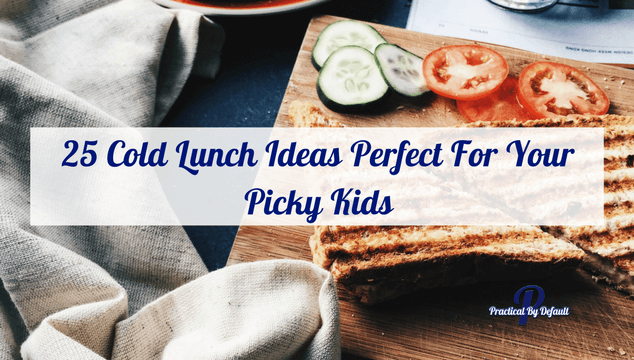 Here is a list of our favorites. There are perfect for your picky eaters because of one rule.
One Rule That Makes Lunches For Your Picky Eater Easy
Yes. There is one rule that will make creating cold lunches a snap…
It is: There are no rules!
Let go of what you think your child should be eating and look outside the box. (pun intended) This will open up a world of ideas for your picky eater.
For example:
If the list says chicken and your child hates meat, skip it.
If your child needs to be nut free, skip or swap it out for seed butter.
If your children prefer fruit over jam, mash berries and you are good to go.
Go with what your child likes or wants to try.
I find picky eaters like control. If you let them make the lunch all of a sudden they are willing to try new things because it is their idea. Ha!
I'll be sharing 5 main ideas with 5 variations of each one, which will give you a total of 25 cold lunch ideas perfect for your kids on the go. Ready?
1. Sandwiches
The most popular cold lunch for most of us. But they don't have to be boring.
Jazz them up with these ideas:
tuna salad and cucumber
peanut butter with dill pickle (yes this is my son's favorite)
almond butter and jelly
egg salad and lettuce
chicken salad
These can be made the day before and easy to grab and go. Make sure you are nut-free if your child will be in a public place.
2. Stuffed Pitas
Pitas are amazing. You can stuff them with so many different fillers.
Here are a few ideas:
tuna + mayo + chopped grapes + walnuts
spinach + sliced apples + goat cheese + dried cranberries
chickpeas + feta + spinach
bacon + lettuce + tomatoes (BLT)
nut butter + fruit or jam
I find microwaving the pita for a few seconds makes it easier to open them up and stuff them.
3. Tortilla Rolls
Lay the tortilla flat, start with a spread such as a nut butter, salsa, pasta sauce etc.
Next, add your filling and roll. >>>you might like this post on how to roll a tortilla.
Stuff them with these fillings:
pizza toppings + pasta sauce + shredded cheese
refried beans + corn + beansprouts + salsa
cucumber + hummus + lettuce + tomatoes
black beans + salsa + cheese + lettuce
cold chicken + lettuce + ranch dressing +shredded cheese
4. Bento Lunch
"Bento" is when you use a single-portion box-shaped container to hold a home-packed meal. You want to aim for a combination of whole grains, protein, fruits, veggies, and dairy.
The list of ideas is never ending. The key is to keep things bite sized and finger food style.
Here is a jump start list divided by sections: 
Grains: Crackers, Quesadilla, Corn chips, Rice cakes, Sweet potato chips, Pretzels, popcorn, etc
Cut fruit: grapes, apples (sprinkle lemon juice to keep them from turning) oranges, cherries, pineapple, melons, berries etc.
Cut veggies: celery, peppers, carrot sticks, turnip sticks, cherry tomatoes, snap peas
Meats: cut up chicken, meatballs (if they like them cold), beef jerky pieces, rolled sandwich meats, etc.
Dipping: hummus, salsa, Tzatziki Sauce, refried beans, nut butters or salad dressing
I like to let the kids pick something from each section and see how many combinations you can make 😉
5. Cold Salads
Salad is one of those great lunches because it can be so versatile. A friend of mine who used to cater told me she made 15 different salads for a wedding.
I'm going to admit I am pretty sure I've never made 15 different salads but maybe I should challenge my kids to try that, what do you think?
As for salads, I prefer to let my kids make up their own salads because it is a great way to let them practice their knife skills, take charge of their meals and I get out of nagging them to eat their veggies.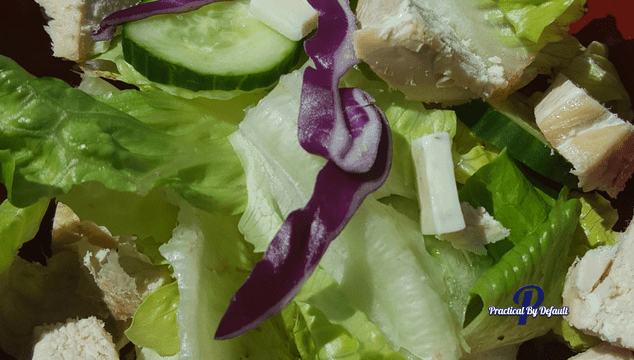 By the way, I bought my kids Knife Skills Class so I wouldn't worry about them using sharp knives.
Please be sure your kids know how to use a knife safely before letting them loose chopping veggies. If you'd like to learn more about the knife skills class read my full review of Kids Cook Real Food here. 
A few of our favorite salads are:
(Recipes are linked or included)
Greek salad (half way down this page)
Grilled Chicken Caesar Salad (recipe below)
Grilled Chicken Caesar Salad Recipe:
I am not sure this is a "recipe" as such but here is how I make it:
You'll need:
Boneless skinless chicken breast (or precooked chicken)
Romaine Lettuce
Caesar Salad Dressing – we like Renee's, you can use anything you like.
Pepper
Parmesan cheese
Lemon
What you do:
Grill chicken breast on my George Foreman Grill* about 8-10 minutes, chop into bite size
wash, spin and chop romaine lettuce
In a large bowl put in your lettuce, chicken and a bottle of salad dressing your choice.
Mix well add black pepper, Parmesan cheese and squeeze fresh lemon
Done.
Easy peasy, lol!
*I have the George Foreman Grill that has removable plates because it makes it easy to wash. I can put them right in the dishwasher.  
The indicator lights makes it easy for the kids to use on their own. Of course, provide adult supervision if needed.
If you mix each of these you end up with 25 cold lunch ideas for your kids, at least!
What cold lunches do your children love that I didn't mention here? Let's chat!
Take care,
Jen
PS. Kitchen skills are really important to me. I use Kids Cook Real Food cooking classes to teach my kids. Read our full review here: Homeschool Cooking Curriculum We Love – Our Experience With the Kids Cook Real Food Program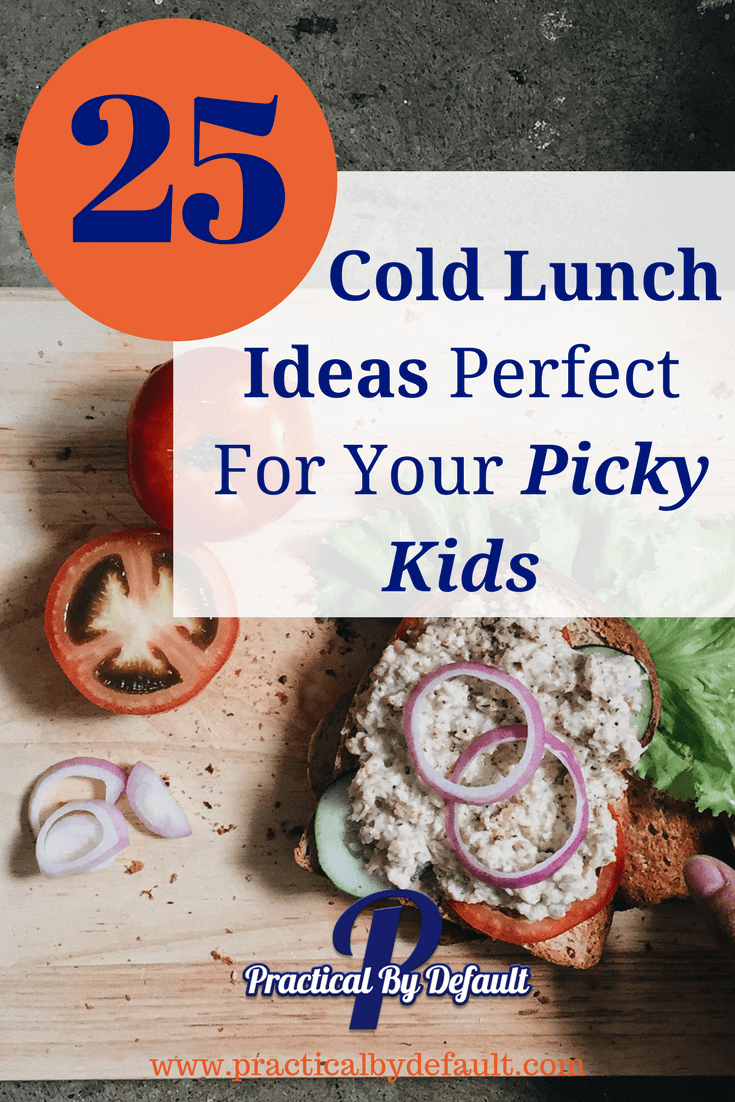 Hi, I'm Jen. I help working parents balance work and homeschooling by providing encouragement, support, and inspiration. You are warmly invited to Join the Online Community Here!