Disclosure: I may receive commissions for purchases made through links in this post.
We are talking about burnout and how to avoid it even if you are a working homeschool mom with a crazy busy schedule.
Let me ask you: Have you ever felt like if one more person asks you to do one. more. thing. you are going to crack? As if you are being pulled in a million different directions but have zero energy to do any of it? Are you muddling through your day?
You, my friend, might be suffering from burnout.
We've been back to school for a few months. For me, around this time of the year, I start to feel a major increase of stress. It's like watching a balloon being filled with air that has reached its max and you start cringing waiting for it to burst? That's me right about now.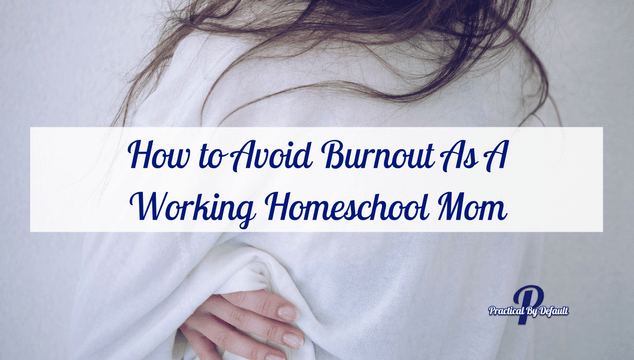 I am not sure if it's the increase in the workload that comes with this time of the year, how everyone is catching every single cold and flu that is going around, or the snowstorms that hit and never seem to go away.
I feel myself getting antsy, irritable, uncomfortable. As my level of stress raises my patience that I don't have much, to begin with, starts slipping away.
What is Burnout?
Burnout can happen to anyone and can vary from person to person.
Generally speaking, burnout is more than being tired, exhausted and not wanting to do anything.
Instead, it is characterized by chronic exhaustion, feelings of frustration and powerlessness. Being overwhelmed by minor things such as basic everyday decisions of what to eat, wear, and do. Handling everyday tasks is like the straw that broke the camels back. You just can't cope!
Those suffering often will withdraw emotionally from family and friends in order to cope, they lose motivation and become less productive.
My first experience with working homeschool burnout.
I remember the first year I had returned to working outside of the home, I was working as a cashier at the time. My work hours went from 15 hours a week to 37.5 hours a week. Tack on time to take my husband to work, drop off the kids, pick up my husband, and do car swaps. Whatever time left over was pretty much non-existent.
Next, I got a sinus infection and throat infection that lasted over three months. Imagine dealing with Black Friday so drugged up on meds that you were seeing double. At least it was the Canadian version so not quite so crazy.
On top of this I was supposed to do school, get groceries, clean, cook and on and on.
I knew something had to give or I would crack.
I remember standing in my living room crying my heart out. I was feeling so sick I wanted to curl up and die. I was exhausted. I wasn't sleeping. I couldn't remember the last time I actually tasted what I had eaten. I was surviving on coffee.
So there I was, standing there in the middle of the room, tears streaming down my face and yelling, "I QUIT! I can't do this anymore!"
Let's say those were dark days.
I could have prevented some of the stress but I didn't. I was so busy being flat out crazy trying to juggle it all, I didn't notice I wasn't the only victim at the time. My family was paying a price I wasn't even aware of.
I am sharing this so you don't make those mistakes. If I could go back and do that year again, I would change so much!
3 Major Steps To Avoiding Burnout
Set Priorities
Open the Lines of Communication
Be Amazing to Yourself
With so many roles that need to be handled, knowing what needs to be done, what can wait, and what can be done by others will help you avoid burnout.
You Only Have 24 Hours in a Day
All the tips, tricks and "how to's" will never give you an extra hour in your day. Trust me I've tried a lot of tips, read a lot of tricks and never have woken up with a bonus hour in my day. Let's get real. We all only have 24 hours a day.
It's how we use that time that matters. Understanding that vital point makes a huge difference.
What are you doing with your time? How are you managing it?
For me, setting priorities was a pivotal moment. It was when I realized I do have some control over my time.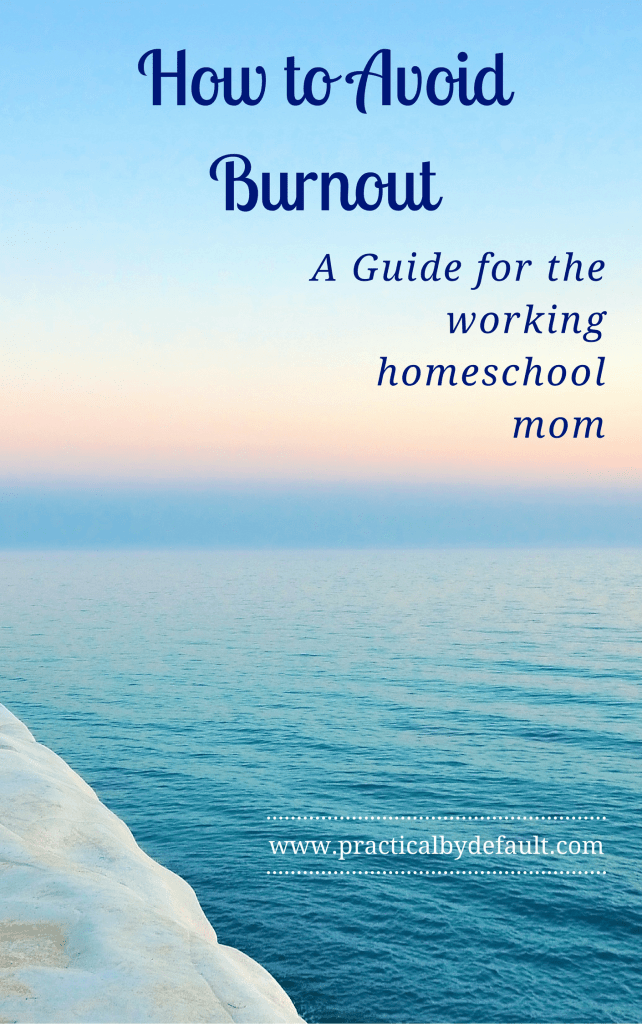 How To Avoid Burnout
Burnout is REAL. Use this 16 page workbook to map out a plan to help you avoid burnout.
Step 1: Setting Priorities
Ok, so we've settled that you can't gain time but need to make the best use of what you do have. The next step is to set priorities.
The best way is to assess your unique situation and make adjustments as you see fit, through a series of questions and being perfectly honest with yourself in your answers. This way you can see where you can make improvements.
I asked myself the following questions. I am sharing for example purposes.
Did I need to work 37.5 hours every week?
Turned out yes, I did. My hours would drop in the new year and I had zero control over how many hours I would get or when I would work. I had to take what I could while it lasted. I got paid by the hour and I was working to pay off bills, not because I thought it would be fun.
Did I need to do 5 full days of school on top of that?
No. I didn't. I hardly had time to breathe, never mind staying up until after midnight to check school work, mark work that was done, plan out what the kids would cover the following day and do all the prep work as well. This was not needed.
My solution the first year was to put the kids in an online program, and pick up our normal school when life slowed down.
We chose Time4Learning.com. This allowed them to keep learning and I had nothing to check, correct, prepare etc. It allowed me freedom to focus my time and energy elsewhere during the madness. While this program was not suited to our needs long term it served its purpose at that time perfectly. (Read this post for a new list of 40+ resources perfect for busy homeschooling moms)
Did I need to be the one doing groceries after a 9-hour shift or could someone else do it?
No. I could ask for help. My husband, after I stopped yelling, crying and overall freaking out, realized what I was going through. Sidenote: He wasn't a mind reader. Go figure.
Turns out I wasn't the only one capable of working a full week and getting groceries, cooking or doing chores around the house. He was too.
So ask yourself what you really need to be doing today, this week, this month? What is vital to keep your life on track and not crazy? Be honest.
Need vs. want. You might want to do it all. I do too! But do you need to?
For more help in finding a unique schedule that suits your family and your needs read: Simple Scheduling for Your Crazy Working Homeschool Life

Step 2: Open Communication is Key
I can not express how important it is to have open communication with those in your house about what you are going through and how they can help.
Let others help. Your spouse, children, and even family members. You are a team, work together. It benefits everyone and avoids the meltdown mentioned above. #lessonslearned
Asking for help does not make you any less capable of running your life. I know it is hard. More difficult for some than others but it is so worth it.
Buy time out of your busy schedule and really sit down and communicate with the family members in your house. Be specific when you ask for help. Dig out those chore charts and use them for you, and for the kids.
For family outside the home, many of them are willing and able to help out but again unless you ask, how will they know? So go ahead and ask family members to carry the load.
Often times they will say, "If you need help, let me know!" Take them up on that offer. No one can help you if you don't admit you need it.
Are you wondering how to get your children to help around the house? Read: How Chores Benefit Your Teen and You (Be sure to grab the printable chores list!)
Some helpful ways they can help are:
pick up the kids from the sitter
take the kids overnight, if you need a break
drive you to work if you are juggling one vehicle
take care of errands
help out with elderly family members
Step 3: Be Amazing to Yourself
Another way to avoid said meltdown is looking after yourself. I know, you don't have time.
Neither did I.
That is why my sinus infection throat infection combo lasted over 3 months. Antibiotics weren't working, I was taking everything and anything I could that I didn't have a reaction to, just to make it through the day. I got to a point where I was working, eating, sleeping.
What was the Doctor's advice? You need to rest. Ha! Let me just call in sick and lose my job. Do you know how hard it is to get and keep a job? Raise a family, cook, clean-when am I supposed to rest?!
I kept thinking that I would rest later. Except later didn't come. Instead, I crashed.
I learned the hard way but you don't have to. Take even just a few minutes for you every single day.
But let's be honest here, this is something no one can do for you!
Oh sure they can cook you meals, but you have to eat them.
Family can take the kids so you can take a break, but you need to take it. 
So be sure to make the time for you.
Drink water. Rest. De-stress. Move. Every single day.
Take breaks. Breaks are vital to a working homeschool mom. 
It's how we cope with the madness, crazy thing we call life. Save your sanity.
A few ideas for taking time for you are:
Learning From the Past
When I began working at home as well as working outside the home, life got a little more hectic. Had I not learned from the past, there is no way I would be able to juggle it all.
Now, every month I change our plan to adjust for the needs of our family for that month.
To do that, I ask the following questions:
What needs to be prioritized this month?
What hours do you need to work?
How much school needs to be covered?
What programs and schedule will allow me to fulfill those needs?
What goals need to be set?
How can my family help us reach those goals?
How can others in the household help? Spouse? Kids?
Who can help cover the extras?
When can we sit down and discuss what needs to be done?
What am I going to do for me time?
[clickToTweet tweet="You can avoid working homeschool mom burnout with these 3 steps! #ihsnet" quote="You can avoid working homeschool mom burnout with these 3 steps! " theme="style2″]
What avoiding burnout looks like in action:
This year we are ditching our school schedule. I spent some time visiting my plan for the year, I want the kids to learn to have fun while learning and it is coming along nicely. We've played with more experiments, followed a few rabbit trails, taking the time to answer the questions the children ask and more.
Instead of trying to do "all the things" this year, we are going to spend some time with a Unit Study of Thomas Edison. It's been years since we tried one. Beth's is an online unit study and includes a resource list and experiments. I picked up the items needed last month while I had time so we are all set.
We are also using an E-book Beginners Guide To Atoms. It is a printable book so I took the time to print two copies off for the kids last month. I picked up the supplies I didn't have, such as candy for the experiment. It also includes online lessons, built in notebooking pages and more.
Lastly, we have Science Expeditions on its way. This is a subscription for older kids from Little Passports. I might be a bit more excited than the kids on this one. I have heard so many awesome things about this program.
Looks nice and stress-free. All of these three things allow me to be more hands on and at the same time use my time wisely.  Add in some great books, baking, cooking and I think our month will be burnout free!
I must admit it is the first winter in a long time I am genuinely looking forward to. This time I am not burying my head in the snow, getting lost in the crazy and hoping it will go away. This time I am taking control!
You can avoid burnout!
Whatever type of working mom you are, by following these three steps and taking action you can avoid burnout.
Being a mom is hard.
Being a homeschool mom is hard.
Being a working homeschool mom is hard.
It's all hard.
But you can do it. Set priorities, talk to others, ask for help and take care of yourself. Don't wait.
Make this coming month THE month you can't wait to start!
Take care, 
Jen
PS. Did you know I run a free, private Facebook group with the most positive, supportive, and kick butt working homeschool moms out there. It's the perfect place to get feedback, make friendships, and ask questions. Join here. You can work and homeschool. You can do it your way. You don't have to do it alone.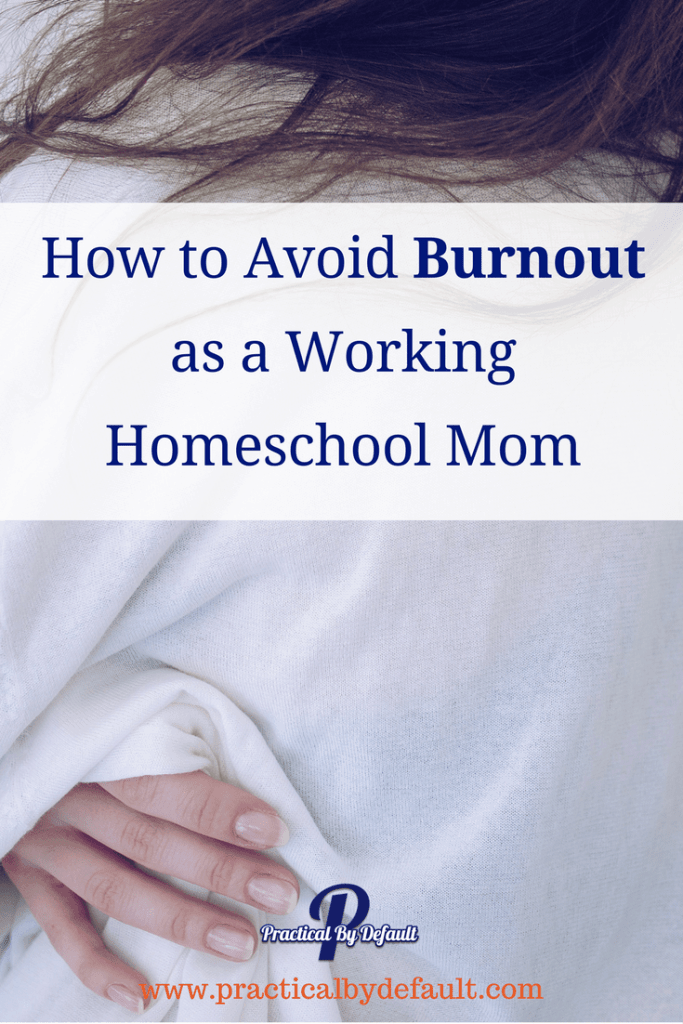 Hi, I'm Jen. I help working parents balance work and homeschooling by providing encouragement, support, and inspiration. You are warmly invited to Join the Online Community Here!