Disclosure: I may receive commissions for purchases made through links in this post.
Are you tired of wondering what to feed your kids for lunch? Or Snacks? Sharing our top 25 lunch and snack ideas, for kids!
A good friend of mine called saying, "I get so tired of making lunches every day. It is always the same thing day in and day out! I need ideas!"
Sound like you? I know it sure sounded like me. Then we brainstormed over much-needed coffee and cookies. After all, what are friends for?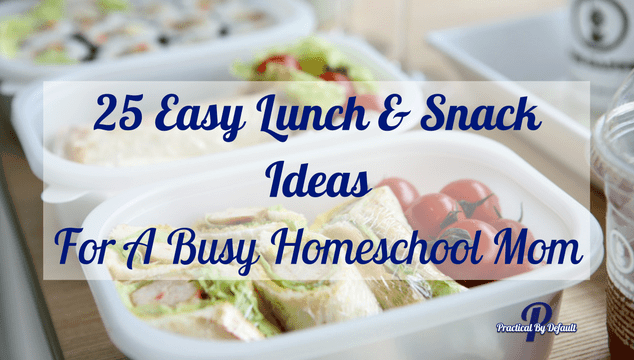 Pssst! Another great thing about these lunch ideas is your kids can cook them up on their own. Boom!
One thing that really saves me time is having a list of "food" ideas that the kids can make!
And to save YOU time, I am sharing the list of great lunch and snack ideas below with you. ♥
Hot Lunches For Kids
1. Chicken strips with cut up fruit and veggies. When making supper, cook extra chicken breasts for this purpose. Saving time later! Also highly recommended are real chicken bread from Costco. My friend swears by these but I have yet to try them.
2. Quesadillas or gourmet grilled cheese. Just add in your favorite fun toppings, flip in the pan and you are done!
3. Kraft dinner served with cut fruit and veggies. Or switch it up with Cauliflower Mac and Cheese Recipe (Grain-free!)
4. Baked beans (canned or homemade) and toast.
5. Bagels and cream cheese and soup (Canned or homemade).
6. Think breakfast for lunch: Whole wheat pancakes, Johnny Cakes, or scrambled eggs with chopped fruit or canned fruit salad (aim for no sugar or dye), garlic toast and cooked meats like bacon, ham, sausages etc.
7. Italian meatballs with different sauces. You can make extra when making for supper or buy premade meatballs. Serve with rice and veggies. Switch up the meatballs by choosing turkey, chicken, beef, and or pork!
8. Individual sized casseroles like: Shepherd's pie, lasagna, meat loaf and or macaroni and cheese. I love having these on hand for "emergency days". You can throw them in the oven to reheat before lunch. The kids can eat when ready, perfect for those self-lead learners.
9. Mini pizzas are always a win, use pita bread, naan bread or mini pizza crusts. Provide a variety of toppings such as mushrooms, pineapple, shredded cheese, and sauces. Let them make their own creations and pop them in the oven for a quick cook.
10. Mini-burgers on slider buns, top with your veggies of choice or homemade french fries!
25 Lunch and Snack Ideas at your fingertips! Perfect for the busy mom
Click To Tweet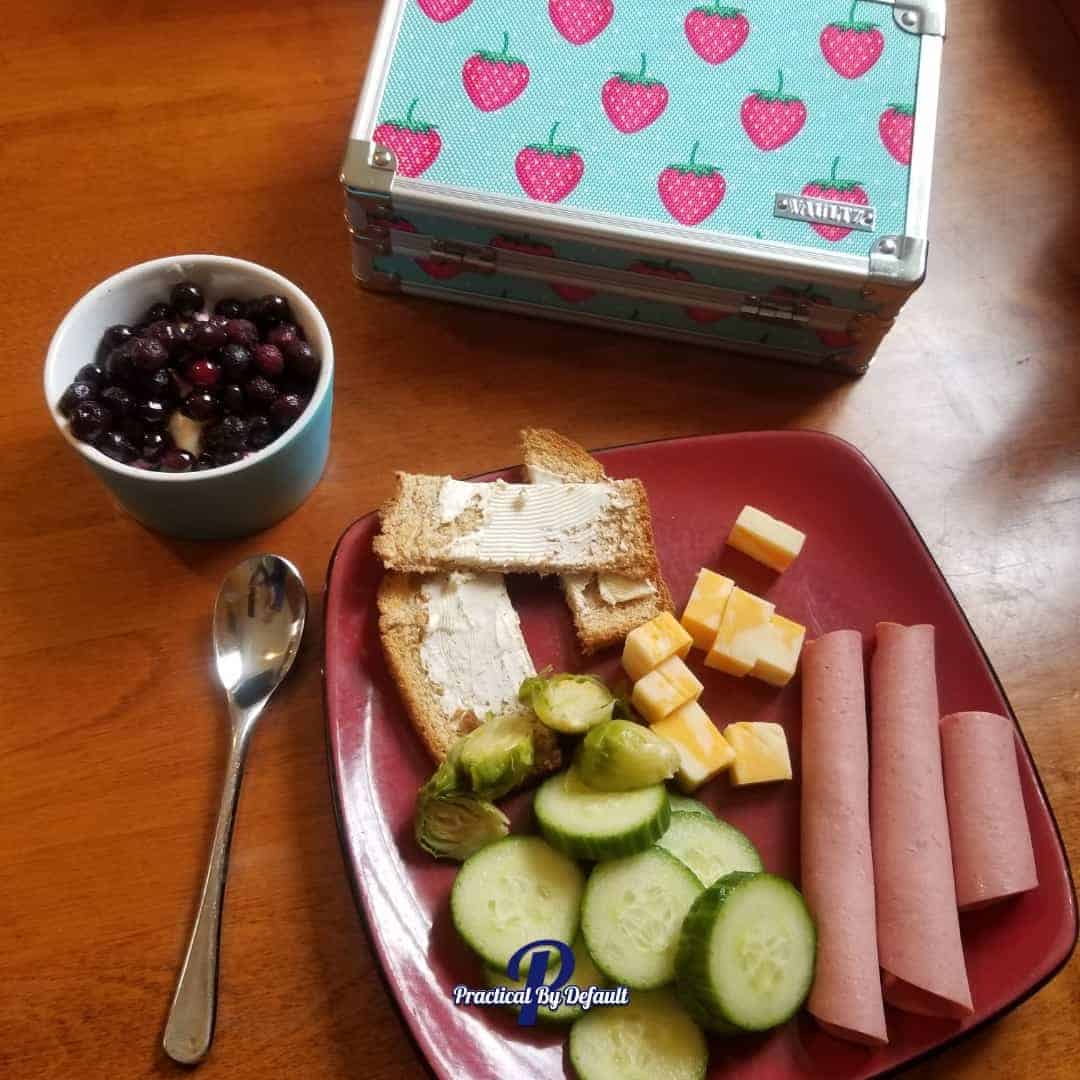 Cold Lunches For Kids
Cold lunches are awesome because it feeds your kids and you don't have to heat up your kitchen! 
These are also great lunches for when you head back into the homeschooling season.
And when the super hot weather hits, check my full list of cold lunches here 25 Cold Lunch Ideas Perfect For Your Picky Kids.
11. Sandwiches don't have to be boring.
A few ideas are:
tuna
cucumber
peanut butter with dill pickle (yes this is my son's favorite)
almond butter and jelly
egg salad
and chicken salad to name a few.
These can be made the day before and easy to grab and go.
12. If you are tired of sandwiches, try stuffed pitas with tuna salad and chopped grapes and walnuts. Or tortilla rolls filled with swiss cheese and bean sprouts.
13. Bento lunch ideas for kids. Not familiar with this idea? "Bento" is when you use a single-portion box-shaped container to hold a home-packed meal. You want to aim for a combination of whole grains, protein, fruits, veggies, and dairy.
Pro tip: If you are a working mom and your child is taking this lunch to child care, let them practice opening and closing containers at home.
When choosing your box you want to choose one that will hold lunch and snacks. These are great for children that like to pick at their food.
What goes in the box?
Great question! Anything your child likes but the key is colorful, cute and texture which is how you keep it from being boring. This mom explains bento beautifully. Or follow our Pinterest board here for ideas! 
14. Muffin tin lunches are similar to Bento lunches but for days at home. Boiled eggs, add in cut fruit and veggies, cheese, crackers, hummus etc.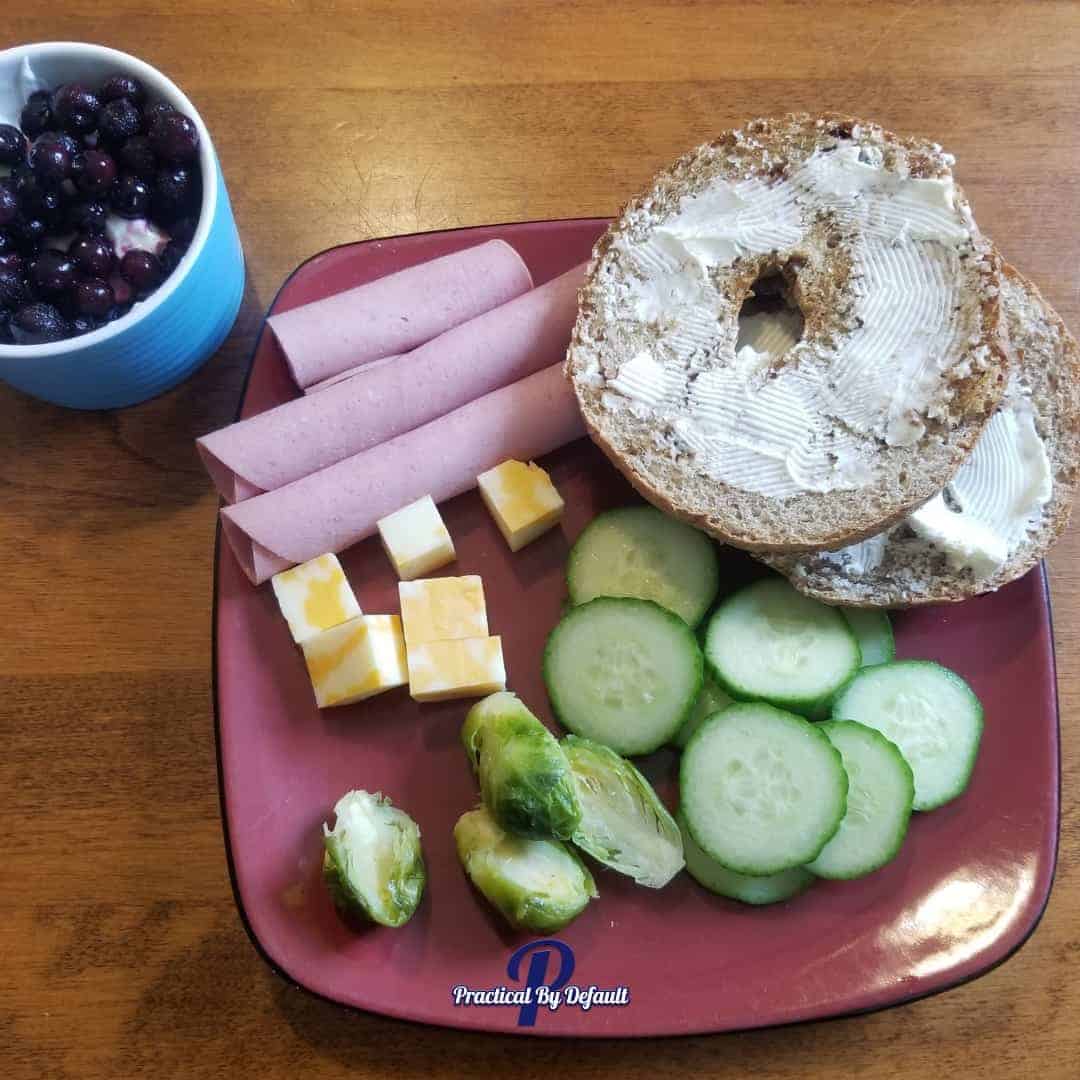 Food Bars:
15. If you are home you may prefer to quickly pre-chop, slice and cook the food and set up self-serve bars for busy kids.
 A few ideas are:
Build your own sandwich – including meat, spreads, veggies like tomatoes and lettuce, condiments etc.
Build your own pizza: again pitas, spreads, toppings pre-cut and shredded cheese
Or a picnic plate: cut up veggies, meat that is rolled up or sliced, cheese, fruit, hard boiled eggs, pasta salad, potato salad, broccoli salad etc.
Bonus lunch idea:  OR break up the same old stuff try doing a mini cooking class with the kids on a geographic location or culture, make something special or new ingredient kids!
Snacks Ideas:
Snacks are one of those "things" my kids are always doing. Growing kids need snacks to keep their energy up between meals.
 I love finding recipes for healthy snacks my kids can make.
Here are just a few of our favorites snacks!
1. Vanilla Greek yogurt with frozen blueberries and protein granola
2. Applesauce with string cheese and carrot sticks
3. Healthy muffins (homemade or bought) with fruit. These Pumpkin Muffins look amazing!
4. Chunk cheese and graham crackers
5. Animal crackers and yogurt
6. Goldfish and sliced apples with nut butter
7. Hard-boiled eggs
8. Granola bars, or energy bars
9. Bean crackers and cream cheese
10. Trail mix
As you can see once the ball gets rolling ideas can really flow. I hope this quick list gives you a starting point. Are your kid's grain free? Grab this list of Snacks Your Kids Can Make! 
Time and Money Saving Tips:
Because we only have 24 hours a day, I wanted to share these tips for making the most of the time you do have!
1. Cook extra when preparing for supper. Think rice, chicken, meatballs etc.
2. Wash and pre-cut all fruit and veggies ahead of time if possible. I like to save time by meal prepping ahead of time. 
My Instant Pot is helping me save money on groceries by making enough to cover lunch the next day. Love this! Saving time, money and giving me easy food. Read How To Get Started With Your Instant Pot
3. When choosing your veggies or fruit pick foods that are easy to eat on the go such as:
Mini carrots
carrot sticks
cherry tomatoes
grapes
dried fruits
and nuts
These are all great ideas for filling "snack" needs.
4. To lessen the amount of sugar or dye trade juice for fruit infused water.
5. To save money invest in water bottles for the kids and skip the juice packs for 2-liter bottles and refill your kids smaller travel bottles.
Lunches and snacks can be easy as 1-25 😉 Is your same 'ol same 'ol missing? I'd love to know!
Other Resources you might be interested in:
Teaching our children to cook not only saves us time but teaches our children valuable life skills. So give it a whirl!
Take care, 
Jen!
PS. If you want your children to cook but don't have the time or desire to teach them be sure to check out Kids Cook Real Food.  Its a cooking class for kids ages 2-older teen. We love it. Read my full review here: Homeschool Cooking Curriculum We Love – Our Experience With the Kids Cook Real Food Program
PLEASE PIN ME: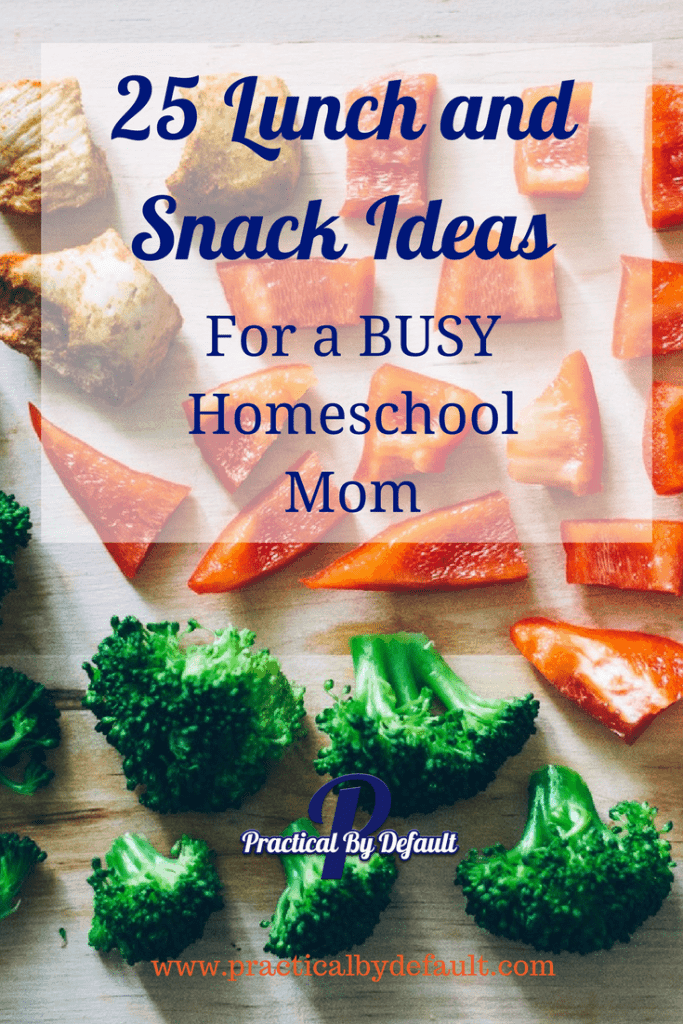 Hi, I'm Jen. I help working parents balance work and homeschooling by providing encouragement, support, and inspiration. You are warmly invited to Join the Online Community Here!