I have done my best over the years to make working and homeschooling work for us. This has taken a lot of juggling, a lot of trial and error. A lot of failing.
Although these types of days are now rarer than they used to be. They still happen and this is what it looks like for us, when I work outside the home, inside the home and when the kids do school all in the same day.
So welcome to my most hectic day of the week. Grab a coffee and join me, won't you?
*This post contains affiliate links, thanks!
6:00 AM
Yes, I still hate the alarm but this time instead of trying to find a hammer, book, or rock to throw at it. I just sit up. What is the point of fighting it anyway?
I quickly throw on warm clothes and throw the blankets up over the bed. Just enough to keep the cat hair out of the sheets.
6:30 AM
Coffee in hand and I am settled on the couch. I've gotten the fire started but it isn't throwing heat yet so I bundle up in a blanket and grab 15 minutes to chill. Collect my thoughts. Prepare for the crazy. Sorta.
I know I have to drive my husband to work. I fill up my favorite coffee mug and head out the door.
8:00 AM
By 8 I am returning to the driveway after taking my husband to work. It doesn't usually take this long but the drifts of snow were up over the hood in places and that means driving slower and safer.
I enter the house to a loud howling greeting from Max. The kids have been up and are getting dressed. We quickly eat cereal because there is no time to cook. Cereal is a "rushing" breakfast.
They excitedly start packing a lunch while I head down to get dressed in work clothes and make myself "human".
It is funny when you think of how "fun and exciting" lunches can be when you don't get them every day.
They pack sandwiches, fruit, granola bars and yogurt into the lunch bags. My daughter happily packs mine as well.
Then they pack the books they need for school. I hear conversations about chargers and who brought what for pencils.
I remind them about the animals and they each run to feed, check water dishes and drag a not impressed Max outside to potty.
8:45 AM
And we are off like a "Turd of Hurdles."
I drop the kids off at Nanny's with a reminder to contact me on Google Hangouts if they need me. This is greeted with rolled eyes and hugs. I also yell out the door for them "not to behave."
This is a running joke as I always tell my mother in law they can act up at her house because I don't have to listen to them. Ha! No one said I was sweet and innocent.
I drive off to work. This used to kill me.
But I am so thankful my children have a safe loving environment to go to.
Sometimes my mom will take them. She is great for taking them to any club, classes, and activities I am unable to get them too because I am at work.
They go skating, sledding, and trudge through the snow on nature walks. It gives them the opportunity to learn from others, meet new people and try things without mom and dad peering over their shoulders.
They need this.
Working (Outside the Home)
While I work, the kids and I have various ways to keep in touch should they need me.
Most times they don't but if they have questions, concerns or sometimes they forget something they can reach me on Google Hangouts, calling me and leaving a voice mail or texting through Nanny's phone.
I love that they can leave me messages and I can respond when I can. I always check in on breaks and lunch. I also use these times to check social media during my breaks. It lessens the load later.
I used to get teased big time from my workmates, but very much like my own children, this doesn't really bother me.
After all, I find this is a great use of my time. I try to catch up on emails or other things. I also jot down any notes or ideas that pop into my head while eating lunch.
As I go about my day I stop and take photos of anything neat I think the kids will find cool or want to learn about.
3:30 PM
I pick up the kids and they chat all the way home about what they did that day, how school went, and any other problems they had.
I love hearing them chatting together, it fills my heart with joy. I share a few stories from my day being sure to keep note of at least one good or funny moment from the day.
Once home they drop anything I need to check such as worksheets on the coffee table in the living room. They empty the lunch bags and put their stuff away. It has taken me many reminders to make this a routine. Plus they see me doing it too.
I quickly change into gym clothes and run outside to fill the wood bin. The kids do their chores and grab a snack. Then poof gone to their room.
They can only handle so much "socialization" and they like to chill afterward. I get it. As much as I feel like I haven't had enough of them yet I let them go.
I start my computer. I rush around quickly vacuuming the living room to get most of the cat hair off of it and unload the dishwasher.
Since the computer is still warming up, I grab my coffee, snack and the school work to be marked and settle in.
By the time I am done this I have 15 minutes before I head out so I quickly check in my group and comments on the blog.
I ignore everything else. It will wait.
Because homeschooling and working CAN go hand in hand.
Click To Tweet
4:30 PM
I pack my gym bag and head out to pick up my husband at work.
We head to the gym sharing stories from the day and checking to see what is for supper. I swear my life revolves around food since the kids are now teenagers. This is our "us time". No kids, just me and him and life.
We warm up and split off to our workouts. This is my me time where I try to keep my brain from running in circles. Sometimes it works. Sometimes it doesn't.
After the gym, we realize we need to grab a few things from the grocery store. I text the kids to check in, let them know I am running in the store and see if they need anything. They always say no.
I have odd kids.
7:00 PM
We get home. I immediately start the oven for baked chicken. My husband starts the rice as I tend to either undercook it or over cook it. I know it is rice. How hard can it be??
I run and get changed while the oven preheats because I am starving and yeah it's going to take a while.
One kid comes to complain about the other while I get the chicken ready for supper. I start with the, "you can only control yourself and your actions, not the other person" speech after I listen.
I try hard to remind myself to stop moving. Listen. Be there.
It is hard. I want to eat. I have a million things to do and it is after 7 pm.
Do you wonder what working and homeschooling look like?
Click To Tweet
8:00 PM
Super is done. Leftovers are stacked away for lunches tomorrow.
I am cleaning up the kitchen.
The kids and hubby are chilling but I have work to do.
So I reload the dishes and make the coffee for the next day. I know once I sit down I am toast. I try to get it all done before I sit down.
Working ( At Home)
My evening is my work time on this day.
My "office" is my couch. Right in the middle of everyone. I have one on the computer (desktop), one on the camping chairs that have been deemed "the best gaming chairs ever" so much so we now have two in my living room. The last one is on the couch beside me playing.
Oh, and a dog on the couch pretty much on my arm and a cat behind me.
Needless to say, sometimes concentration is hard won.
Tonight I struggle, I take out my notes scribbled down throughout my day. Nothing comes. I check my calendar and see what is coming up that I need to get done. I come up with 3 things to do so it is not a zero day.
A zero day is where I get nothing done. I hate those days.
I sit working through the tasks. I stop realizing how awesome it is to be able to connect with others who are on this hard journey with me.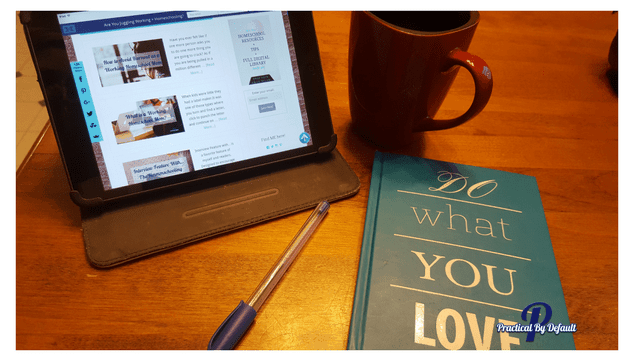 10:20 PM
I'm too tired to keep going. I got the thoughts out of my head. Working it into something readable will wait for another day.
The kids have finished eating. My daughter insists on having Max sleep with her so I see her calling him. As much as he loves to sleep with her, he is a very vocal type of dog. If you have a Mini Schnauzer than you know what I am talking about. He protests and "talks" to her as she carries him down to her room and sets him in her bed. He finds his spot and will stay for the night.
She comes out to brush her teeth and get her good night hug.
I find my son already heading to bed, he asks what day it is tomorrow and we go over the plan for tomorrow. He likes to know all the details if possible about what is going on.
Now it is my time to chill. I check the coffee maker and make a tea. I don't have a book to read so I settle in with Netflix.
It's been a long and exhausting day. I feel it in every part of my body but I made it. Whew!
Thank you for sharing this journey through my days.
Read the rest of the series!
1. A "Day" in My Life: Homeschooling and Working Outside of Home
2. A "Day" in My Life: Homeschooling and Working Inside the Home
3. A "Day" in My Life: Homeschooling and Working