Disclosure: I may receive commissions for purchases made through links in this post.
Are you getting ready for a business trip? I am getting ready to leave for a few days and I am so excited. I can't wait to get away for a change of pace and scenery.
Even though this trip is a family trip for the volunteer work we do I realized it is similar to what I pack for a business trip.
In order for me to relax when I get there and dig in I need a prepare, pack well and plan. If I don't plan it becomes too stressful to enjoy myself.
I thought I would share a few packing tips with you and I would love to hear how you pack for a trip away.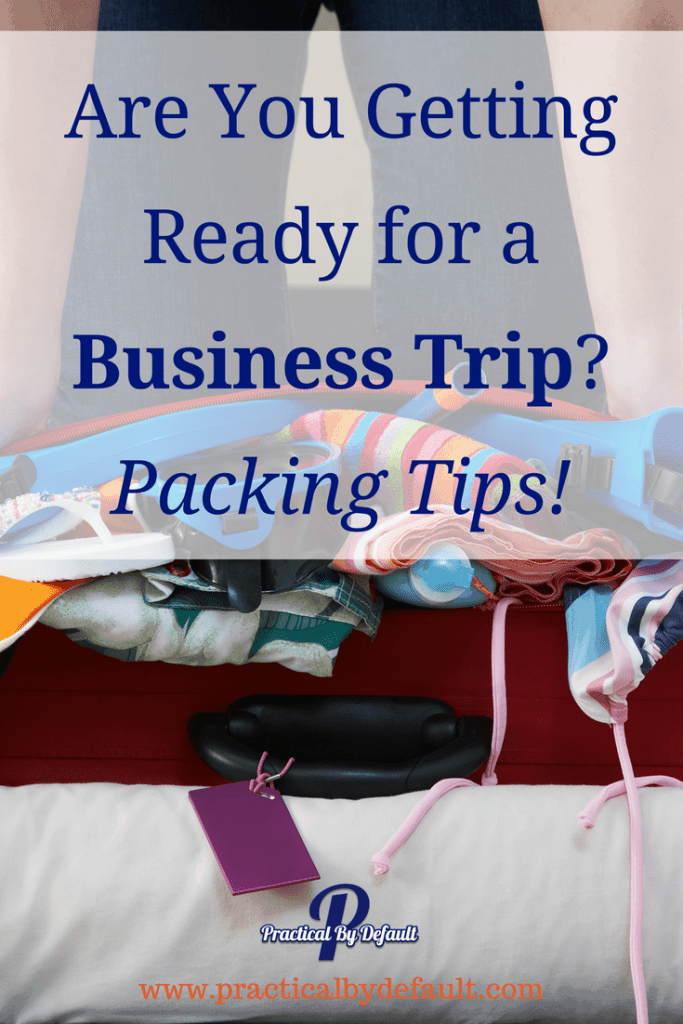 What to pack for paperwork.
Of course, the first thing I need is a list of everything I need to take with me. Psst! If you want this list to print, just click that pretty button at the top that says "Read Later!" 
We will be driving up so no need for passports etc.
However, it is important to keep your travel documents well-organized and in as safe place. I keep mine in my purse and my husband prefers his wallet and a folder.
A few papers you may need are:
Travel tickets and booking confirmations – I print out a copy and keep a photo on my cell phone
Passport and visa (if applicable)
Your Business Travel Insurance policy (again if needed)
Driving license, any medical cards, allergy warnings etc.
Maps and directions – do not rely on GPS.
Travel money (if needed)
Copy of doctor's prescriptions (if applicable)
Medical history/list of all medicines you are taking (if applicable)
Emergency contact information
Now that the boring stuff is done let's move on!
Packing tips for clothing.
I create a list starting with how many days I will be away. After all, I need to know how many changes of clothes to bring. (read: underwear, also take 2 extra just in case!)
Then I write a list of places/activities etc I will be involved in. Will you be sitting for hours? Walking inside? Walking outside? Are you required to give presentations? All of this influences the clothing you will take.
For example, on the day we arrive, I know we will be doing quite a bit of walking and going out to eat. Therefore I want comfortable but on the dressy side clothes and shoes.
I decided on these jeans and flowy cotton shirt. I will pair it with sandals and hoop earrings. Dressy but casual.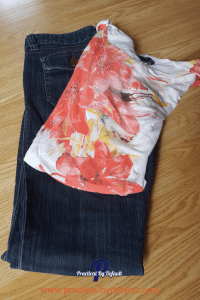 A few clothing tips:
Try the clothing on before you go. Yes, I know they fit last time but…weather, cookies 😉 and cycles all change the way clothing fits me. So I always try everything on together and make sure it matches in the way I want.
Wear clothes that make you feel good.
Funny story. See those cheap junk jewelry hoops? (They are in the photo of the toiletry items) I love my hoops. They make me feel "done". I don't know why – they are seriously just cheap things but I love the way they make me feel.
Confidence is hard-won and even the simplest things can put you at ease. Make sure the clothing, shoes, and accessories make you feel comfortable and confident. You don't want to be meeting a potential client fiddling with clothing and getting a wedgie. Trust me 😉
To eliminate bringing all the things choose dark solid colors in pants/skirts and match with brighter, lighter colors on top. Bring things to mix and match to make various outfits with less.
In this photo, I chose dark pants with a slight silvery thread going through. These pants are so comfortable, they don't show wrinkles, dirt or wear easily and go with pretty much everything.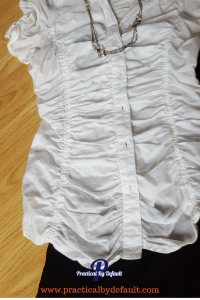 The top as you can see is already wrinkled! Ha! It is supposed to which is why I love it. I'll drop a colored undershirt and a simple necklace and go.
I will switch the pants for a basic black skirt or other solid colors. This makes it so you can pack less but still look and feel fresh.
Packing tips for toiletries.
I usually have a cute bag to keep everything in and it was gold. I have since spent days looking for it but it seems to have grown legs and walked off. No worries I'll find it when I get home because then I won't need it anymore lol!
I did manage to find my travel bag from work and will be using that. I like to keep travel sizes of face cream, cleanser and mascara just to name a few as they fit in the bag better.
I know it will be hot so my Elf primer is a necessary evil. I try to keep my make up light and simple. Which is normal for me. Here is what I take and it all fits in that bag except the mirror and brush. Those will go in my side pocket of my suitcase 😉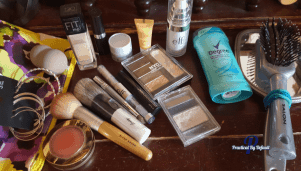 Not in the photo:
toothbrush
toothpaste
floss
razor blades, shaving cream
shampoo, bar soap & container – travel size
Hair spray, hair oil, detangler etc.
Flat iron or hair dryer (not every hotel has one so bring one if you need it!)
nail clippers
safety pins – these fix almost anything, missing buttons, a hem that falls down, broken zipper etc.
sewing kit
I like to put all these little things in a plastic resealable bag.
Packing tips for the weather!
Right now it is super warm. However, the saying here in the Maritimes is, "If you don't like the weather wait a minute." So I will be bringing a waterproof coat, sweater and full shoes in case the rain or chill come through.
A few other times you might like to bring are:
Sunglasses
Sunscreen
Umbrella
Insect repellent
Hat/mittens for cold weather travel
Basically think ahead and realize the weather can and will change. Be prepared.
I always bring a notebook, pen, and my tablet when traveling. I like to be able to scribble notes during lectures. It helps me stay focused. Other items you might want such as pens, pencils, paper clips, sticky pads, and notepads. But don't bring the whole store!! Just what you will use.
What to pack for tech.
I always have my cell phone on me so a charger, holder for the car and earbuds are needed. I also will be bringing my tablet (and charger) with e-books for the downtime and any notes I want to transfer over to a digital copy.
If you are bringing a computer be sure to use a laptop case and bring cords and thumb drives as well.
We since bought a portable charger and it has been a life saver. They come in all sizes, colors and devices. We got on for our cell phones for camping, hiking and trips. FYI: Don't leave your phone/tablet plugged in overnight. We ended up charging and then draining the pack. Ooops! 


Putting it all together:
For me my routine looks like this: Take the suitcase down, vacuum out the cat hair, put the vacuum away. Stop. Take cat out of the suitcase and repeat. Seriously I have one cat that must be everywhere. The length of the trip is what determines the suitcase I use. Sometimes I use a duffel bag and sometimes a pull behind suitcase.
I check off the list as things get added to the suitcase. There is a battle of should you fold vs. should you roll your items. Honestly, pick the one you find best and go with it. I don't get hung up on that kinda stuff. 😉
As long as I remember it, I am happy!
Garment bags are a huge help. On each hanger I layer the clothes I plan on wearing so I know I can grab one hanger and everything I need is there. I prefer the longer ones as it is easier to keep from getting too wrinkled and I hate ironing!
What to pack for food.
Okay now I know I can't be the only one who hates buying food on a travel. As someone who has food sensitivities I am usually extra careful when away. I've been sick an entire trip and needless to say the last thing you want to remember is what the hotel toilet looked like.
Yeah, fun times!
I pack snack food with me to help eliminate some of the problems. Plus it is awesome for traveling with kids too!
It doesn't take much space for a few bottles of water, energy bars, and almonds to help keep you healthy and not hangry 😉 It's a thing people!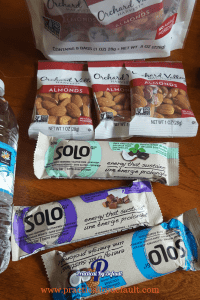 This SOLOgi energy bar is my absolute new favorite. Mint chocolate is my favorite and they seem to be fairly new to the market. I discovered it on my hike and have never looked back. YUM! Combined coconut and mint with a soft, fudgy base with hidden little bits of cookie pieces inside. I was shocked it was Gluten Free!
This trip I picked up a few new flavors to test out 😉
The Orchard Valley Harvest Almonds are also new to me. I can't wait to try them out. I noticed the package is already opened so "someone" snuck a package already. For once it wasn't me!
They also have a Orchard Valley Harvest Omega-3 Mix Multi Pack and Orchard Valley Harvest Antioxidant Mix Multi Pack. I appreciate that all orchard valley harvest products are non-GMO project verified and do not contain any artificial colors, flavors or preservatives.  These grab and go packs are so perfect for snacks on the go!
Please be aware: You may not be able to take food on airplanes. Always double-check first!
Throw this in a small cooler with an ice pack and you are good to go. Don't forget wipes or wet ones and napkins-mess happens you might as well be prepared for it.
So there you have it a few practical packing tips for a business trip. It can be stressful but being prepared and having a list to check off really helps me eliminate the overwhelm and stress.
Now you can relax and have fun!
Jen
PS. Did you know Amazon has a whole section of travel items? They even included my favorite coffee travel mug!! 🙂 Check out the whole list here!