Disclosure: I may receive commissions for purchases made through links in this post.
As a person who thrives on having a plan planners are my best friend.
At one point in my life, I was using 7 different planners to organize my life. I know, I have problems.
I did find an online planner that had the potential to replace every single one of them but there is something about putting pen to paper that makes me happy.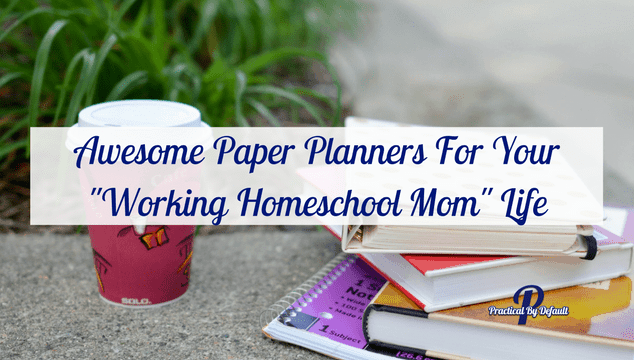 And something inspiring about a blank planner page waiting to be filled and a unique satisfaction of checking tasks off.
My life, like yours, has many moving parts that all have to fit together. I am sharing the top planners for each section.
With a new season facing us it is a great time to go planner shopping, don't you think? 😉
I would love to hear what is your favorite planner to use.
Need help taming your hectic schedule? Sign up for our FREE E-Course: How To Tame Your Hectic Schedule & Get Things Done!
5 Beautiful Homeschool Planners
The Bloom Daily Planner is actually a yearly teacher's guide planner. However, as a homeschool mom, it has all the tools we need.
This bright colorful planner comes with an undated Teacher Planner and Teacher Lesson Planner. Along with 12 monthly view and 60 weekly planner pages.
Bonus pages for student information, personal information, and graph pages. Inspirational quotes are found throughout the planner.
Purchase includes a link to additional free Teacher printables.
Tina's planners are often mentioned among members of The Working Homeschool Mom Club.
For the record, the only thing quick about this beautiful fully customizable planner are the steps because this free planner has over 500+ free downloads spread throughout the 7 easy steps.
I have to say the way you can pick and choose is amazing!
For example, you can buy certain pages if you want and upgrade just those and use the rest free.
There is only one thing holding me back from trying this printer out. I only have a black and white printer. 🙁
The bright colorful pages deserve to be seen. Make sure to check out all her planner options here! 
This is a planner I have and use all the time.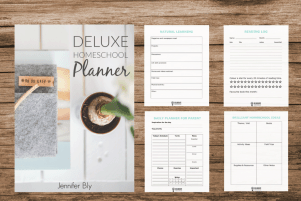 I love how customizable and simple this planner is. You just print off the pages you need, pop them into a binder and go!
⇒PLUS: USE the code jenn25 to save 25% off anything in Jennifer Bly's store. Click here to shop! 
Here are a few of my favorite pages:
goal sheet
planning / to do list
quarterly planner
monthly planner
weekly planner (2 styles)
multiple child day planner (2 styles)
student schedule (for self-directed work)
a comprehensive parent daily planning sheet
2 styles of reading logs
field trip brainstorming sheet
field trip planning sheet
library book tracker
password tracker
physical education tracker
You can check out all the pages available here. 
Or you can read how I use it here: Surprising Reasons I Now Love A Printable Homeschool Planner
I'm going to be honest, while I had not heard of this planner before, it has GREAT ratings on Amazon.
The Ultimate Homeschool Planner is designed to "help you prayerfully prioritize your family's lessons, assignments, and activities as well as academic and personal growth goals for each of your children."
When you check this planner out I highly recommend scrolling down to the reviews section. The first two include inside look at this planner which includes a calendar, teaching tips and record keeping pages.
This homeschool planner and journal was recommended to homeschool moms who must record the 180 day requirement.
This book has space for 180 days of comprehensive homeschool planner and journal entries spanning 20 subjects.
It includes:
attendance calendar
forms to document the syllabus
forms to document the textbooks
forms to document the materials being used for each subject
fields to document other pieces of information which may be requested
5 Amazing Business/Blogging Planners
As a mom who runs her own business, planners designed just for those unique needs are awesome.
This planner was a gift from my husband last year. After watching me put it in and out of the cart a billion times he went ahead and got it for me.
The Epic Blog Planner is designed to last a year she breaks down each task and gives you a great plan to keep you going.
I highly recommend you watch this video first so you can get a great idea of what it looks like and how to use it:
I bought Meera Kothand book's The One Hour Content Plan and grabbed the bonus pages by signing up for an email list.
Which is where I learned about her CREATE Planner
The CREATE Planner contains 246-pages that is undated, designed to be picked up at any time of the year .
Here's what included:
Teaches you to track and analyze what is important
Find the stage your blog and business is in and tasks/goals in that stage to focus on
Track email stats, social stats and content types
Chart content
Create email strategy that goes with your business and blogging goals
Map your projects
Manage Stress and avoid burnout
I love the look inside feature that Amazon offers or I would have totally skipped this one because it says "The Conquer Kit is a canvas for your dreams and goals. You are invited to sketch, scribble, collage, and write all over these pages, all while developing an airtight business plan with proven strategies for success. "
I was lost. A planner you doddle in? Huh?
However, this book looks perfect for those just starting a business with worksheets and financial paperwork samples. If you are not sure what type of business you want to start or need a creative jolt this is the planner for you.
This planner is designed for those who are at least a year into their business.
This planner is in workbook style and helps you to blog with purpose and grow your online presence like a pro.
It has over 60 worksheets to evaluate and plan blog content, social media posts, products and services, email newsletters, marketing, advertising, your budget, and website design.
Help you define your brand and create compelling and shareable content, promote your brand, organize your website.
After reading the reviews I was surprised by the amount of people who were upset it was a planner. Um, it IS in the title? lol!
Anyway, my point is, this book is designed as a PLANNER for those who have run their online business for at least one year as you are comparing last year's stats to this year.
While taking a peek at the Homeschool Planner above I noticed Tina also offers a beautiful Blog Planner.
Of course I had to check it out!
Currently containing 361 pages and 12 detailed pages with images so you can build your own unique blog planner.
This is build around the same system as her 7 Step Homeschool Planner in that she walk you through each step and you get to pick what you want.
One purchase gives you several design choices, be sure to check it out here!  
If you are looking for awesome paper planners designed for the Working Mom check out this post of planners recommended by working moms. 
3 Motivating Health/Fitness Planners
One of my main goals this year is to make sure I take care of me.
Working out and eating healthy is vital for me to be able not only keep working but keep up with my kids.
This spiral-bound workout journal enables you to set goals and track your progress.
Perfect for those doing cardio or weightlifting or Crossfit. Designed so you can track information including muscle groups, exercises and sets.
There's even a spot to jot down personal notes and words of self-encouragement.
I have had this book and love it! Mine was orange, lol!
It is small in size but not in content.
You get 12-week goal-setting page and weekly planning pages, plus space to log before and after measurements.
I loved the food charts, diagrams and food log. As someone who has health sensitivities this was awesome.
I also loved the water tracker but never bothered with the sleep one…lol!
Amazon shares a quick video of a flip through you can check out here. (currently the 7th image down on the left)
This planner is designed for the competition training or your own private fitness goals.
No fluff planner, you can log your workout with out flipping around to the different sections.
Each daily log has a place for workouts, calories burned, nutrition including food, water etc log, and a daily review.
The back of the book has muscle maps, calorie charts, stat tracker and more.
Bonus: You are going to want to grab these stickers. My favorite? Strong is the new Skinny!

3 All-in-One Get It Done Planners
If you like the idea of a general all-in-on style these planners might be exactly what you need.
A full week on one sheet, perfect for the mom who likes to take the whole week in at a glance.
With a spot to track your daily water intake as well as a great reminder to do an act of kindness this planner is easy to use and pretty.
My kids love this tear away type of planner, I think they just like basket ball shooting them into the garbage can.
This planner is super cute and perfect for those of us that "Do it all".
This Dated 2018 "do it all" planner spans August 2017 through December 2018.
This colorful 17-month planner includes 300 stickers to mark appointments and tear-off lists for shopping and to-dos; a handy pocket stores notes and reminders.
Week-per-spread is divided into spaces to organize by task, time or day or track schedules; charming quotes start each week off in an upbeat fashion.
I love checking out the photos on of the inside to see what it really looks like.


This all-in-one planner looks perfect for a working homeschool mom with sections for weekly to do lists, feel good lists and gratitude lists just to name a few.
With this planner you will set goals for all parts of your life business, health, love, finance, personal, spiritual. Includes bonus stickers as well as weekly/monthly reflections. This is DATED: 2018
Like many busy moms we need a system to make our life a little less chaotic.
Personally I find planners are the best way to keep me on track. I hope these suggestions help you find focus, set goals and achieve them 🙂
Take care
Jen
PS. Remember as great as planners are, you want to make them work for you not against you. If you need help be sure to read: Simple Scheduling for Your Crazy Working Homeschool Life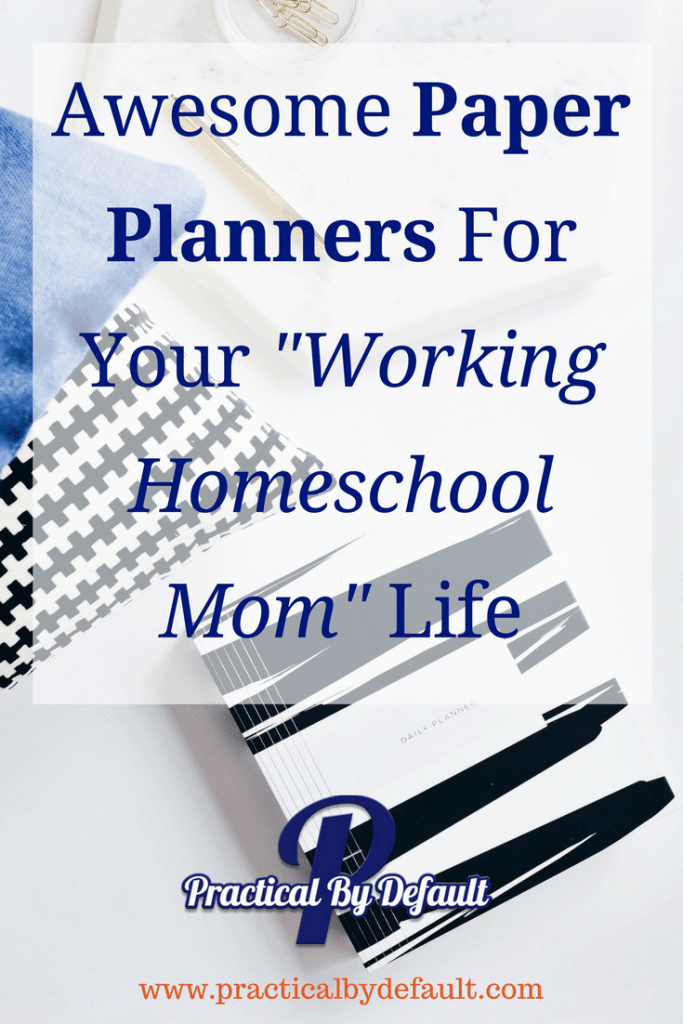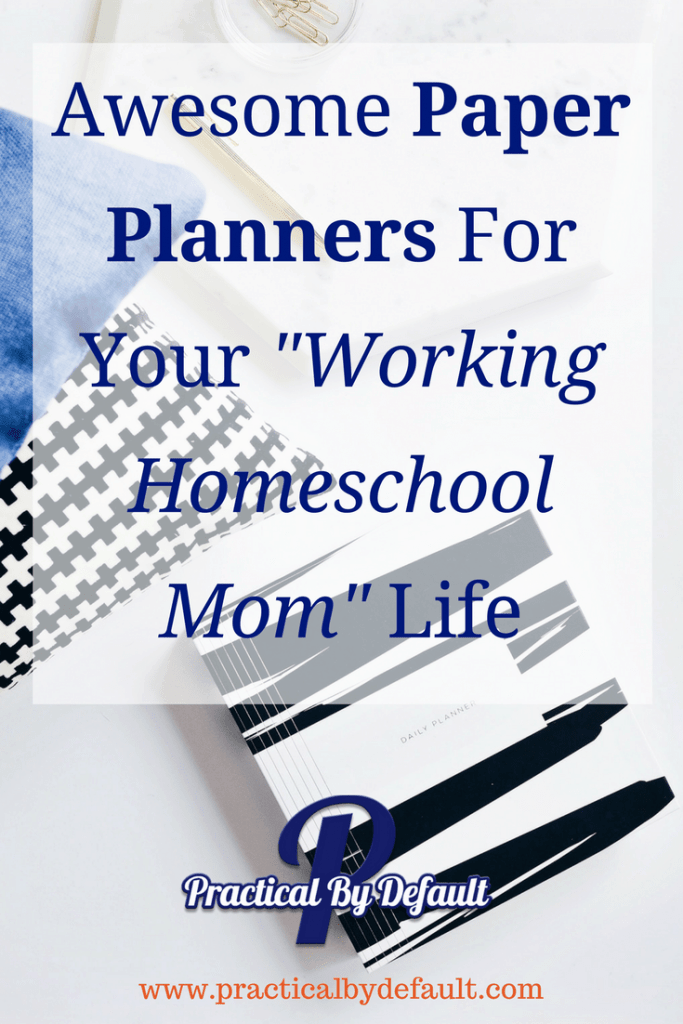 Hi, I'm Jen. I help working parents balance work and homeschooling by providing encouragement, support, and inspiration. You are warmly invited to Join the Online Community Here!