Disclosure: I may receive commissions for purchases made through links in this post.
I never thought I'd love a paper planner for homeschooling, until I started using this planner. 
It had been a long day. I sat down and opened up the online planner we used and loved.
Except.
Instead of happy boxes all checked off I had a screen of notifications of school work not complete.
But.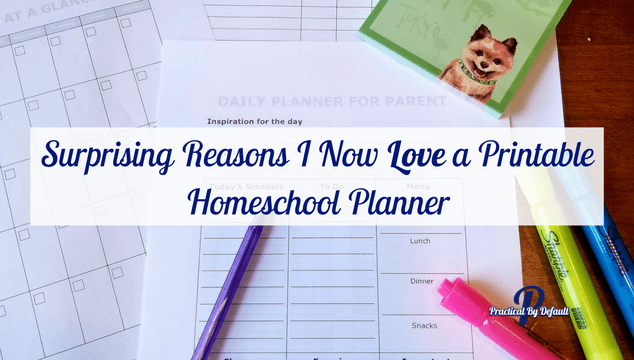 These assignments had been completed. I KNEW they were because I had corrected them myself.
Sigh.
I was faced with a decision to make. Fight with a child about it or find something that was working.
Because there was a time I used 7 planners.
Life can feel like a crazy getaway train and the only way to have a clue if you should duck or jump is to have a plan.
And I needed 7 different planners to keep up.
Then I found an online planner that could handle my life.
It was awesome. Until it wasn't.
Looking for the "perfect" planner might be as simple as knowing what season you are in and how to make it work for you.
Need help taming your hectic schedule? Sign up for our FREE E-Course: How To Tame Your Hectic Schedule & Get Things Done!
Figuring Out What Season You Are In:
I shared in this video how I break down my process of getting ready for a new month, which includes planning my homeschool, work and life.
You can see the planner I now use in this "season" right here:
Deluxe Homeschool Planner
  <–you'll see all the pages besides the ones I've shown you.
Make sure to use our special discount code: jenn25 to save 25% off.
It is key to find what really works for you is finding out what is working and NOT working for you right now.
At the end of the month, for me, is the perfect time to reflect, assess and adjust for the coming new month.
If your children are old enough, make sure you involve them in the process. It is amazing what your children have noticed is working and isn't. This insight is gold!
Plus it makes them feel like part of the family unit and part of the solution.
I like to print off a monthly calendar and have a "family" meeting with the kids.
Keep it light, fun and include food. Ha!
After we mark the dates of anything we can't change such as work schedules, we talk about anything that might need to change for next month.
For example, in the coming month, we needed to change to a 3 day school week for a month to allow for increased workload and volunteer work for the children. The "flexibility" of homeschooling at work 😉
Find What Kind Of Planner Will Work With You!
My kids love technology. For school work. For researching. For learning. For playing.
NOT for email.
An online planner does not work for them.
Oh, it worked, when I reminded them to check the email.
Reminded them to check the app.
When it was shiny. When it was new. THEN it was fun.
But after the "newness" wore off it became a battle.
Have you ever heard of the saying, "pick your battles"?
Yeah, that. This wasn't a battle worth fighting about.
They love their tear away planner sheets. They like being able to set up their week they way they want.


But I needed more.
I needed tracker sheets for field trips, book lists, daily reset sheets and more.
When it comes to saving money the first thing I recommend is…start with what you have.
And I had an awesome printable planner.
⇒I've chatted about how I used this planner to save my day when all my plans went flying out the window! So annoying. You can read that here: 5 Steps To Save The Day When Your Homeschool Plans Go Flying Out The Window
The Printable Homeschool Planner I Use Now
The Homeschool Deluxe Planner from Jennifer Bly fills this need.
For the record, I bought this planner with my own money. It was part of the Intentional Homeschooling Bundle one year.
Jennifer has gifted us with our very own discount code! ⇒ USE the code jenn25 to save 25% off anything in Jennifer Bly's store. Click here to shop! 
For me, I needed a printable planner I could pick and choose what to print and let of anything we didn't need.
Customizable. Simple. Clear.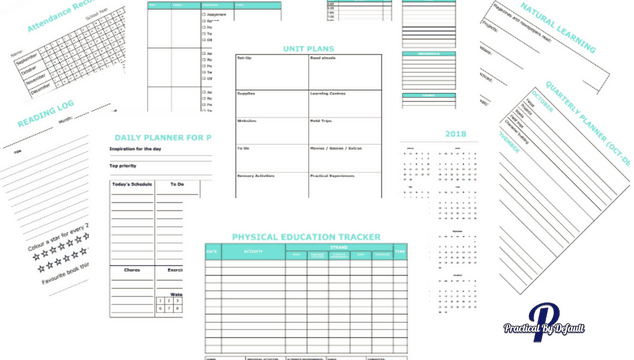 One of my favorite features about this printable planner is that it is more than homeschooling planning sheets.
Let me show you what is inside this planner so you can see if it will work for you.
Not only do you get the sheets you need such as:
Attendance record
Goal setting sheet
Quarterly planner
Planning/to-do list
Student day planner for multiple children
Yearly calendar for three years
Month and week at a glance
Natural learning documentation sheet
Brilliant homeschool ideas brainstorm sheet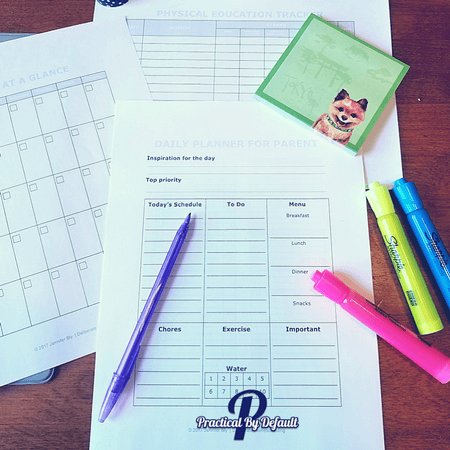 But also organizational tools busy moms need such as:
Password tracker
Library book log
Contacts,
Financial records
And more
Fun, right? 32 different pages and you just print them off on regular 8.5 x 11 printer pages as you need. I love that I didn't have to mess with printing page sizes.
Technology and I don't always get along.
Reasons I Love Homeschool Deluxe Planner
No more fighting with the kids.
Fewer battles. More energy for important things, like baking and science fun.
Another reason is I can use just the pages I need and want.
I love flipping curriculum, programs, journals whatever to fit my life. I do it all the time!
This is probably one of the few things I really just downloaded and was ready to go.
No trying to make it work for me. Much like notebooking pages I just print what I want and get on with my life.
Because life is crazy enough, don't you think? If you want to try out Jennifer's printable Homeschool Deluxe Planner click here.
⇒PLUS: USE the code jenn25 to save 25% off anything in Jennifer Bly's store. Click here to shop! 
Planners And Life Changes
The truth is…life is always changing.
Do what works for you. Until it doesn't. <–I love and live by that saying.
Once upon a time 7 planners worked for me. Until it didn't. 
Once upon a time a all-in-one digital planner worked for me. Until it didn't. 
Right now, this paper planner is working for me. Until it doesn't.
Much like your curriculum. Your routine. Your schedule. Your job. Food you eat and the clothes you wear. EVERYTHING changes. 
Do what works for you, until it doesn't.
What type of planner works for you right now? I'd love to know, let's chat.
Take care,
Jen
PS. I love my Deluxe Homeschool Planner for me and my paper planning loving kids. (photos of inside below) If you love picking and choosing your planning pages, be sure to check it out. AND Use our special discount code  jenn25 to save 25% off anything in Jennifer Bly's store. Click here to shop!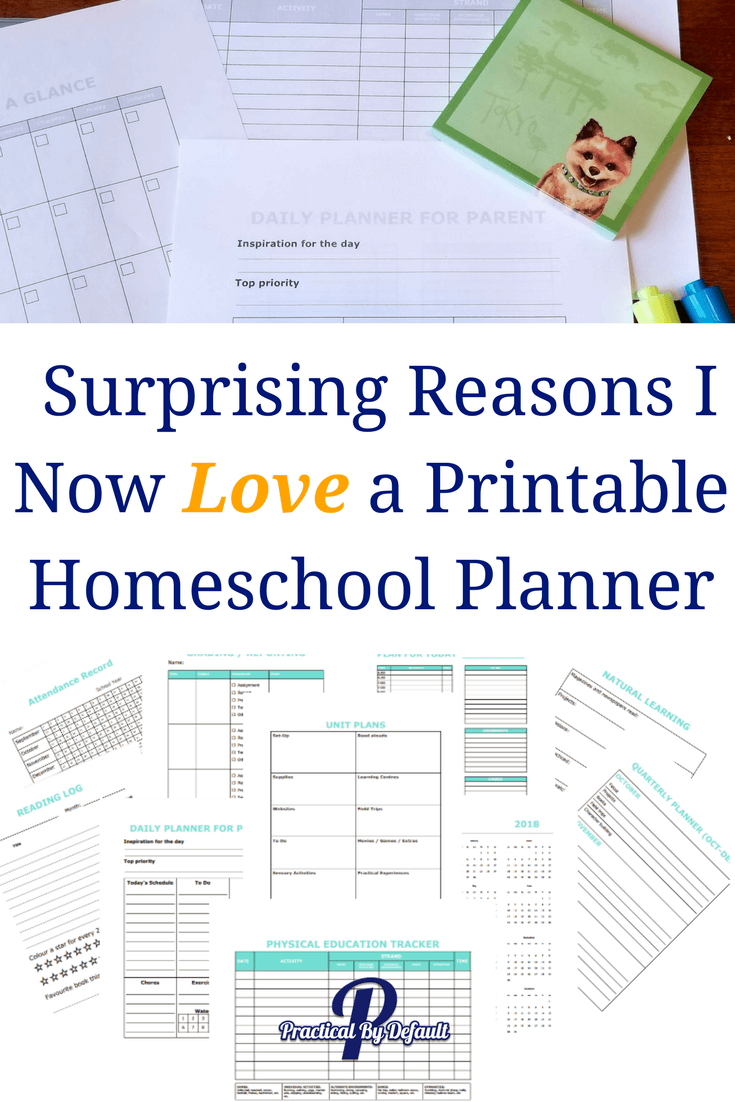 Hi, I'm Jen. I help working parents balance work and homeschooling by providing encouragement, support, and inspiration. You are warmly invited to Join the Online Community Here!