Disclosure: I may receive commissions for purchases made through links in this post.
As a working homeschool mom, trying to juggle and keep track of "all the things" can be a living nightmare.
If you are anything like me your typical Sunday planning session looks like this:
You sit down to plan out your week. You are surrounded by a weekly planner for each child, a work binder for yourself, and a planner for your at home work. Google calendar is brought up on your tablet or phone as you look for your work schedule, school schedule and deadlines. Oh, and you might also have a master planner containing everything else.
Let's not forget the printed off chore charts and a grocery list, just to round things off.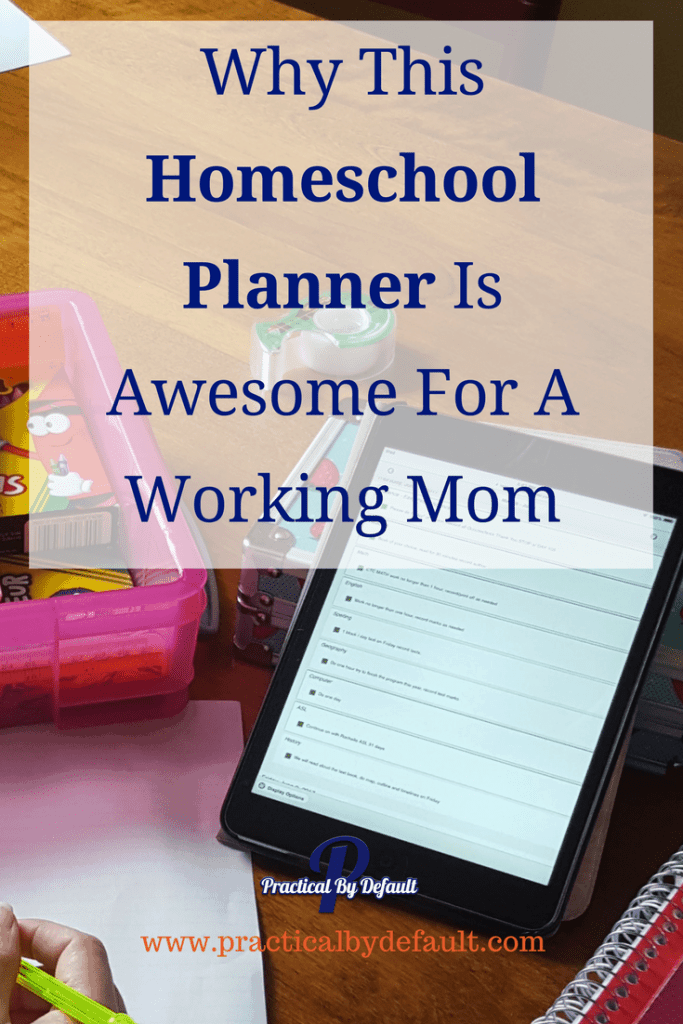 As a working homeschool mom, I need planners and schedules to function. Apparently, 7 different planners, calendars, and tools, are necessary in order to keep from going crazy and losing what little I have left of my mind.
Sound Familiar?
I was getting tired of rewriting everything each week. Plus there was always that moment of sheer terror when one of my planners was missing! Each has a vital purpose in my life and I have no backup of a paper planner!
Surely there had to be a way to combine some of this chaotic "a planner for everything" mess.
Homeschool Planet Planner:
Needless to say, I was so excited to test out the Homeschool Planet, an online digital planner. I love products that allow you to see if they fit with your family.
⇒I have a special 30-day free trial link for you.  Click here to try it ad-free and no credit card required.  
Just scroll down until you see "Try Now!"
I had fun answering questions about Homeschool Planet on Facebook. You can catch the replay plus notes and extra resources here. 
When I realized Homeschool Planet had the ability to replace not only the weekly planners for each of my kids, but also my own to do lists, working schedule, shopping lists, chore lists and more, I kinda geeked out!
Think of it, set it and forget it for homeschool lesson plans, a grocery list I can text to my husband to pick up on the way home, a chore chart each child can access...maybe I won't have to nag anymore!
As a busy homeschool mom, this looked perfect!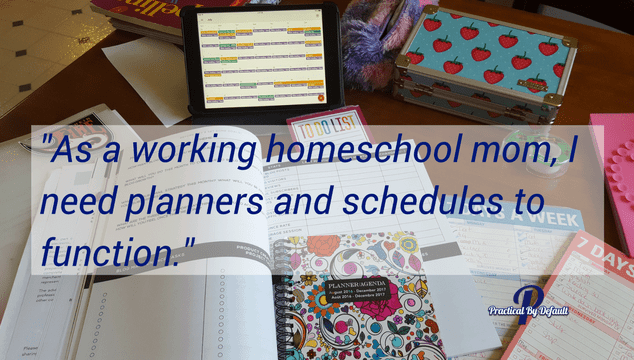 Homeschool Planet Planner
I gave myself a whole week to get familiar with the planner and set it up for my needs. I wanted to be sure I'd have time to check out all the options before relying on it for my life.
Technology and I don't always get along. However, this was so easy! Homeschool Planet offers easy to follow tutorials that walk you through the process of setting up your homeschool, students, and school year.
Upon opening, there is a simple calendar view that can be changed with "themes" (18 choices at this time). If you geek out over things like this (ahem I do), it was really fun seeing these options.
Homeschool Planet Calendar
One of the best features of the Homeschool Planet Planner is that you are easily able to set up a calendar for each member of the family and show everyone's schedule.
Your view depends on what you want to see.
For example, you can choose to just see:
Only your events
Events for everyone in the family
Just homeschool plans
Your work schedule
Or a specific category like chores, deadlines etc
This means you can see the whole dang thing at once or one at a time. Just click and tada!
Homeschool Planet Widgets
One of the super neat things about Homeschool Planet is the options to add widgets. These tools placed around the edges of your planner.
You can add:
Weather
To-Do Lists (my favorite!)
Shopping List
Daily Bible Verse
Daily Quote
Lookup
Messages
Reading Lists
Each widget can be customized. For example, the daily quote can be changed from "general" to love, funny, art and nature. The weather widget would be super helpful for U. S. residents. You can even print the reading list!
Using Homeschool Planet for Homeschool Schedules
The first thing I wanted to replace in our current planning system was the homeschool daily checklists for both kids. If Homeschool Planet did all that it claimed it would be a huge time saver for me.
First, I quickly added the rest of our homeschool schedule for the year. I was thrilled to discover I only had 21 days left. Whoot!
Next, I added in the children's profiles and setup passwords for each. This way they could receive the to-do list via email for the day in the morning and know what they needed to complete.
We use a 3.5 day a week schedule and I was worried an online planner wouldn't be flexible enough to handle that. However, this was not an issue.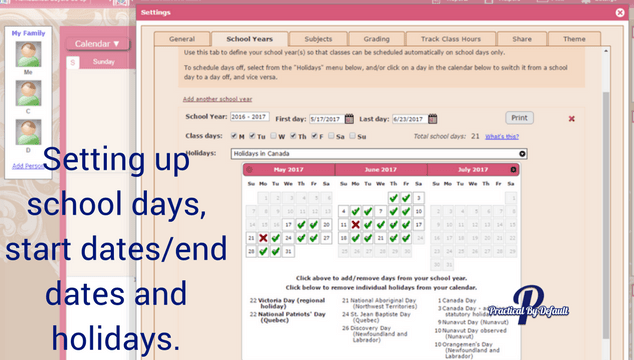 I chose a color for each subject and added those to the planner. I love that you can choose not only the color but customize the subject name. You can also decide if it is core or not.
I chose check-boxes to help them learn time management. I removed the lesson grading feature along with the hour tracking as I did not need those features.
I transferred over their weekly schedules and was thrilled to see if an appointment came up or my work schedule changed. With a click of a few buttons, I could adjust the schedule as needed. Easy peasy!
Homeschool Student Planner Meets Teenagers
I have do not have "typical teenagers". My kids might use technology for school but they are also "old school". Paper books over e-books, thank you very much. Paper planners over electronic.
When I told them how excited I was to find an amazing all-in-one planner they could access online, I was greeted with contempt, sighing and complaints.
I suggested a trial period of one month. If they hated it and I loved it, we could use my secret weapon. Once you get the daily digest emailed to you, you can print it off and use it just like the paper planner.
In other words, online for me, offline for them. Best of both worlds.
They relented and agreed to try it out.
Once I got it set up, I showed each how to log in from the email, how to check off the boxes, as well as change the view. This was a selling point for both of them. CONTROL.
They loved getting the digest before school began and being able to choose what they did when.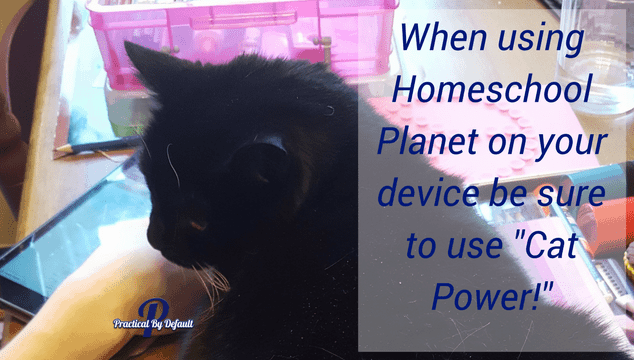 Side note: if you have a cat you may discover you have extra "help" using the planner on your tablet.
My daughter came running to me on the first day and told me her favorite part. The planner has dates for each day. Someone (me) was too lazy to mark it in the paper planner each week and I worried that when things changed (like they always do), I would have to rewrite the whole thing (times two for each child).
Later, she informed me later that she didn't like the email digest because she can just log in the planner itself.  To fix this I just removed her from the daily digest (found under her personal profile).
My son said, "It's easy." He's a man of many words.
Homeschool Planet Dealing With Change
I worried that an online planner would be a pain to change if a schedule adjustment or appointment came up. On paper, it meant crossing out lists, with confusing arrows or rewriting the whole week.
According to the tutorial, it should be a click of a button.
Should be. When this happened I discovered something.
One of my charming children has a habit of not checking off the boxes. Therefore, when an appointment came up and I went to change the schedule I had lists of "incomplete" assignments. Days and days of them. UGH!
After an impromptu meeting and advice from another homeschool mom, this issue was an easy fix. Now I check each night to see that he has completed the assignment AND it is checked off.
Heads up! In case you have sneaky little fart too 😉
Homeschool Planet Lesson Plan Add-ons
Just when I thought the Homeschool Planet planner couldn't get any better I was told that you can add on homeschool lesson plans through the Homeschool Planet Lesson Plan Marketplace.
There are so many to choose from! They have all-in-one or specific subjects or programs like The Magic School Bus and Mystery Science. However, please note that the lesson plan does not come with the program.
For example, The Mystery Science Lesson Plan Addon says, "This purchase does not include a subscription to Mystery Science which may be purchased here." If you were already using the program having the lesson plan added to your Homeschool Planet planner would be awesome!
*Click here to see all the lessons now available. These change over time.
We tried the Free Virtual Field Trips Lesson Plan. At first, my kids were like, "um no" because it was one more thing to add to their week.
Me? Oh, I was thrilled! To be able to take my kids to places we will never ever be able to go and see, learn, listen all about it. Yeah, I was excited. I was hoping my excitement would rub off.
When in doubt with teenagers use food. I chose to try out the first place during lunch, we huddled around my laptop and visited The National Aquarium and the Blacktip Reef Exhibit.
Also, use a timer if that works for your kids. We compromised on 5 minutes of the live feed. When they started to see familiar fish (think Dory and Nemo) but wanted to know the real names, they started hopping around the links.
I got out of the way and printed off the activity sheets.
After lunch, I handed them out and it became a game. They started racing to find the information, researching, drawing and giggling.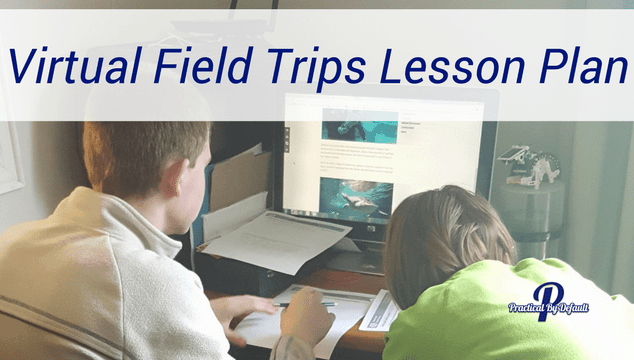 I quickly snapped this photo because what is more priceless than children laughing while learning and not fighting?
Oh, and did I mention the Free Virtual Field Trips Lesson Plan has parent resources, answer sheets and can be adjusted to your child's age?
I will be pausing this for the summer months but we are looking forward to the other 11 places we will go next school year.
Using Homeschool Planet for Working
For work, I wondered if this would be a problem. After all, I use my Epic Blog Planner, Google Doc calendar for deadlines, and my master planner for schedules.
The first thing I did was add in deadlines. The reminder feature is amazing. You can set it to remind you minutes, days or even weeks ahead if needed. I chose email since I check it numerous times a day.
You can add in your schedule, appointments, events-whatever you require. You can color code them and assign them just for your calendar.
Next, I added in my daily to-do lists and work at home tasks to widgets in the side area.
In addition, you can have to-do lists for various members of your family!
The planner easily replaced my google calendar for deadlines and schedules. I still prefer my Epic Blog planner for blogging.
[clickToTweet tweet=" Why This #Homeschool Planner Is Awesome For A Working Mom #homeschool #planner" quote="Why This Homeschool Planner Is Awesome For A Working Mom!" theme="style2″]
Using Homeschool Planet For Mom
The last planners I was wondering if Homeschool Planet could replace were the Chore Chart and Grocery Lists.
Chores is a built-in feature. You chose the person, add the chore, add notes and there is a handy-dandy check box for them to click when complete.
For the Grocery List, I chose the Shopping widget which you can create a list for each store. If your store isn't listed, you can just add it in. Create your list and you can text it to your phone or someone else's (hint hint! 😉 ) so you have it when you are ready to shop.
Thus, both of these lists were replaced!
Homeschool Planet Planner Overview:
Homeschool Planet is a full-featured planner that doesn't require a lot of time to set up or learn how to use that can be used offline or online.
System Requirements:  High-speed Internet connection and device with the latest version of Google Chrome, Firefox or Safari.
We tested it on I-pads, laptop and desktop computer.
Pros: Perfect for busy parents below are a few of my favorite features. Click here to read the full list!
A Calendar View that lets you see your personal calendar, individual family members or all at once.
A Planner View with a simple to do list.
Separate logins for kids to view their assignments and check them off when completed.
Daily Digest emails to members in your family with their own schedule, assignments, and chores for the day or just those you chose to add.
Easy attendance tracking, grading, and transcript creation.
Shopping lists that you can text to your spouse or have sent to your smartphone when on the go.
Cons: If you hate having a plan, or using digital devices to keep track of your "life" this is not for you. If you prefer a paper planner, I highly recommend this 32-Page Deluxe Homeschool Planner.
Give Homeschool Planet a try for 30 days and see how planning your homeschool year, mom life and work life is easier!
 >>>Click here to try it out for FREE!<<<
What is your favorite planner?
Take care, 
Jen
PS. Of course, digital planners aren't for everyone! If you prefer paper planners be sure to read: Awesome Paper Planners For Your "Working Homeschool Mom" Life 
PLEASE PIN ME: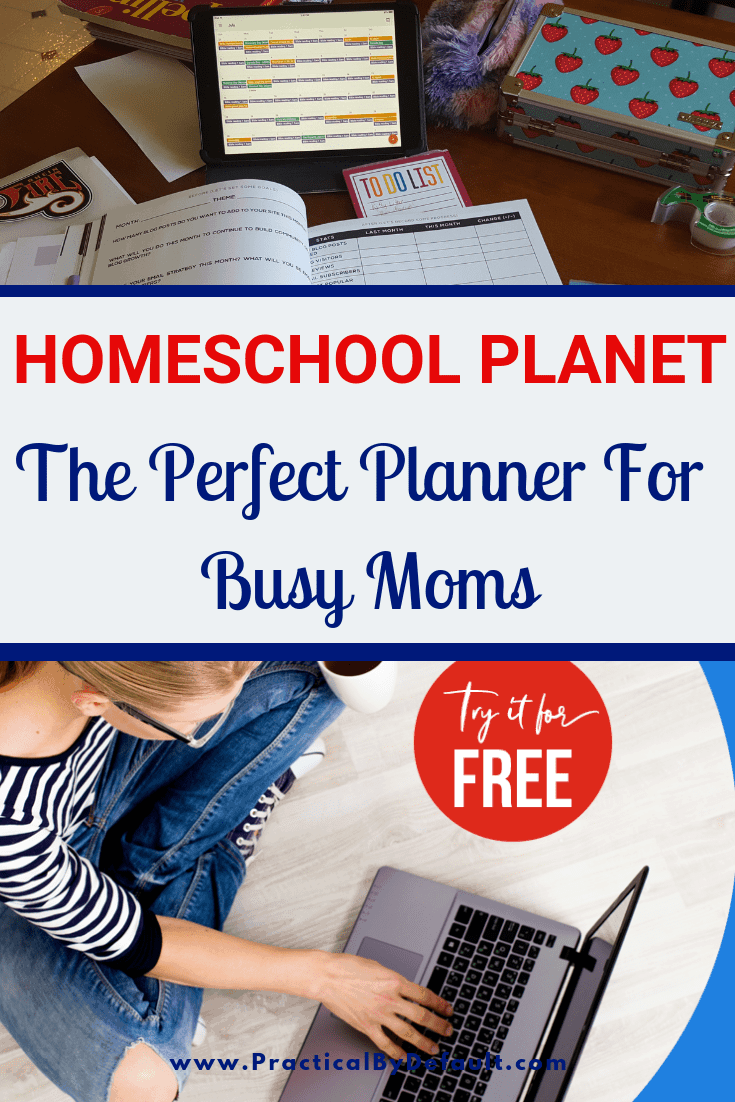 Hi, I'm Jen. I help working parents balance work and homeschooling by providing encouragement, support, and inspiration. You are warmly invited to Join the Online Community Here!