Disclosure: I may receive commissions for purchases made through links in this post.
Inside: Are you a working mom searching for the perfect paper planner for your busy life? Sharing the best planners that fit all styles of planning to help you find the best one for you. 
I've always used planning methods on and off in my life. In fact, at one time I had 7 different planners both offline and online to keep me on track.
As life changed my planning systems have changed. As each season of change comes I start hunting for a new planner.
What I've discovered is that there is no "one size fits all" planner. Moms lives by nature are busy either by choice or by circumstance.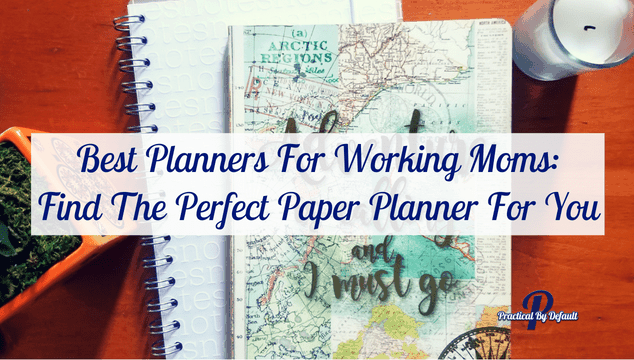 Because my life, like yours, has many moving parts that all have to fit together I need some sort of organization method or plan.
With to-do lists, grocery lists, appointments, work schedules, homeschooling two kids and running a household I need a planner that is easy to use and fits my lifestyle.
While a family calendar is a great way to keep everyone on the same page and let them know what is happening when. And an online planner really shines when I need to jot down appointments on the go.
A planner dedicated to homeschooling is a great idea but…a paper planner for life is where it's at.
A great planner can help you make sure you are getting what needs to be done, done! while helping you create goals, be organized, inspire you, motivate you AND give your life a sense of purpose.
Busy working moms need a planner that can handle all the little tasks, every day to do lists and help us find our way.
Need help taming your hectic schedule? Sign up for our FREE E-Course: How To Tame Your Hectic Schedule & Get Things Done!
Picking A Planner:
Planners come in all shapes and sizes. Some track every moment of the day hour by hour, others have multiple layouts including a full day, weekly, or monthly.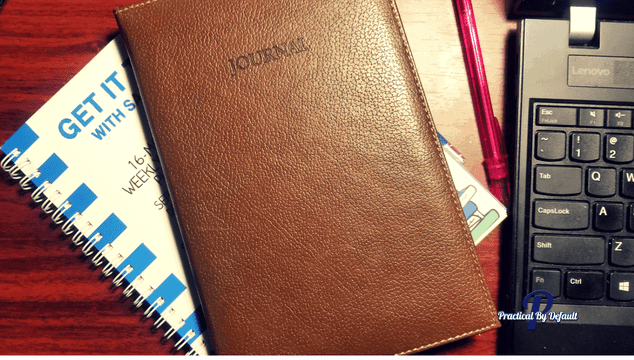 A few things to keep in mind when picking out your planner is:
How much detail do you need to be organized? Do you want a lot of pre-written lists or do you want to fill it in as you go?
What have you used in the past you hated? You can cross those styles off your list.
What features do you love? Make sure your new planner has those features or they can be added in.
What are your favorite colors? Planning should be enjoyable. If you hate the color of the planner are you going to use it?
How much work and time do you want to invest? Some planners allow for tons of customization and take time to set up. Which is great if you view it as a "creative outlet" or "self-care" project. Power to you.
But if you want a grab and go planner don't choose a multi step planner.
How much money do you have to spend on a planner? What's your budget? Make sure to factor in extras, like paper clips, binder clips, stickers, special pens, and markers!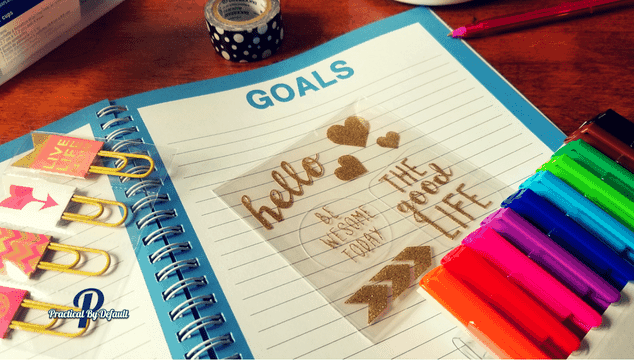 Planners For Working Moms:
The following planners are just a *few* of the favorites among working moms. Some I have used and some are on my wish list.
Others are totally not what I need but since friends and co-workers love them, I am passing them on for you to check out as well.
Now, I could just drop a bunch of links to planners but that might not be the best use of your time or much help.
Instead, I've broken them down by layout and style and included as much detail as I can to help you choose the perfect planner for you.
I'll also be linking to Amazon when I can because I love reading the reviews and looking at the inside photos of a planner to see if it really will fit my needs.
Although you can find them locally at stores such as Micheals, Wal-Mart and Staples if you have those. Look for coupon codes both offline and online to save even more. By the way, you can use Ebates at both Micheals and Amazon. 
Remember: There is no right or wrong planner.
There is the prefect planner for YOU. Which is why you need to consider what you are using your planner for (work, life, homeschooling, everything?) and take into consideration the purpose it will serve such as a weekly overview, daily checklist, bird's eye view of the month etc.
Bullet Journals For Working Moms:
Bullet journals (also called bujo) are fantastic options for moms who love to add creativity to their planning.
This planner is perfect for those who like lots of space for creative planning. Because it is basically a blank notebook you can customize it to suit your life.
You need a journal or notebook. You also need a pen. That's it.
The 3 most common layouts are:
Dot-to-Dot: This Leuchtturn1917 has 249 numbered pages, 8 perforated pages, 5.75″ x 8.25″
Blank Page: This Minimalism Art Classic Notebook Journal has 192 pages Size: 5″X8.3″; A5,
Grid Pages: Leuchtturm1917 has 249 numbered pages, lays flat and includes a table of contents. Notebook measures 5.75 by 8.25 inches.
Of course, you can let your creativity flow with all kinds of fun add-ins but those are the "needed" supplies.
To make it work for you and your life, you can customize it. Many find using pens of different colors to keep track of each section of their life is the best way, others add inspirational quotes, calendars, to do lists, and grocery lists.
And these 24 fineline pens are on my wish list.  Perfect for sketching, drawing or writing.
Another great thing about bullet journals vs a traditional planner is that you take as many pages as you need for each task or time period.  So you can feel free to devote more pages and space wherever you need it or less when you don't.
You can learn more about how to get started with a bullet journal for working moms here.
Daily & Monthly Planners For Working Moms:
How a planner is designed is important for you to know before you buy because different layouts appeal to different people.
These planners come in 3 basic layouts:
Vertical Layout:  When your planner is has lists, boxes and places vertically down the page for you to plan in.
Horizontal Layout:  When your planner is has lists, boxes and places horizontally across the page for you to plan in.
Hourly Planner:  Each hour is assigned a line or slot for each day. These can be vertical or horizontal.
I prefer to move down the page as I work because I feel more motivated to get to the bottom of the page. However, I am trying a horizontal layout because I forgot to look before I ordered my planner. Yay! for trying new things? Lol! 
Here are two examples of day/monthly planners that come highly recommended. 
This 5" x 8" coil planner has daily view pages that contain an hourly schedule in 30-minute increments. It also includes pages of top 3 priority items, to-do list, notes section and an inspirational quote.
The great thing about a coil planner is they flip all the way around giving you a flat surface for writing.
This planner is separated into monthly calendar view per two-page spread. A full yearly reference calendar, major holidays page and full notes pages are also included.
I really like the 4 step getting started pages that include morning routine and evening routine schedules already in place for you.
This planner also allows you to view your to do list and appointment list side by side. It comes in various sizes and colors if you are shopping on Amazon.
This is a dated year planner that runs from July to June 2019 the next year.
This planner is more of a all in one style because it includes:
Daily & Weekly Planner (2 pages per week)
Monthly Goals Planner (2 pages per month)
Calendar (2 pages per month)
Goals & Projects Planner (+10 sections)
Yearly Goals Calendar (2 page macro view)
Notes Journal (blank pages)
Areas of Focus Ideas Journal
The weekly layouts have daily hourly planning in vertical layout and top 3 tasks for each day. It comes in various sizes and colors and FUN quotes if you are shopping on Amazon.
Monthly/ Weekly Planner For Working Moms:
One thing you want to take into consideration is size. Smaller planners are great for planning on the go where large sizes are great for desktop planning.
Below you will find two planners that are perfect for tucking in your purse, messenger bag or briefcase.
This planner measures 5.75 x 8.25 inches however it is the tear away  lists for shopping and to-dos; a handy pocket stores notes and reminders that make it perfect for on the go planning.
Week-per-spread is divided into spaces to organize by task, time or day or track schedules; charming quotes start each week off in an upbeat fashion in a vertical layout.
This colorful 17-month planner includes 300 stickers to mark appointments and is dated. 
I love checking out the photos on of the inside to see what it really looks like and the various colors. You can see them all here on Amazon. 
Get It Together – Sarah's Scribbles Planner (2019)
Of course, I couldn't leave off the one I actually bought to use from the list.
I picked this planner because it looks FUN! And is why I didn't notice it has a horizontal layout.
A 16 month coil planner with monthly grids and weekly planning pages featuring space for things like appointments, to-dos, and fun social stuff. There's also a convenient pocket and a sheet of cool stickers.
It has pages in the back for goal setting, contacts, memories and "stuff" on lined paper.
In the front, you'll find calendar layouts for each month in advance. I think it will be perfect for that birds eye overview.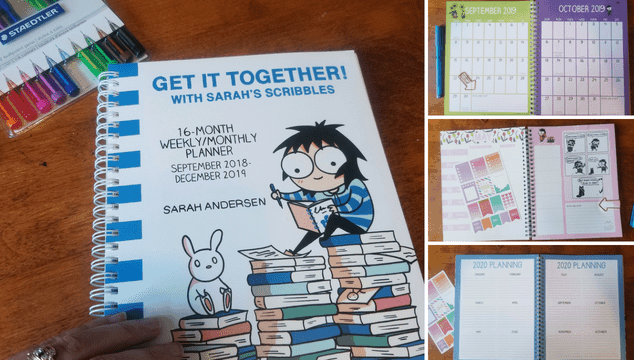 Sarah's Scribbles makes me laugh. I can't wait to put it in action. I'll keep you updated with how it works for my working mom life.
My daughter and I ended up getting the same planner. We hit Micheals for a few fun add-ons like the stickers you see above and paperclips.
I also picked up the Staedtler colored pens and then was informed I wasn't allowed to keep them on my desk. Which means I get to pick new ones up *just* for me.
This planner is wildly popular for it's customization options.
I'm going to be honest, I picked this planner up at Micheals and put it down. I was instantly overwhelmed.
Since then I've been asking those who use it and here are a few aspects working moms love about this planner:
Disc-bound.  Which means you can move pages around and add pages as you see fit. The Happy Planner comes in 3 sizes (Mini, Classic, Big).
Layout: I've seen mostly a vertical layout but the you can also get a horizontal layout. 
Customization: You build the planner you want. Adding the pages you need or desire. You can add extension packs or sticker packs for your planning needs.
Here is an example of the wellness 13 month pack.
Punch: Using an arc punch you can add pages, legal papers, schedules or anything else you need to keep into your happy planner.  (Arc punches are used for disc planners)
Regarding a great punch, I was told this Me & My Big Ideas MAMPUNB.1 PLN  is the best as the blue one that was originally recommended sticks. Both have great ratings on Amazon.
Don't forget these come in various sizes and styles as well as dated or undated.
You can find out more on how to get started with a Happy Planner here.
Time Management Planners For Working Moms:
Are you in need of daily motivation? Or help figuring out what your goals are and how they will fit into your life?
Time management planners might be just what you need.
I have had this planner on my wish list forever because a friend uses and LOVES this planner.
She uses it for both life and business but admits it is better for helping you make decisions each day and then taking action on getting them done!
The InnerGuide planner helps you find your purpose and then taking daily and weekly action to see you reach those goals.
I'm happy to see they have returned to the coil bound pages. It also has a vertical layout for the weekly two page spread. Page size: 8″ x 9″ 
Please note this planner is dated and comes in various colors.
Not your typical planner but great for those who need time management help and motivational life coach in one.
This planner makes me geek out a little. Below I'll share what you get in it but one of my favorite features is that it has a vertical layout by time but the top is blank so you can customize it as needed. It is undated and size 10 x 7 inches.
This planner includes:
a gratitude journal section
daily habit creating reminders
2-page spread per Week including room for tasks to execute goals and coordinating daily appointments/schedules
2-page spread BEFORE each month to help you plan ahead and a 2-page spread AFTER each month to help you evaluate the quality of your month
2-page vision board
2-page goal journal & motivating
and inspiring quotes.
Law of Attraction Life Planner – Academic planner to Increase Productivity & Happiness – Weekly Planner, Organizer & Gratitude Journal (2019)
This all-in-one planner looks perfect for a working homeschool mom with sections for weekly to do lists, feel good lists and gratitude lists just to name a few.
With this planner, you will set goals for all parts of your life business, health, love, finance, personal, spiritual. Includes bonus stickers as well as weekly/monthly reflections.
 This planner includes:
a foldable vision board to stay focused
morning & evening power questions
mind maps
reflection pages
habit trackers
back pocket
and gratitude journal
This is DATED: 2019 but undated is available. Click here to see that. 
This planner has a vertical layout, a bound spine and size 10 x 7 inches. 
Printable Planners For Working Moms:
Printable planners are the one planner that seems to get overlooked. Perfect for those who like the simple print and go set up or those who prefer to DYI their planning systems.
Don't let the name fool you this planner has the flexibility to handle your life. I love and use this planner all the time and I have a special discount code for you, keep reading.
My favorite part is that you can print off the pages you need, as many as you need, and go!
A few of my favorite pages are shown below.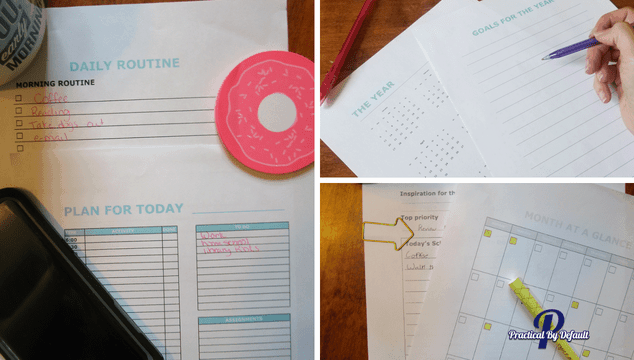 Plan For Today is a day planner page, divided into time slots and includes a To Do section, Assignments and Chores sections (printable page 19)
Daily Planner For Parent includes inspiration for the day, top priority, a schedule spot, menu, to do, chores, exercise, water tracker and important box.
Planning/To Do List is probably one of my favorites because it is blank, with check-boxes. (printable page 18)
Daily Routine is divided by Morning, Afternoon and Evening (printable page 19) and month at a glance is great for a birds eye view of your month.
Just to name a few. 
Special Discount For You: 
Jennifer knows how much I love her planner and has given us a discount code off everything in her shop: USE the code jenn25 to save 25% off anything in Jennifer Bly's store. Click here to shop!
Tina's planners are often mentioned among members of The Working Homeschool Mom Club.
Tina encourages you to find a planner that is not only organized but suits your needs. This is a 9 step planner that you can totally customize and change depending on what you need.
For the record, the only thing quick about this beautiful fully customizable planner are the steps because this free planner has over 35+ free downloads spread throughout the 9 easy steps.
Click here to see all the options and get started.
---
Like many busy moms, we need a system to make our life a little less chaotic. Thankfully planners come in all shapes and sizes.
Personally, I find planners are the best way to keep me on track. I hope these suggestions help you find focus, set goals, and help you find balance in your life.
Do you have a favorite planner? I'd love to know! Let's chat.
Take care
Jen
PS. Remember as great as planners are, you want to make them work for you not against you. If you need help be sure to read: Simple Scheduling for Your Crazy Working Homeschool Life
PLEASE PIN ME: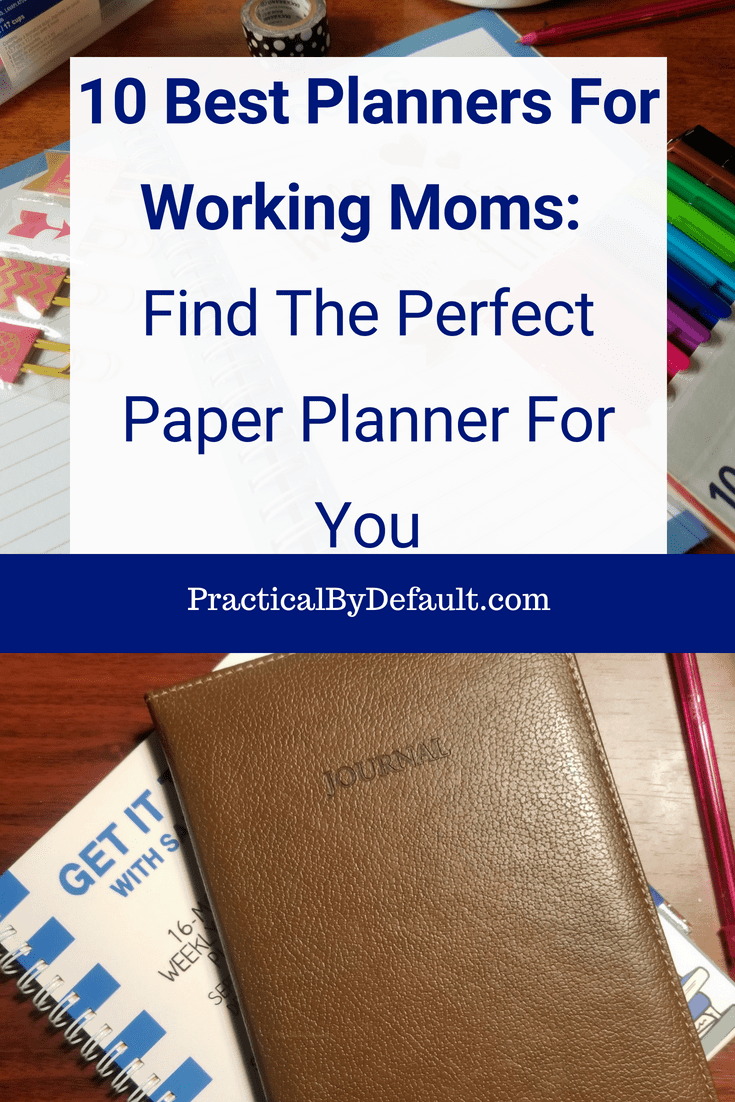 Hi, I'm Jen. I help working parents balance work and homeschooling by providing encouragement, support, and inspiration. You are warmly invited to Join the Online Community Here!