Disclosure: I may receive commissions for purchases made through links in this post.
Its the number one question regarding homeschooling. I'm sharing why I don't worry about socialization in my homeschool.
As a homeschooling mom, this is the question I dread, "What about socialization?"
And I'm not alone.
Why do I dread it? I dread it because it is usually the first question I get when I tell people I homeschool. Of all the things that are important, they seem to think the socialization of my children should be first and foremost.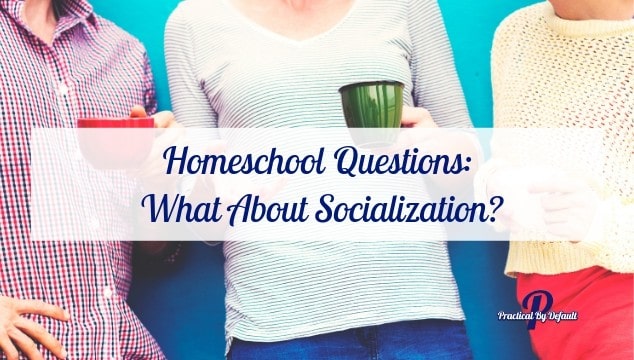 While I am not overly worried about socialization, after all it is one of the reasons why I homeschool, I do think it is a question that needs to be addressed.
Public School Has Changed
I remember very clearly sitting in the classroom and sharing the newest juicy secret with my current best friend.
Whispering and giggling trying to be quiet as a mouse.
SLAM!
Uh OH! Caught red-handed I'd be sentenced another warning for chatting during class.
But public school has changed. Now there is no chatting during or after classes. The hallways are quiet. Lunchrooms are "no talking zones". Recess is no longer filled with children laughing, running, and playing.
I'm going to admit I don't have personal experience to back this up. What I DO have is moms with kids in schooling relating experiences of their kids getting in trouble for talking during silent lunch break.
And yet, "How will your socialize your homeschooled kids?" is still the first question asked when homeschooling is brought up.
My answer: The same way the moms of kids in public school will.
What Does Socialization Really Mean?
Have you ever owned a dog?
We recently got a new puppy in our house named Echo.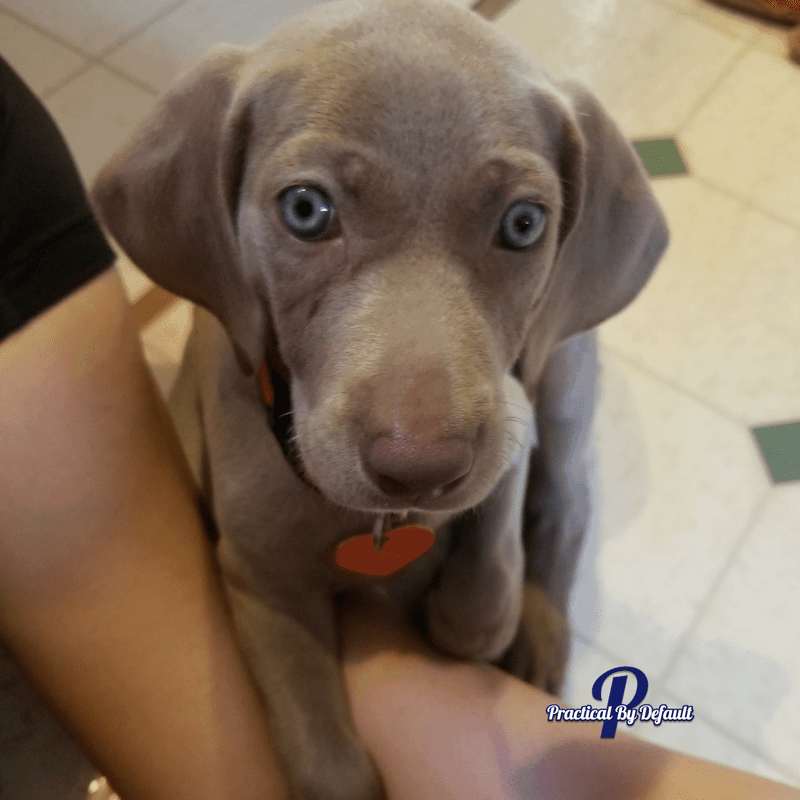 Isn't she the sweetest?
My stepsister raised dogs. She used to breed and train them. I used to hang out a bit, watching and learning.
One question every potential dog owner would ask: "Are they socialized?"
She would answer that the dog was and continue to explain the steps taken.
She trained them in a park, with children running around and playing.
She walked them in the town around people of all ages and traffic.
She took them to dog parks, where older dogs and puppies were playing.
She had them in the house while she did household chores and the kids were living life.
Why did she do all this? To help them get used to all the different experiences they may encounter in their new homes.
The potential owner wanted to be sure his new puppy or dog was ready for the world, his or her world unique experiences and all.
But the training doesn't stop there.
We've been working with Echo for months now and will continue to. Life is always changing and as her "dog mom", it is my job to make sure she continues to learn how to cope with life as it happens.
Because Life Happens Here
My kids are more important than my dog.
As a mom, it is my job to make sure they are prepared for life as it happens.
A

continuing

process

whereby

an

individual

acquires

a

personal

identity

and

learns

the

norms,

values,

behavior,

and

social

skills

appropriate

to

his

or

her

social position."-Dictionary.com
A socialized person knows what is considered "normal" in a given situation or circumstance.
And I'm not sure I want my kids to be normal.
You don't even have to leave your house to find out what is considered "normal behavior" nowadays. Hop on your favorite social media channel, scroll on through and take note of what is considered "normal behavior".
And if you are anything like me, you'll soon have a long list of ways you don't want your own children to act.
Children learn best by example. Yours and those they hang around with.
In the homeschool setting, the world is your classroom.
The people in your class are people of all ages, backgrounds, ethnic groups, religions, and income brackets. Exactly those you work with, "in real life" when you get a job.
I say the world because we are out and about in the world daily.
Most homeschoolers rarely ever get a "day at home". Even if they do, they are involved in online activities, classes and more where again, our children have the opportunity to practice the social skills we are teaching them.
The world is my classroom-Tackling the question of socialization.
Click To Tweet
We take our children wherever we go, and we expose them to new places, experiences and more so they learn what is acceptable or not.
How to act when someone ignores them because they are children.
How yelling for attention is not acceptable, but a polite "excuse me" is.
And they get a lot of examples of how not to act.
Why I Don't Worry Over Socialization
I don't worry about my children being socialized because I know them and the effort we put in as parents.
They live in the world, they are surrounded by opportunities to interact with people on a regular basis.
They are busy learning from people of all walks of life, all stages. They are busy in their volunteer service and busy within our congregation.
For example, when we go shopping they meet, interact with, and have conversations with the customers and those that work there. They are polite and engaging. I know because people tell me.
It is actually alarming how rare good manners must be.
When people ask, "What about socialization?" What they are really asking is, "Do your children know how to interact with children in their own age group?"
(Which is not the real meaning of socialization but perhaps I need to let it go)
Okay, so some think that as great as all the above is, my children won't know how to act around people their own age. Again let me assure you, they have no problems if they wish to talk to children in their age group.
They are exposed to these opportunities, which are sorted by age group:
Swimming lessons (this is determined by age, then ability later on)
Skating lessons (again, by age than skill)
Art Classes at our local craft store
As you can see, they get plenty of "age group" socialization.
However, my children don't usually care to hang out with children their own age because as they say, "Teenagers are weird!!" Ha! If only they knew!
Does Socialization Depend On Your Community?
Yes AND No.
Yes, if you want your children to interact more with other children their age, you might have some difficulty if your library doesn't run camps, challenges or other age-specific programs. Or you are unable to find park days that children their age "hangout".
As parents, homeschooling or public school, it can be a challenge for us to find good association (friends) for our children.
We created this list of ideas for moms who work to help them find friends for their kids.
Like it or not, not all children have qualities we want our children to pick up. We know from experience we are who we hang out with.
No, once we realize that our children can benefit from friendships that are not based only on age, but on interest, qualities, and personalities this can make things much easier.
Now we have opened them and ourselves to developing many friendships with all types of people.
Sure, you might need to get a little creative.
You will probably have to do a lot of the hard work by hosting gatherings yourself, finding local co-ops, or driving more than an hour to find functions.
You might need to step out of your own personal comfort zone and be bold!
So, What About Socialization?
Teaching your child at home does not mean we only keep our children at home. I am sorry to disappoint you but we don't keep them locked up and in the basement. I don't even have a basement!
Our children are totally "socialized" in the true meaning of the word.
They are learning to cope with life, by living it. We don't box them up or hedge them in by age group. We let them choose through activities and interests they share who they hang out with and become friends with.
Take care,
Jen
PS. I hope that puts your mind at ease, and if you are interested in getting your children involved in activities don't forget read How To Help Your Homeschooled Child Find Friends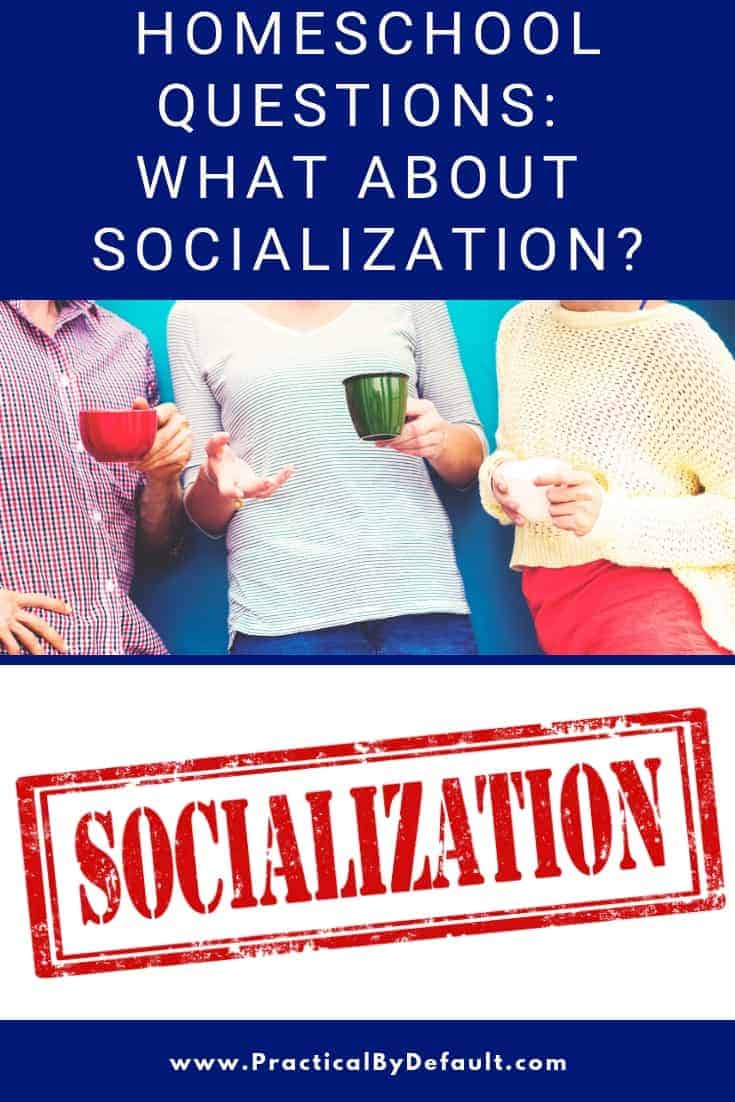 Linking up with other homeschoolers to answer questions we are asked! Click on the image below to be taken to the link up!
Hi, I'm Jen. I help working parents balance work and homeschooling by providing encouragement, support, and inspiration. You are warmly invited to Join the Online Community Here!