Disclosure: I may receive commissions for purchases made through links in this post.
Inside: Keeping the kids fed and fueled while camping can be tough. Grab this list of camping snacks for kids for your busy kids on the go! (Free printable included, instant download. ) 
Food is the heart and soul of our camping trips.
I am not sure what it is about being outdoors but I am always hungry and food tastes so much better.
It could be because I don't do most of the cooking 😉 Or maybe it is because of the fresh air coupled with exercise from hiking and biking.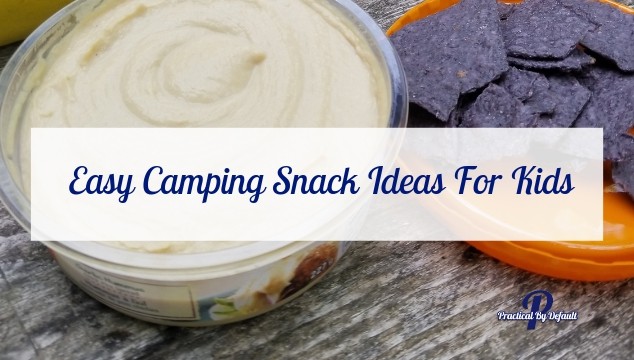 Either way, I am not the only one who is always reaching for a snack.
However, as much as my family loves to eat while camping what we don't want to be doing is hunting for food all. the. time.
Which is why I am sharing our favorite camping snacks and treat ideas for kids. Don't forget to grab the list below and make it easy for you. 
These snacks are tried and tested. We just got back from our one and only family camping trip for the year.
It was our first one for Echo and Max. I've never camped with two dogs. I was totally unprepared but with helpful ideas from my friends on Facebook, it went well.
A few things recommended were towels, blankets, chew toys and a harness. We had everything but the harness.
We purchased this harness for Echo and this was a life saver!
She was able to ramble the site safely out of reach from the campfire without choking herself on her collar.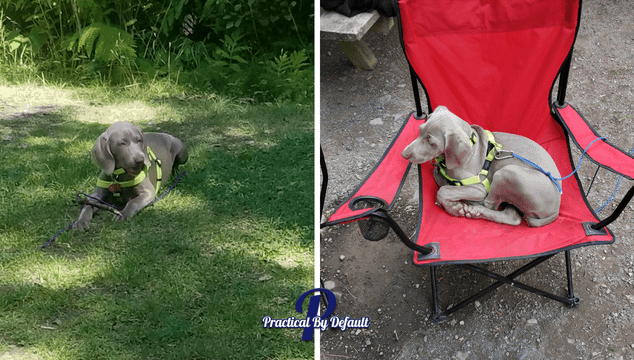 I highly recommend a harness if you are camping with dogs.
Keep It Simple:
One thing we do to make camping trips less stressful and more fun for the adults is making most of our meals and snacks ahead of time.
Less time cooking, prepping and hunting for food. More time connecting with your family. ♥
⇒You can read our favorite make ahead camping meals here.
Before we left we created a list of camping snacks and treats that the kids will love that we can make ahead of time. The key is to keep it simple!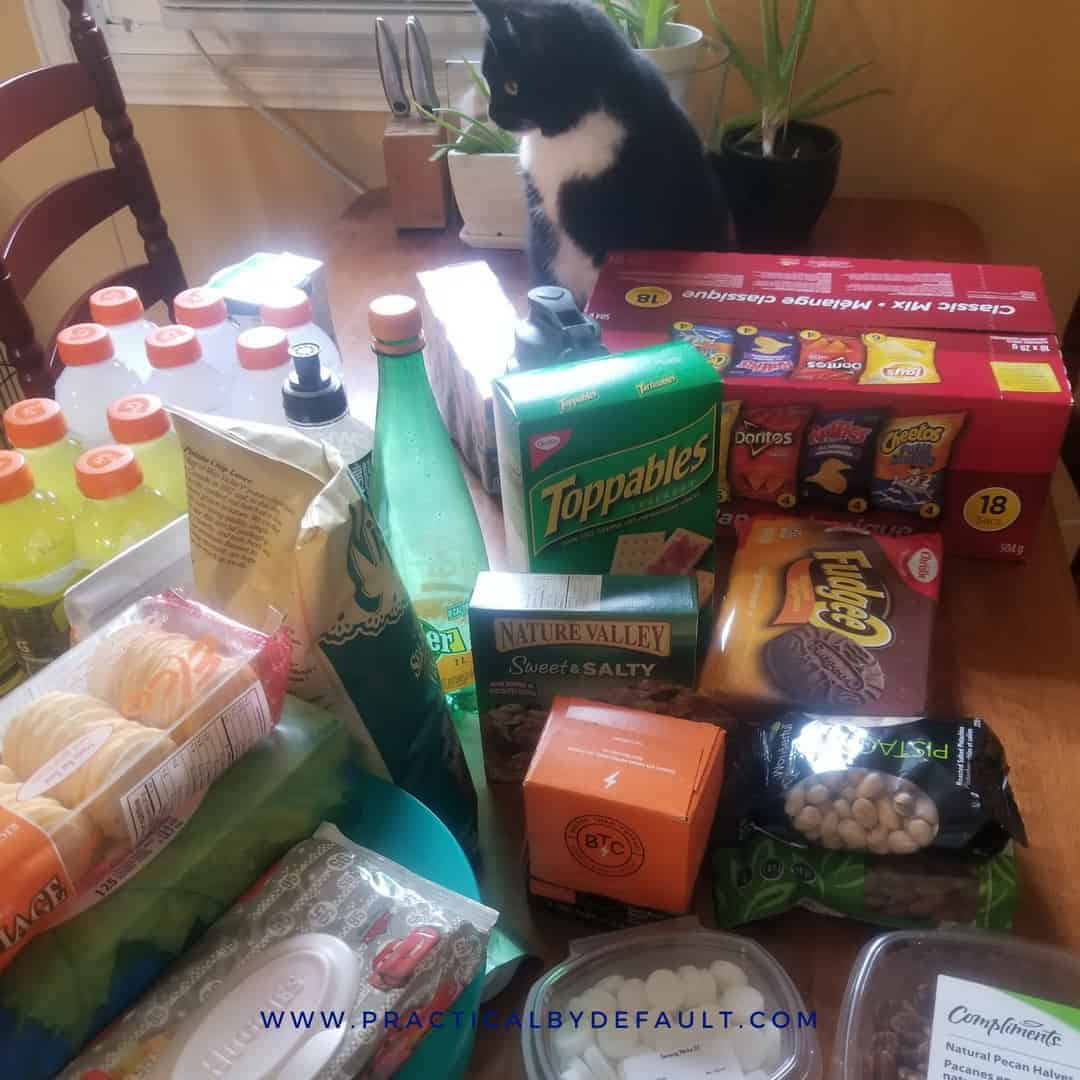 We like to save money by making our list of food we want to pick up or make ahead of time and then watch for sales.
We keep them in a basket so no one eats them before we go. Mom of teens remember? LOL!
A few days before we leave we set everything out and get rid of as much of the packaging as we can. We use reusable containers that are well sealed to keep snacks fresh.
You'll want to double check your seals. We discovered the one holding our hummus wasn't that great and ended up filled with water. Next time, we will remove it from the store bought package and put it in our own containers.
I, personally, love the Rubbermaid Takealongs Twist and Seal Food Storage Containers because they are lightweight, easy to use and so far, nothing spills out of them. We've had them for about 4 years.
Camping Snack List Ideas:
Yogurt:
My kids are not a fan of the drinkable yogurt but the little individual packs are a hit. My son has even figured out how to eat them without a spoon but you may not want to tell your kids that one 😉
Cereal:
Dry cereal is another great grab and go snack. We like to divide it up into servings at home which makes it easier when at the campsite.
Granola:
Depending on the time I'll either make my own granola ahead of time or pick up a box at the store. Either one works 😉
If you are buying it look for one with less sugar. The last thing you need is your kids hyped up on sugar before bed and climbing the tent walls.
If you are making it homemade, this granola is fast and easy.
Crackers:
If my kids had the choice between crackers and chips, they would choose crackers almost every time. A few of their favorites for camping are Toppables and Rice Crackers.
Rice Crackers are awesome because they do not get soggy.
Potato Chips:
We alternate between buying the large bags or the small individual bags, you'll see the Frito-Lay Classic Mix above along with the larger bag of Miss Vicki's Salt & Vinegar.
Chips are a highlight of camping but not great for hiking as they tend to get crushed.
Hummus & Chips/Veggies:
Hummus makes for a quick and healthy snack while camping.
We buy a locally made brand or you can make your own. This hummus recipe is great for kids!
I prefer to eat it with blue corn chips but you can also use chopped veggie sticks such as carrots and celery.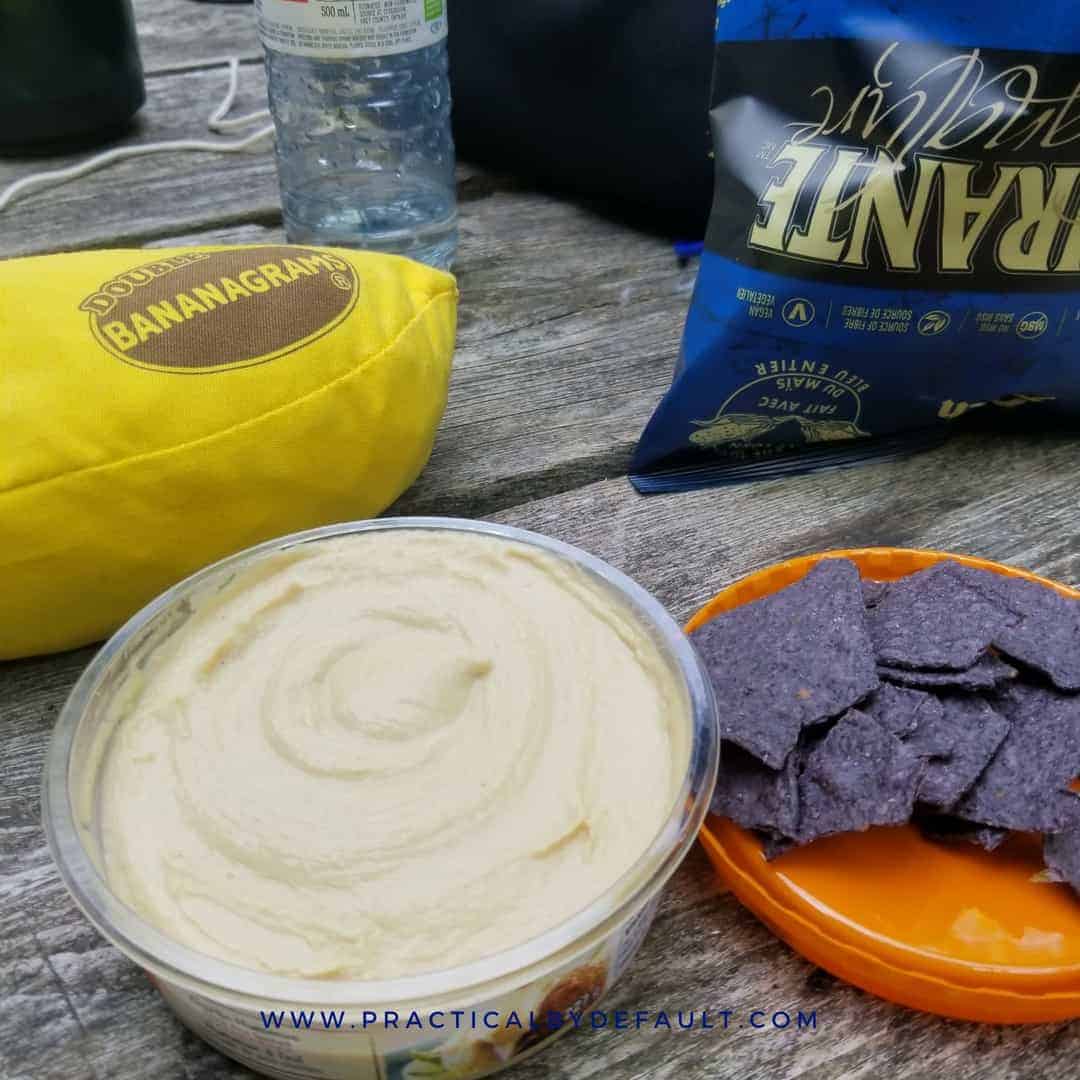 If using veggies make sure you eat them in the first few days unless you have access to a fridge. They tend to get mushy fast in a cooler!
Eggs:
Hard-boiled eggs are a great handy snack for camping.
You can make them ahead of time in your Instant Pot, boil them up or bake them in the oven for quick batch cooking.
It is on my to do list to make them in the Instant Pot, but for now I use the oven method, you can find it here. 
Granola Bars & Energy Bars:
Granola bars are awesome for on the go snacking. You can toss them in beach bags, outback hiking packs or day backpacks and you are good to go.
Nature Valley has this great crunch and doesn't get soggy in the heat. Choose ones without chocolate or yogurt coating if you are going to be using them in packs. The toppings tend to melt, ick!
I love Solo Bars for energy bars and they pack pretty good but do melt in the heat. I think they are worth it, lol! 
This mint one is my all time favorite but I am not a fan of the pineapple ones. Have you tried them yet?
I was going to share a photo with you but I ate them…here is one from Amazon! 
Cookies:
My daughter loves to bake so store-bought cookies end up being a special treat. Oreo's and Fudgeo's being the favorites.
You are going to want family size, just sayin'!
These are great for around the campfire. You can substitute the cookies for graham crackers for a fun twist when making smores.
Here is a video to show you some GREAT ideas on how to make them fancy. I prefer to keep it simple but for those of you who need ideas, watch this video! 
Mixed Nuts:
I love snacking on nuts for a quick energy recovering snack.
A few of our favorites are:
Pecans
Almonds
Walnuts
Peanuts
Unsalted for me, salted for the kids.
Honestly, my favorite brand for mixed nuts and dried fruit is from Orchard Valley. 
I've shared about them here in my gluten-free, peanut-free snacks list. 
Cheese:
Cheese is one of our favorite foods both at home and on the go.
Since it seems to stick with us on our hiking and bike trails we try to make sure we have it on us at all times.
Babybel is my favorite where the kids prefer cheese sticks and strings.
Beef Jerky:
Beef Jerky is another favorite camping snack because you can get them in many flavors, sizes such as individuals or larger packs like shown below.
Make sure you pack a lot of water for this one and remind the kids to take their time chewing.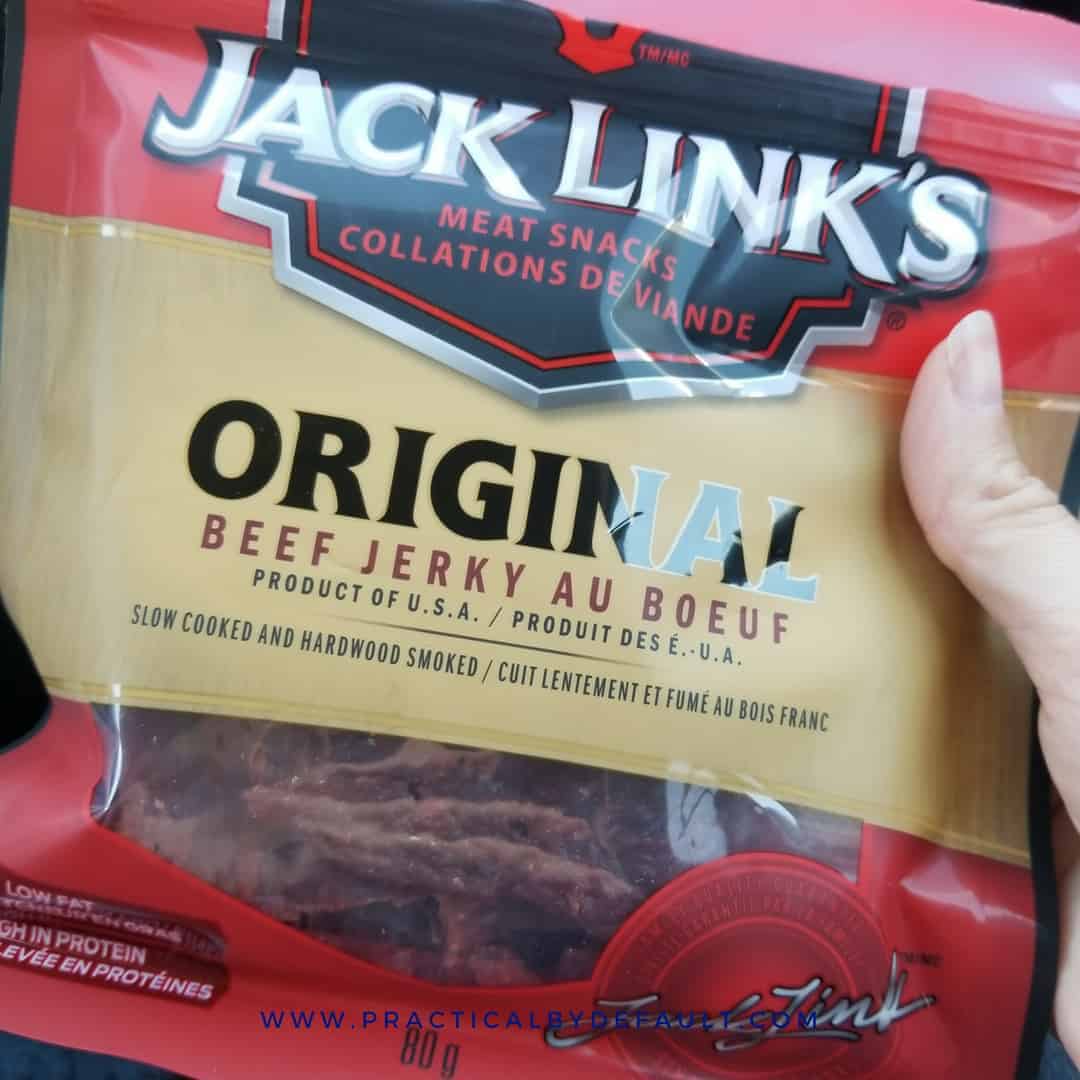 Cut Fresh Fruit:
Fresh fruit is awesome for a healthy alternative for those kiddos with a sweet tooth.
A note about fresh fruit. If you are camping for a few days you may want to encourage the kids to reach for fruit as a snack at the beginning of the trip otherwise it goes bad quickly.
Washing, cutting, using lemon juice and storing in a small cooler with ice seems to help.
A few of our favorites:
Apples
Oranges
Grapes
Strawberries
Blueberries
Dried Fruit:
Confession: I love dried fruit. I'll take it over candy any day. BUT I want the ones without sugar.
You can buy them in individual packages or do it yourself.
Our family favorites are:
Cherries
Blueberries
Raisins
Cranberries
My kids love any dried fruit mix for on the go. These are perfect for your daypack and hiking because they endure being crushed and heat.
That is the line up so far with a lot of new ideas for us. Grab the free printable list below!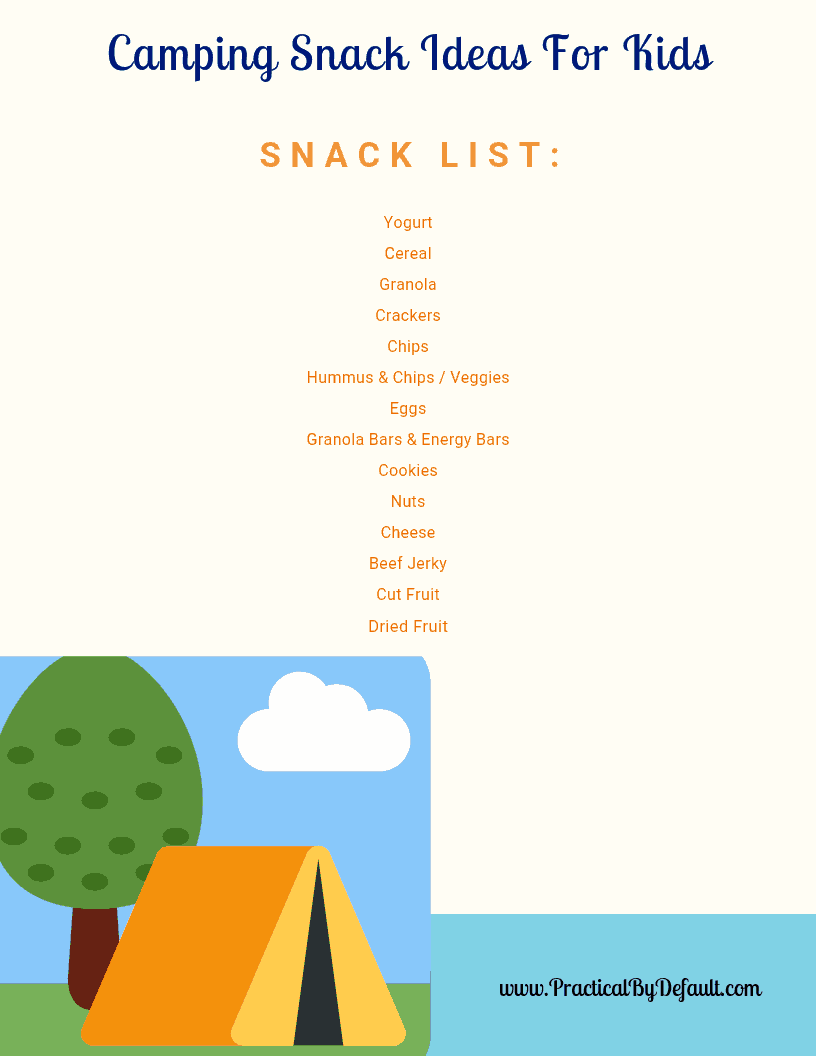 FREE Camping Snack List
Keeping the kids fed and fueled while camping can be tough. Grab this list of camping snacks for kids for your busy kids on the go! And use this list of camping snacks for more ideas!
Do you camp? What are your favorite snacks and treats for kids?
Take care,
Jen
PS. If you need quick and easy make ahead meals for camping CLICK HERE.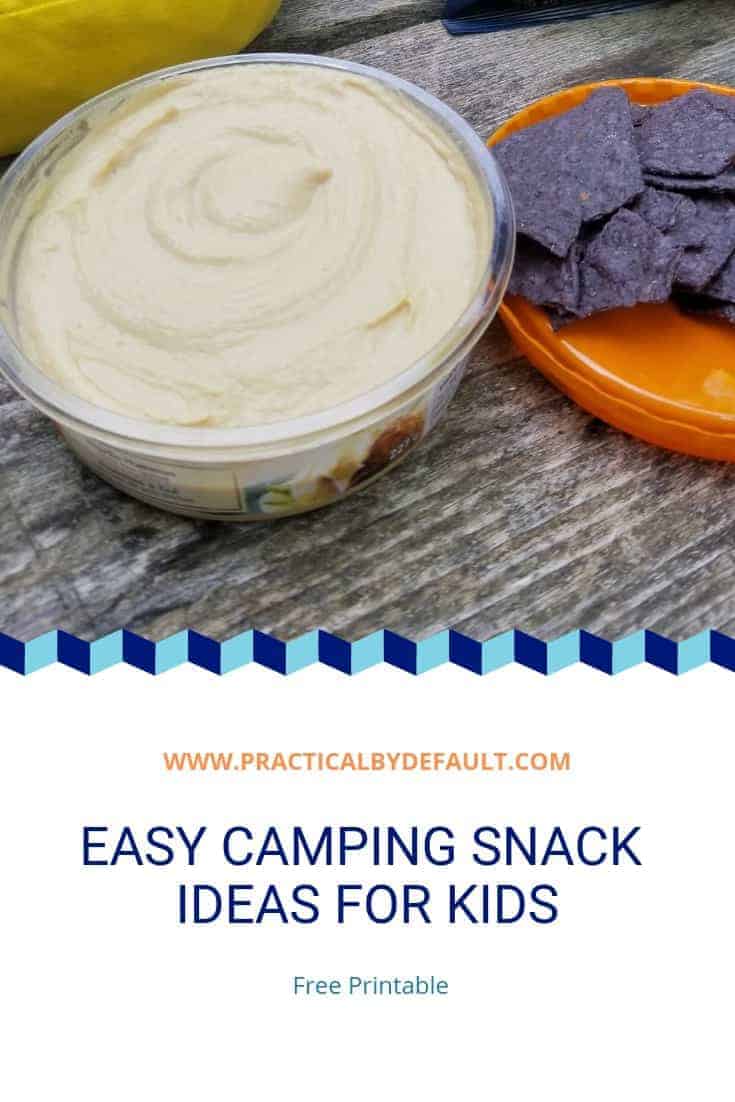 Hi, I'm Jen. I help working parents balance work and homeschooling by providing encouragement, support, and inspiration. You are warmly invited to Join the Online Community Here!