Homeschooling is a wonderful journey but it isn't always cute, neat and shiny. Like anything in life it has its good days and bad days.
I have an Instagram account for this blog, where I share sneak peeks into our homeschool adventure.
I share what our day looks like, what we've seen, where we've been. More so lately than in the beginning of sharing my jouney with you on Practical, By Default.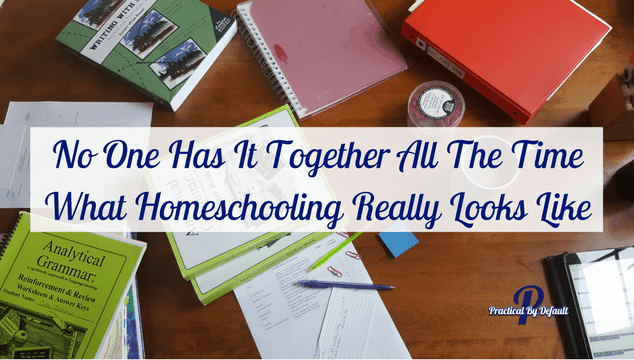 Early Days of Instagram
When I started blogging one of the things you do is try to learn ALL. THE. THINGS!
I had used Instagram before but I dutifully took the free courses and tried to apply what I learned. Staging photos, adding only my brand colors, making sure to stick to a pattern, etc.
Isn't it pretty? Notice the pattern, quote then photo, then quote then. Note the photo below shows a quick overview of what my feed would have looked like back then.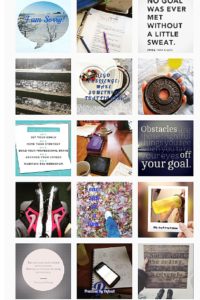 There was a  problem, though. It wasn't what I wanted, but it was working. People were commenting, hearting and my followers were growing. I should have been thrilled. And I was but….
Not all is what it seems…
There was this poke, wiggle, nagging feeling. Whatever you might call it, something wasn't sitting right. It was too "pretty"…too fake.
I couldn't really pick an exact thing that was bugging me about my feed. So I kept plugging along.
Then one day this email dropped into my inbox inviting me to read the latest post. So I began reading this mom's blog post about how she was following a few different moms on social media. She stated their homes were always neat, tidy, with everything just so. She started to feel disheartened, jealous and feel discontent with what she had in life. Due to this she started to feel like she never had enough, was enough, could be …well enough.
Throughout the post, she said as much as she tried her homeschool, house, life would never be always neat, always tidy or ever perfect. However, she noted that when she stepped back from these accounts she felt better. She started to appreciate what she had in life, maybe it wasn't perfect but it was her's.
This made me reflect on what I wanted other moms, homeschooling or not, to feel when they visited me here on the blog or elsewhere on social media.
Making a change to what homeschooling really looks, for us!
I took a good look at my photos especially. I was saying I was sharing what homeschooling really looked like but was I?
If you look at the photos now, you will still see quotes from time to time, but you will see more of our life.
Messy art days.

Day's at the beach.

You will note I talk about how I walk away from housework to sit out and play with the kids. You will see cool things we discover around town. We share snaps of our pets, bookshelves, recipes we are trying and the mess that goes with it!
See, homeschooling isn't always neat and tidy. Sometimes it's messy and crazy. Just like life.
Now I share true sneak peeks as shown in the pinnable graphic above. You see recipes for frozen yogurt my daughter makes daily, a fun sharpener by a countdown sheet,  a crazy messy living room while we go through clothes as the kids grow. As you browse those photos you should see nothing to be upset about however I hope to are inspired to feel free to get messy, dirty and explore life-and enjoy it guilt free!
No one has it together every single day. What does homeschooling look like to you?
Click To Tweet
Am I saying my photos aren't staged? I call them"edited" for safety we try to keep locations vague but otherwise they really are just snapshots of life. Neat art we discovered at the local public library, a plant we planted and managed not to kill, a new smoothie recipe the kids tried out and more.
What Homeschooling Really Can Look Like:
Here is a list of some of my favorite homeschooling accounts to follow:
Meet Heather & Robert
Currently in: Big Sur, CA Homeschooling & RV roadschooling family. Downtime spent with our family loving & laughing. ❤️ theschottlife.com Find them on Instagram! I love that her homeschool looks different than mine. She shares sneak peeks into their homeschool as well as studies they are doing as they travel.
Meet Amy
Homeschool soccer mommy to 5 boys. Creative, hands-on homeschooling. www.busyboysbrigade.com/star-wars-cards Find her on Instagram! Amy is mom to 5 boys so you wanna bet her homeschool looks different from mine! She might look familiar as I have mentioned her before 🙂
Meet Shelly
Christian mom of 11- Visit my blog "There's No Place Like Home" for my take on homeschooling, parenting, & MAYBE some ranting about public schools. redheadmom8.wordpress.com Shelly was the expert I brought in to answer a homeschool question of my readers on how to homeschool multiple ages. Be sure to check her Instagram account for a peek into her homeschool.
So there you have a small list of my favorite accounts to follow. They are from all over the world. That is how I put social media to work for me. How do you make it work for you? (and not against you!)
Homeschooling isn't pretty…it's life!
Homeschooling isn't always perfectly lined bookshelves, spotless homes, children sitting quietly doing their work. Sometimes they are, but mostly it is messy, laughter, crazy, fun.
So tell me…What does homeschooling look like to you? 
Take care, 
Jen
PS. If you are on Instagram and are sharing your life with others, let me know! I would love to see what you are up to!