Disclosure: I may receive commissions for purchases made through links in this post.
Learn how to cook dried beans, which are better for you and cheaper, quickly and easily in your Instant Pot with this recipe! 
Fact: Dry beans are cheaper than canned. Also Fact: Dry beans take forever to make.
Unless you have an Instant Pot. Making beans in your Instant Pot is a snap.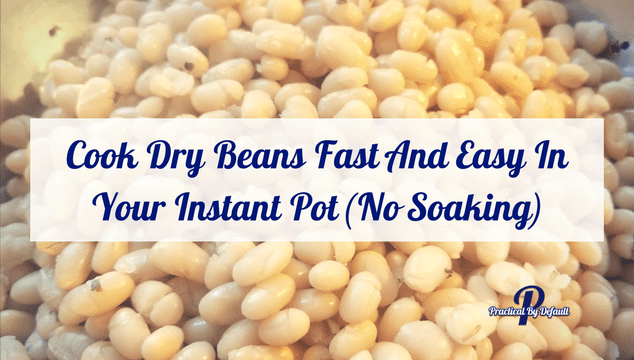 I love having cooked beans on hand when I am cooking. You can quickly add them to chili, soup, and to nachos. Or make bean dip or toss them into rice. They are so versatile. BUT buying canned beans adds up quick.
I was pretty excited to see that I could cook dried beans quickly in my Instant Pot without soaking them.
Better for you and cheaper than canned.
How To Cook Dried Beans In Your Instant Pot
First of all, you don't need to soak your beans ahead of time BUT if you don't, the beans will not be "pretty".
The skins will be cracked, as shown in the photo below.  This doesn't bother me but if it bothers you, then make sure you soak them the night before.
⇒To soak: Add four times the amount of water to beans to a bowl and cover with a towel to keep cats, bugs, and stuff out of them. Let them soak overnight, or 4-6 hours. Rinse well before cooking.
Prep Time: 5 minutes. Cooking Time: 30 minutes plus time to come to temperature and time to natural release
What You Need:
1 lb of dried beans. I used Navy Beans. The cooking times reflect this. I'll share general cooking times for other beans below.
a kitchen scale.  I used a scale like this one, but Starfrit brand.
8 cups of water
1 tbsp of oil
seasonings
Instant Pot
What You Need To Know:
I'll be using a 6 Quart Instant Pot in case your buttons are different than mine 😉
When you cook beans in your Instant Pot you need to know that dried beans double in volume and weight. To avoid overflow, please do not fill the inner pot more than to the ½ mark to allow for expansion.
If you choose to presoak the cooking time will be shorter, about 7-8 minutes for Navy Beans.
What You Need To Do:
Gather all your ingredients.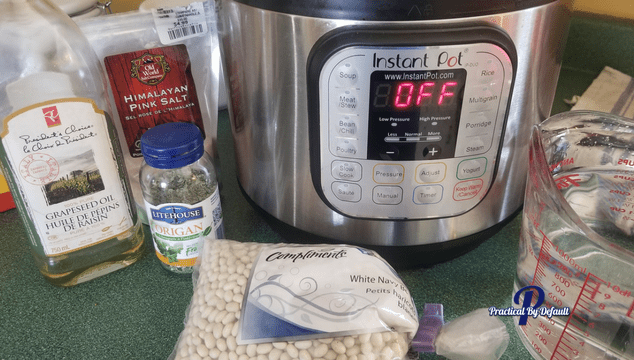 I used Grapeseed Oil, the brand shown is found at our local SuperStore, but Kirkland Grapeseed is good as well. For seasonings I used Himalayan Salt (pink one by Kirkland) and Litehouse Italian seasoning.
Most beans go well with herbs like parsley, rosemary, sage, savory, and thyme. You usually can't go wrong with dried garlic and onion salt or powder, either.
Measure your beans out. I used a kitchen scale and measured out 1 pound-ish! lol!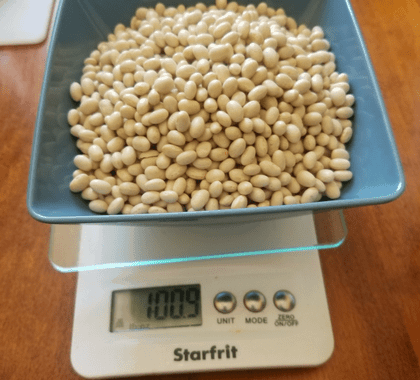 Next, add dried beans, oil, seasonings and water to the Instant Pot. 
The oil is to keep the foam down.
Add the cover, and set the steam release to "seal".
Plug it in if you haven't yet. This is the hardest part of the whole thing, lol!
Press the "beans" button, circled in blue
Using the "-" and "+" buttons, circled in orange
Adjust until you get 30 on the screen, shown in green
Walk away.
⇒Note: This will take longer than 30 minutes. It will take time come up to pressure, about 10 minutes or so.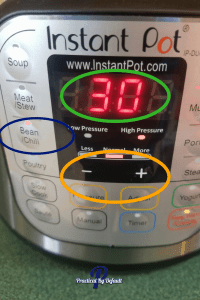 Let manual release so as to avoid pockets of heat. I forgot about mine for about 20 minutes but I am sure it is faster than that 😛
Drain well and let cool before putting in bags or containers to freeze and use later.
As you can see the bean skins are cracked. I did not soak them. I never do but was told that soaking them first will prevent this.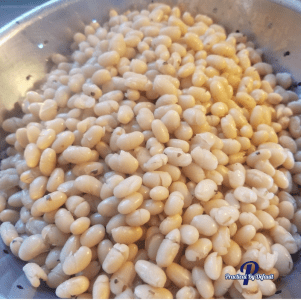 Dried Beans Cooking Times:
Different beans require different cooking times. You can use the same steps above but adjust the cooking time as needed. The time is for UNSOAKED beans.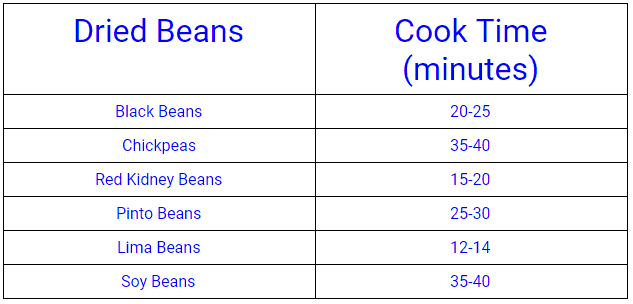 I love having beans on hand for cooking, but what I really like is knowing there is no added preservatives, salt or other unwanted junk in my beans!
Cooking them in the Instant Pot is just so easy and it saves money too! Win, win!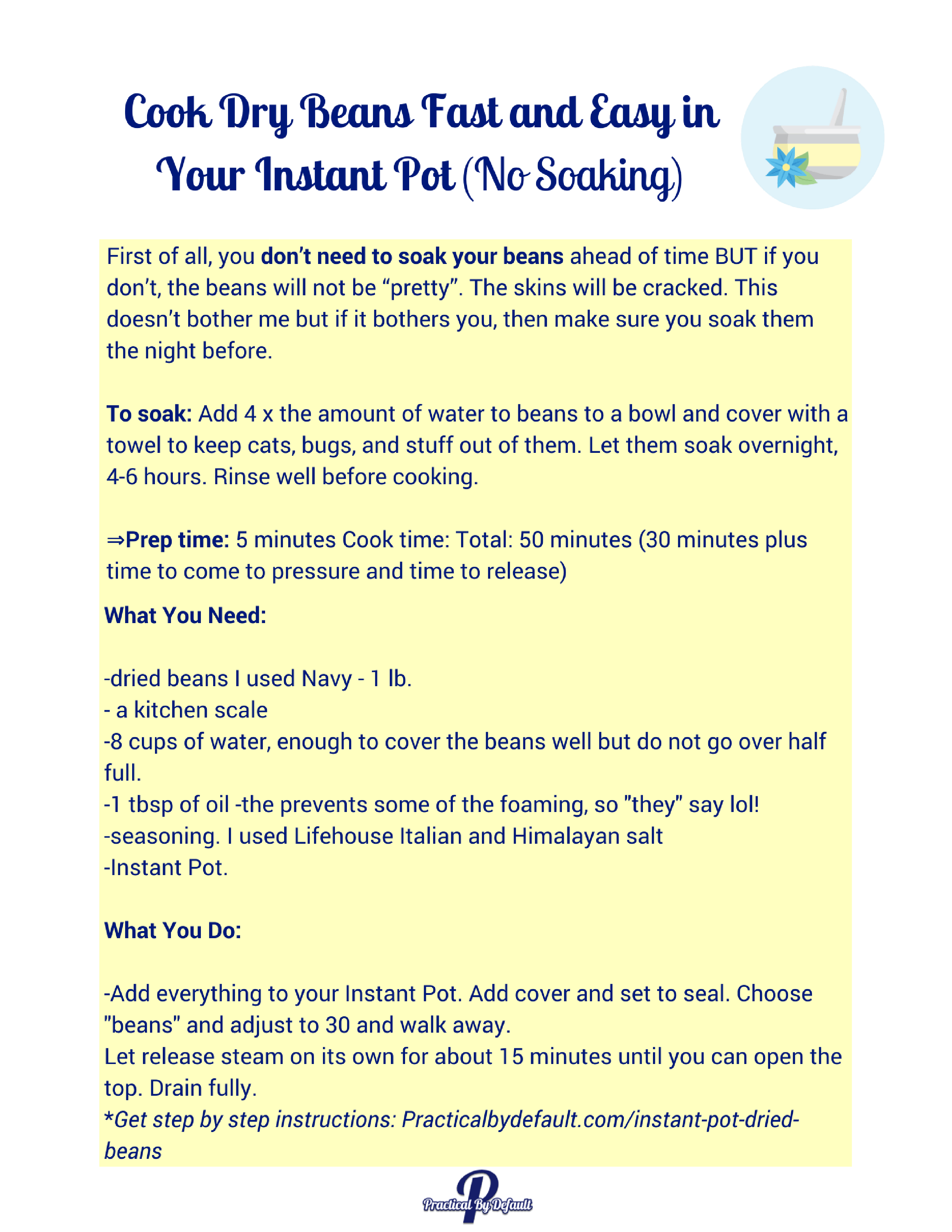 Cook Dry Beans (Instant Pot Recipe)
How do you use your beans?
Take care,
Jen
PS. Do you have an Instant Pot but it is STILL in the box? Check out my Getting Started Guide here!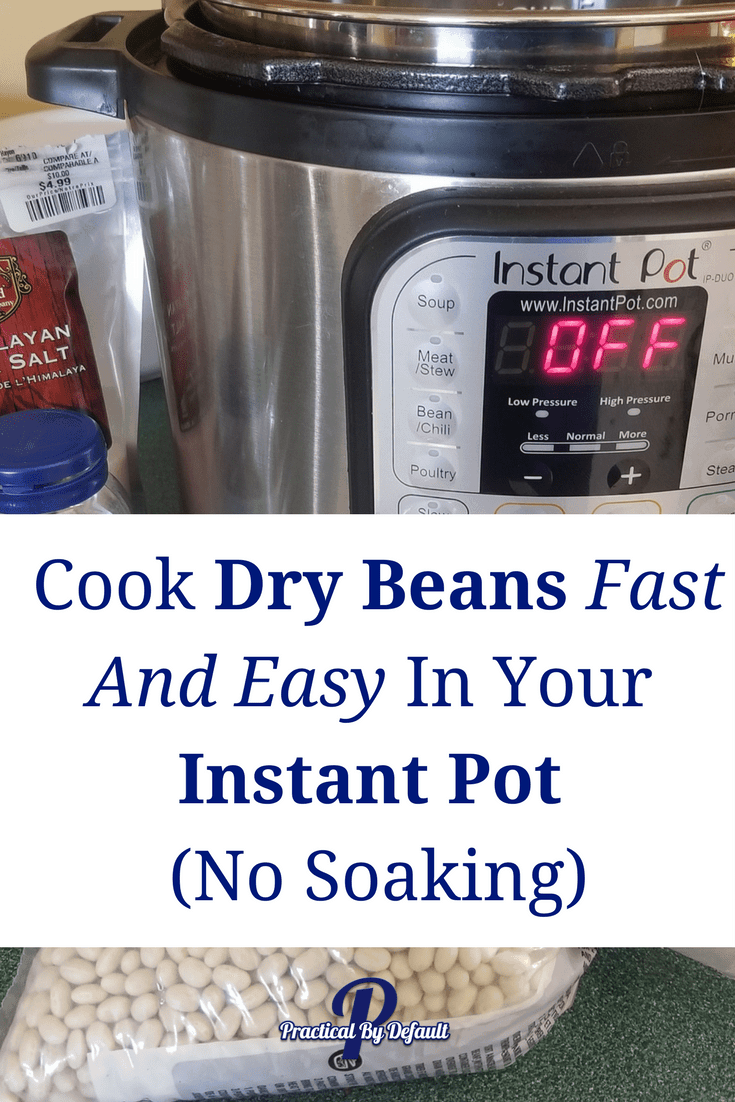 Hi, I'm Jen. I help working parents balance work and homeschooling by providing encouragement, support, and inspiration. You are warmly invited to Join the Online Community Here!