Who doesn't want a nice homemade supper waiting when you get home? One that is freshly cooked, hot and sizzling, good for you and all ready to go? Did I mention kid approved? I'm here to tell you it doesn't need to be a dream.
What's for Dinner? Kitchen Superstar is a new feature on the blog. I am sharing with you busy moms and dads my favorite items in our kitchen that truly are superstars!
They help me save time, spend less or make my life easier. I will not just tell you about the item but how it helps make my life better. I hope you enjoy!
Today I am going to reintroduce you to a home appliance that has quickly become my favorite, a real kitchen super star! Especially in the last year or so. Chances are you have one, under the cupboard, way in the back.
After today you are going to want to dig that baby out. That's right it's your slow cooker!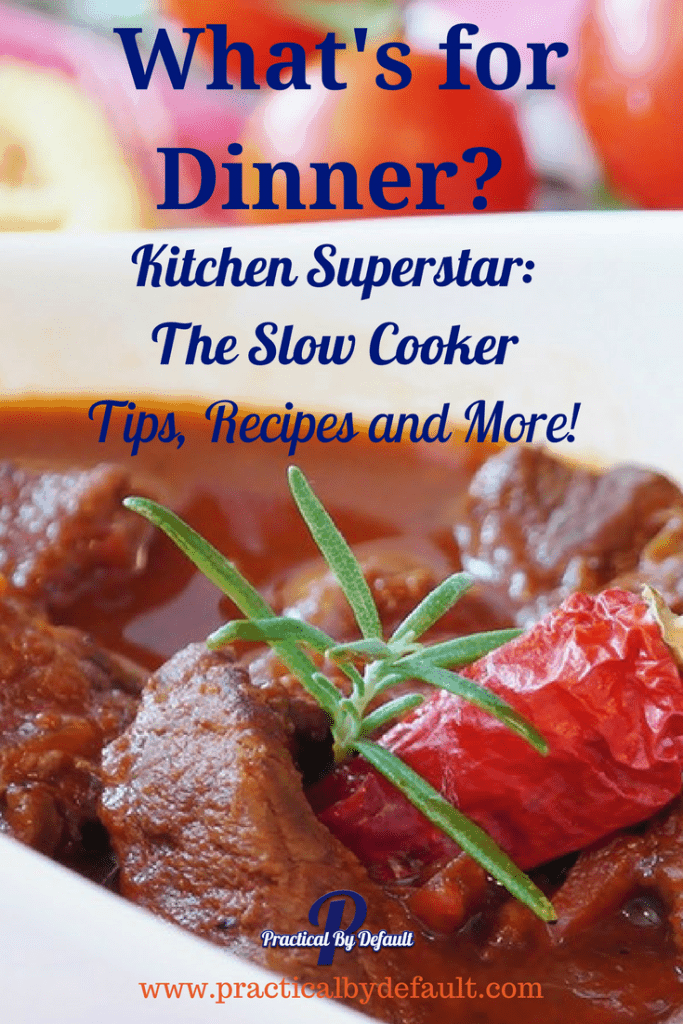 *This post contains affiliate links, thanks!
I am going to share with you recipes I use to save myself time and help me get a hot home-cooked, good for you meal on the table at night.
Slow Cooker To The Rescue!
I received my slow-cooker for a wedding present, and I wasn't very impressed. After all, it took forever to cook things. (duh right??) I also hate homemade beans, which is all anyone ever seemed to make in them.
So where did it go? That's right, under the cupboard. I'd dust it off and try a recipe or two but usually, they were tasteless or gross. We've even had a few inedible ones. It was so very frustrating, so back under it went.
When I went back to work I knew I needed help with meals. After all when you're tired, exhausted and the days are soo long! Everyone is hungry-they want to eat now! Even the thought of cooking was enough to do me in.
So I dragged it out again, and we had a little chat. About how I wanted good meals to come home to. Then I hit the internet and messiped* my way to some great meals.
*this is when I pretty much make-over the recipe, the kids have coined this name for everything I make, if you've decided not to ask, you are very wise!
10 Tips For Slow-Cookers:
First, if you follow me on Instagram you might be thinking, "I don't believe you use your slow-cooker, I saw you cooking supper at 9 pm." Which is true, and that is why I use it more often than I used to. To prevent more nights like that, really no one wants to be cooking and eating supper that late.
Speaking of which, I was making the BEST beef and broccoli I ever made in my life. I did not messipe it, and here is the link:  The Best Easy Beef and Broccoli Stir-fry Recipe By Chris from Kansas and trust me there is no need to change it.
*All opinions are mine, Chris from Kansas has never heard of me, has no idea I cooked and totally enjoyed his meal. Just sharing!
I'll share my favorite Crock-Pot (slow-cooker) Beef and Broccoli soon. But first things first let me share with you 10 Tips for using your slow-cooker!
Ready? Here we go!
Always pre-cook hamburger, and drain it right away. Even lean hamburger tends to have a bit of fat, so draining gets rid of that and leaves the meat tasting better. Ever notice sometimes hamburger has this odd odor? This will fix that problem! I use a metal colander and a glass bowl. (see below), that way the grease doesn't go down my drain and clog it.
Add your spices at the end, if possible. This allows them the be stronger in flavor.
Rinse and drain all your canned beans, this reduces the sodium.
Remember to not add a lot of liquid, the lid is on and won't reduce as it cooks.
As above, the liquid will not thicken while it cooks, so you might want to roll your meat in flour or cornstarch or arrowroot powder before placing it in the cooker.
To save yourself time, choose recipes that all the items go in at the same time
Pre-wash, pre-chop and pre-cook the day before if possible. You can even layer it in the slow cooker the night before then you just need to lift it out and place it in the cooker and (turn it on-don't be me) and go!
Don't mess with it. Leave it covered. If you take off the lid, you can lose up to 30 minutes of cooking time as you will lose heat and steam.
Take out leftovers right away, and wash in hot soapy water. This makes them easier to clean. (Pst! I hate cleaning mine, so I find this works best)
Remember if you over fill it or under-fill it, the cooking time may vary.
Now you have those tips under your belt, let's cook!
Sharing my secret weapon to getting dinner on the table without cooking all day
Click To Tweet
Recipes For You To Try:
So this recipe is inspired by "it's the day before groceries and we need supper tomorrow and I get home at 8 pm", got me? Great!
For a fun photo slide show, check my Instagram account where I showed the pictures of me making this the night before 🙂
Mexican Slow-Cooker Casserole
Mexican Slow-Cooker Casserole
Recipe Type: Casserole Cuisine: Mexican
Prep time: 15 mins
Cook time: 8 hours
Total time: 8 hours 15 mins
Serves: 8
This kid-approved recipe is great for long days.
Come home to a great tasting flavorful home cooked meal.
Freezes well, and is great for leftovers for the next day. Super Easy!
Ingredients:
1 1/2 lb of beef hamburger
I chopped onion
1 can of pasta sauce, your choice
1/4 cup of Salsa, your choice
1 can of black beans or mixed beans
1 1/2 cup of rice, I used Jasmine
1 cup of water Salt and pepper
Instructions Fry hamburger and drain well. Add to slow-cooker Add in the rest of the ingredients in order. Cover and cook for 6-8 hours. Serve with sour cream and shredded cheese if desired.
I mentioned one of my favorite meals is Beef and Broccoli. I make this a lot and different ways. Sometimes with hamburger, steak, or roast. Anything will really do. Here is one of the first one's I've tried, and I still use the "idea" when I make it.
Take-Out, Fake-Out: Beef &  Broccoli
Did you know you can do baked potatoes in the slow-cooker? Oh yeah, and you know the extra work with tin foil? Forget-about-it! Check out this post: How to Bake Potatoes in a Crock Pot
We tried it last night, it was great! I did a whole slow-cooker full so we had potatoes for lunch and for homemade breakfast potatoes!
*Pro Tip-clean your potatoes really well!
So there you are set! 10 tips and 3 recipes for your slow cooker/crock pot needs. If you don't have a Slow Cooker or Crock Pot, no worries. You can check them out here to help you find one that fits your family and budget: Slow Cookers/Crock Pots
Conclusion:
Due to my crazy busy schedule, my crock pot aka slow cooker is one of my go to secret weapons when I don't want to be cooking at 9 pm. How do you use yours?


Where We Share!