Disclosure: I may receive commissions for purchases made through links in this post.
With the fall weather comes the desire for warmer comfort foods such as casseroles, chowder, soups, and stew.
The first recipe I made in my brand new Instant Pot was a whole chicken because it was my favorite dinner to make.
You can read all about that here: How to Cook A Whole Chicken Using Your Instant Pot
Now I had an idea!
Everyone had been talking about bone broth and how amazing it was, good for you AND how it would save me money! I had heard about making your own broth over the years but there was always one thing making me avoid making it…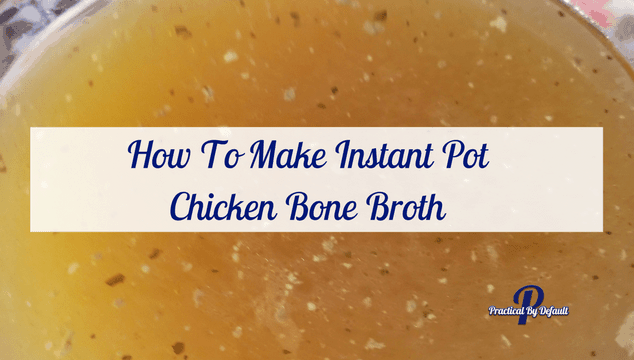 TIME!
For example, this recipe says 8 hours!! I just don't have that kind of time. Also if you were going to use raw bones you needed to roast the bones first for 30 minutes. Ugh!
However, I was able to find an awesome recipe for an Instant Pot version.
First things first: I have a problem with recipes. I never EVER follow them. Much to my family's dismay. (Ha!) I am a big believer in using what you have and adjusting recipes (and your homeschool!) to you. Consider yourself warned!
Therefore if you want to snag this recipe in all its unchanged glory then click here: Instant Pot Bone Broth Recipe
I started with what I already had on hand which is key in saving money.
Since I had cooked chicken bones I decided to make it the next day. I kept all the stuff in the bottom of the pot and bones for the next day.
How To Make Instant Pot Chicken Bone Broth
Below are the exact steps I used for my Instant Pot. Each Instant Pot or Electric Pressure cooker has different buttons and settings. However you should be able to use the buttons on yours. I can only tell you what I did as this is the only instant pot I have.

If you don't have an Instant Pot yet I highly recommend getting one. I love mine! Check out my Instant Pot-which saves me the space of several other appliances!
Making Instant Pot Chicken Bone Broth:
As you know I never stick to the recipe, here are the changes I made along with the steps I took. Enjoy!
I wish I had a mesh basket, as you just chuck all the bones in and lift it out when finished. It is now on my Instant Pot wish list! 
Ingredients you will need:
Bones with a bit of chicken left, along with the skin.
Veggies were carrots, peelings, celery, onions, green onions, and garlic.
I didn't have apple cider vinegar so I skipped it.
The recipe calls filtered water-which I didn't have so I used well water.
How I made it:
Placed everything in the pot and placed it in the Instant Pot.
Added enough water to fill the pot ⅔ full.
Selected "Soup" and set the pressure to low.
Set the cooking time 120 minutes after sealing the pot, make sure the steam release valve is set to "sealed".
At this point you can go do something, you do not need to watch it or stir it or anything.
After it goes off, I let it natural release for 10 minutes.
I strained the broth off and it was awesome, as you can see in the photo.
This was so easy and it didn't cost me any money or time, really. I threw everything in and walked away. So easy your kids can make it 😉 
After straining it, I put it in baggies and froze it for future use.  I was so excited. I hope to never have to buy broth again!
My favorite part was how easy it was. Next time I'll add the apple cider vinegar if I can remember to pick it up.  I plan on making this every time I have bones left over.
Broth is like $5 or more for 2 1/2 cups. Plus who knows what is in that stuff. Either way I am thrilled to have broth on hand for my next Instant Pot Adventure…Stay tuned.
Have you made bone broth before?
Take Care
Jen!
PS. I started with what I already had on hand which is key in saving money. You can read all about that here: How to Cook A Whole Chicken Using Your Instant Pot
PSS. If you are a busy mom like me be sure to grab these Instant Pot Cooking Lessons for your kids. Trust me, it is so nice to have someone else make dinner <3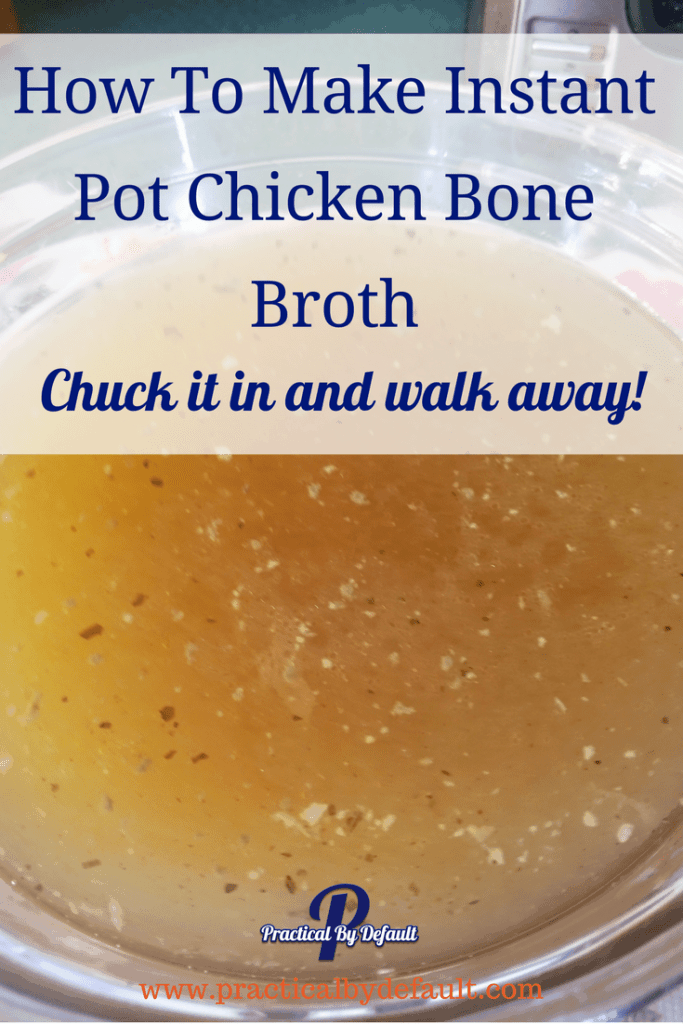 Hi, I'm Jen. I help working parents balance work and homeschooling by providing encouragement, support, and inspiration. You are warmly invited to Join the Online Community Here!