Disclosure: I may receive commissions for purchases made through links in this post.
One of my children's favorite snacks is applesauce.
Unfortunately the ones I can get at the store are either too full of sugar or super sour.
I love trying to make my own foods and get the kids involved in the fun.
This simple easy applesauce is a perfect recipe to use to get kids cooking in the kitchen.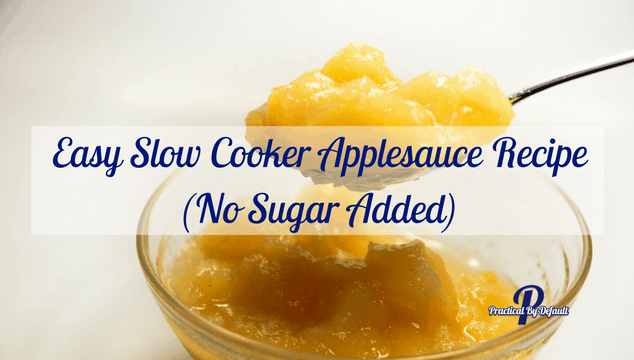 I have this odd habit of not writing down how I make things. It drives my mother-in-law crazy. 
This is one I actually wrote down. However, once you make it the first time you will wonder why I bothered.
This recipe is designed to be a "chuck it all in the slow cooker and walk way". No need to stand around baby sitting it. It is pretty much no fail and thus no stress. Perfect for beginners.
Note: A reader pointed out this recipe is perfect for those doing the Whole 30 because it has no sugar except the orange!
The Recipe:
Ingredients:
Apples, your choice about 8-10 depending on the size (I weighed mine, 3 lbs)
2 cinnamon sticks
1 cup of water
a peeled orange
Kitchen Items:
Directions:
Peel, wash and cut up your apples into chunks, add to slow cooker
throw in your cinnamon sticks
add water
add orange
cook on low for 4-6 hours
stir with a spoon every so often (Just whenever you remember) to mix up the orange/cinnamon
Tip: To peel the orange faster and make it more juicy, microwave for 10 seconds. Not any longer.
You will need to check on it to make sure it does not over cook, cooking times vary depending on apples. Harder varieties will take longer. We used Gravenstein, which were done in about 4 hours.
This recipe is neither too sweet or too sour. The only sweetener in it is from the orange.
When complete, fish out the cinnamon sticks and orange and discard these. Using a spoon break up the remaining chunks. Once cool you can store in mason jars, or if you like you can put into freezer bags and freeze for a later time.
Get your kids cooking with this easy slow cooker applesauce!
Click To Tweet
Alternative Uses For Applesauce:
This applesauce works great as an ice cream topping.
We also add it to banana loaf and muffins as a sweetener.
Applesauce can be used to replace butter in baked goods, equal amounts.
Note: You may need to bake the item longer.
Gift idea:
A reader had a great gift idea for this. Print off the recipe on cute cards and attach it to the applesauce in a jar. She suggested a mason jar and pretty ribbon. I think this is a great idea!
Learning about Apples
Mix in a little learning with these great resources from around the web:
If you try this out, let me know in the comments below!
Take care,
Jen
PS. Simple recipes like this are a great way to introduce the kid to cooking. I like to start with simple tasks like learning to use a knife. I love Knife Skills Class, be sure to check it out!