Disclosure: I may receive commissions for purchases made through links in this post.
Kids that cook are awesome.
Kids that bake when you don't are even better.
Teaching your kids to be comfortable in the kitchen takes time, effort and a truckload or two of patience but it is so worth it.
Because then you can leave the cooking and baking up to them 🙂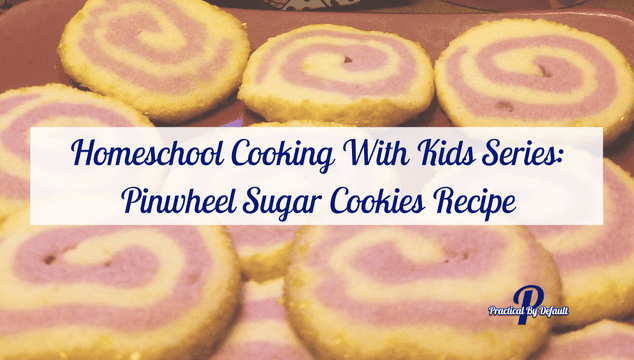 Tools I Use To Help Them Get Comfortable In The Kitchen
We are working our way through the Kids Cook Real Food program. 
If you want more information read my review here: Homeschool Cooking Curriculum We Love – Our Experience With the Kids Cook Real Food Program
They are assigned one recipe to make every two weeks from the section of the course we went over.
For example, they have finished the Knife Skills course and the Instant Pot/Slow Cooker course and have cooked various meals from those courses. I've shared them in Instagram as they make them.
You can find the one shown below here.
Since they are pretty comfortable with both of those tools, we are digging into the main curriculum.
In order to fill the assignment my son chose Potato Salad for next week and my daughter chose Chicken Soup, both of these recipes are included in the course which is really nice. These will be stove top.
I love these courses because it has allowed them to get comfortable in the kitchen and build confidence using the different appliances. Plus they are learning from someone besides me!
My son fills the assigned cooking but has no desire to spend extended time in the kitchen.
My daughter, on the other hand, asks to bake several times a week. As long as supplies hold that is where she is!
After all, it beats a math lesson any day! 
Kitchen Takeover!
This has worked out great because earlier this month we were invited out to friends to play board games.
We were asked to bring a sweet and our favorite games.
Except I totally forgot! AND the stores were closed so I couldn't buy anything. Gah!
It was my turn to ask her to bake.
She was pretty excited and it ended up in a kitchen takeover…together with her brother!
That never happens. Bonus: So far no fighting. YAY!
My kids often will get creative in the kitchen baking and cooking up a storm.
My son likes to cook. My daughter loves to bake.
Again, can I just say having kids that cook is AWESOME?!
But I'm not gonna lie, it didn't come fast and it didn't come easy! Whew!
There are days when I am cooking with my kids I think one of us isn't going to make it…and I am pretty sure it's gonna be me.
Teaching kids to cook or bake take hard work, time, patience and coffee. 😉
But it does pay off.
Pinwheel Sugar Cookie Recipe
My kiddo loves to hunt for recipes and she found this beautiful pinwheel recipe by Tasty on Pinterest.
By the way, Pinterest and YouTube are one of her favorite hunting grounds. Next time you find your kiddo glued to a screen double-check to see what they are learning about before you freak out. ♥
Click here to get the recipe without any changes she made. 
OR watch here:
I decided to stay out of the way and listen in because I wasn't sure how this was going to go.
They decided to set up on my kitchen table so they could each work together.
She set up the recipe on her tablet and they started gathering ingredients.
We had everything except a hand mixer. She pulled out my Kitchen Aid Mixer.
Side note: I love my Kitchen Aid Mixer. I had a super old stand mixer…I mean older than me and THAT is saying something! lol! It started to break and I knew I wanted a Kitchen Aid to replace it. My mixer was a gift and I am so happy with it. Thanks Mom! 🙂 
They decided to split the tasks. He did the egg, sugar, vanilla, and butter. She did the flour, food coloring and salt.
To get pink she did less of the red food coloring than recommended in the recipe.
They choose gold and white sprinkles.
If you think these look great, you should definitely check out her tackle on Gluten-free Mini Cheesecake!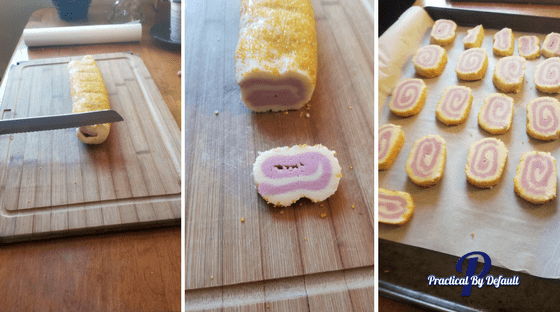 My daughter says this recipe is perfect for bakers who are comfortable making cookies and want to get a bit more creative.
She has made these two times, once alone and once with her brother as a helper.
The first time she made them she use blue food coloring. I am guessing they are good as they lasted in our house about 6 hours, for 32 cookies.
This should slide to show them when they are cut, if not click here to see them and swipe! 
The second time we took them to friends house and were told they were good. I'm gluten free so I am unsure but they sure didn't last long so I take that as a good sign.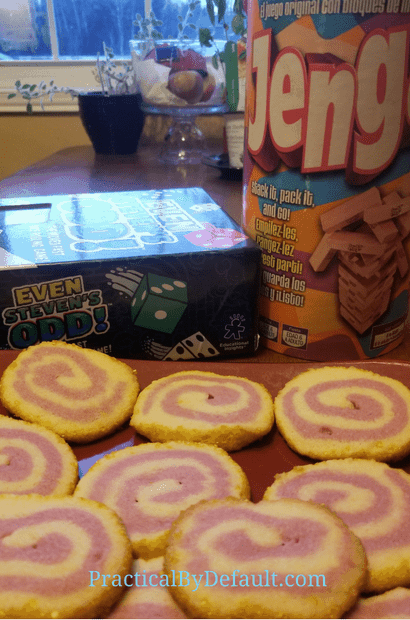 We took these Pinwheel Sugar Cookies along with two of our favorite games, Even Steven Odd and Jenga!
Baking Tips From My Kids:
>>If you are in a hurry, you will want to put the cookie dough into the freezer for ½ hour and fridge for an hour. She says to make sure it is this order. Freezer than Fridge as it makes the dough easier to work with. If you do it the other way around, the dough is too hard.
>> If you want a deeper color be sure to use more than the recommended food coloring and you may want to use gloves. Some color pigments are stronger and will dye your hands. Opps!
>>You can also change the color of both rings for a fun change or decide on different styles of sprinkles. Don't be afraid to get creative and have fun!
>>Use parchment paper on your cookie sheet. It makes clean up easier. Mom says we can bake but we have to clean up too. Anything that makes it easier is good in my book.
>>When baking fill the sink full of soapy water for easier dish washing. We split the clean up to make it go faster.
Saying YES to Mess!
I've discovered saying YES is getting a bit easier. As a busy mom my gut reaction is "No, not more mess!"
However listening to the two of them work together, giggling over the shape of dough and the joy they had in sharing something they made with friends, was totally worth it.
Plus I really do make them clean up the mess they make, lol!
Do your kids like to bake or cook? I'd love to know, let's chat!
Take care,
Jen
PS. We are really enjoying the Kids Cook Real Food Program. Most people purchase the All Level VIP because it is the best value for your money. You can check it out here: Kids Cook Real Food. But I didn't. I started with the knife skills course because I didn't want to invest the money on a full course if I didn't like it or it didn't work for my kids.
If you want to test it out first like I did I highly recommend the Knife Skills course, click here to check that out!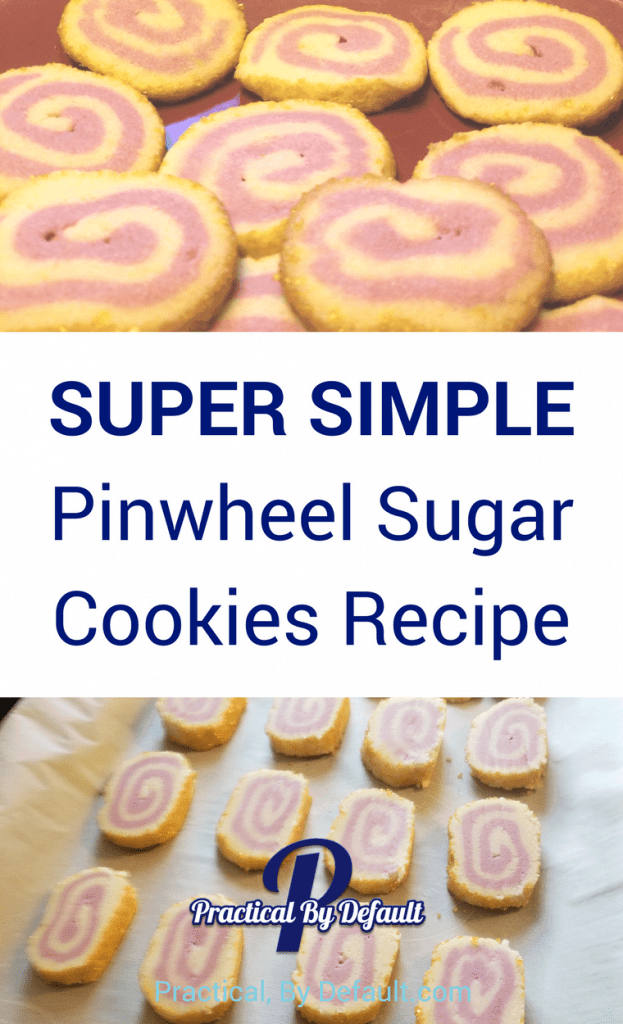 Hi, I'm Jen. I help working parents balance work and homeschooling by providing encouragement, support, and inspiration. You are warmly invited to Join the Online Community Here!