Technology. I am going to be honest and admit I am not a technology nut.
I don't go gaga over the latest new gadget.
I didn't jump on the Pinterest bandwagon until everyone and their grandmother had an account.
Google and I are still figuring each other out.
*This post may contain affiliate links. For more information please read the disclosure policy. Thanks!
That being said, I love using technology in my homeschool. It has been and continues to aid me in all I do.
We do much of our school online. We use tablets to use Easy Peasy, SchoolhouseTeachers, and Khan Academy.
We use apps to reinforce learning, record keeping and learn a foreign language. We use computers to print off notebooking pages, reserve library books, and research.
However, I did recently find a gem I want to share with you. As in something worth going gaga over.
Online Unit Studies
I have always loved the idea of Unit Studies.
With unit studies you basically you take a theme or book and incorporate several subjects into the lessons. They are not split up as in our traditional textbook based school approach.
Instead, they are blended together, the history of the subject, where in the world the events took place is geography, sketching or drawing the subject is art, some sort of craft or coloring page mixed in for a change and a science experiment or two. A few books for language arts and you get the picture.
As I said I love the "idea". The work on the other hand not so much.
Unit studies scare me…as in long book lists, too much time to research, plan, source activities and, how am I going to get my kids to let go and do this?
So I kept putting it off. Maybe next year I'll find the time.
Then one day a few months back I met Beth. Beth is the techie mom behind these online unit studies.
*Disclosure: Beth let me try out this unit study out in order to offer it to my readers for free, should we like it. We did. Keep reading in order to find out how you can obtain this unit study for your family for free (limited time offer). 
A Mostly Prep Free Online Unit Study.
I decided to test out the Thomas Edison Online Unit Study. We use Story of the World Vol 4 for history and where we stopped for break perfectly aligned as Thomas Edison was one of the "for further studies" list.
I was worried, how much prep was this going to be? Did I have to pull a bunch of books? I kept in mind that a break was coming. If I needed the time to find the "stuff" I could.
Online Unit Studies where the hard work is done for you!
Click To Tweet
Breathe Deep-Jump In!
Needless to say a quick pop through the course and I was so thrilled.
For a busy working homeschool mom, this is perfect.
I did have to buy the items listed to make a lightbulb otherwise I needed nothing. No extra books, nothing to print out before hand, nothing. Yay!
Thomas Edison Unit Study.
Evaluate the influence of Edison's inventions on life today-This was the first part and it was awesome. We took turns reading it aloud and discussing how Edison has influenced our life. The thought provoking questions were great and guys (!!) everything was right there. Seriously, click and learn.
Create an animated video about Edison's life -This part was amazing!! My kids do not like change. One more so than the other. They were kind of skeptical about this idea. I really thought they would balk at the idea and refuse. They didn't! Although my son decided not to use the program suggested in the unit study, he used Prezi.
My daughter, on the other hand, had to research it first (ha!) and she did use the program suggested. You can see her video right here.
For the record, this was my daughter's favorite part and she says she can't wait to try it again for her next report.
Lastly, we were to create a lightbulb. We had everything buttt we failed. The reason being was we had the wrong alligator clips. I did not get the ones in the photo and was unable to obtain them by the time we did the experiment. So my advice is to get what you need. 😉
We did problem solve and watch the video. It was a great springboard for more conversations.
Both of my kids said they would totally do a unit study online like this again and even said they would do the Thomas Edison one again, which is kind of crazy as I can barely get them to reread a book unless it is a favorite.
So, Want a Free Online Unit Study?
Who wants a free online unit study?? Seriously had I known how easy it was going to be I would have jumped on the Unit Study bandwagon ages ago. To get your own (free for a limited time) Thomas Edison Online Unit Study, sign up below: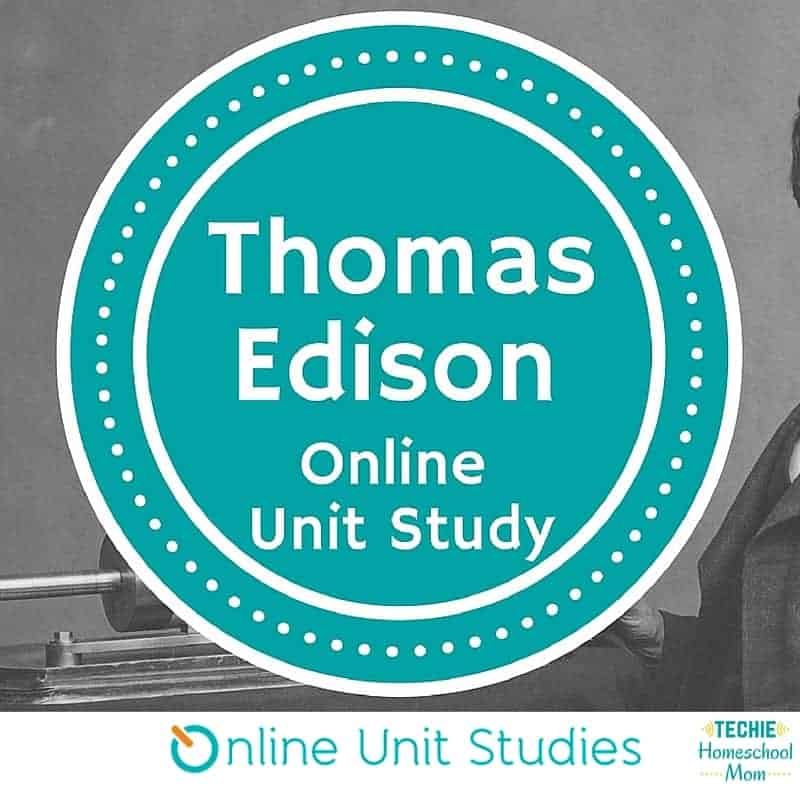 This offer has now expired but you can still get your own Thomas Edison Unit Study. The great thing about this one, no shipping!  (By the way, you can save an extra $5.00 on a $20.00 purchase, just use the code 5fromJen)
Technology has its place and plays a huge part in our homeschool. If you want to see what else Beth has in her shop you can check her courses here.