Disclosure: I may receive commissions for purchases made through links in this post.
Chores. It's a dirty job but someone needs to do it. Should it always be you? Are there any benefits that outweigh the amount nagging and complaining that often accompanies getting your teen to help out?
I am going to share with you two simple reasons why chores are needed. The benefits of them doing so, for both them and you, as well as a free checklist you can print off for ideas of what they can do around the house.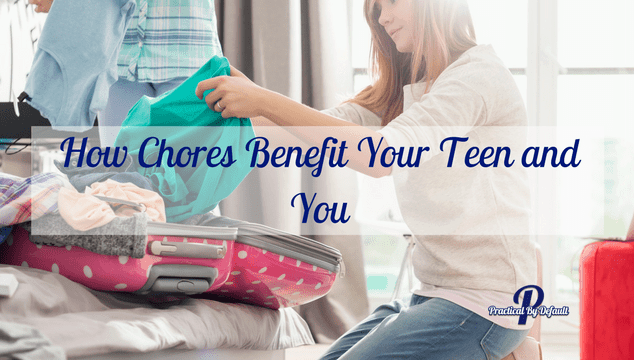 Reasons Why Children Should Do Chores:
There are some very simple reasons why children should do chores, they are:
If they can help make the mess they can help clean up.
It's my job as a parent to prepare them for life.
If they can help make the mess they can help clean up.
If you spill something, you don't expect someone else to clean it up, do you? Why do you feel that way? It's because you've been taught if you make a mess clean it up.
This starts at a young age, after all, you don't want to spend all your time picking up after someone else. If you have numerous "someone else's" you would never get anything else done. I am sure you are like me, you already have a never-ending "to-do" list.
So getting them to pitch in and clean up just makes sense. If they are old enough to make the mess, the least they can do is help clean up.
Pro tips for starting young:
Start young through games. For example, give them one toy at a time and cheer like a maniac when they put it away where it belongs.
Make it part of life. A daily routine. Don't label it chores and make it a bad thing.
Make it a game and let them help you. Little ones can help make the bed, put clothes in the laundry basket (basketball game style), load the dishwasher and all sorts of little jobs.
Older children tips:
Once helping becomes routine, add in a chore or two. I label "chores" extra things, such as feeding the dog, sweeping the floor, bringing in wood etc. They are still expected to pick up after themselves. (nagging reminders are sometimes needed I am afraid) But assigning one chore each a day allows for a routine to be established and consistency.
Try to give them a choice, which allows them to feel like they get a say in the matter. For example, I will list things that need to be done and let them pick what they do. This appeals to the fact that as teenagers they like to have control over the situation. This gives them that.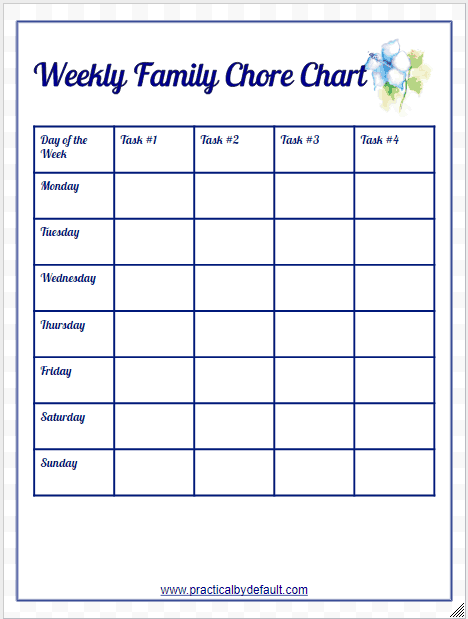 Weekly Family Chore Chart (1 Page)
Ways to get children to help around the house at any age:
Praise-Find something good to say, even if you can only praise the effort they put in.
Make them feel part of the team
If it is not done up to your standards that is okay if it is their best
Let them do it their way. It might not be your way but does it get the job done?
Give them jobs they can do at their ability. Difficult jobs will make them frustrated. Easy jobs will make them bored.
Let them know you appreciate all their help.
It is my job as a parent to prepare them for life.
The reality is one day children will move out and/or you may not always be here to teach them what they need to know. I want my children to be able to do things for themselves.
One of the things that amazed me in returning to work is how many young people (18+) that do not know how to do simple household chores.
For example, they did not know how to:
Dust, how to use a Swiffer duster for the floor
Use a washing machine or the dryer
Use a vacuum cleaner
How to make a bed
How to change sheets
Please note: I am not talking about little children. These are young people with jobs, and cars, and a life. They are leaving the safe zone of home and going to university in September.
I feel bad for them. I wonder, how will they cope? Who is going to cook for them? Clean for them?
The reality of the situation is they will probably eat out, they will Google how to do things and they will be alright. However, as a parent, I feel strongly that it is my job as a parent to prepare my child for life.
That is why my children are taught to do household chores, both inside and outside. I try to make sure they learn and rotate the chores accordingly.
Prepare your teen for life by giving them chores!
Click To Tweet
One of the easiest ways for me to do this is to get them involved, plus the bonus is I get to spend time with them. They clean with me, cook with me, learn with me (and daddy too.) The result is now I have pre-teenagers and teenagers that can do, and are continuing to learn, how to take care of a house and themselves.
Why I don't pay my kids to do chores:
Some people feel that they need to pay their children to do chores. They feel that in this way they learn how to earn money at a young age. That hard work pays off. Literally.
Others feel that paying a child teaches them to do work only for a monetary reward. When they get enough money, why work?
So be sure to focus on a reward that fits you and your family morals.
We do not pay our kids to do chores. They do get a monthly allowance. We choose to keep the two separate.
Do what is right for your family.
Why I Don't Argue With My Teens:
Taylor asked a great question, "Any tips on getting them to help out right away rather than arguing with them for 10 minutes just to have an angry teenager doing a simple chore?"
Simply put, I don't argue with my kids about chores.  Instead, I have strict consequences set up and I *always* follow through even if I want to change my mind later. I don't argue with them but let them choose.
For example, they must complete their chores by the end of the day. If they don't then they get the consequences of not doing them. So be sure to choose something you can follow through.
Some ideas might be no screen time until they are done, extra chores, earlier bedtime etc. Whatever works for you.
Then stick to it. Don't give in. Don't back down. This is vital. Why? If you give in after they whine, throw a fit, argue for an hour…then kids will learn. They will continue to argue, whine, throw a fit. etc. It worked before they assume it will work again.
Once they get the point you are serious they usually will just do it, after all, 10 minutes work or losing the Xbox for a day? Which one would you take?
Keep in mind: This works for us. It might not work for you. Lots of ideas, take what might work and chuck the rest-guilt free!
Lastly, I try to give them as much control as I can. For example, I have a list of  8 things that need to be done. I tell them to take turns choosing each one chore. Back and forth until all 8 are spoken for.  This puts the control in their hands but I still get help.
Benefits for Teens:
Builds self-confidence
Learn to be independent
Know when to ask for help
Research how to do something new
Able to contribute to the family
Learn to be part of a team
Help out when staying at someone else house
Benefits for You:
Save time-less time picking up
Valuable time with your teenager teaching
Peace of mind which is truly priceless
Doing chores benefits both you and your teen, in many ways. It is worth the time and effort on your part to teach them how to do things around the house, both inside and outside.
By doing this you are instilling great work ethic in your child, preparing them for life, building self-confidence, and giving them skills to succeed in life.
You also give yourself time to spend with your child in our busy schedules and peace of mind knowing they have the skills needed for life.
Win: win
So go ahead print off the list of ideas, and your child will thank you. Maybe not today but maybe in 20 years or so.  😉
I would love to hear your thoughts on the matter, what's your take on chores for teens?
Take care, 
Jen
PS. Did you get your family chore pack?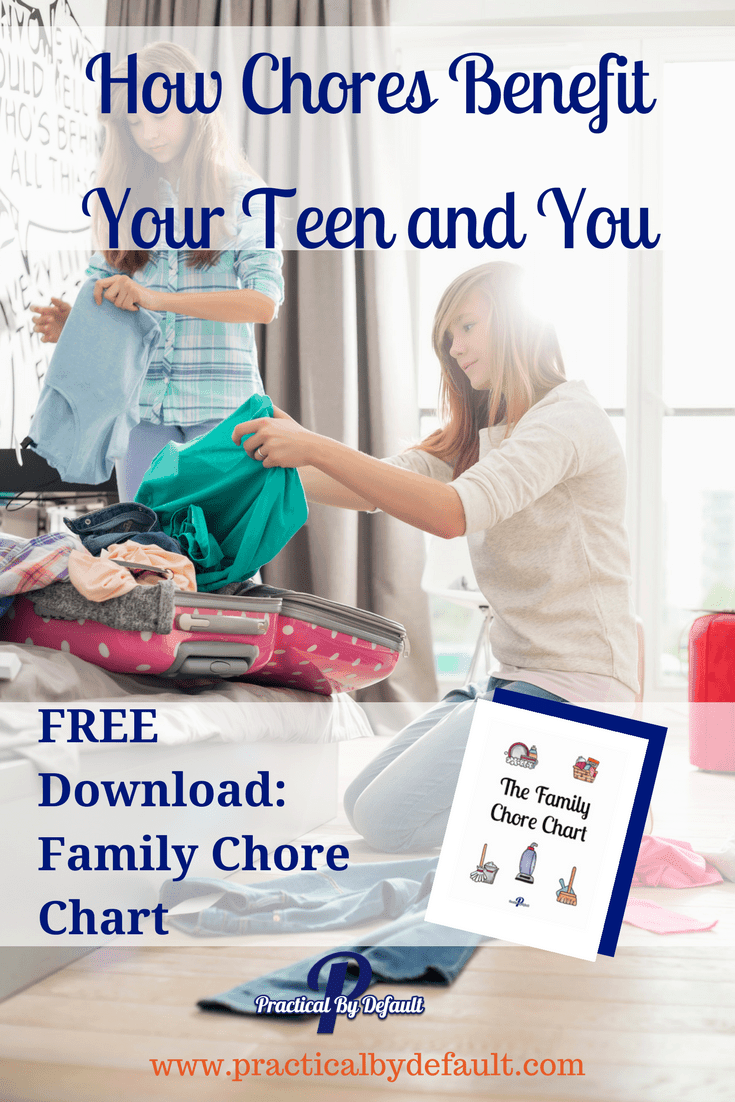 Linked to: Homeschool Nook Link Up / Finishing Strong / Let's be Friends / #KCACOLS
Hi, I'm Jen. I help working parents balance work and homeschooling by providing encouragement, support, and inspiration. You are warmly invited to Join the Online Community Here!