Disclosure: I may receive commissions for purchases made through links in this post.
Do your kids second guess their ability or decisions, feel insecure, or constantly berate themselves? Mine do, and I feel like it's my fault! That's why I decided to try A Big Life Journal in our house.
Do you consider yourself a rule follower or a rule breaker? I think being a homeschool mom is making me a bit of a rebel. *GASP*
As a mom of two teenagers, I struggle to help them build their confidence.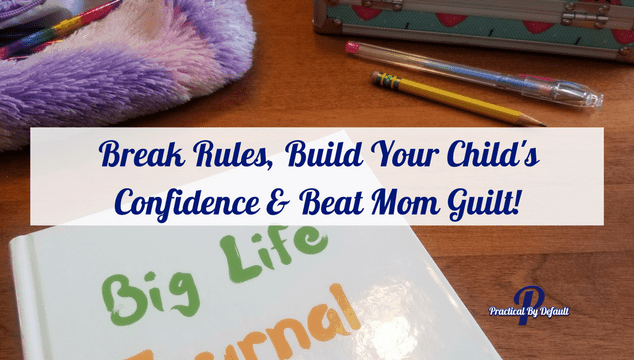 Especially with my daughter.
I've noticed she struggles with positive thinking and seeing failures and mistakes as a way to get better or learn.
Knowing this is something I also struggle with I've been focusing with great effort to say positive things out loud even if I am not thinking them. lol!
When I saw the Big Life Journal in my Instagram feed and on Facebook I wondered if it would help me overcome this mindset problem.
This journal says "It can help children learn to embrace challenges, to persevere, and how to grow from mistakes and failures."
I have a daughter who thinks she is dumb. She struggles to accept that mistakes are learning lessons not the end of the world.
I have talked with other moms who struggle, like I do, to get their kids to believe in themselves. I can say, "You are awesome" until I am blue in the face but she will not budge.
Because I am the mom and the problem started with me saying not nice things about myself, I went looking for tools to help me overcome this challenge.
Do You Judge A Book By Its Age Limit?
I am a big fan of doing what works for you. And I firmly believe that homeschooling will look different for each person no matter how similar your life might be to someone else's.
Oddly the Big Life Journal kept popping up wherever I went so I finally checked it out. I also talked with Vanessa who works with Big Life Journal and asked her about using it for my daughter.
She flat out told me it wasn't designed for older kids. She shared with me her personal experience and what her kids thought of it.
By the way, I love that because she was being completely clear on how it did and did not work her.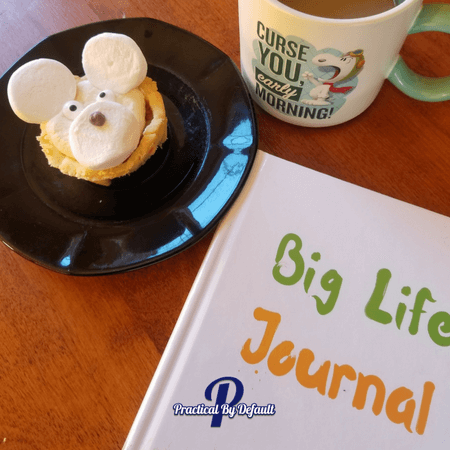 *Gluten-free Butter Pecan Tart Recipe found here. Curse You Early Morning Mug here-thanks for asking!*
I also checked out the FAQ Page, here is a quote under the "what is the age recommendation?"
It says, "For the Big Life Journal, we recommend ages 7 and above. We also recommend to take a look inside the journal here to decide if it's appropriate for your child.
For printables and posters, the age range is broader." –Find that information here.
As you can see I had plenty of reason to pass. In fact, I was told too. To wait for the Teen Book that is coming soon. But I didn't.
I unboxed it when it arrived right away because my daughter was so excited. Thankfully she was going to out to play in the snow so I had time to do a video.
You can watch it here:
If it doesn't show up, click here to watch it. That is on my Facebook page, which is public. You don't need to sign up to see it.
Did you see how beautiful it is?? My son said the quality of the paper is amazing. He is right but that made me laugh and the ribbon bookmark was also a hit.
⇒ By the way, there is NOW a Big Life Journal For Teens , click here to check it out!
How I Use The Big Life Journal
I've been using the Big Life Journal with my daughter for over a month now. I am going to share with you how I use it BUT (!!) more importantly I want you to focus on WHY I say *do what works for you*, okay?
I got this amazing colorful journal that I love a few weeks ago and I use it with my 14-year-old daughter.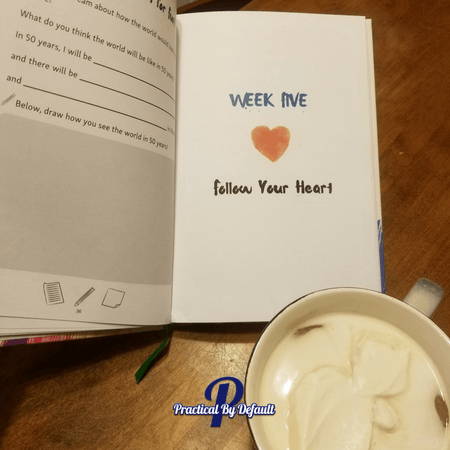 If you go to the Big Life Journal Shop you can see the inside and all that fun cool stuff.
She's technically "too old" for this journal but we are really having fun!
I love the story and the great questions for conversations. When you are mom of teens you know how vital those are.
We meet once a week for a "date". This is girl time, one on one time, or whatever you want to call it. We have drinks, on this day shown below, we each had hot chocolate because someone (ahem) drank all the coffee.
We take turns reading the story, talking about the questions and sharing.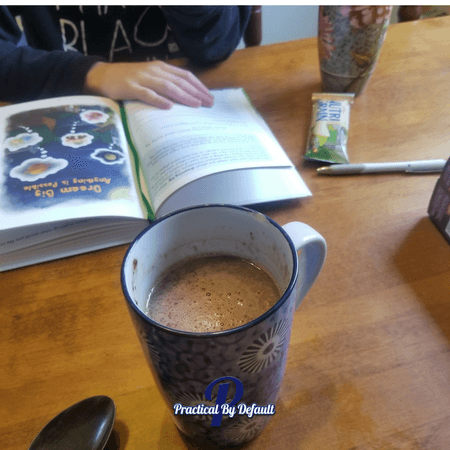 It's not quite the way you are supposed to use it but it works for us. Truth be told, this is exactly the wrong way to use it.
The Big Life Journal is a journal for kids, however, the kids choose a "buddy" to work with them through the questions and stories.
Except we do it in reverse. It is my journal and she's my buddy.
Why We Break The Rules
Let me explain how that happened.
When I got the journal in the mail my daughter was super excited. UNTIL she realized she was supposed to be answering the questions.
Her body language telling me this was going to be a no go. I asked casually like it was no big deal if she would like to be my journal buddy instead.
She said sure.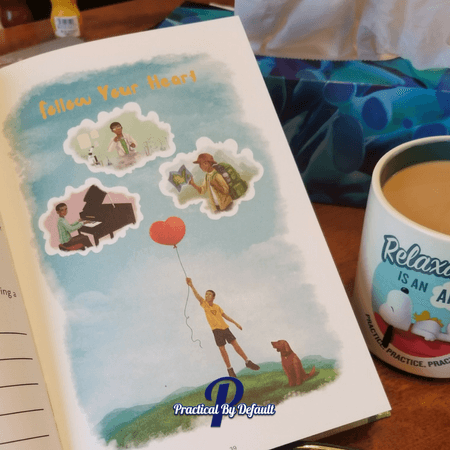 We meet once a week and take turns reading.
I answer the questions.
I draw in the book.
She tells me a story of when she made a difference or of someone she knows in her life doing the topic or action we are discussing that week.
The key for me is to be patient. She stops talking and it takes her a while to share. Sometimes it feels like a lifetime and I wonder if she is going to answer. But she does.
I wanted the book to help me open up the communication, to know what type of questions to ask, to shift the focus from her to something positive about what she is doing. This book does that. No matter who is doing what.
I am not using the book the right way, but I am getting the results I hoped for.
Here is the surprise-one day my soon to be 16-year-old son was cleaning in the kitchen while we chatted. He joined in the fun.
He is wayyy to old for this book and yet…here he was. Answering the questions and sharing his thoughts.
This is WHY I *always* say do what is best for you. I out and out asked if this book would be good for my teens. The answer was a big fat NO!
Well, I dug in and decided it might just work anyway. 😛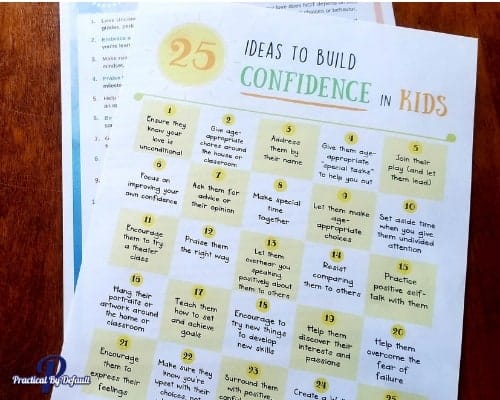 Extra Resources To Help You Build Confidence In Your Teen:
Finding resources for teens can be tricky, here are a few I really enjoyed working with:
15 Tips to Build Self Esteem and Confidence in Teens(free printable in this one)
Self-Esteem & Confidence Kit PDF (shown above) is a great way to build confidence as a family. Click here
Breaking The Rules
Tell me, do you ever break the rules and do it anyway?
Over the last month I feel like I can breathe. I'm letting go of some of the mom guilt as I watch her confidence grow.
She still is not a fan of math, but we are using tools to help her overcome such as baking.
You'd be surprised at how far she's come. I know I am.
Instead of looking at something challenging and saying, "I can't" she looks at it and says "maybe I'll try".
Trying and failing and learning is a big part of our life.
She even made me stick to it and make gluten free cookies after a few disasters.
Our Favorite Ways to Build Confidence.
The journal is a tool meant to be used. How you use it is up to you.
We do the journal once a week. It's a date and I try to make sure it doesn't get pushed aside. I need her to know she is important. I write that one in pen in my planner.
I also make sure she is involved in volunteer work on a regular bases. Helping others and seeing her efforts impact lives has been eye opening for her.
Making sure both of our kids have chores around the house helps them see that they are part of the family unit and as such, required to chip in and help.
Lastly, letting her follow her passion of baking and making sure she hears me say "you can totally do that" when she wants to try something a bit on the tricky side has really helped. She loves decorating cookies, cupcakes and now cakes.
Here is her latest project inspired by Wilton's Cake Decorating Instagram Account.
I only wish it was gluten-free. Or maybe I am glad it isn't.
Setting An Example
Mindset and being positive must be mirrored by the parent.
In fact one day I was being hard on myself and my daughter wandered out and stuck this to my forehead.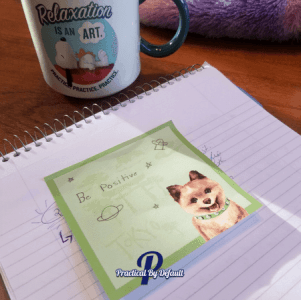 Never doubt your kids hear you. The might not always "listen" but they hear the things you say. I am working hard on saying nice things and even more so, believing them.
How about you? How do you combat negative self talk and build confidence in your child?
Take care
Jen.
PS. The Big Life Journal great tool I am using to help us BOTH overcome our tendency to tear ourselves down instead of building ourselves up.  This is a growth mindset journal for kids and is absolutely beautiful. Check it out here to see if it is a good fit for your child. Did you know? If you are uncertain – you can sign up for the Big Life Journal mailing list and get free printables on Fridays. Click here to check those out. ♥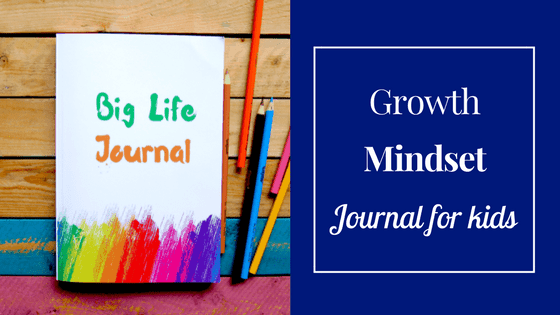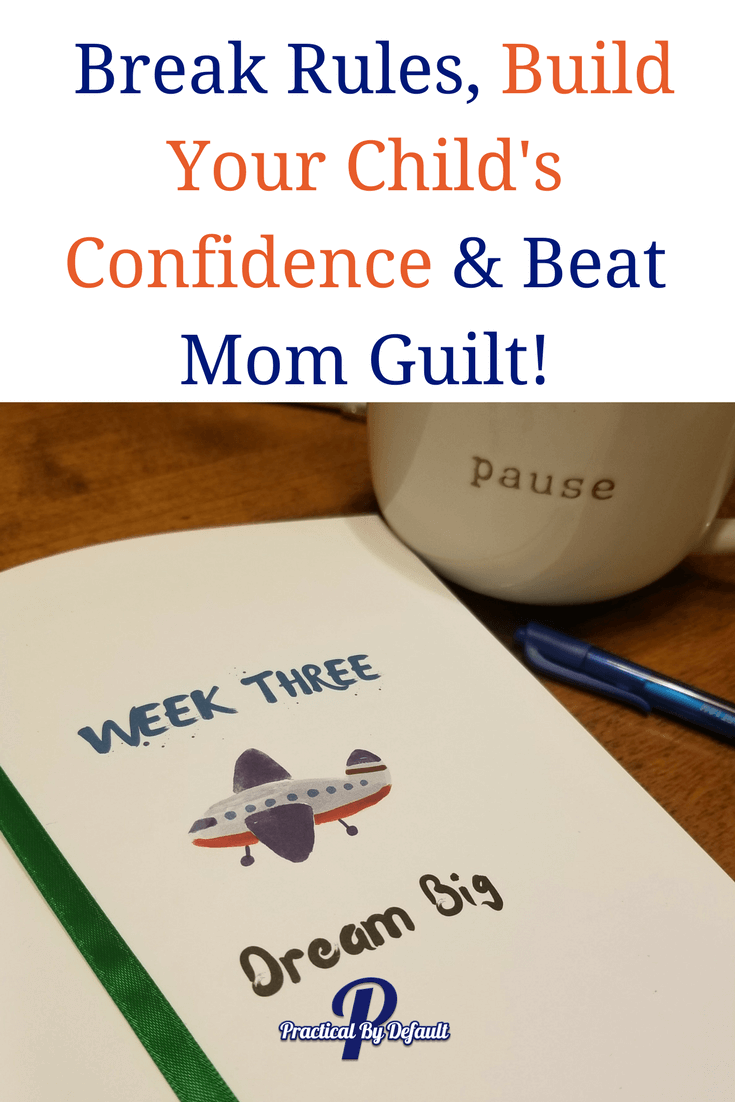 Hi, I'm Jen. I help working parents balance work and homeschooling by providing encouragement, support, and inspiration. You are warmly invited to Join the Online Community Here!