The right tool for the right job just makes life easier!
This is true of every area of life. If you can make a task easier to face, quicker to do, save time, money or even just make it more enjoyable, well why not?
Then I got to wondering… So I asked various working moms:
"What are the tools that you use and love? I mean for you, not your kids or homeschool but like for you to function and go or do work? What would your top *I MUST HAVE THIS* be?"
They have spoken!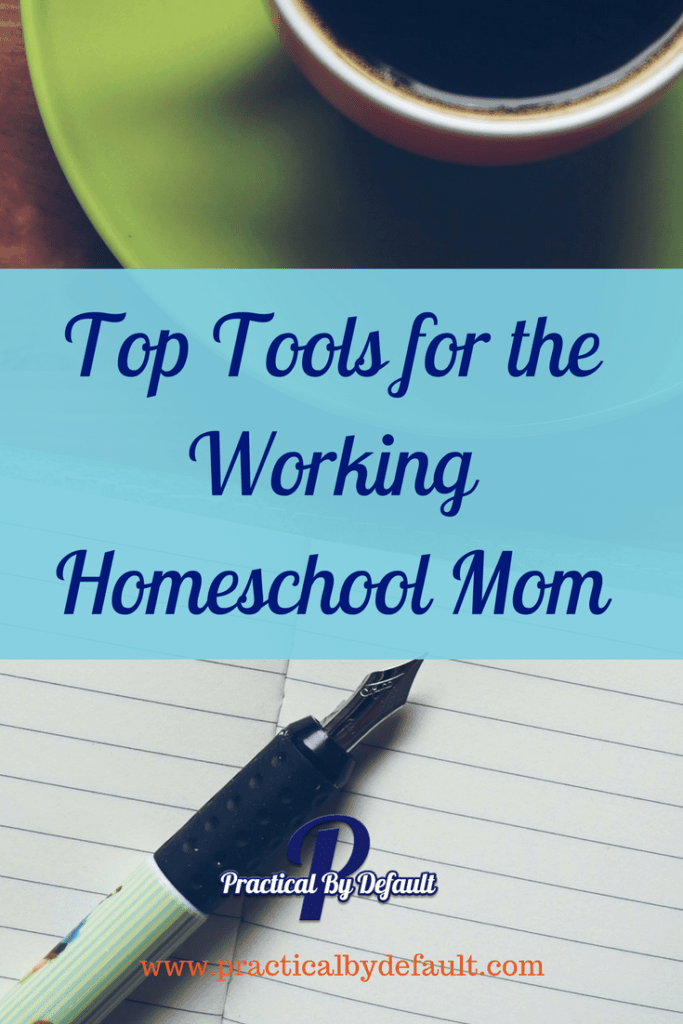 Top Tools for the Working Homeschool Mom
Kitchen Tools:
Crock Pot or Slow Cooker. Everyone loves a home cooked meal. Cooking said meal not so much. Thus the top of the list was the beloved and much-used crock pot. (Pst! Need 10 tips and a few recipes? Check this post here)
Coffee Maker– I know right, second?? What is wrong with these people? As you can imagine I love my coffee maker. Here is the one thing I look for in a coffee maker, it must have a timer so I can preset it for the morning. The other thing is the "sneak a cup" feature when I don't want to wait and easy clean but of course.
Keurig or Tassimo Machines– I have a single-brew Keurig and I agree with these ladies that it is an irreplaceable tool. When I am home and don't want to bother boiling water for tea or making a whole pot of coffee this is what I turn to. I am listing both as both were mentioned.
Mini blenders– A favorite of those on the run. After all, these little blenders are fast, powerful and easy to clean. They allow you to take your breakfast with you, zip up smoothies for afternoon snacks and sneak veggies into picky eaters.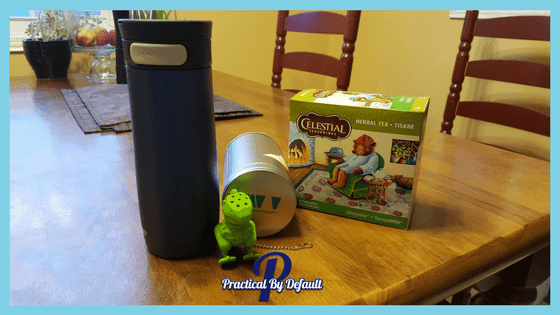 Food and Drink
Coffee/Tea travel mugs– hands down my absolute need. I have recently been given this travel mug and I can not tell you how much I love how easy it is to clean, keeps drinks hot for hours and doesn't spill on the move. Love it! 
Loose tea– Getting a big shout out from tired stressed out moms is loose tea for relaxation. Some favorites are Sleepy Time, Cold 911, White Chocolate with Sweet Almond Green and Le Digestif just to name a few.
Tea Ball/Mug – Self-explaining but yes needed! Did you know they come in tons of fun designs? My current favorite is this dino one. He's a tad pain to clean but oh so cute!
Lunch Bags– brown bagging saves money, healthier and allows you to take care of any dietary needs. When searching for your bag make sure they are easy to clean. (don't ask!) They no longer have to be boring either, mine is uber practical (hello?!) but you can get super cute and colorful ones as well.
Food Storage Containers– YES! I love mine, the Lego for adults set is awesome but really anything that seals tight and keeps your food cold will work. Again easy to clean, dishwasher, microwave safe and BPA free should also be on your list.
Work Equipment:
While a computer (either desktop and laptop) are pretty much a given for those working online, the needed tools to make them that much more efficient are not always the first to come to mind.
Computer Cooling Fan– Perfect little tool especially for laptops that tend to overheat and want to crash. This is my current one which is awesome because you don't lose a USB port and you don't need to plug it in. It is also super quiet. Noise matters.
Microphone –  For those who create videos or podcasts this little thing is pretty much a must have. A neat tip I learned from a video course is that you can use the one on your earbuds cord if you need to. They work pretty well in a pinch. The overall current viewpoint is that the Blue Yeti is the best. I can not say either way as I just picked up one at a local shop.
Lap desks– for laptop users this was a must have item allowing you to work pretty much anywhere. Although no one mentioned a favorite they did say to be sure it has enough space for your computer, notebook and a slip free top. Apparently, there were some computers going sliding off, bad idea!


The tool for the right job makes life easier! Tools for the working mom.

Click To Tweet

Cell phones – Absolutely a must have as they take amazing photos, allow you to keep on top of social media and records any thoughts and ideas throughout the day. As a busy mom, the first thing I invest in is a cell phone case, my otter box has saved my phone so many times. I kid you not!
Tablets– Not the top of the list but many moms can not do their work without them. Most find it more convenient for work on the go than a laptop and it can pretty much do everything a computer can. Everyone seemed to have an idea on their favorite type so basically get one and use it. I love using mine for Facebook Live so I don't need to squint at the messages.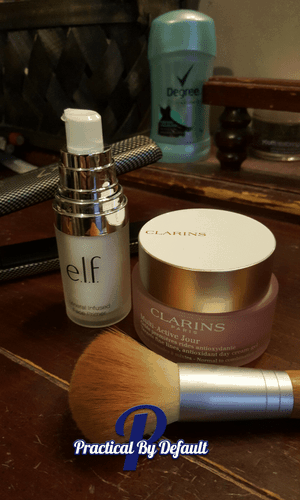 Personal Items:
Elf Primer– No one has time to redo their makeup and this one is a hit for smoothing everything out and keeping your makeup in place. Think, fix it and forget it style!
Face/Body Cream– Busy moms say they don't have time to deal with dry skin, breakouts, and other nuisances. They recommend keeping a favorite cream somewhere you won't forget to use it like your nightstand or bathroom.
Bubble Bath – A "me time" favorite is a bubble bath. Great for de-stressing and relaxing after a hard day working. It is recommended to hide your favorites from the little ones.
A few direct quotes from friends:
Amie says, "Bubble bath, candles, and kindle unlimited. Without these things, I would lose my mind. Oh and colored pens. Notebooks and planners and coloring books galore. "
Michelle, from The Heart of Michelle, says, "My planner and my meal planning app. Without these two things, my life is way off balance. "
Michelle, from Homeschool Your Boys, says, " A computer and a printer. I do all of my planning, research, etc with my computer and I would be LOST without it. Plus, I print out To Do Lists for my boys each day to keep us on track."
Amy, from The Hmmmschooling Mom, says, "In order for my to take care of my work at home responsibilities, one important tool I need to have are kids who are willing to pick up the slack! A good chore/work system in place is so helpful for me. Not only do the household things that need to get done, but I am relieved of the guilt that comes along with not doing it all. Someone else is getting it done!"
Linking up with other homeschool moms!