Disclosure: I may receive commissions for purchases made through links in this post.
Feel like Superwoman! Use an Instant Pot for cooking this winter and spend your time on what matters. Check out these winter Instant Pot recipes.
Ready or not winter is here.
The snow is fresh, clean and currently covered with a mix of puppy paw prints and winter boots.
After a full day of working, homeschooling, shoveling or running around nothing beats a fresh hot homemade meal.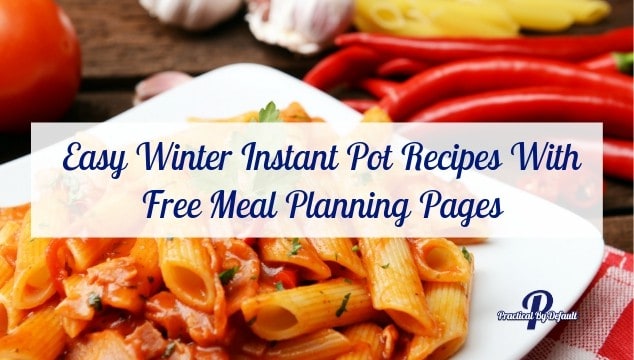 One thing I love about my Instant Pot is that it makes me feel like a superwoman to have dinner cooking while I do other things such as catching up on paperwork or connecting with my kids.
But the only way that happens is with a little prep work called meal planning.
Meal planning saves me so much time once I gather all the recipes together.
And to save YOU time, I am sharing the list of great Instant Pot recipes filled with winter flavor below with you. ♥
After that, it is a matter of checking my list, getting the ingredients, and throwing them in the Instant Pot.
Free Meal Planning Sheets
As I was gathering my recipes from around the web I wanted something to jot them down on. I created these winter meal planning sheets. Just sign up below to grab your own copy.
Winter Instant Pot Recipes:
I've been meaning to create a list for a while now but time has gotten away from me. Therefore, I thought I'd pass along the recipe ideas I found and you can check them out.
I pulled these from around the web 🙂
I love my Instant Pot because it is great for chucking food in and walking away to do other things. Much like a slow cooker but it doesn't take all day.
Plus my kids are getting pretty good at using it too, we used this course to teach them Instant Pot Safety and recipes.
If you have an Instant Pot and it is STILL in the box, (No judgment!) grab this guide and then pick a recipe from below to try out this week!
Trust me, you'll love your Instant Pot. The only thing I regret about getting mine is not getting it sooner. I always thought it was just a glorified slow cooker but it is SO MUCH MORE.
I asked for this one as a gift because it takes the place of a slow cooker, rice maker, yogurt maker, and a steamer just to name a few.
And when you live in a small space, saving counter space is important!
Winter Meal Planning Recipe List:
All of these recipes can be made in your Instant Pot, some come with stove top instructions as well. Pick one or two to enjoy this week.
Soup & Chili Recipes: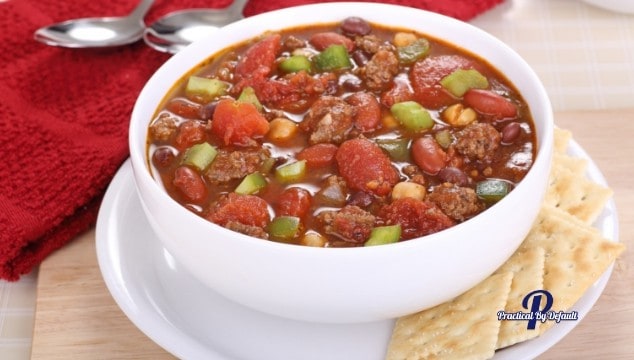 Pot Of Gold
Confession: I've never even heard of this before. This simple easy recipe is perfect for busy nights soup and dumplings. Click here to get the recipe. Scroll to the bottom and hit print!
Loaded Baked Potato Soup
Quick and easy plus you can change it up any way you like. Perfect for the cook that never follows the recipe. Yes, that is me. Find the recipe here.
Easy Instant Pot Potato Soup
This hearty recipe geared toward cooler weather and perfect now that the snow has landed. I love that it is only 5 ingredients! Get the recipe here.
Instant Pot Yellow Split Pea Soup
Not a fan of pea soup but the recipe totally pulled me in. Plus it is good to try new things. This one includes wholesome ingredients. Ready in 25 minutes. Step by step instructions here.
Curried Instant Pot Split Pea Soup
Another twist on Split Pea Soup. She has great tips for the instant pot in this recipe. Click here to check those out.
Instant Pot Taco Soup
You won't need any fancy ingredients for this Instant Pot Taco Soup, but there are a lot of them.
If you are like me just skip the ones you can't eat or don't have. She doesn't recommend that! But that is how I cook 😛 Get the recipe here.
Instant Pot Butternut Squash Soup (Vegan & GF)
This soup is perfect for lunch or dinner. It's mildly spiced and has green apples, carrots, onions, and garlic. This healthy butternut squash soup is perfect winter soup to warm up your belly. Find the recipe here.
Vegetarian Weight Watchers Chili In Instant Pot
Chili is one of my all-time favorite meals to cook in the Instant Pot. I was happy to come across this delicious and FAST recipe. She also includes stove top directions. Check it out here.
Delicious Instant Pot Chili
A great twist on traditional chili. Dump all the ingredients and let the Instant Pot do the work. Get the recipe here.
Instant Pot Beef Stew
One of my favorite parts of this recipe besides that is filled with healthy food is how fast it is to make. You can save some time by skipping the saute steps and just drop everything into the pot, set it and forget it! Check it out here.
Pressure Cooker Cabbage Soup
As much as I love cabbage I never know what to do with it. I was happy to see this recipe from The Typical Mom for Cabbage Soup. It takes 7 ingredients and 20 minutes. Nice! Get the recipe here.
Instant Pot Pumpkin Chickpea Curry
If you savor the flavor of curry, you're going to go crazy over this Instant Pot Pumpkin Chickpea Curry. The super cool thing about this recipe is that it includes Chick Peas, which are so good for you! Check out the recipe here.
Instant Pot Borscht (Vegan And Gluten-free)
I remember my mom making Borcht as a child. It's a perfect and affordable way to stay warm during winter while eating a cozy and comforting soup. Making it in a pressure cooker means that you don't have to stir the pot. Get the recipe here.
Cornish Hen Soup in Instant Pot (Ramen style)
In our area, Cornish hens sometimes go on sale for a wicket deal. My problem is I never know what to do with them. I was happy to find this Ramen styled recipe for them. Don't freak out, she walks you through each of the steps and makes it EASY for you. Check it out here.
Main Dish Recipes: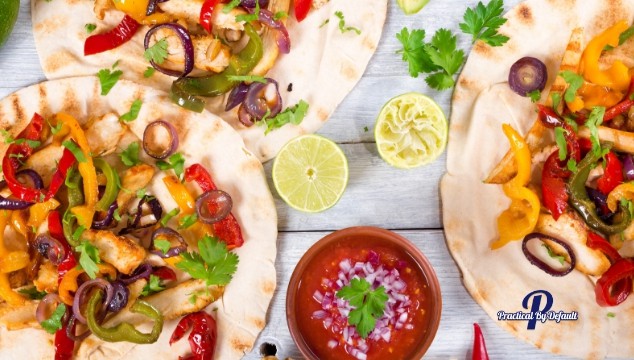 Instant Pot Mushroom Risotto (Vegan & GF)
I've never had Risotto but I had to add this to my list. Rich and creamy plus the walk away factor of cooking it in the Instant Pot lured me in. Grab the recipe here.
Instant Pot Applesauce Pork Tenderloin
You'll want to save this one because this pork tenderloin with applesauce recipe is fantastic year round – it even does great on the grill in the summer 😉
Get the recipe for the Instant Pot here and check out the tips for the sauce.
Maple Balsamic Instant Pot Pork Chops
Another great recipe for pork, and fast! From start to finish you can have these pork chops on the dinner table in under 30 minutes! Check it out here.
Instant Pot Chicken Fajitas Recipe
One of our favorite foods to eat! What I love about the Instant Pot version is that the Instant Pot cooks both the chicken breasts and sliced onions and peppers at the same time.
While it is cooking you can shred your cheese and prepare your toppings. Hint: Let the kids get creative on the toppings.
Smoky Lentil Sloppy Joes (Vegan)
These smoky lentil sloppy joes get some of their flavors from liquid smoke. I've always wanted to use this and I think this just might be the recipe to test it out on.
By the way, this recipe has instructions for the slow cooker and stove top as well. See those here.
Instant Pot Short Ribs
I love ribs. What I don't like is how long it takes to take them. I was pretty excited to see this recipe as it only takes an hour and a half, and still looks amazing. Have you done Ribs in the Instant pot? Get this recipe here.
Instant Pot Roast Beef
This is my personal recipe, although I am not sure you'd call it that. It is so easy and turns out perfect every single time, even my kids make it. Get that recipe here.
Pasta Recipes: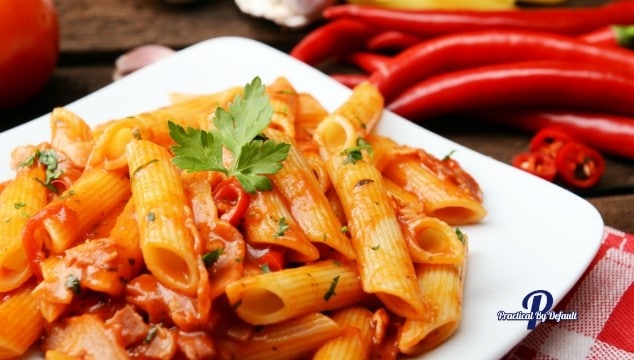 Instant Pot Cheesy Taco Pasta
If you love tacos be sure to add this one to your list. With zero prep work its perfect for busy nights. Scroll to the bottom for great tips on how to make this fast and delicious twist on tacos! Get the recipe here.
Instant Pot Baked Spaghetti
Pasta can be tricky, it either turns amazing OR a soggy mess. This recipe is perfect for kids who love creamy, cheesy, and full of rich flavors. Check out the recipe here.
Instant Pot Tuscan Chicken Pasta
A delicious pasta dish with creamy garlic sauce, sun-dried tomatoes, spinach, and chicken. Get the recipe here.
Instant Pot Creamy Italian Pasta
This is one of my favorite stove-top recipes and she made it Instant Pot Friendly. one of the EASIEST meals you can make for your family on a busy weeknight. Get the recipe here.
Instant Pot Pasta With Sausage, Spinach, And Tomatoes
This Instant Pot pasta is cheesy, creamy, filling, and so flavorful. Plus this recipe includes a video! Watch the video here.
Done For You Free Winter Meal Plans:
These are already made by others and are free. Be sure to check them out, you never know what you'll find.
Instant Pot Meal Plan:
These look amazing, just click on the month you want for the printable. Click here.
Please note these two are not Instant Pot. But are great lists!
SchoolhouseTeachers.com Free Meal Plans
These are not part of the paid membership and you can get almost a whole year's worth now. Click here to choose Winter Months.
Confessions from Homeschool Mom
She also has full meal plans for the month, click here to see the meal plans.
101 Instant Pot Recipes for Beginners
This PDF is filled with recipes perfect for those just starting out with their Instant Pot. Click here to check them out.
Best Seller Instant Pot Recipe Books
Do you prefer to flip through books looking for your new favorite recipe?
Here are Amazon's current Best Seller Instant Pot Recipe books.
You can read any of these e-books on your Kindle, or any computer or mobile device using the FREE Kindle Reading App from Amazon! I love this thing!
---
Meal planning is one of those things that save me time once I pull all the recipes together. I hope this list has saved you time.
Do you have a favorite winter recipe the whole family loves?
I'd love to know. Leave it below.
Take care
Jen
PS. Teaching my kids to use the Instant Pot was the best decision ever, trust me it is great when someone else does the cooking. Check out the course I used here.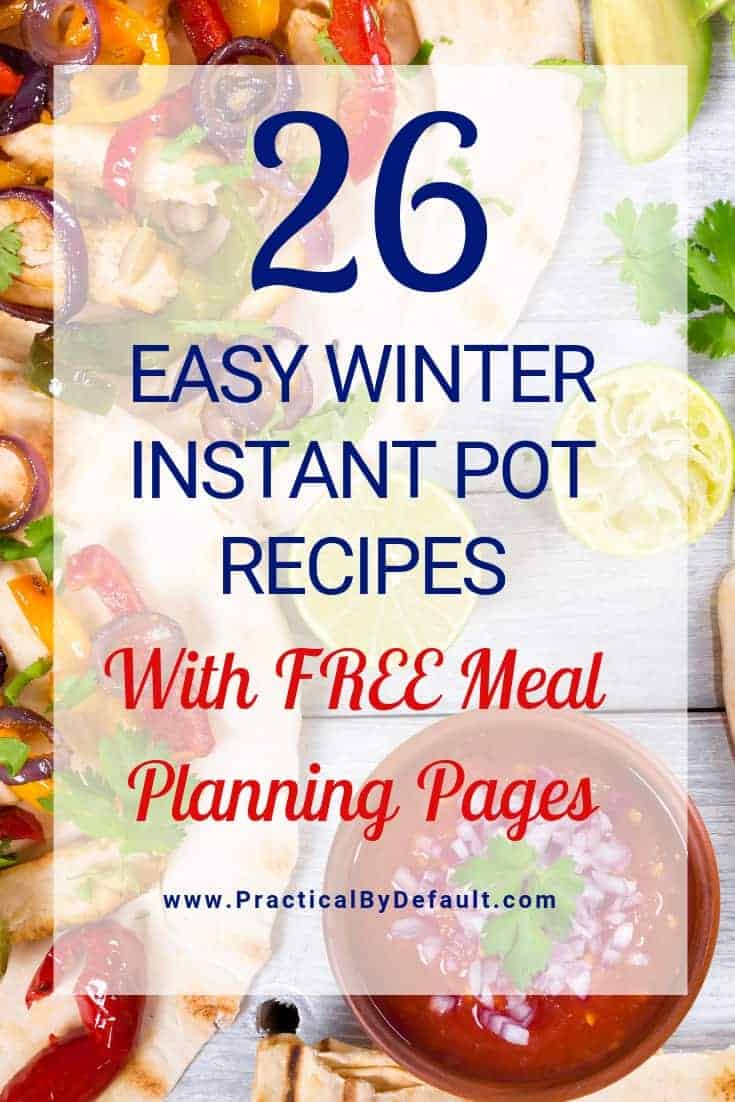 PLEASE PIN ME:
Hi, I'm Jen. I help working parents balance work and homeschooling by providing encouragement, support, and inspiration. You are warmly invited to Join the Online Community Here!