Ah, Camping. It's all about family, fresh air, and the sunshine. Oh, who am I kidding?! It's all about the food!
I sat down to write and noticed a sticky note stuck to my computer. It read, "Find camping meals."
Riiiiight. We are heading for a family car camping trip in a few weeks. We've been picking up a few things here and there but have been wanting to add a few new meal ideas to the mix.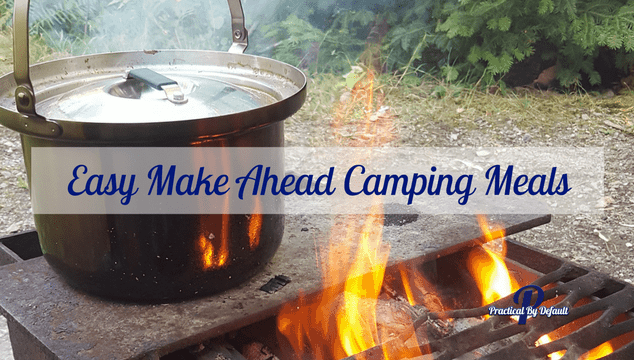 Ever notice how food tastes a million times better when eaten outside? I wonder why that is?
Anyway, I decided to share what I found in my hunts and would love to hear your favorite camping meals for your family 🙂 If you wanted to get this list in PDF format, just click the bright pink button at the top! Voila!
I have this book on my wishlist for our next camping trip: The Family Camping Handbook-Real food in the Big Woods. I love feeding my family real food on the road.
Breakfast Camping Meals:
My husband always gets up early and loves cooking while it is quiet. He starts with a cup of coffee and a campfire. When we were out back camping on our last trip we used these little bags and filled them with our own coffee making "coffee bags".  Add boiling water and steep. If you are curious as to what these bags look like you can see them in the image below 🙂
This time we will be using our little kettle. We always bring hot chocolate for chilly mornings for the kids since they hate coffee or tea. Not my kids I swear, lol.
If you are looking for breakfast meals your kids can make without you in your busy day to day be sure to read: 15 Breakfast Ideas For Kids to Cook for Themselves
On the Breakfast Menu:
For breakfast, we are planning on Homemade English Muffin Sandwiches. The kids make them at home so this is super simple. We are using bacon, real cheese sliced, eggs and English Muffins.
I found this awesome make ahead one, called Ultimate Tailgating Breakfast Sandwiches, I am trying to convince my husband to make instead 😉 It has baked eggs and hash browns inside.
Breakfast Burritos-Campfire Style
These burritos with a southwestern flair look super yummy and easy to make. You make them at home, roll them, freeze them and go. Note she cooks them right on the fire so be sure to use double duty foil.
Make Ahead Breakfast Quesadilla with Cheese Spinach and White Beans
I want to make these so bad but…I think for lunch. 😉 I love Quesadillas, this one is packed with protein and even sneaks in a few greens in the spinach. If you are taking them camping don't use plastic, swap it for tin foil so you can throw them on the grill.
We will be pre-making our pancakes with this recipe in a plastic bag. When we get there we can add the water to the bag and mix squish it up to mix and cut a corner. Pop them in a hot pan and yum. We bring maple syrup of course 😉
The morning we leave is seriously hectic. We are packing up, cleaning up and there is not a lot of time for breakfast. We will be using packed quick oatmeal. Just at hot water and go.
Camping is all about the food! Check out what is on the menu this summer!
Click To Tweet
Lunch Camping Meals:
Usually, we are an "on the go" family when we are camping. We bike, hike, or hit the beaches. This time I am tired so I hope for more lazy camping of books and coffee. 😉 I'll be filling up my I Pad with e-books from my Download These FREE Homeschool Books Page.
I really hope they get some rain before we go so we can have a campfire, last time we camped we only had a fire for one day. For us, the campfire is the heart of our camping.
On the Lunch Menu:
For the day we arrive, we make homemade chicken burgers. Using a store-bought rotisserie chicken, shredded and chopped. We add in celery, Hellman's mayo (yes it matters 😉 ) and small cubed cheese. Mix this all together and put in your buns. Then we double wrap in heavy-duty foil and freeze.
While we are setting up the tent and tarps our lunch is heating on the fire pit using indirect heat. The cheese is all gooey. Yum!
Camping Mac n' Cheese:
Lauren's Latest is a recipe my husband found earlier and lost. Glad to see I am not the only one that misplaces things. A quick glance through and I added this to my list. We will be using Gluten Free pasta and not all the cheese mentioned but I can see this being oh so good. Can't you?
Salads to Go.
If you had light eaters this looks so neat! This is an awesome idea for a lunch. Mini salads to go. Now there is no way one of these itty bitty cups would fill my crew but I think paired with something (sandwich or soup?) and we are good to go.
Hiking Meals:
As I mentioned we hike usually around mid morning until mid to late afternoon. One thing I learned was to stay fueled.
Last trip we picked up a couple Mountain House Meals. These are awesome we use our mini stoves and pot set to heat up the water. Bring to a boil, pour in the bag and wait. We have Mountain House Chicken Teriyaki with Rice which was okay. It has peas, I hate peas. The children, who like peas, would probably like it. The second one we tried was Mountain House Spaghetti with Meat Sauce, it was really good.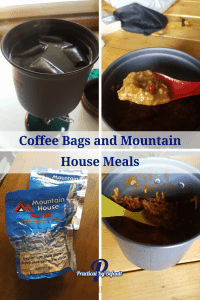 This time we each picked out our own and we are trying Alpine Aire. One bag has one serving although I can't see my daughter eating a whole one.
We picked:
Creamy beef and noodles
Three cheese chicken pasta
Black Bart chili
Three cheese lasagna


I am super excited to try these out. Updated: We have learned the pasta ones are best. Rice are second an my son hates eggplant, lol
Dinner Camping Meals:
I really had a mental debate on what this meal is called. Some call it Supper some call Lunch, Dinner. Either way, its food and it is good. This meal is usually eaten around the campfire because I am tired and/or buried in a book. 😉
On the Dinner Menu:
We are planning on Spaghetti if I don't forget it in the freezer. We pre-made the meat sauce made of ground beef, peppers, onions, garlic and pasta sauce and then poured it into a bag, laid flat and froze. All we need to do is cook the (Gluten Free) noodles and good to go.
We are making a Chili Nacho meal. I'll be pre-making the chili and we will bring shredded cheese, sour cream, and corn chips. The trick will be making sure the corn chips don't end up smashed to pieces. Anyone have tips for this??
Grilled Chicken Nachos Recipe
These look so good as an alternative to the above. I think if you packed a roll of tin foil, pre chopped your veggies and shredded the cheese this would be awesome for a make ahead meal. Don't you think?
Hobo dinner
I've never heard of this. I was wondering if the hamburger would make everything greasy but they do mention to use low-fat % to keep the grease down. It looks great and I think you could totally make ahead of time.
I was told the butter is vital to keep the veggies from burning. Thanks for the heads up!
If you like sausage and spices you might want to check out this version of a hobo dinner, this would not do for me but my husband would love this 🙂
Camp Fire Pizza Roll Recipe
A fellow working homeschool mom, Chase suggested this one. She says it is easy to prep and freeze ahead. You can switch the pizza toppings for eggs/bacon/cheese for breakfast.
That is the line up so far with a lot of new ideas for us. Do you camp? What are your favorite make-ahead camping meals?
Take care, 
Jen
PS. I love reconnecting with my family through hiking in nature. One lesson I've learned is always be safe when hiking. If you are unsure of what should be covered before you go on a hike be sure to read: Family Hiking Tips-Safety First!