Disclosure: I may receive commissions for purchases made through links in this post.
Every year as we head back to homeschool my daughter and I plan a girls day out. We grab the school supply list, check the flyers for deals and make a whole day of it. Lunch, shopping and girl chit-chat.
This year we had a problem. There was one thing on the supply list. Pencils. Since that wouldn't quite cut it we took a different route.
My husband and I did a quick shopping trip and created back to homeschool surprise gift bags for our teens.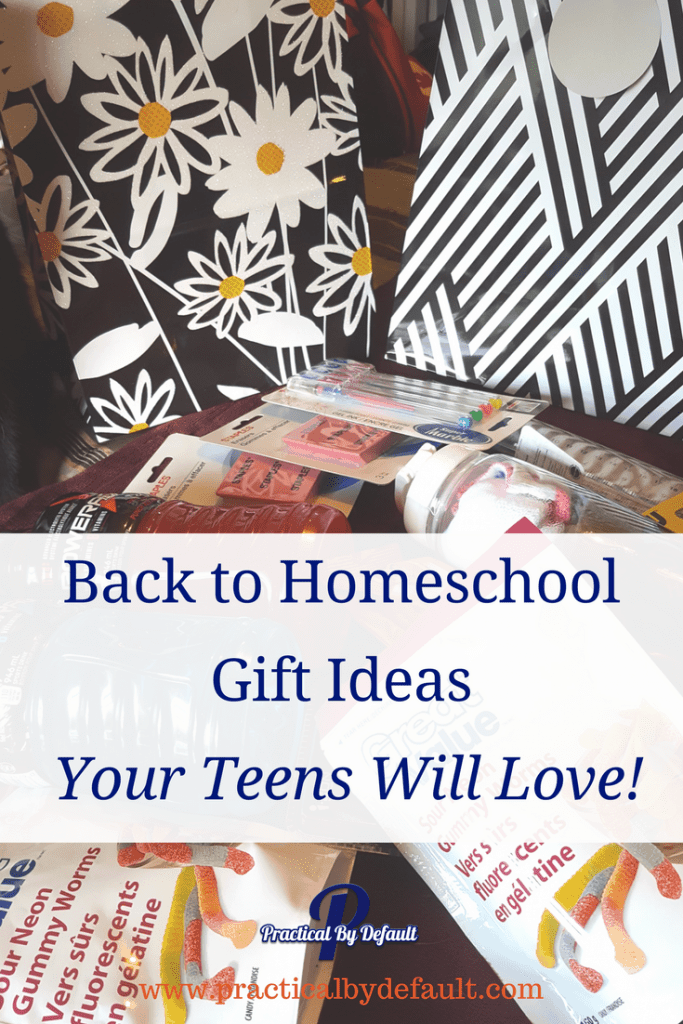 As with most teens, you never know if what you get will be a hit or miss. I am sharing our hit list along with suggestions from other moms to get you started.
Happy Hunting!
Bags:
First, you need something to put the stuff in.
Gift Bags- We went with basic colors and designs. Black and white for our teens.
Lunch Boxes/Bags: These are great to fill with gifts especially if your children like to have their own lunch box/bag for field trips, road trips, all day co-ops etc.
Back Packs: Perfect for taking their learning on the road.
Hatbox: If you children collect rocks (no, just mine??) these boxes are great to reuse for collectibles. Any box with a lid works.
School Supplies:
When looking for these items pick what suits your child. If you child loves animals, color, shapes etc. go with that. There are so many different designs out there-have fun and make it personal!
Folders
Cardstock
Planners
Personal Journals
Planners
Index cards
Post it notes
Washi tape
Stickers
Basic School Supplies:
This is the "schooly stuff". 🙂
Pens-Gel Pens and Erasable Pens are a favorite
Colored Pencils-the scented ones are fun!
Markers
Sharpies
Crayons-good quality
Pencils-the reason we began this hunt lol! We've learned not to cave and buy pretty pencils but rather ones that won't break every 5 minutes. We are in love with Ticonderoga Pencils. We are trying out the black 3 sided ones this year.
Erasers – be sure to include good quality as well as fun. We like Pink Pearl from Papermate
Rulers
Pencil Sharpeners – a fought over item in our homeschool *sigh*
Glue
Paperclips
Clips
Tacks etc
Electronics:
Since much of our learning is on the go we do a lot of online learning. These make awesome add-ons that are practical and fun! 
Tablet cases
Tablets – We use i-Pad Minis
Extra charging cords
Ear Buds / Headphones
Bluetooth speakers
Lap desks
Power Banks (Portable Chargers) -these are awesome!! We use them when Car camping and hiking.
Edible Treats:
Teens eat. A lot. Throwing a few favorite treats in the bag is always a win.
Candy- Candy is always a hit with kids of all ages. Individually wrapped packages of favorites such as M&Ms, Smarties etc work best.
Gummy Worms- I put a note in with these for the whole "Book Worm" angle, which earned eye-rolls and laughs 🙂 Pro Tip: Using a program like PicMonkey create a little card to go with your Gummy Worms is easy and adds a personal touch. 
Powerade/Gatorade
Water Bottles- Found a cute one with a strainer and filled with funky socks for my daughter!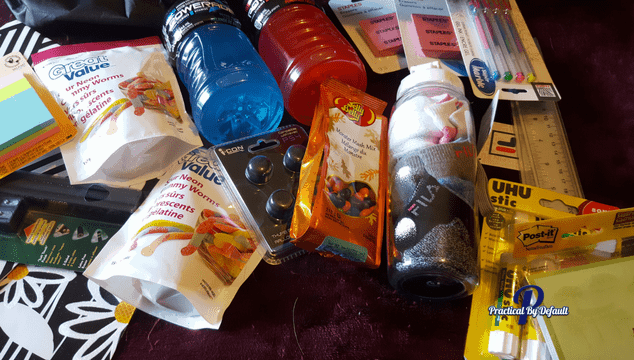 Other Fun Ideas!
Don't forget to include things not normally on the list such as:
PJ's – you know since we stay in them all day long, ha! 😉
T-shirts
Hair Elastics
Hoodies for fall
A new book and fun bookmark
Get Creative:
Makeup fun homemade coupons for rewarding good behavior or getting their work all done.
Include rewards such as:
No chores day
Unlimited screen time
Favorite meal day
Or if you aren't creative, grab a gift card to their favorite shop.
We had so much fun surprising our kids with the gift bags. Do you celebrate back to homeschool with your kids?
Happy New School Year!
Jen
PS. If you are short on time and need a few ideas for celebrating back to school read our 9 First Day Back to Homeschool Ideas: For Busy Moms!
>>>Click here to learn more!<<<