Disclosure: I may receive commissions for purchases made through links in this post.
One of our favorite ways to unwind in the summer and fall is to go car camping. We love getting out in nature, hiking, canoeing, reading tons of books around a campfire and of course…eating!
Camping is affordable, flexible and just plain fun. Let's take a peek at what we actually pack and use while camping!
Over the years we have been working hard to compact our gear to eventually move to a more "grab and go" approach. We have been able to do one hiking camping trip and are looking forward to doing more.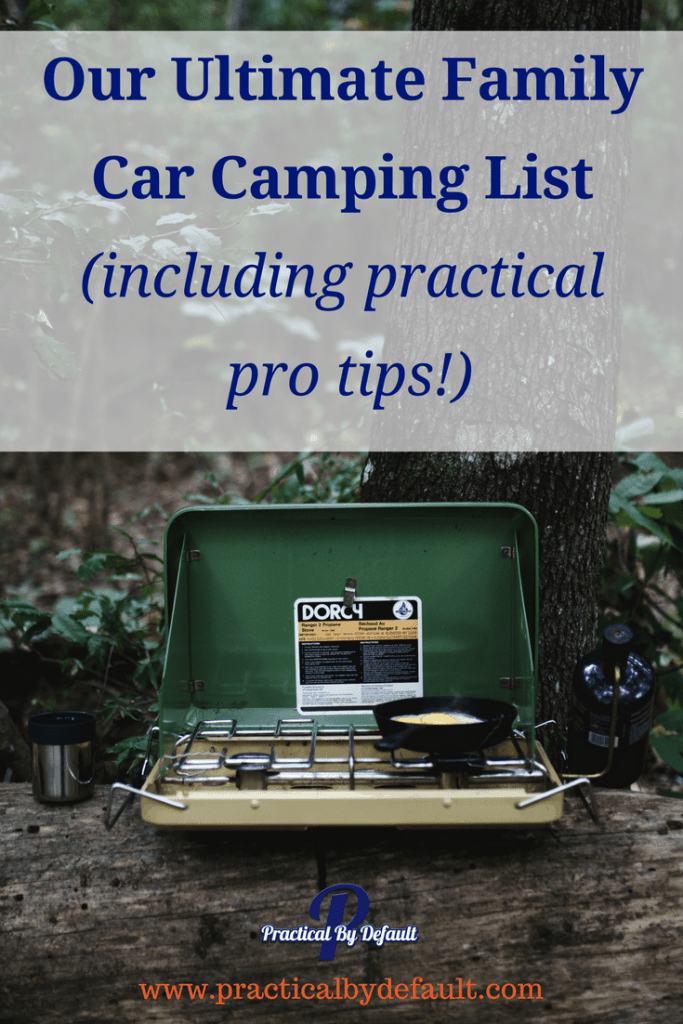 Everything on this list fits in our car. We do not have a roof rack or trailer.
Note:  I am sharing a lot of lists so please feel free to use the "READ LATER" button to get a PDF of this post sent to your inbox! You can find it at the top of this post.
What is Car Camping?
Car Camping: a type of camping which involves driving rather than walking to a campsite. Taking shelter in a tent, not a camper.
Camping Papers:
We camp mostly in Provincial or National Parks in Canada. They focus on preserving nature and include many learning opportunities on the trails. Many have outdoor theaters that tell about the history and steps you can take to help preserve our wildlife.
Parks Canada also provides dry shelters. They often include showers and flush toilets along with pit toilets.
Wherever you decide to camp here is a list of important papers you will want to take:
Your campground reservation info
Emergency contact numbers
Directions to the campground
Pro Tip:  Camping tends to be on the affordable side and many campgrounds fill up fast. I recommend booking ahead if you can.  
Camping Shelter:
We use Coleman 6-Person Instant Cabin.

I had requirements of my car camping tent. Plain and simple I wanted to be able to stand up to change. Lying down trying to get into pants is a royal pain. At 10 x 9 ft. 6 ft. center height. 6 ft. center height this tent is awesome.
This tent is easy to set up it takes under 3 minutes with the poles attached. (Yes, I know the review says 60 seconds but I gotta move it around and see where I want the door. LOL)
We did not buy the fly and now we are kicking ourselves! So we throw a small tarp over it because someone (me) is terrified it is going to leak. We camp every summer and have never had it leak yet.
This tent says it sleeps 6 which is true if you like the cuddly feeling. I never go by "people sizing". This works great for 4 people and bags of clothes.
We hope to replace this for a tent that folds up smaller. This is my only complaint. It takes up a lot of car room.
Pro Tip: Always try out a new tent in your own backyard or city park before heading out into the wilderness so that you are familiar with how to assemble it as well to see if it leaks. I use a garden hose to check. 
Items you need:
Camping Sleep:
For sleeping, we take air mattresses. It keeps you off the damp ground in chilly weather and let's just say, it is softer than the ground. We use Intex Classic Downy Airbed. We have a queen and the kids have singles.
These can be purchased in sets to include pillows and hand pumps. I highly recommend having a hand pump in case your electric pump fails. We haven't had that happen but ouch can you imagine??
Note: Not a tip but don't let your cat walk all over the airbed if they have claws. They leave tiny holes that will never be found. 
Pro Tip: We take a larger pillow cut down the middle and sew it closed for two smaller pillows that are comfier and take less room than a full size.
Sleeping bags:
We use two Broadstone Sleeping Bags. These can be zipped together to make a double sleeping bag for hubby and I. These are large and take up a lot of room. They are on the "to replace with a compact lightweight item" list.
We do have mummy style sleeping bags for the kids. They prefer the pillows that come with their air mattresses.
Items you need:
Sleeping bags
Air mattress or pads
Pillows
Extra blankets if in cold weather
Patching kit
Camping Kitchen Set Up:
As important as the rest of camping is food is where it is AT! 😉 We try hard to make sure most of our food is made ahead so we don't spend all day cooking.  We want to explore and hit the trails.
We have a kitchen tent but I will admit we didn't use it last time. It was given to us. It has holes and is on the flimsy side. It wasn't worth the space or effort. I'd love to get a sturdy one that compacts down small. Someday…
In the meantime, we set up a very large tarp, similar to this Roughneck 6-Oz. Extreme-Duty Black/Silver Poly Tarp . This tarp is black on one side and reflective on the other. This is the KEY!
When camping in colder weather you want to put the black side up to attract the heat of the sun while the reflective side reflects the heat from the stove and campfire down on you. When camping in warmer weather you flip it over the other opposite effect.
Using bungee cords, paracord, knots, and trees we secured the tarp up high enough to stand under. If you have tent poles for tarps I highly recommend them. (another wish list item!)
The tarp provides shade and protection from the rain, be sure to tie it tight from gusts of wind.
Cooking Stove:
We use two stoves. We love/hate our Coleman Camp Propane Grill/Stove+ . Bought years ago for the 2 in 1 factor. We love the grill but miss the extra burner. So we also take along our Coleman Butane Stove. We love our butane stove, it is small, lightweight and easy to use. We've had ours for years!
Pro Tip: Always set up and try out your camp stove before heading out. Test how to light it and be sure to bring extra fuel.
Camping Cooking:
I splurged and bought this Campeggio 8 Piece Camping Cookware Set.  It is heavy but it nests. It is soooo cool. It was my anniversary gift to my husband that year and he was so excited. You get two pots, two frying pans, removal handle, and covers. The pans are nonstick. They are the only cookware we take. Love them!!
You can use this set right on the campfire if you want, we made a stew this way it was the best ever.

For coffee, we use our Coleman 12 Cup Stainless Steel Percolator. This is perfect for heating water for tea, coffee, hot chocolate, and dry food meals.
Camping Dishes:
Our dishes are GSI Outdoors Infinity 4 Person Deluxe Tableset.  We love this set.
It includes:
Color-coded 4-person deluxe table set designed for car camping
Four 6-inch bowls with lids and four 9-inch plates
Four 17-ounce insulated mugs and four 12-ounce glasses
Mugs include insulated EVA sleeves and no-spill Sip-It lids
Stores in stuff sack; measures 9.3 x 9.6 x 9.3 inches (W x H x D)
Here is a photo of them all laid out so you can see what comes in the set. You will also see these in my photos!

We love this set but, do not use steak knives on the plates! They scratch big time. This is the only downside we have found. We purchased a small wooden cutting board for this reason. Also, we chucked the lids. I mean, they are perfect if you are going to carry something or keep leftovers but… really? We never used them.
The mugs are awesome!! And they come with cozies that you will for your coffee and the lids are awesome for walking around with your drink 🙂
It is the only dish set we use.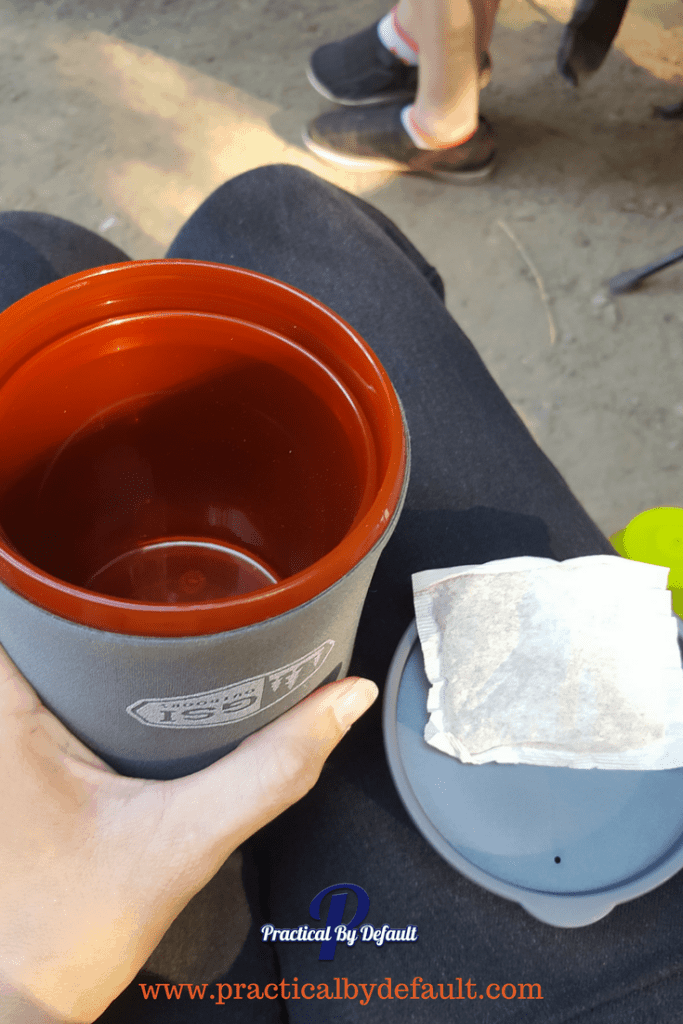 We use sporks for eating, pack a serrated knife for cutting meat and bread/English muffins etc., a wooden spoon for mixing and an egg flipper for eggs etc.
Items you need:
Camp stove
Fuel (butane or propane – different stoves require different fuels)
Firestarter (matches and lighter)
Cookset (pots/pans) and cooking utensils
Coffee maker/percolator
Eating utensils (plates, bowls, cups)
Can opener, bottle opener, knife, cutting board, etc.
Pro Tip: Invest in having "Dedicated Camping Gear" such as can openers, corkscrew, wooden spoons etc and keep them in your camping gear. You may think this is a waste of time until you are sitting next to a can of soup you can't open because you forgot your can opener.
Camping Food:
I talked about our make ahead camping meals before. However, you are going to need a way to take them with you.
We take a Coleman 60 Quart Performance Wheeled Cooler. I am starting to think we love Coleman brand lol never noticed this before today, Ha! It keeps everything cold for 4 days and has wheels and a handle for easy moving. Full coolers are heavy!
Also fun fact about coolers in Canada at least. This one is 60 quart but they advertise "holds 90 cans" umm??
One thing we love about this cooler is it is high because you can store tall bottles of water, coffee creamer etc. without laying them down and worrying about them spilling. We also freeze bottled water as ice. It is larger and stays frozen longer. The drain on the bottom is handy for getting rid of water and it is easy to clean.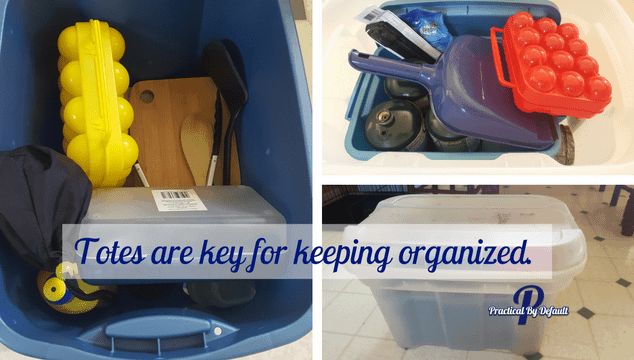 We also use a tote for dried food such as bread, chips, trail mix anything that doesn't need to be kept cold. as well as odds and ends.
Pro Tip: To save on buying bags of ice, make your own large ice blocks using 2 Litter Milk Cartons. Fill them with water and freeze. Or pre-freeze large ice packs.
Items you need:
Cooler
Ice/Freezer Packs
Garbage bags
Ziplock bags
Biodegradable soap and a sponge
Bucket or camp sink or small tote for washing dishes
A dish washing cloth and drying cloth
Clothes line and a few clothes pins
Paper towel roll
Collapsible water jug
Bottled water for drinking
We like to eat and read around the camp fire. Therefore we always bring folding camping chairs with cup holders. We love these collapsible chairs because they fold down into a bag. However make sure you are on HARD ground or they sink and tip! Before you know it your are tossed into the dirt.  We hope to find a sturdy brand to replace them with.
First Aid Camp List:
In the last tote we store camp fuel, odds and ends listed below including our first aid items. We also store a smaller tote where we keep the utensils in. This smaller tote doubles as a wash bin.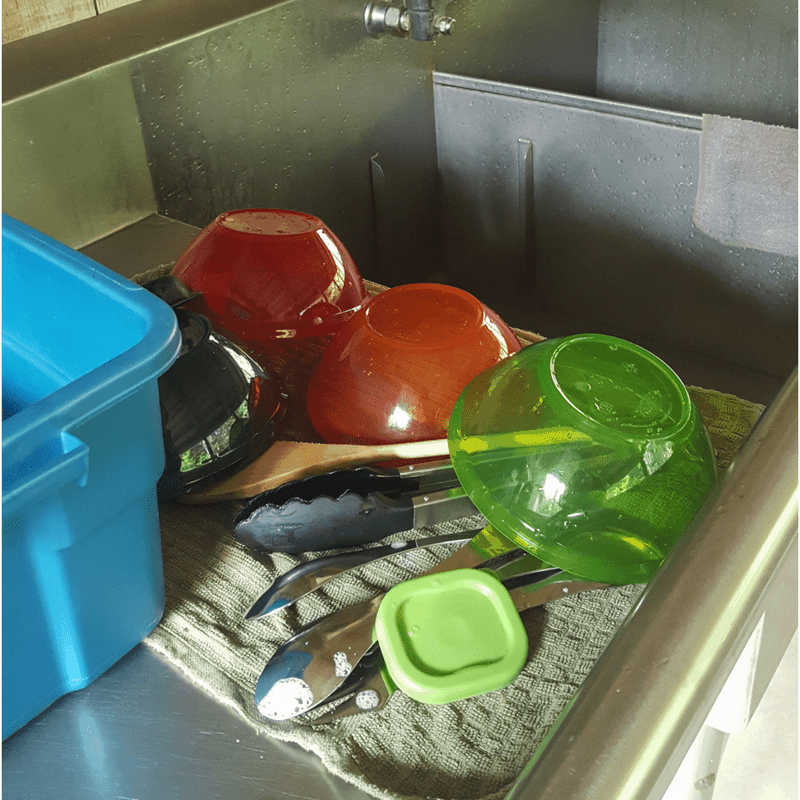 Items you will need:
First-aid kit
Insect repellent-Mine includes tick repellent
After Bite
Citronella candles
Sunblock
Prescription medications
Allergy medication
Duct tape
Patching kit for tents and air mattresses
Flashlights one per person
Camp Lantern
Cell phone, and a car charger and a portable battery pack
Small broom and dust pan
Pro Tip: Always know where the nearest emergency /hospital is located. I like to keep the directions written in a notebook as well as on my phone. 
Fun/Rain Day Camping List:
No matter what you do you can't control the weather. When it rains you end up with wet bored kids.
Here are a few things take with us to keep sane:
Games- think deck of cards or Crib,
Notebook and pen- for drawing, hangman, keeping score
Art supplies and stickers
Glowsticks
Frisbee
Ball
Books
Mini microscope
Camping Clothing:
We pack our camping clothes in backpacks. We each get one. I like mine to have many pockets so I can keep organized. Much like my packing list for business trips ,I use a list.
Here is my basic car camping clothing list:
Rain coat, make sure it has a hood.
Hiking sneakers
Shower sandals
Socks
Shorts
Pants
T-shirts
Long sleeve shirt
hoodie
Underwear
PJ's- I use warmer pants
Swimming suits
Warm hat and gloves
Sunglasses and baseball hat
Pro Tip: take a plastic bag to keep your dirty clothes in so you can keep them separated.
Camping Personal List:
We also keep our personal items in our back pack. I like to use a separate pocket or you can use a zip lock bag.
Items you need:
Washcloths and towels
Biodegradable soap/shampoo
Face-cream one that contains sunscreen
Lip balm one that contains sunscreen
Pads/tampons
Brush/comb
headband/elastics
Toothbrushes/paste
Toilet paper
Wet wipes
Hand sanitizer
Deodorant


Car Camping Packing Tips:
I hope you enjoyed reading our ultimate family car camping list. Everything listed above fits in our car. We had a Mazda 6 for years. My husband does the actual "fit it all in the car" thing. So I asked him what his car camping packing the car tips were.
He said: Totes are the key for keeping organized. As for the order, the last thing you want to pull out of your car – put in first. Coolers, camp stove, etc.

If you are camping in the rain, you want to make create your weather shield first. You want to be able to reach your rain coat first. Make sure your tarps are accessible then your tent.

Lastly, our car looks like a chaotic mess but results in organized campsite!
There you have it! Our family camping car packing lists and practical tips. I hope this encourages you to get out there and enjoy your next camping trip!
Take care,
Jen
PS. Are you wondering what we eat while camping? We love these easy make ahead meals! Be sure to check them out!