Disclosure: I may receive commissions for purchases made through links in this post.
Can you really homeschool cheaply and find solid curriculum?
Or must you break the bank to ensure your child gets the best homeschool curriculum? Why yes you can! I am about to share with you how I homeschool (middle school) two children under $250 a year.
We currently covered 10 subjects give or take last year.  I have spent and continue to spend lots of time combing the internet for solid resources that work well with our homeschool plan of attack. These tips along with my 3 favorite resources save me money!
Instead of keeping them all to myself,  I am going to share with you how I cut costs and still have amazing resources to use. Let's save some money!
Homeschool Curriculum Saving Money Tips!
I'm on SoundCloud now! You can catch what I have to say about How to save money on Homeschool Curriculum.
Choosing Curriculum:
When choosing curriculum make sure to consider you, your child, your family and then your homeschool.
There are many factors to consider, price being one of them. You can read about the other 7 questions I consider. Beat the overwhelm one step at a time.
Tip 1: Compare prices, wait for sales!
The history program my children love contains a textbook and a workbook each, this is where a huge chunk of my budget goes. ($60-90+ CND) So I wait for Amazon.ca to have on a free shipping sale, and/or wait until the product goes on sale itself. I also cross check with my other supplier,  to see if I can get it cheaper there.
I am sorry, I aim to be a loyal shopper but at the same time, I need to save money where I can. Be sure to check not only  Amazon, Ebay and other places for second hand but also online stores such as Christianbook.com and Educents.
Tip 2: Invest in Subscription Sites!
Another option I just discovered this year was investing in subscription sites.
You may have read my personal review of SchoolhouseTeachers.com. When counting the cost, this site is very reasonable. You can try it for one month for $5.00 USD. Then if you decide to keep it you pay monthly or yearly depending on your choice. This price does not change depending on how any children you have, which is awesome!  They have over 300 programs online. Click on the banner below for more information!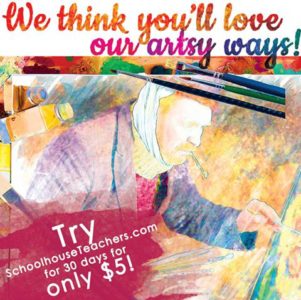 Now, other subscription sites people recommend for a whole homeschool curriculum is Time4Learning. I attempted to use this for one month and I found it really hard to use however many of my readers really like it. So I am including it for you to check out!
Tip 3: Find quality resources online, for free!
There are tons and tons of free websites out there. (Read over 40+ Here)The hard part is knowing if they are worth spending time on. So how do you know? You ask someone who uses it!
Easy Peasy For grades 8- and she has a complete High School website as well. If you have the time, comb through and see what you can find. Trust me!
We really do use and appreciate her hard work, as you can from the list of grade 7 and grade 8 curricula I share.
Tip 4: Reuse what you can
If you have more than one child, reuse what you can.
I choose not to buy the workbooks when possible, saving money and had the children write out the answers on loose-leaf (sale $.10 a bundle) This allows them to practice handwriting, no need to buy workbooks for them to write in. If possible-I did buy them for History and English-Writing courses this year
Tip 5: Pay for quality, saving money in the end.
There are things I will NOT buy at the dollar store or cheap knock off brands: crayons and pencils being two of them. I will only buy Crayola crayons .
Recently discovered Dixon Ticonderoga pencils. They don't break, we don't waste time sharpening them, and money buying new ones. It erases the frustration of trying to write and having the pencil break every few minutes. Yes, this was a learning experience we do not wish to repeat.
I want to state that I do not mind paying a reasonable amount for quality curriculum.
However, this year we are using many courses from Easy Peasy (all-in-one Homeschool). Over the last few years, I have cherry-picked what I wanted to use and not use from her site. It is all FREE! This year we are using it more extensively and the children are really enjoying it.
Saving Money Resources:
I am so determined to save money on homeschooling curriculum that I keep resource pages for programs offered and recommended by other homeschoolers here on the blog such as:
My Personal Breakdown, Homeschool for $250 a year:
School supplies: $75.00
This is for two children. Includes everything they will need for the entire year. I do shop sales, however, because the children don't get "school clothes" they do get to pick pretty much what they want for supplies.
We re-use most of our binders, supply boxes, pencil cases, staplers etc. This could be cheaper but I like to over budget just in-case! I wait until school supplies go on sale in our store fliers. Most things are under a dollar with the exception of binders. ($5 max) My children do not like "scribblers" or journal notebooks. I also set a budget and stick with it. Ex. I will tell them they can pick any of the binders $5.00 and under. They get to choose, I save money-Everyone's happy!
Curriculum Textbooks and Workbooks: $160
At the moment, my two big curriculum choices that cost me the most are my History program and English-Writing program. I budget $75-$80 per subject, which includes a textbook and two workbooks per subject.
I also budget $8 (x2) for the spelling program. In the meantime, this is money you could budget to whatever you feel is required.
Total costs: $75+$150+$16= $241.00
Note: this does not include extracurricular activities, such as art classes, or swimming lessons etc. This is curriculum only. 
How Others Can Help:
Sometimes I get asked how others can help! As a homeschool mom, the best gift you can give is a gift card to the place that they buy their books/curriculum. I received a gift card to Amazon.ca (since I live in Canada) and I was beyond thrilled. It was a huge help I was able to pick up extra's I don't normally budget for such as books not available in my Library!
I love reading how others are able to plan their homeschool budget. Shelly has 10 children and is able to homeschool for $1000/year, she shares her tips on how to homeschool without breaking the bank. If we can do it, so can you!
Homeschool Without Breaking the Bank:
A lot of stress in homeschooling is trying to do it on a budget. Many feel you must break the bank to do so. You really don't. Below this, I am including a short list of 5 Free Curriculum Resource Sites we use!
5 Free Homeschool Curriculum Resource Sites:
Khan Academy-Amazing Math Program, plus many other goodies. They have an app for the tablet as well.
Typing.com– free typing, this is my favorite one to use, the children like it as well. They have a record keeping system built in.
Kids Cook Monday-This is an awesome resource for teaching children kitchen skills!!
Free Online Geology: This is a very hard program, my children completed last year. They love rocks! Someday my house is going to sink. Just sayin'
Hands on Banking: Super cute banking course that is informative!
What's your favorite homeschool resource (free or not!)? Let me know in the comments below!
Sharing a bonus freebie: This site has tons of free notebooking pages. I will be talking about how I use this in the future, until then if you want to check it out, just click on the banner below 🙂
>>>CLICK HERE TO LEARN MORE<<<
Here's to spending less!
Jen
PS. Homeschooling doesn't have to break the bank the key is to find what works for you and do that! Curious about what we are using? I share our curriculum choices for Grade 8, Grade 9 and Grade 10! 

Hi, I'm Jen. I help working parents balance work and homeschooling by providing encouragement, support, and inspiration. You are warmly invited to Join the Online Community Here!