Disclosure: I may receive commissions for purchases made through links in this post.
Teenagers are often shown in media behind a video game controller, attached to a cell phone, tablet, or some sort of computer. As a mother of two and a self-proclaimed bookworm, this made me wonder if it would impact my child's view reading. After all, I worked hard to develop a love of reading in my children.
I decided that keeping reading fun would be key.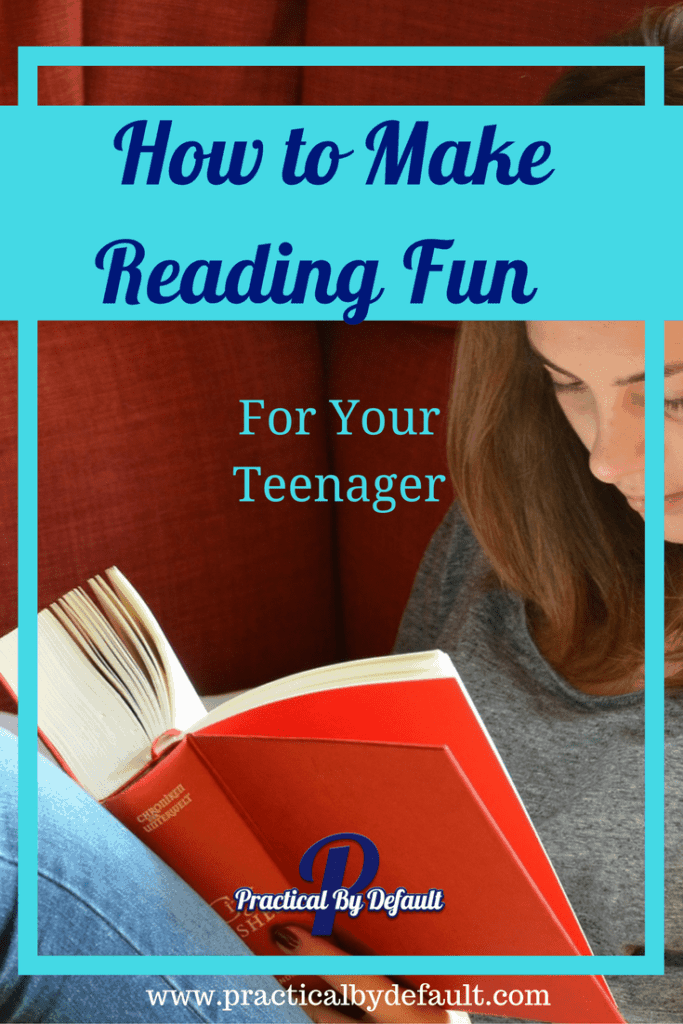 How to make reading fun for your teenager:
One: Don't use reading as a punishment.
I get it I do, as a busy stressed out mom we use what works. If your child already isn't a fan of reading, using reading as a form of punishment will not help to keep reading fun for your teen. Instead provide them with time they can read.
Two: Do provide opportunities for them to read.
Keep reading positive by providing them with time they can read. Set aside "reading time" for your children and quiet spaces for them to lounge in. My children have recently started using camping chairs to lounge in and read. They are extremely comfy. (I may have tested this theory lol) Bean bag chairs are also a favorite.
That said, my son loves to read with music. We provided ear buds 🙂
Bonus: You get quiet time to drink a cup of coffee and do some reading yourself!
Three: Let them have a say in what they read.
Children, especially teens, like to feel they are in control. You can use that to your advantage. Providing reasonable guidelines will help narrow the field and yet let them choose what to read.
For example, I found a list that goes along with our history program. I went through the list allowing each child to choose what books they wanted to read from this list.
Four: Turn books into new learning opportunities.
Books allow you to learn so many different things. If a child shows interest in a subject allow them to follow it. Some love to read the whole series of books. Some books encourage them to try new things. Let them try different types of books, poetry, biographies and more.
Need a few reading ideas? Grab the Teen Reading Challenge from the Homeschool Bookshelf! You get 13 different topics to cross off!
Five: Don't "Book Report" a book to death!
Many have asked if I get my children to write book reports. The quick answer is, "not this year". Last year my children were required to do a full book report, with references, proper quotes, footnotes, cover pages and more. It was long, tedious and tiresome work.
I noted that although they learned much about writing, reading comprehension, and more. They also hated the book when they were done and didn't read for a long time. Doing book reports in this style took the fun out of reading.
[bctt tweet="How to make reading fun for your teen!#homeschool #ihsnet" username="PracticalByD"]
What I am doing instead of book reports:
Instead of doing this type of book report we are reading then we talk about the words we don't know and write a vocabulary list. We include this in our language arts binder as we add to it from other subjects as well, making a personalized dictionary.
We discuss events that happened and I have the children tell me in their own words what is going on so I can be sure they understand. Other books they just read. If it sparks an interest in something we will learn more about it.
I have them keep track of the books they read, date and other relevant information. I was worried this might not be enough when something popped into my email inbox that I am thrilled to share with you!
Literature Study & Book Report:
This is my current favorite resource at NotebookingPages.com. I am going to totally admit I am finding new resources there each week that I love. I may have also squealed when I saw this!
Now before we go any further I want to tell you something. My "thing" with homeschooling is: Use what works for you!
Therefore I don't use notebooking pages "properly" as in the way there were designed to use. Or maybe the way I keep seeing them being used. So how do I use them?
I use them in a way that works for us. I use them as printables worksheets. Therefore I hunt through the different packs and use the single pages I want to use.
Which is why I was so excited when this landed in my inbox! And it is included in my lifetime membership, thank you very much! Whoot! There is so much included in this pack!
Below is a quick list:
Reading List pages
Reading Log pages
Cover Art pages
Background Information pages (About author & historical context)
Chapter Summary pages (including copy work, literary elements, etc.)
Book Report Style pages
Book Summary pages (including setting, plot, characters, conflict, theme, etc.)
Character Study pages (including character list, map, traits, sketch, quotes, etc.)
Setting pages
Plot pages
Theme pages
and it goes on!
So far I use the Cover Art pages when I read aloud. The children get bored just sitting there listening to me so I get them to design a cover to the book I am reading. This keeps their attention while I read and allows them to get creative, keeping even my reading aloud fun! win:win
I use the reading log pages to keep track of the books read. My son likes the ones he can use the stars to rate the books. My daughter prefers the one in the download library for now.
The Best Deal for NotebookingPages.com
Let's keep learning fun for your teenager. Since I've been using and loving NotebookingPages this year so much! Honestly it is worth every single penny. I love that it is "done for you" worksheets. Just find, download, print and go.
Hint: Save them in a folder. I admit finding  the same worksheet again on the site can be a bit annoying and time consuming if you have a horrible memory like me. A quick fix, I save them in a folder on my computer named appropriately.
What is included in a Lifetime Membership?
Just click on the banner below to learn all the details!


AND!!! Included in every Notebooking Pages Lifetime Membership one year free access to The Notebooking Publisher™ Web-App.
This amazing feature lets you or your child create their own notebooking pages, allowing for practice with computer skills and allowing your child pull resources from the internet to create their very own notebooking pages.
Test it Out For Free:
If you are interested in testing out NotebookingPages.com for free. Grab the free 600+ pages here!

Go check your email for your confirmation! This may take a few moments. If you do not receive a confirmation please contact me. Thanks!
How do you make reading fun for your teen? Let me know below!