Disclosure: I may receive commissions for purchases made through links in this post.
Homeschooling moms know a love of learning is important.
We work day and night to develop a love of learning in our children.
But what about us? What about YOU, the busy mom who is exhausted and tired at the end of the day…where can you recharge, get encouragement and renewed?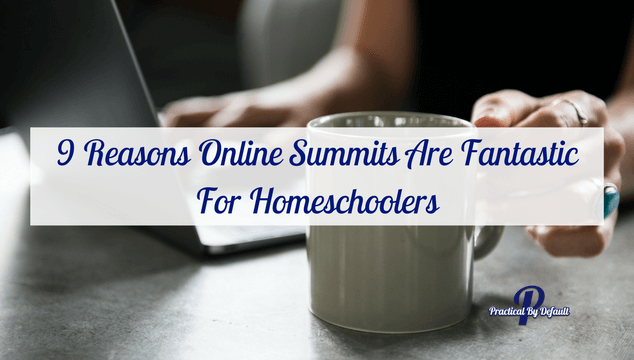 One of the best ways I've found to recharge, learn and get excited about homeschooling is online events. Coming up shortly is the
Start Homeschooling Summit
which I am really excited about attending.
I'll be using the Start Homeschooling Summit for example purposes but, again, you can use them for any summit 🙂
Let me share why I think they are perfect for busy moms, like you!
What Is A Homeschool Summit?
Online Summits are limited time events (unless you buy the pass – I'll explain soon) that offer all the benefits of a Homeschool Conference.
Most conferences are usually considered physical events. Summits bring to mind online events.
For example, the Start Homeschooling Summit will be bringing together dozens of homeschooling experts covering multiple topics of all interests to anyone who wishes to attend.

9 Reasons You Should Attend A Homeschooling Summit
I am sharing my personal top reasons for attending a homeschool summit and I would love to hear your reasons.
Online Summits Save Time:
Time is valuable. As a busy mom, you have a million things to do and only so many hours to get them done.
Online Summits are a great way to save time vs physical conferences in that you don't have to spend time traveling.
You can also watch at your convenience.
For example, the Start Homeschooling Summit has a mix of live and recorded videos each day. You can watch them for free for 48 hours.
Online Summits Save Money:
Online Summits save you money because they are free for a limited time. Free is good.
Some summits have only live sessions which can be tricky for busy moms to attend. Others, have them available to watch for 24-48 hours before they lock them up.
After the live session, you can usually purchase the packages for lifetime access. Even this price is cheaper than travel, hotel, food, childcare etc.
As you can see, the Start Homeschooling Summit is currently on sale for $58.80 but is regular $98.00. Even at regular price this is a steal. Way cheaper than one hotel room, at least here in Canada. lol!
Below is the screen you should see if you click here.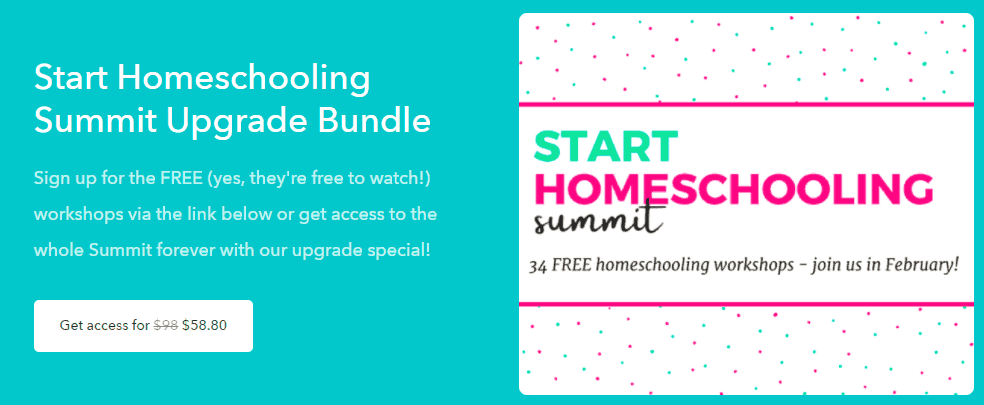 In order to watch the session, you need a device to watch them on such as a cellphone, computer or tablet, and internet connection.
No need to pay for gas, hotel rooms, food and/or childcare which can all add up to a big expense.
Save Vacation Days For Vacation:
If you are attending a physical conference you will need to book off time from work. I have heard several moms who were super excited about attending a conference only to realize they were unable to get the time off work.
Online summits are perfect for homeschooling moms because you can watch at home, in your PJs, scarfing bon bons and ice cream, on your own schedule.
Plus if you don't get to see it all you can purchase the sessions as a pass for lifetime access. Watch them when you want, over and over again, whenever you need to.
Renew Yourself With Online Summits
Homeschooling is exhausting. It has its amazing days but boy oh boy some days…lol! "Tried" is an understatement of the century.
Homeschool Summits are a great way to renew your excitement about homeschooling, your family and maybe even your work. You'll learn that everyone has struggled and you are not alone.
You'll learn how to overcome these challenges in creative ways that you may never have discovered on your own.
Note: Be sure to tune in for Day 5 of the Start Homeschooling Summit to learn about how to overcome balance and challenges when homeschooling. Did you sign up yet? If not, you can do that here!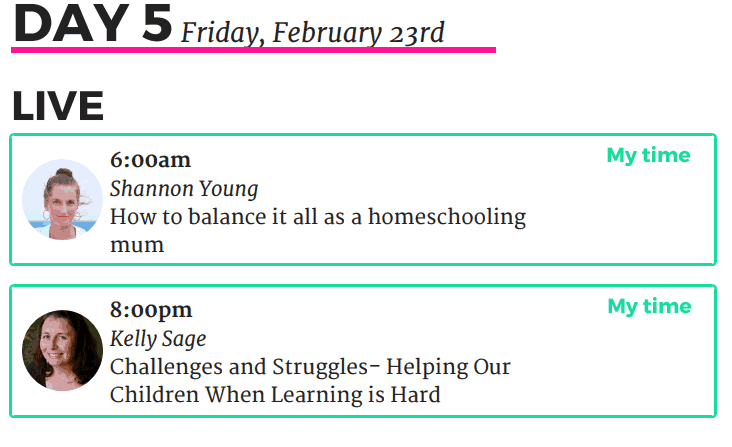 Sign up for the Start Homeschooling Summit!
Making Connections With Peers
Do you ever feel really alone in your journey? Connecting with like-minded people can be a real boost to your homeschooling life.
Attending an online summit knocks you out of your routine in a good way. It allows you to connect with inspirational people and gives your brain a break from the day in and day out.
Take this time to slow down, rest, connect and reflect.
To Learn From The Material:
As homeschooling moms, we know how important it is for our kids to love learning. We also know that it is a lifetime skill-we never stop learning.
But when was the last time you took time to learn about your work? Homeschooling? A hobby?
I started blogging as a way to talk about my passions for homeschooling, being a working mom and finding and sharing solutions to our unique situations.
Also, my friends and family were getting sick of hearing me chatter on about it! LOL! #keepingitreal
Online Summits give us the chance to indulge in a little learning of our own.
For example, the Start Homeschooling Summit has sessions on:
How to deschool
Add fun to your homeschool
Choosing curriculum
Unit studies
Art with heart
Teaching science with multiple ages
Morning baskets and making them work for you
And the list goes on.
Sign up and download your handbook to review all the session available. 
⇒My point is, it is important for us as moms to take the time to educate ourselves.
This can help us find our joy, renew our excitement and sets a great example for our kids.
Learn From Others:
Online summits have the unique ability to shrink the world in that people from all backgrounds, cultures, and history come together to talk about the same overall topic.
The cool thing about this is what is perfectly normal to you may be out of this world to someone else.
Be ready to challenge your own thinking process and stretch yourself to try something new.
Find Solutions To Problems:
During summits, you have to opportunity to learn from others how to solve problems by discovering what works for others and adjusting it to fit your needs.
You may discover brand new courses, books, ideas that you may not have previously heard of.
You get the opportunity to ask speakers questions about their work, methods and the thought process behind it. This is a gold!! You can get answers to your questions personally not just read and try to figure it out on your own.
Quality Free Homeschool Information:
Online Homeschool Summit presenters often will include their best content, products, downloads for those who attend. The organizer is very picky to make sure the quality is the best because it reflects on the summit as a whole.
Therefore, not only will you see amazing presentations but you will get your hands on some great quality resources that you can use in your life today.
Pro Tip: Make sure you create a special folder to hold all the downloads so you don't lose them. 
Those are my top 9 reasons for attending an Online Homeschool Summit. I'd love to know why or why not you like to attend homeschool summits? Let's chat!
Take care, 
Jen
PS. If you are going to the Online Summit be sure to read these tips for getting the most out Get The Most Out of Your Next Online Homeschool Conference