Disclosure: I may receive commissions for purchases made through links in this post.
Do you ever come across a seemly awesome "solution" to every problem you've ever had teaching your children but you really hate that solution? What if you could find a way to get someone else to do it for you?
My problem is, "Reading to your child is important."
As a mom, I know this.
As a bookworm, I know how important this is.
As a child who was raised by someone who hates reading, I know the value in reading aloud.
In fact, sometimes it seems to be the answer to every learning problem your child might have is to read aloud to them.
Reading comprehension problem? Read to your child!
If your child isn't reading fluently? Read aloud to your child!
Speech problems? Read to your child!
Logic problems? Read aloud!
Read aloud. Read aloud. Read aloud. Read aloud.
But….
I hate reading out loud to my children.
There I said it. I admit it!
I hate it, with a passion. I hate it. I hate it. I hate it. I hate it.
I don't think this makes me a bad mom, I mean they are still alive, aren't they? 😉
Every time a curriculum says read aloud, I skip the book.
Or I cheat and get the audio book from the library or Audible, and let it read to them!
YES! You read that correctly.
I solve this problem by letting others read out loud to my children!
I loved reading to my children when they were little. I read to them all the time! Which is how we ended up homeschooling in the first place!
I read before they were born, out loud to them and continued this throughout the ages.
Because reading out loud is good for your kids!
But I HATE It.
My children aren't little anymore. My mind and quite frankly my throat says, "Get off your lazy butt and read it yourself!"
Because reading aloud is a throat killer, ugh! 
Seriously, Why do I need to read it for them? They are perfectly capable of reading to themselves.
At the end of a long day, just the idea of sitting and reading to my children out loud is exhausting. I've been up since around 6 am and the last thing I want to do after work is muddle through a book.
Don't Read To Me!
Also, I don't like to be read to. If I want to read something, I'll do it myself thank you.
My mom read it me for years. When I was older I remember reading ahead if I could see the writing over her shoulder and not really listening to her.
I don't learn that way. I won't remember, my mind wanders, you read too slow, too fast, I missed a word etc.
Reading out loud is slow. It's boring. It makes my throat sore. I feel like each person should have their own unique voice, which I can't do. And I hate it.
I really really hate reading aloud and yet… I do it.
Why I Read Out Loud Even Though I Hate It.
Confused? I mean I just shared with you why I don't want to read out loud. Why it drives me crazy AND why I don't want you to read to me.
AND YET…
Every morning (on my days off) we meet at the table for homemade breakfast and sit and take turns reading out loud.
I Do This Because It Is Good For Them And Me.
It helps me practice pronouncing my words correctly, my fluency, pitch, sense stress and more.
Doing this with the children allows me to get corrected on every single mistake-yes they don't miss a thing do they? 😉
⇒It also shows the children that doing things we hate is sometimes necessary, be it to improve, master a skill or something else. Even if it is only 10 minutes.
We take turns. We take a chapter and break it up into sections. This allows us to learn in our own way. Plus the bonus of bonding, increasing vocabulary and all that fun stuff.
Now you know the ugly truth: I hate reading out loud to my children, but I do it.
Now it is your turn. Do you have anything that "every homeschool mom must do" but you totally don't?
I'd love to know,
Take care,
Jen
PS. If you are looking for a great way to add audio books to your homeschool Amazon's Audible program is really GREAT. You get 2 free books to test it out in your 30 Day free Trial. You can find out more here: Amazon Audible.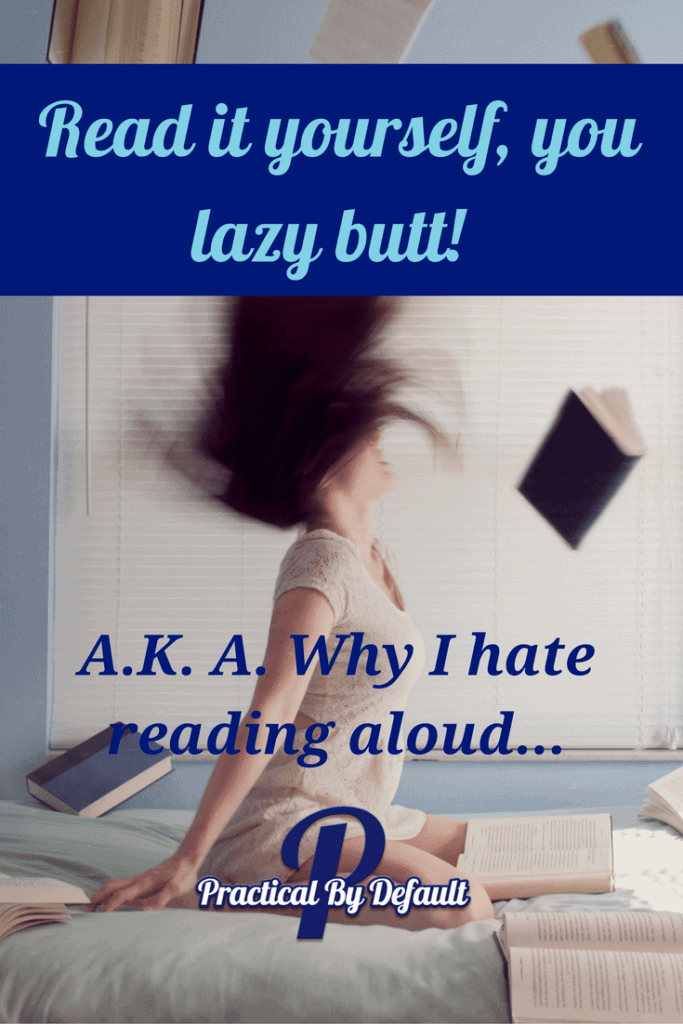 Hi, I'm Jen. I help working parents balance work and homeschooling by providing encouragement, support, and inspiration. You are warmly invited to Join the Online Community Here!