I don't know about you but I love subscription boxes. If I had more money I know we'd be in trouble, ha!
What's not to love? A box in the mail filled with surprises with your name on it.
Teenagers are known to be hard to shop for. You just never know when their interest in something is going to do a 180 and you are left in the dust to figure out what just happened.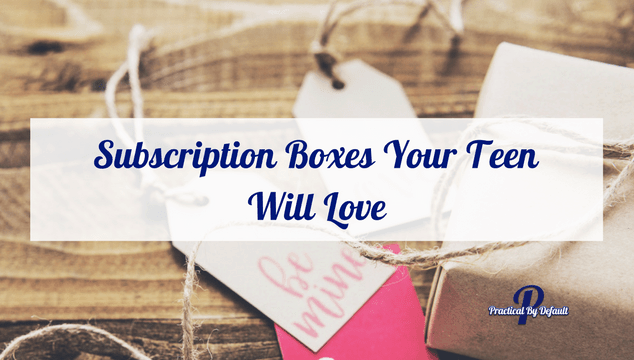 I have your "not so normal" teens which can make buying gifts for them even more of a challenge.
This is where subscription boxes come in to play. Every month they get something new delivered to the door with their name on it.
Many can be cancelled at any time so if your sneaky kids do a 180 you can be prepared.
By the way I shared a whole wish list of gift ideas for your (not so normal) teen here so be sure to check them out for more ideas. After you read this one of course! 
5 Subscription Boxes for Teens:
Check out the subscription boxes on my list. Number 1 we are a very happy customer with, number 3 we are testing this month and the rest are on my wish list. If you have purchased or have experiences with them please let me know!
1. Science Expeditions from Little Passports:
Perfect for teens who like to build, learn, discover in science. Give your kids the world!
The best kids' gifts inspire the imagination and keep kids interested and engaged. That's exactly what you get with Little Passports monthly subscriptions!
They have the perfect gift for all ages. I am including this information as I get asked all the time which boxes for which age group:  
• World Edition: Ages 6-10, explore a new country each month with souvenirs and hands-on activities
• Early Explorers: Ages 3-5, discover a new world theme each month, like Oceans, Music & Dinosaurs
• Science Expeditions: Ages 9 and up, reveal mysteries of the world through science experiments & activities
• USA Edition: Ages 7-12, learn about two new states each month, with activity-packed State Journals
You can shop all their products here. I can only recommend the Science Expeditions as that is the only one we've tried.
2. Groovy Lab in a Box:
A mom in The "Working Homeschool Mom" Club mentioned Groovy Lab in a Box saying her kid loved it and preferred it over the Little Passports box.
So I had to check it out as we love the Little Passports Boxes. They provide boxes full of everything you need to learn about and do hands on science, technology, engineering, and mathematics (STEM) experiments for ages 8+.
They do ship to Canada and the box even comes with a section called, "Beyond the Box" which outlines ideas to do the box activities as a STEM Team of four. You can find out more here! 
3. Steve Spangler Subscription Box:
This box has been recommended to me as the "best box out there" among homeschool moms. We have done a few experiments from the site. Perfect for ages 7-14.
In fact we are testing the STEM Lab Deluxe Box this month. You can see our unboxing video and read more about the 3 different options they offer for you and your family.

A membership to SPANGLER SCIENCE CLUB is the perfect way to prepare your child for a future STEM-based career with hands-on science experiments and design challenges that teach children how to think like a scientist.
Each month you'll receive a box filled with the science tools and resources needed to explore real-world STEM (an integration of science, technology, engineering and mathematics) activities.
If you decide to snatch the STEM Lab Deluxe Option before Oct. 31st 2017 be sure to use the code SPANGLER16AF to save 40% off your first box. All caps! Click here to shop. 
Food Subscription Boxes:
I had to include two boxes I am currently deciding between because:
1.) teens are always hungry and
2.) its food in a box!
4. Nature Box:
With Nature Box you can choose Gluten Free or Non-GMO along with low sugar etc.  Oh, and this was interesting, they say, "We'll credit you for snacks you don't like." Hmm, taste testing anyone?

"Eat well. Live better.
Discover delicious snacks made with high-quality, simple ingredients. "- Naturebox.com
They currently ship to all US states, protectorates and territories, Canada, and APO/FPO military addresses! Please note that there is a $4.95 USD charge for shipping to addresses outside the contiguous US (Hawaii, Alaska, US Territories, Canada, and Military Addresses) Double check at checkout in case this has changed.
Click here to shop all their snacks. Oh and come back and tell me what you thought. 😉
5. Love With Food:
Gonna be honest I really want to try Love With Food.
A few things that caught my eye are:
Get all-natural, organic or gluten-free snacks delivered to your door every month.
No cancellation fee.
They ship world-wide, currently at 22 countries including Canada. Right now they are offering a special shipping rate of $3.99 USD/mo to any country. This is subject to change so be sure to check at the check out.
A food subscription box but this one has a heart. "Meals are donated to a food bank each month you're a member and for each purchase you make." Love this idea.
Love With Food Gluten-Free Box. Try it at 25% OFF
Go ahead and check out the different boxes right here!
Subscription Boxes Your Teen Will Love
There you have my top picks for subscription boxes your teen will love.
I love learning subscription boxes for busy moms as everything you want or need is in the box.
As for the food subscription boxes I think getting to test out new foods is just so much fun plus no more hunting for great snacks!
All of these make great gifts for picky teens 😉
Take care,
Jen
PS. Don't forget to check out our Gift Guide for Teens for more ideas!