It's getting colder and you know what that means? Cold and flu season will be making the rounds again.
If you are anything like me, you want to have supplies on hand to help you avoid being sick in the first place and to help you recover quickly should you succumb to the pesky bugs.
After all, who has time to be sick?
If you are anything like me you also forget to buy said stuff on the list. Before you know it you wake up with two sick kids and a text from your husband saying he doesn't feel so good. Uh oh!
Moral of the story, don't be me 😉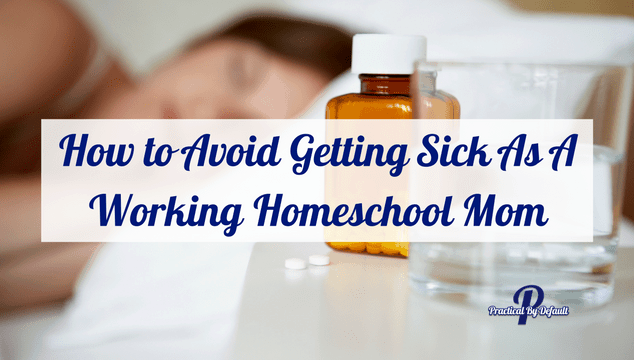 How to Avoid Getting Sick As A Working Homeschool Mom
Before we begin swapping our favorite homemade remedies please note: the following tips are based on my own personal experience. As in "hey this has worked for me". They are not intended as medical advice, nor are they intended to replace your doctor's instructions. You should always consult your doctor if you have any questions about your health.
As someone who works outside the home with people the chances of me bringing home the current bug of the week is pretty strong. Like you, I just don't have time to be sick.
These tips I am about to share help me avoid catching every cold and flu going around. This does not mean I never get sick 😉 However anything that help it at bay is a win in my book.
Washing Your Hands.
Pretty common sense I know but working with the public I have rediscovered how many people use the bathroom, fix their hair and waltz out of the washroom forgetting to wash their hands. (gag!)
Consider this your friendly reminder. Wash your hands. Use soap. Take the time.
You know how you teach your kids to sing in their head the entire alphabet while brushing their teeth in order to bush long enough? For washing your hands you can teach them the same idea. Same goes for you busy momma, roughly 20 seconds in case you don't like singing.
In Canada, we have these cool posters that tell you the proper way to wash your hands. You can even get one for your own home if your family needs the reminder.
Also, if you work with money, you might want to wash your hands before you use the bathroom. Money is so dirty. Lessons from years of working as a cashier 😉
Fuel Your Body
We all know eating healthy is important. When you are trying to avoid a bug or fighting one, it is even more important to give your body the tools it needs to get well soon.
Homemade chicken soup is awesome. (Hint: pre-make it and freeze a few bowls for these occasions) Canned will also work. I aim for the less salt, fewer preservatives and organic if I can find it in a canned item. The point is, don't beat yourself up over "only" having canned soup. Do what you can.
For an upset stomach, I use Ginger ale, ginger chews, and soda crackers.
Increase your water intake. This allows your body to flush toxins, germs, and other fun stuff right out of your system. Plus it helps you stay hydrated.
If you are sick and the very thought of water makes your stomach roll use ginger ale or electrolyte-filled drink such as Gatorade.
Shopping list: Chicken noodle soup (ingredients or canned), ginger ale (Canada Dry has real ginger in it, says so on my bottle lol) soda crackers,
ginger chews
and Gatorade.
Move Every Day
Moving each and every day is so important. There are many benefits of working out regularly. Among them is more energy, less stress, better sleep and fortifying your immune system. (Read all 11 benefits of Exercise)
Exercise does not need to be time intensive or expensive. Walking around the block, using the stairs, parking farther away from the entrance etc. This counts.
Once I start feeling a bug coming on I tend to not work out. Many moms say working out helps them get well faster. Others say they need the rest.
My advice: You know your body best. If you start on a walk and feel worse you can slow down and come home. I find walking outdoors helps me feel better but a gym workout does not.
Shopping list: Nothing, unless you need
running shoes
and clothing that allows you to move freely such as yoga pants and dry-weave shirts.
Disinfect
Cleaning your home is one step but if you work in an office or public area see if you can get a hold of items to keep your area clean.
Hand sanitizer or wipes for surfaces such as doorknobs, keyboards, ATM machines, light switches, computer mouse, the foam on your microphone headset, your own cell phone…whatever you touch regularly wipe it down.
This step kills bacteria and viruses.
Make sure tissues are within reach for sneezing and running noses.
Be Prepared
When I woke up and realized both kids were sick, hubby was sick at work and I was probably next, I took action. I quickly texted him a list of things to pick up to help us beat this.
Also, I was kicking myself for not being prepared in the first place.
Here are some items we try to keep in the house:
Fever medicine
Heating pad
Hot water bottle
Buckets
Tissue
Puffs Plus Lotion with the Scent of Vicks for me
Vicks Vapor Rub
Lip Balm
Throat Lozenges
Lemons (for tea)
Ginger root (for Tea)
Honey (for Tea)
Sore Throat Tea
Canned chicken noodle soup
Ginger Ale
Orange Juice
Soda Crackers


And a list of ingredients for homemade chicken noodle soup since the cans wasn't going to hold out long enough 🙂
Chicken-small sized whole
Onions
Garlic
Small red potatoes
Carrots
Spices
How I Avoid Getting Sick As A Working Homeschool Mom
Remember cold and flu seasons come and go while there is no guarantee you won't get sick taking practical steps goes a long way.
What else do you use to stay healthy during the cold and flu season as a working mom?
Stay healthy,
Jen
PS. One thing that lowers your immune system is running ourselves ragged trying to do all the things. Are you doing too much? Find out here: How To Know If You Are Doing Too Much