Disclosure: I may receive commissions for purchases made through links in this post.
In order to start a successful blog, you need to choose your web hosting. What is a web host? What questions should you ask before you buy? Plus steps to get started with Bluehost & installing WordPress. 
It was Black Friday and sales were all over the internet.
I had decided in my heart and mind that it was time to start scoping out web hosting for my soon to be self-hosted blog.
Credit card in hand I started reading every review I came across.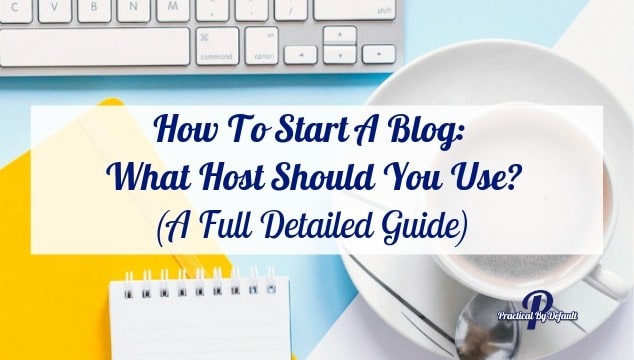 I learned:
There are a ton of website hosting companies out there
They all had good and bad reviews
It was really overwhelming
And if you want to know the REAL story of how I ended up with the current host, it was an accident.
Or was it?
Did I want it so bad and know that the only way I would push myself to follow my dreams was to jump in with both feet?
Either way, by the end of the day I was the proud and terrified owner of Practicalbydefault.com
If you are a new blogger the terms "hosting", "self-hosting", and "WordPress" may seem like another language. No worries we'll discuss that in detail, next.
But first, this is part of a series and you can find the rest of the series here.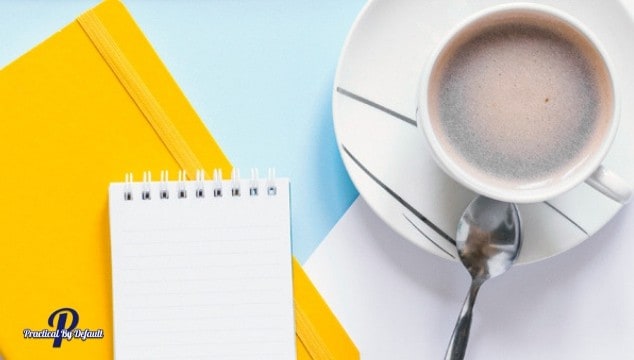 What Is A Host?
A host is "where your blog lives" to put it simply. Bloggers often refer to it as "hosting".
Website.com defines it as "A web host, or web hosting service provider, is a business that provides the technologies and services needed for the website or webpage to be viewed in the Internet. "
To use an example you might be familiar with:
Think of your "domain" as your address to your house and your "hosting" as the bank holds your mortgage of the house where you live.
Make sense?
What is the difference between "hosted" and "self-hosted"?
Simply put, hosted are all in one. They provide the software, storage where your site will live, and handle updates just to name a few.
The downside is that if the host goes out of business, your content (stuff you put in your blog such as posts, images etc.) goes with it.
A self-hosted website means you pay a company like Bluehost to host your website for you. To put it in the very simplest terms they store your website on their servers.
I chose to move self-hosted because this blog was going to be my business.
At some point, I hoped to earn an income so I could stop working outside the home and become a work at home mom.
Being self-hosted means you have fewer restrictions such as being able to monetize your site, set up a store if you wish, set up a newsletter, and more.
Self-hosted websites allow you more freedom but with that comes more responsibility.
You have to take care of everything. It becomes your job to take care of technical problems, backups, software maintenance and more.
This can sound scary but it isn't. I'll be sharing my favorite tools that help me keep up with my site later.
And if you are unhappy with your host, you can move to somewhere else.
Every post I've read tells you to start with self-hosted. I didn't. But I wish I had.
Although I learned a lot on a hosted site, I lost a lot of my content when I "attempted" to move it on my own.
Why I Choose Bluehost
I choose Bluehost for my site. I did this for a few reasons.
By the way, every host offers different options and every host has good and bad things about them. I would love to say I found the perfect host but I'd be lying. 😉
Ask in any Facebook Group or Google and you will always find negative and positive reviews. My advice is to pick one that fits you and realize you can always move later.
Don't let the fear of picking the right host hold you back if blogging is a dream of yours. Just start.
My Personal Experience With Bluehost:
I've been with Bluehost for a while now and because I love to read reviews before buying anything I wanted to share how that is going.
When I bought my hosting with Bluehost I paid for 3 years in advance. This allowed me to lock in a low cost for the longest period resulting in the best deal. I paid $3.95/month USD all at once.
This is something I wasn't aware of when I hit "buy", I assumed they would charge my credit card monthly. Now you know.
WordPress is free with most hosting companies but I was also able to get one year free for my Domain. You need to pay to register your domain, in case you didn't know.
If you took my suggestion to buy a domain separately, you can add it in when you buy your hosting.
Bluehost also offers 24/7 support via chat and telephone and email. Having that support has been sanity-saving. I can tell you, I've used it often as a new blogger. I needed help understanding upload sizes, site speed which matters, and other updates.
I also called to get the SSL installed. SSL is the lock you see at the top. My SSL Certificate with Bluehost was included free of charge. Not all hosts offer that.
As for customer service, it depends on who you get.
I've had some customer service reps that did not help at all, they used tech speak I didn't understand and were flat out rude. *ugh*
I've also had amazing customer service reps that went the extra mile, walked me through each step and gave me support numbers to call when they couldn't help me.
My advice is this: If you get someone rude – hang up and call again. I always fill out the survey both good and bad.
Keep good notes. When you call ask for the name of the person and write it down, take note of the date and subject. That way if the issues persist you can call back and provide these details. It helps them out a lot!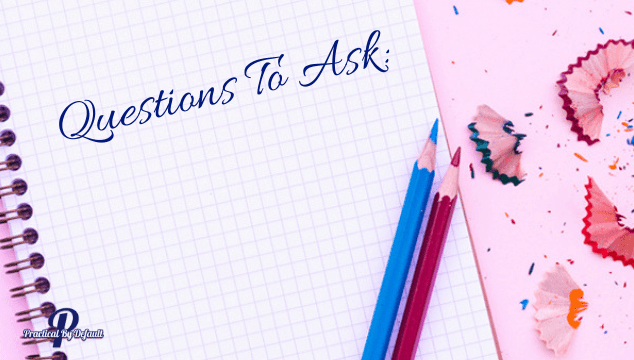 Questions To Ask Before You Buy Hosting:
When choosing a web host for your blog there are a few things you should ask before you buy.
After all, this company will be in charge of keeping your business online and helping you overcome any technical problems.
Here is a list of questions I should have asked but didn't. Learn from my mistakes.
1 What is your downtime?
Downtime is when a website is unavailable for a limited time. Every single host has downtime. If they say never, they are lying 😉 But the answer you are looking for is how quickly they identify the problem and get it back online.
I've experienced a few downtimes with Bluehost. They are very fast about getting it back online, so far. I've found that by the time I reach out to call, 9 out of 10 times it is fixed.
Which brings me to the next question.
2. How responsive are your customer service and tech support?
Customer service is very important, especially for a new blogger. The best way to learn about customer service is to ask those using the host. Try to get ask those who have been with the host for a long time, over the honeymoon period.
For example: I had a friend switch hosts on the recommendation of several good friends of hers. Unfortunately, she ran into problems. The response of the host was, "Contact your web designer." The problem was, she was the web designer!
My point is, everyone's experience is different. You may read tons of great reviews and get sucky customer service representatives. Or you may read tons of bad reviews and get great service.
So far, I've had a mix of both from Bluehost and I mentioned above how I handle them.
You'll want companies that provide direct phone numbers, email address and/or live support. 24 hours a day, 7 days a week, even on holidays.
Bluehost offers in-house experts are here to help 24/7. I love the online live chat and the phone is great too. They also have a help center that includes guides, video tutorials and more.
Be sure to ask before you buy what kind of support you will get.
3. What is your security policy?
Security is vital for your host. Ask how they plan on protecting your site? What measures and updates do they handle? Ask if an SSL is included and will they install it for you?
SSL is essential for those who want to use their website a business.
If you plan on hosting an online store or if you store any sensitive customer/employee/reader data at all, you need a good SSL certificate.
Mine came free with Bluehost, they installed it and helped me problem solve until we got the "lock" you see up top. (Image below)

4. What if you are unhappy?
Picking a host is hard. You don't want to be stuck with one you hate. Ask about a trial period and what happens if you aren't happy? And how difficult is it to cancel?
Bluehost offers a refund within 30 days of signing up. But I didn't know that at first. When in doubt, ask!
5. Do you offer a range of hosting offers? How easy it is to scale up/down?
As your business grows you will need more:
more speed
more bandwidth
more space
… more.
Or you may need to take a break and scale down. Maybe you have too many "extras" that you are paying for but realize you don't need. Each business has its own requirements.
Find out how easy it is to scale both up and down? What happens if you need more mid-contract? What packages/plans do they have and what is included?
Those are the 5 questions I wish I had asked before I purchased my hosting.
My advice: Do your research, ask the questions but don't get stuck. Pick one and START! You can always move later if you need too.
If you already signed up to get your workbook, you will use page 5. If not, sign up below.
Ready To Get Started With Bluehost?
If you've decided you want to start click here → go to Bluehost ← and follow along with me. This link should open in a new window to make it easier for you to follow along.
Click the green button "Get Started Now", shown below.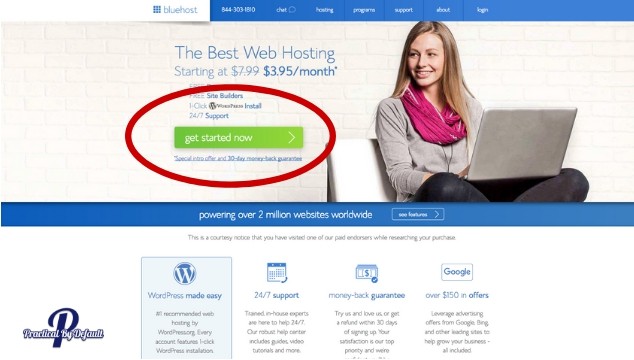 Now, your image might look differently especially if they have a bonus sale going on. Bluehost is always changing things but the steps are the same.
1. Choose Your Plan:
Next, select the plan you want. I chose basic because I didn't know what I was doing. It is the cheapest and has worked out great. (Yellow arrow)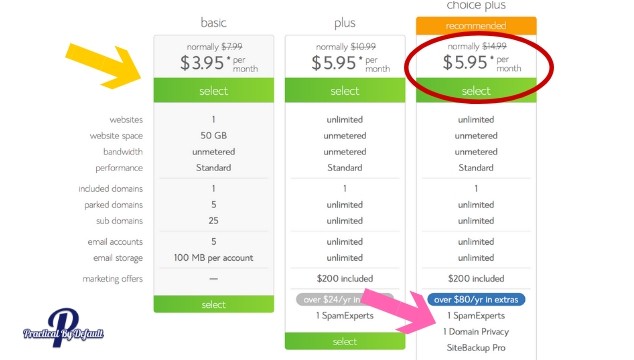 However, if I did it again I would probably go with the recommended Choice Plus because it comes with more features and includes domain privacy. I circled the plan in red and the arrow shows the domain privacy.
I ended up paying for that separately on the basic plan. Domain privacy is important because it keeps your personal information private. You may not worry if you are using a business address and don't mind that it is visible if someone looks up your domain.
Choose your plan by selecting the green buttons.
2. Pick Your Domain
Do you have a domain yet? If you need help be sure to read How To Choose The Best Domain Name.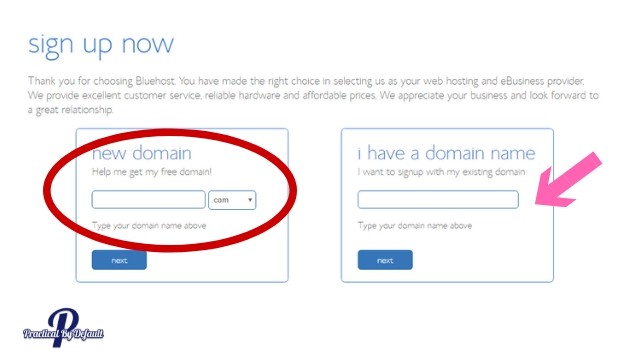 If you are using the free domain that comes with your hosting plan, enter it the red circled part.
If you bought one from another place such as NameCheap, enter it where the arrow is.
If you are still working on that, no worries you can skip it. Wait for this to pop up and click on the green button.
3. Enter Your Information:
On the next page it is time to enter you information. Before you begin, make sure you have an email address for them to send the information too.
These are really important emails, be sure to save them!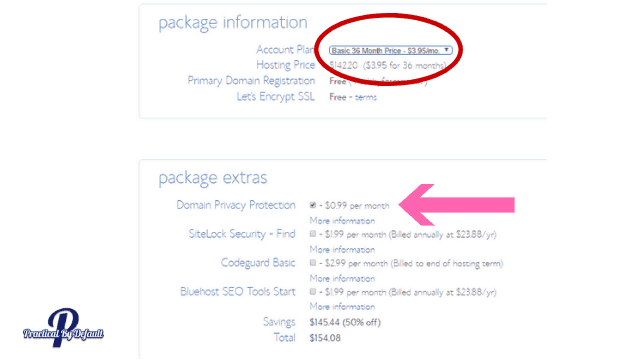 When you choose your account plan you want to decide how far ahead you want to pay.
Bluehost offers 12, 24, 36, and 60 month plans. The 36 and 60 are locked in at the lowest rate. I picked 36 months because it was the best buy and I wanted to not worry about it again.
However, you need to realize they are going to charge you the lump sum all at once.
I skipped the add-ons except the domain privacy.
Enter your credit card information and click the box for the terms and services.
Then click the green button.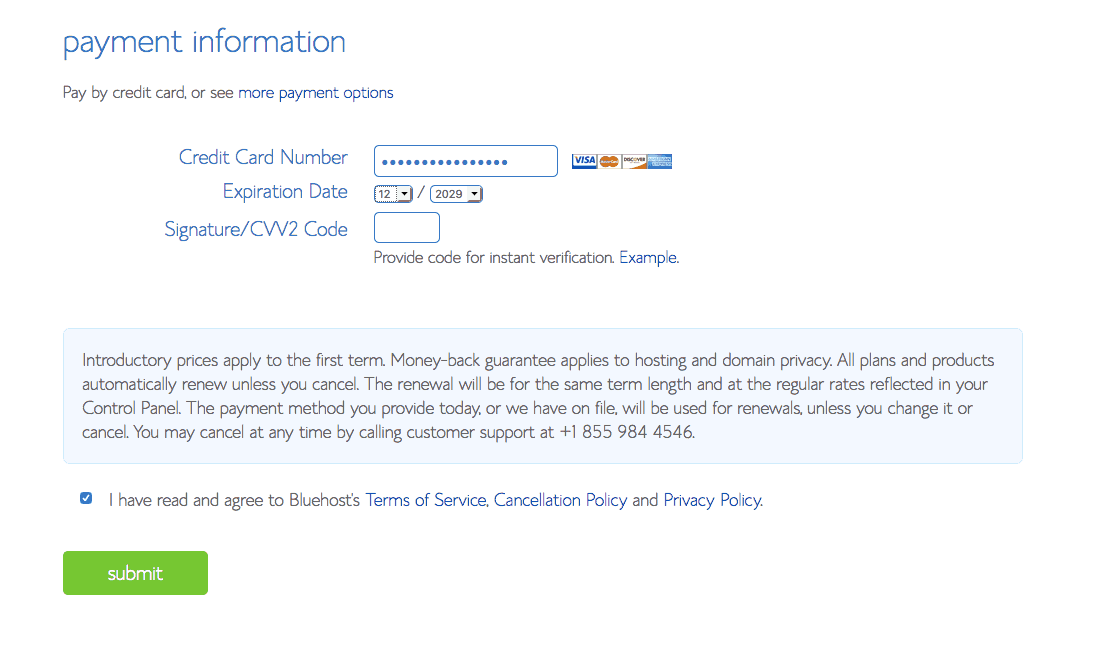 4. Choose A Password:
You may get a page asking about any extras, I skipped them. To do that click "no thanks"
After your purchase is complete you'll be asked to choose a password. Follow the prompts to do so.
This password will allow you to get started. Make it very strong and something you will remember.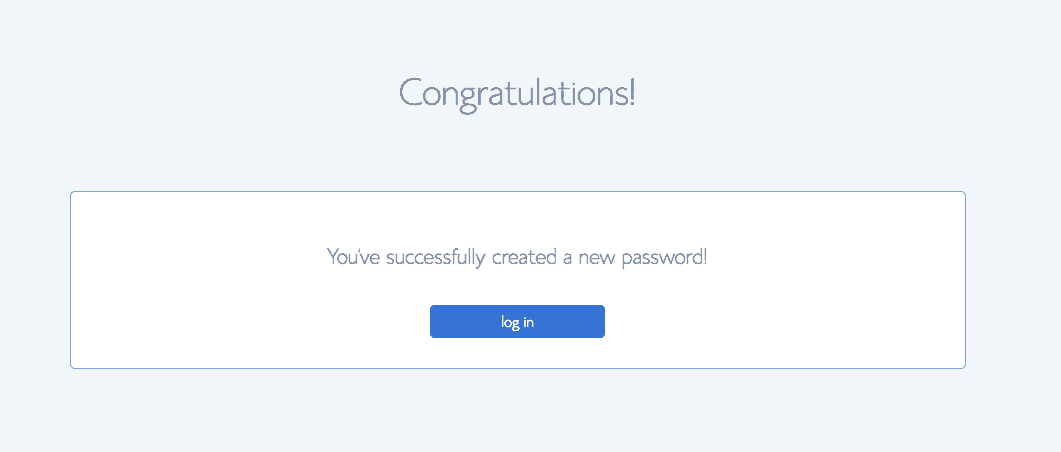 It should automatically take you to the Bluehost Portal, but if not, go ahead and log in using the "hosting" tab and not "webmail."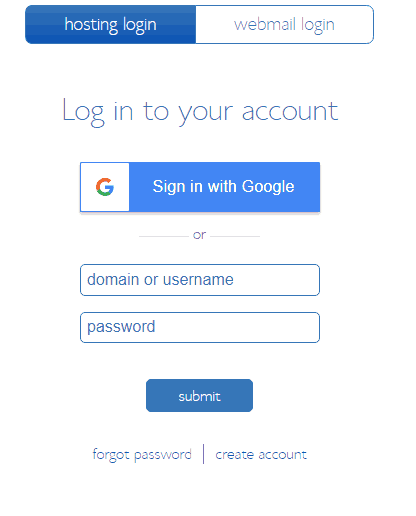 Right now you are on a temporary domain. Don't panic!
For new domains it takes a while for them to be fully registered.
When you open your account for the first time you have the option of adding theme.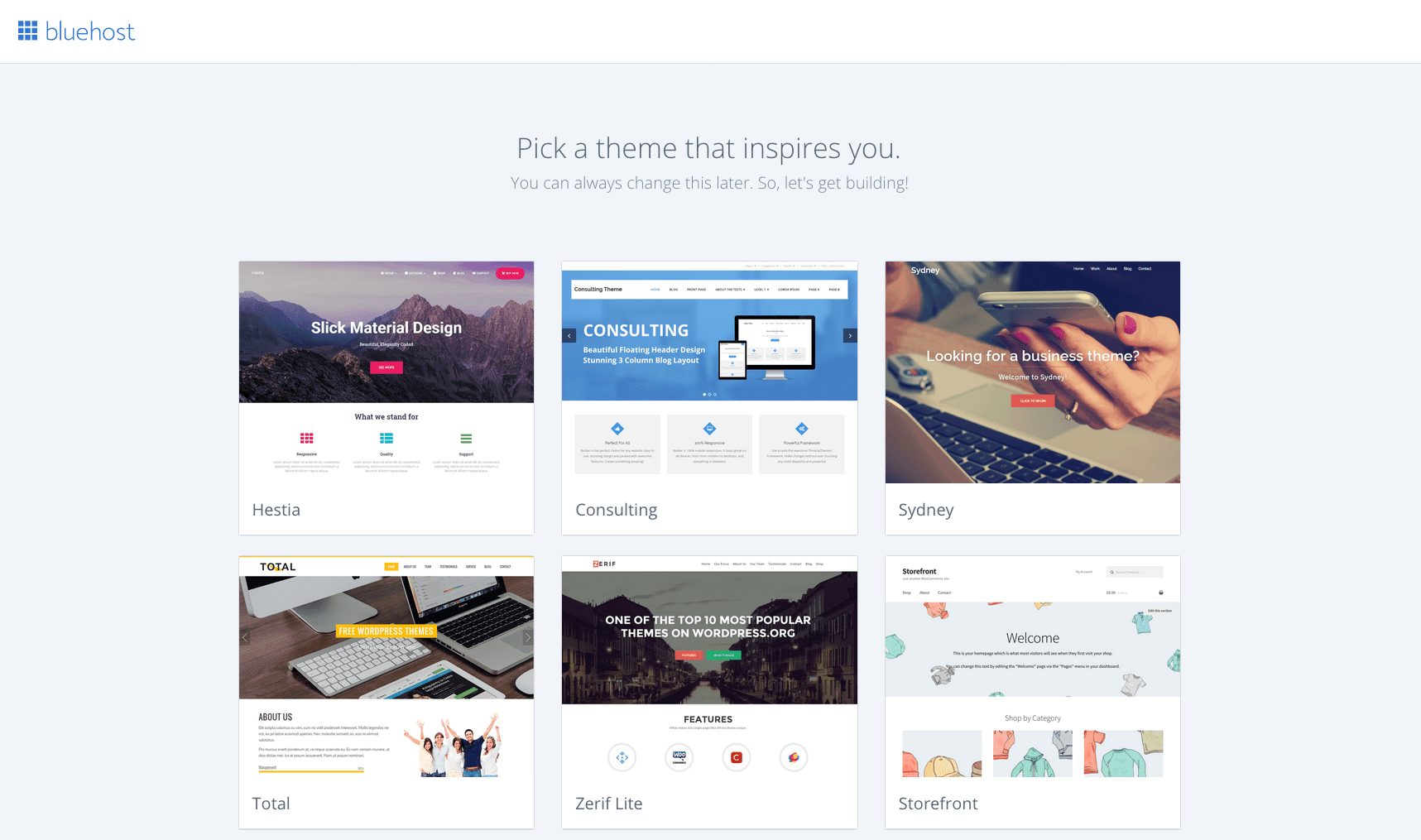 I highly recommend doing this later. There are a few things you'll want to take into consideration when picking your theme. Click "Skip This Step" below the themes.
How To Install WordPress
While you wait, watch this quick video on that explains what WordPress is and learn how to install it.
Or if you'd rather read the steps, Bluehost has a great step by step with photo walk through you can find here. 
Or you can log in and get support chat to help you go through the steps. It's super easy and they are really helpful!
Congrats! You have purchased your hosting and installed WordPress. Your very own little space on the internet.
Your place to connect with and inspire readers, meet and attract new clients, encourage others by sharing a story…what ever your heart desires!
It's going to be AWESOME! 
Now the fun stuff will begin.
Next, we will dig into picking and choosing a theme.
I will not say you need to start with Bluehost if you are thinking of blogging but I will say you need to START!
Your next step is making your brand new blog pretty! 
Take care
Jen
PS.  Starting a blog can be overwhelming. This is part of a step by step series. Please check here for all the steps in the "How to Start a Blog." Series.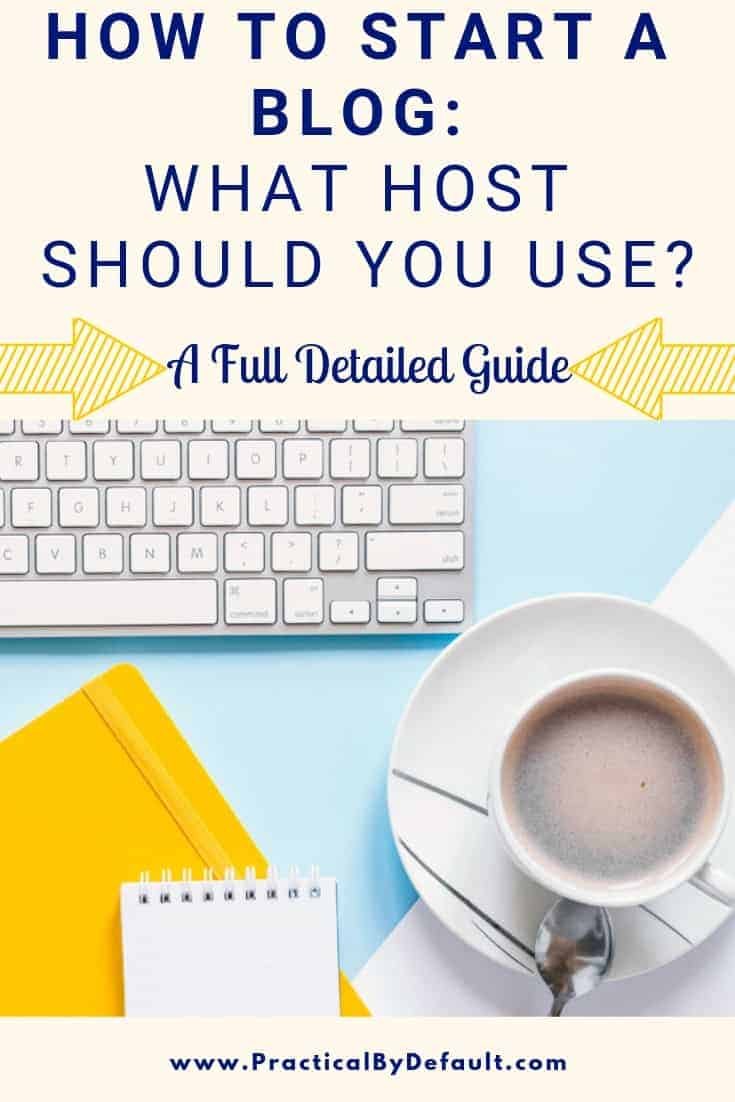 Hi, I'm Jen. I help working parents balance work and homeschooling by providing encouragement, support, and inspiration. You are warmly invited to Join the Online Community Here!