Disclosure: I may receive commissions for purchases made through links in this post.
Have you ever wondered if YOU should start a blog when you are a working mom? Isn't life crazy busy enough? 
I started my blog a few years ago while working full time hours outside the home and homeschooling two kids. Let's not count all the "mom" tasks and volunteer work and running a household.
Some might call it crazy. Some might be right 😉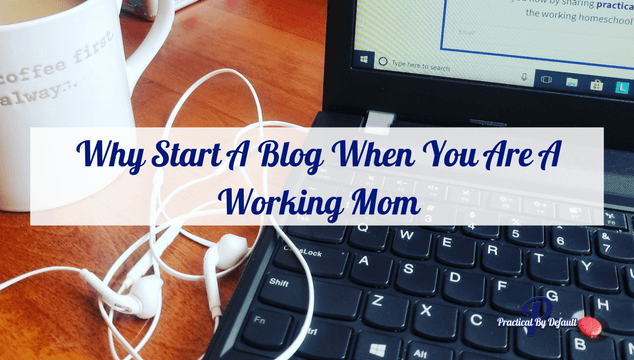 I started my blog while working for 2 main reasons.
1. I Was Looking For Homeschooling Help.
When I started homeschooling I had a lot of questions.
Most homeschool moms you meet will fall into two categories: Tell you everything or tell you nothing. 
I did a lot of things wrong because I didn't know any better. I thought homeschooling was supposed to look and feel a certain way.
I was wrong. 
I've learned better and I continue to learn each and every day, even though I've been homeschooling for over 11 years.
Now most of my education comes from research, from moms who share what they learn with others through blogs of their own, Facebook groups, and talking with my kids.
A few years later I returned to work and my life changed again. 
Now I was a working homeschool mom.
Now I had more questions.
This time it was much harder to find the answers.
It felt like no one was talking about working, homeschooling and just how LONELY that was.
I decided that that would be my purpose. That would become my WHY.
I wanted other working moms to come and find their tribe. In a world this big I believe no one should feel alone.
I wanted to share the struggles of trying to balance working, homeschooling and doing all the things.
I also wanted to share how that looks for me.
How we've found ways to add fun to our homeschool even when life is busy. The tools we found that worked or how we were flipping them around to make them work for us.
I also have learned and discovered there is not one way to do this "homeschool" thing. ♥
2. I Wanted "Me Time".
As a mom, we all hear how important "me time" is.
And if you are a busy mom you might laugh at that idea. It is hard to find 3 minutes to go pee alone never mind have a shower.
My problem is I am practical. To a fault.
I wanted my "me time" to be productive. To have something to show. AND I wanted to help other moms like me.
I felt the void mentioned above strongly. It pulled at me. I knew I didn't know everything. I still don't. BUT maybe I could help.
Plus I've always wanted to run my own business and be my own boss.
Time and research lead to me starting a baby blog on wordpress.com. Yes, against all advice, however, I wasn't going to dump money into something I might hate.
Did I even like writing? Researching blogging? I didn't know anything, I mean nothing! I would have to learn it all.
WordPress.com allowed me to learn the basics enough to go self-hosted with Bluehost.
You can read how that went right here and it includes a mini review of Bluehost after a few years of using them.
I am not going to get into hosting and all that fun debating.  But I will say I chose Bluehost because at the time I didn't have a large start up budget.  
For $3.95/Month with Bluehost I got 1 Free Domain, 1-click WordPress install and 24/7 support. The support was what sold me. It was by email, phone or live chat.
Turns out I really love blogging. I'll share why soon. 
Interested in starting your own blog? Sign up below for the How To Blog Series & Workbook.
Reasons To Start A Blog When You Are A Working Mom
While I don't think blogging is for everyone there are reasons I think you should start one while working.
It is a great way to connect to other people. We all need support and to share. Blogging is a great way to get that.
You'll get to share your passions. You can start a blog about  ANYTHING you want. Whatever you are passionate about you can write about.
You aren't confined to writing. You can use video, if you prefer. Audio such as podcasts or a mix of all 3.
It gives you a place to have a voice. As a mom we often get sucked into conversations that we either might not be interested in (Hello Mindcraft, I'm looking at you!) or no one else is interested in. As a blogger you will attract those interested in the same topic as you.
You can use it to record your life, things you've done as a family or alone, things you've learned.
You will learn so much! This is one of my favorite and most addictive aspects of blogging, there is so much to learn. It can be overwhelming.
And if you are going to have an online business, having a blog is a great way to showcase your business.
If you have an online business you need a blog. 
A friend of mine has a great store on Etsy. She shares life in the Artic with kids through her products, games, and penpals.
Take a look at her store her on Etsy, PolarPenPal.
It's a cute store. But as a shopper, I want to learn more.
Now, check out their website, Polar Pen Pal.
Did you see and feel the difference? You can not only read the reviews, check out the instant downloads, and her store but also learn more about why they are sharing their life in the Arctic.
You feel connected. Plus as a blogger it is so much easier to share a blog post, photo, article and product then "just" on Etsy. In my humble opinion. 
The Benefits Of Blogging While Working
Blogging has allowed me to do so much. This is WHY I have fallen in love with blogging.
For one, I have met other homeschoolers in all walks of life and all around the world. The internet really does make the world smaller.
I blog because I love to teach, encourage and help others. I love homeschooling as it helps me teach my children in the best way for them, in a way that works for them and on my schedule.
I enjoying blogging because it allows me to continue to learn, which is vital as a parent, in my opinion. Blogging allows me connect with others and learn from them.
It allows me to face my FEARS and set a great example for my kids.
I've finally reached my dream job.
Working for myself, being my own boss and all the things that come with it.
Blogging isn't easy. It isn't all sunshine and rainbows. 
Just like homeschooling, but for me, it sure is worth it! 
I have learned a lot over the last few years and I want to take a moment to say "thank you" to my readers. I appreciate it when you read, share and comment on each post. I read, respond and value every single one.
I am excited to be on this journey and share it with you, if you have ever started a blog or wanted to let me know. I love connecting with other moms!
Take care, 
Jen
PS. If you are a working homeschool mom and you are looking for support, encouragement and inspiration on how to cope with your unique challenge, I encourage you to join us in The Club, where you will find moms on the same journey as you ♥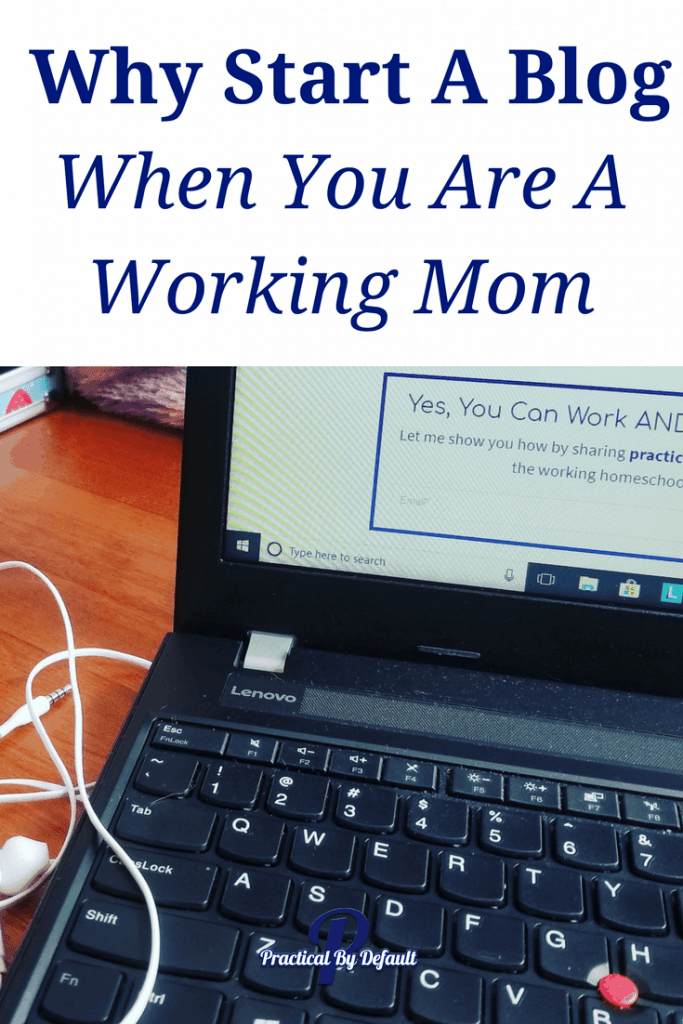 Hi, I'm Jen. I help working parents balance work and homeschooling by providing encouragement, support, and inspiration. You are warmly invited to Join the Online Community Here!