Disclosure: I may receive commissions for purchases made through links in this post.
When you start a blog one of the fun & creative parts is choosing your name and getting your domain. Let's talk about the best way to do that. 
I find choosing names very difficult.
I have zero creativity. I usually hand over our brand new pets to my husband and kids and let them go wild.
Which is why we have "Queen Cleopatra", Beans", "Maximum Destruction" and "Echo".
Because if it was up to me, we'd have Jake and Kitty.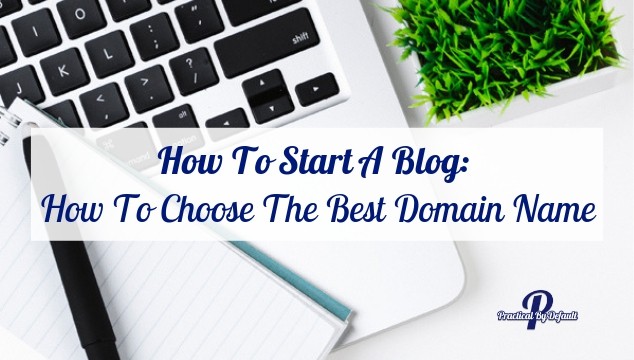 Because choosing your blog name is a chance to get creative, you'll either love it or dread it.
Before we dig in, this is part of a series. If you've been following along by now you should have a good foundation laid. If not, click here.
Most bloggers I know have their blog and domain as the same name. But this is not always the case.  
Which brings us to ask, what is a domain and how do we choose a good one?
What Is A Domain?
A "domain" is the URL of your blog.
For example, mine is www.practicalbydefault.com. It is the address people will type in to visit your blog.
No doubt a familiar one to you is www.Amazon.com or www.Google.com.
5 Tips For Choosing Your Domain
Choosing your domain doesn't have to be overly complicated and can be a lot of fun.
Here are a few things to consider when choosing your domain:
1. Reflect Your Niche/Topic:
The name should reflect what your blog is about.
Obviously, I failed on this one.
Practical, By Default tells you pretty much nothing about what I write about except whatever you find will be practical.
But it does suit me perfectly, which is why I chose it. 😉 
A great example is www.travelinglowcarb.com. From the domain, you can tell that this blog is about traveling and eating low carb.
When you are brainstorming your domain name include key words that tell readers what the blog is about.
2. Easy To Say & Easy To Spell
Do you have a name that is hard to spell? Or pronounce?
Then you know the importance of having a name that is clear, easy to say and spell.
Keep your blog URL simple, memorable, and if you can, short. It really helps your readers find you.
Here is a quick list of questions to ask yourself or a friend:
Say your domain out loud and ask them to write it down. Can they spell it easily?
Do the words combined spell anything strange? Or are they an acronym for anything?
Is it memorable?
Does it hint to what your topic might be?
If the answers they give you are good, yay! If not, keep brainstorming!
3. Try To Use .com
Most people automatically add .com in their head when reading a URL.
If you can get .com, do it.
Sure there are a few successful blogs out there with .net or some variation but .com is best.
4. Do Your Research
When you are doing your research, you are looking for anyone who has a name similar to the one you picked, especially if you are in the same niche.
You don't want to be confused with someone else.
Make sure your name is not already branded or trademarked.
Below you will find one way to search through a database to tell you if the name you have picked is taken.
Find a domain starting at $0.88
Is your name taken? Try these suggestions:
Get creative.
Try looking up similar words in the thesaurus.
Add prefix and suffixes to your keywords
Move the words around
Think of a phrase that relates to your topic people use all the time
Use your name
Ask friends and family for ideas
Beware of similar names in your niche. You don't want your readers to get confused.
5. Social Media Channels:
Social Media such as Facebook, Pinterest, Twitter, and Instagram are a few ways to drive traffic to your new blog.
In order to do that, you'll need to set up profiles on each of those platforms.
Before you get too excited about your domain name you need to make sure no one else is already using it.
Be sure to check each platform first.
A few tools to help you search social media are:
By the way, I checked them all using my domain. That was fun 😉 At the time of writing this they did check all my social media channels. 
However, sometimes the best way to check is to manually search each one.
Don't forget to grab your workbook by signing up below if you haven't already. You'll want to use page 4 for this exercise.
What You Need To Know About Buying A Domain:
I've always used my web host to host my domain name. I did this because when I purchased my hosting package it came with one free domain and I was saving money.
That said, I have since learned it is recommended to keep them separated.
One reason is that if you choose to switch website hosting you could lose your domain name.
Another reason is data breach if your web host does not have a multi-step authentication.
You can do more research about this here.
I wanted to put this information here so you can make a choice.
You can purchase a domain at a secondary place such as Namecheap or use the free one that comes with the hosting package I'll be talking about next.
Make sure you use the tips above in mind when you purchase your domain.
If you choose to register your domain with Namecheap, click here to get started and follow along with the video below:
Click here if the video is not showing up for you. 
What's Next? Set Up Your Social Media Channels
Now that you have your domain purchased it is time to set up for your social media channels.
Set them all up. No, you might not use them all right away, in fact, I highly recommend that you don't. BUT for now, set them all up and use your "brand name".
I recommend starting Pinterest, (Here is a great FREE 5 Day Pinterest Bootcamp!)  is really great for driving traffic to your blog.
Next, pick one you like. I'd focus on 2 in the beginning.
Social media is important. It is a great way to connect with your audience. It also helps drive traffic to your blog.
Do this right now before you forget. Because you researched in step 5, you'll know that the name is available for each one.
Here are a few to get you started: 
Facebook
Pinterest
Twitter
YouTube
Instagram
LinkedIn
Below you can see examples for 3 of my social media accounts.
As you scan these note that the name, profile photo, and description are very similar.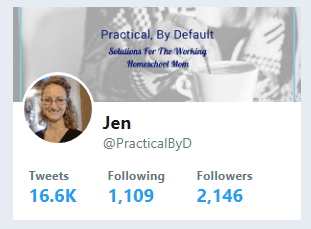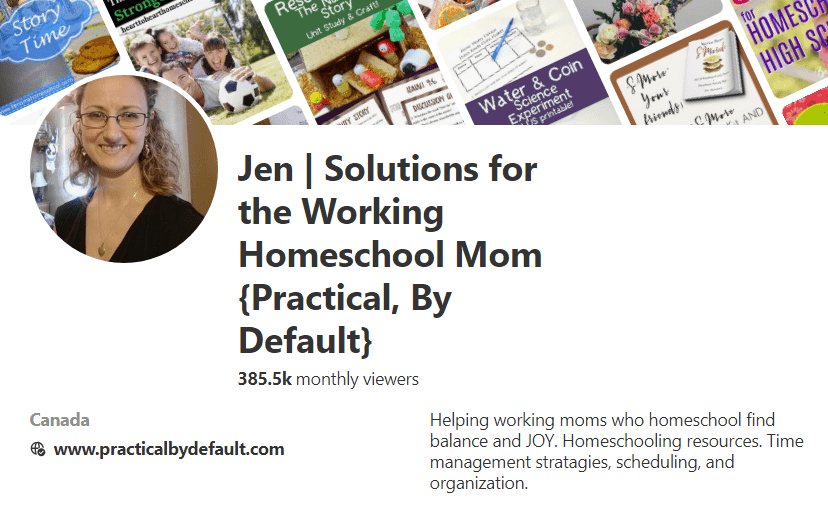 Once you purchase your domain you'll need a website hosting provider.
When you are ready, please read: How To Start Blog: What Host Should You Use? 
Lastly, don't stress it. So many soon to be bloggers get STUCK at choosing a name. If you find yourself getting frustrated, walk away or pick one and go!
Did you choose a blog name and domain?
I'd love to hear it! Leave it in the comments below 🙂
Take care,
Jen
PS. Starting a blog can be overwhelming. This is part of a step by step series. Please check here for all the steps in the " How to Start a Blog." Series.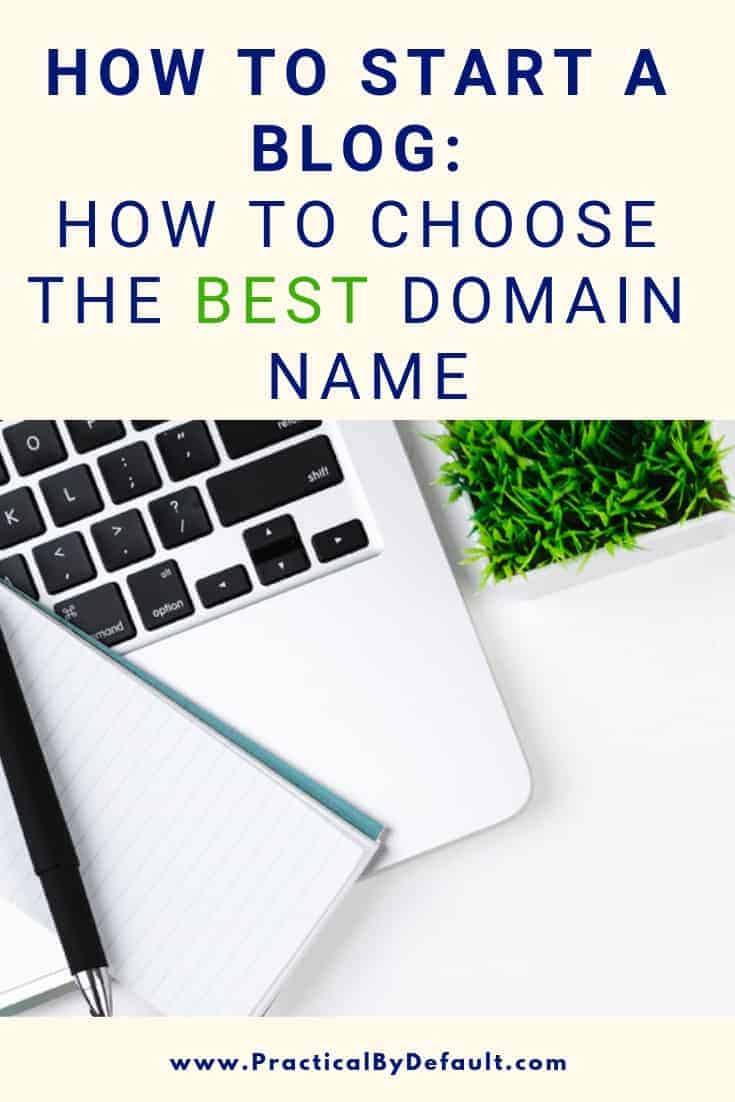 Hi, I'm Jen. I help working parents balance work and homeschooling by providing encouragement, support, and inspiration. You are warmly invited to Join the Online Community Here!