Disclosure: I may receive commissions for purchases made through links in this post.
Do you ever look back and your life and think, "If only I had known then what I know now?"
As a working homeschool mom, one of the most common requests I get is for advice. My best advice.
After all, learning from someone who has been there, done that and still in the trenches day in and day out… can really help.
However, I am not going to give you my best advice. Instead, I am going to give you something better.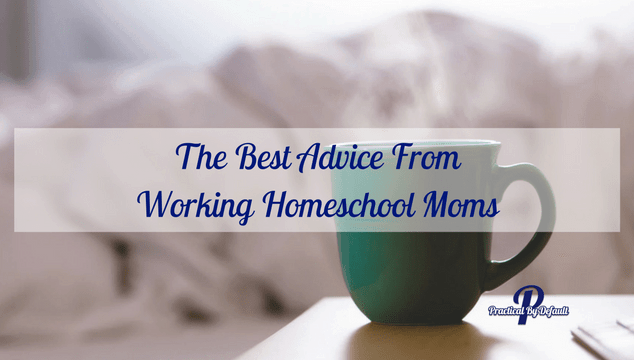 The Best Advice From Working Homeschool Moms
Instead of giving just providing what worked for me and what I've learned over the years, I thought you might like to learn from a few moms.
In my group I asked:
 "When you first started trying to balance work and homeschool, what do you wish someone had told you? What best practice/advice can you share?"
Some of these women work from home, some work outside the home and some do both, like me!
They are all different. Some have one child, some have many children.
Some are veteran homeschoolers, some are new.
Chances are wherever you are in your journey you will find some encouragement here.
Please note:
Advice is given with the best intentions. That does not mean what worked for them will work for you. Use what you can.
Do you
. Chuck the rest
guilt free!
Let's do this! The BEST advice from working homeschool moms! 
Julie, Working At Home:
"School" does not need to start first thing in the morning. I spent a year stressing over trying to get school done in the morning so I could work in the afternoon because I thought that's how it should go.
We all managed much better and happier when I started letting the kids sleep in and go outside to play in the morning while I worked, and then we "did school" after lunch. (The older kids usually had independent assignments I expected them to complete in the mornings.)
Moral of the story: your schedule needs to work for you and your family and does not have to line up with what anyone else thinks is "right." 
Amie, Working Inside The Home and Outside The Home
Learning doesn't have to be scripted. If it's a bad day because the kids just want to play in the creek all day, let them. That's actually not a bad day at all.
On the other hand, you don't have to create all these fancy, cool, super engaging lessons all the time. Don't be afraid of a packaged curriculum. It makes working and homeschooling soooo much easier once you find one that works for you and your kids.
Newbies need to know that:
1) it's hard to juggle, don't give up, always be flexible, and just go ahead and accept that the first semester/year isn't going to be very "pretty," especially if you're making the transition from public school.
2) do tests: what kind of homeschoolers are you, what's your kids learning styles, when are the optimal "thinking times" of the day or the most creative…those kinds of things take time to figure out.
You can read more about Amie's story here: Interview Feature with…Amie from Go Be Faithful
Ticia, Working Outside The Home
The hardest thing for me was realizing my learning/ teaching style is NOT the same as my kids. My daughter is a very visual and hands-on learner, whereas I like to read and take notes.
Make sure you present info the way your kids learn or you will create a lot of frustration for everyone.
Trishia
Don't waste a bunch of money buying curriculums! Buy the bare minimum and add to it as needed…otherwise, you end up with way more than you can use LOL!
And choose a curriculum style that works for you as well as your kids.
And if you get behind or have to bag it for a day/week/month, you can always catch up. It's okay!
Cindy, Working At Home and Office
I work from home as much as possible, but still, have a lot of work at my office, and often have to take my kids with me.
I actually had excellent advice from this group, but probably the advice I needed to actually take in was to be flexible.
The beautifully planned week may not get done the way I expected. We may go further in math this week, but not get through the whole chapter of social studies. And we may not be able to do the beautiful artwork or experiments that someone else's homeschool is doing. But that's okay.
Oh yeah, and every minute isn't precious. Sometimes these "lovely children" aren't very lovely and don't really understand the sacrifices that we're making for them. 
Joy, Working At Home
Be flexible. I work from home but I have to be available from 8-5 and am usually on calls or working toward deadlines (I'm an IT Project Manager). If I have some downtime with no calls I will take 15 mins and we will read, do math, etc. I just squeeze in lessons when I can.
Some days we do very little formal school, other days we get a lot done. Weekends and evenings are catch-up time.
If he is doing well in an area I may reduce what I thought we would need to do and move on for the sake of expediency.
We assess and reassess all the time, adapt and move on.
My son has SPD and anxiety, so some days are just a write off if he is bothered by something or didn't sleep well or whatever may set him off. I am slowly learning to stress less about the quantity of what we get done but look more at the quality (it is hard for my Project Manager, checklist driven personality to do this sometimes).
Shelly, Working Outside The Home
Flexibility can be my greatest strength and my greatest weakness when I feel that if I bend anymore to accommodate everything and everybody I will snap like a twig. Realize that it is a process, it can be messy, you don't have to be perfect and that tomorrow is another day.
I worked prn/as needed when we first started homeschooling in middle school. I now work outside the home 20 to 40+ hours a week outside the home and I never know from day to day exactly how long I will be at work each day. My daughter is in 10th grade.
Kelly, Working At Home
Get up early. And make your children more independent – with their work but also with cooking and housework. 
You can read more about Kelly's story here: How To Find Balance: Interview Feature with Homeschool Mom
Cassandra
Be flexible. A short 30 min math lesson at the kitchen table at 9:30 pm can be more effective than a 1-hour math and worksheet lesson when I've not had sleep in the last 24 hours! School can be sporadic. We school 48 on, 24 off. Year round.
Some days we get two lessons in, look out the window, see the sun is shining and all the sudden we take a "sun" day. Kind of like a snow day, but way cooler!
I could spend hours trying to teach my kid an algebra lesson and we both walk away in tears, or I could step back and teach the concept in 20 min when we are both relaxed and open.
Working and homeschooling is difficult, but there isn't a "look" no set schedule. It's what works for you. 
Working and homeschooling is difficult, but there isn't a 'look' no set schedule. It's what works for you.
Click To Tweet
Umma
Curriculum hunting is addictive. Don't be a curriculum junkie. Take your time in searching for what you need and give it an extended trial before you start stocking the next best, most recommended, homeschool holy grail suggested item into your cart.
Don't get hooked on a sale! Every month there is a company or two having a sale. Most likely that same excellent sale will come pop up three more times during the school year.
This was my hardest struggle. My bookshelves were full of different curricula and fun educational reading material, so much so that my kids didn't even know they were there until I began packing them up for donations. 
The Best Advice.
I always love hearing from others who are on the same journey as me. The key to remember is that there is no one right way to do this thing.
When you first started trying to balance work and homeschool, what do you wish someone had told you? What best practice/advice can you share?
Take care, 
Jen
PS. If you are looking for more information please sign up here for a free E-Book. on finding balance in your homeschool. You can do it! <3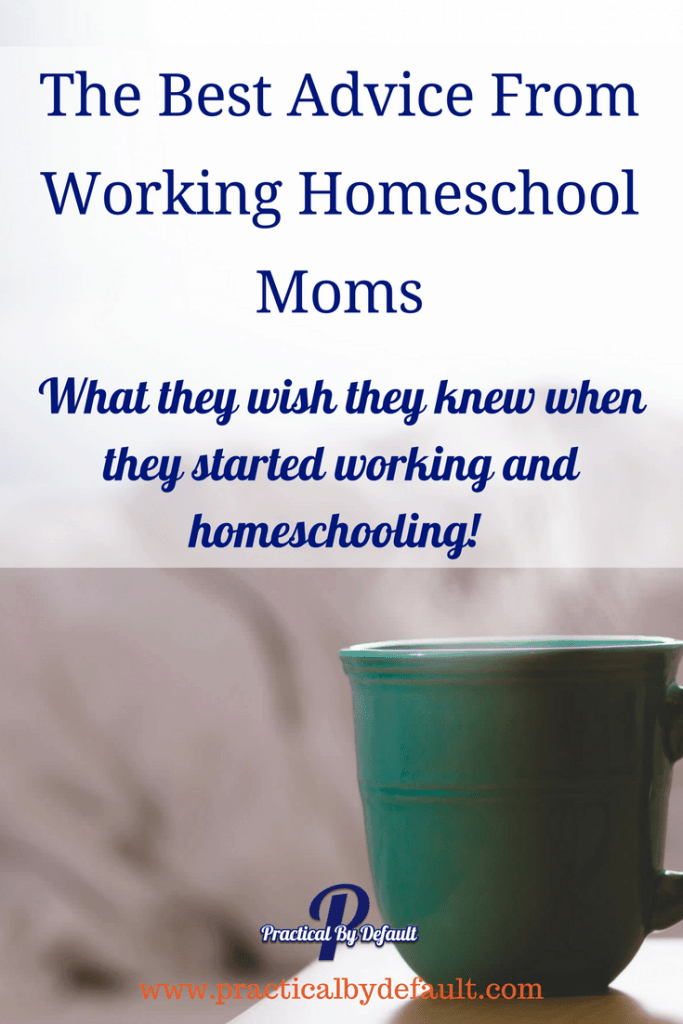 Hi, I'm Jen. I help working parents balance work and homeschooling by providing encouragement, support, and inspiration. You are warmly invited to Join the Online Community Here!