I want to talk about the elephant in the room no one ever talks about, Survival Mode.
The truth is not everyone experiences this shift. If you managed to skip it, congrats. This article isn't for you. 😉
Butttt…if you are running around like a chicken with your head cut off and drowning in everyday tasks of trying to put one foot in front of the other…welcome!
Look for these:
Signs of Survival Mode
How to Get Out
Where to Find Help
Wanna chat? Pull up a chair let's talk about what is going on and how to find a way to the other side.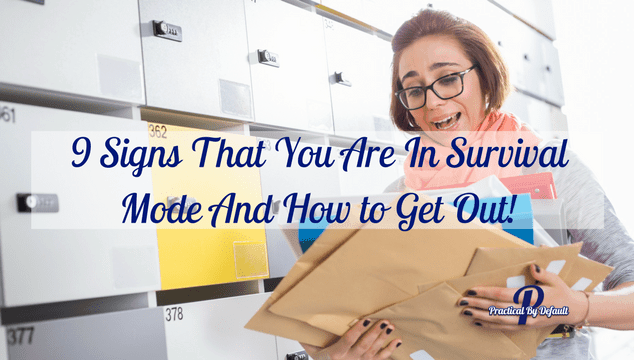 When we experience trauma, loss or change in our life we can find ourselves acting, saying, and doing things we never thought we would. Major shifts in our life often result in added stress and can trigger "Survivor mode".
No matter if you are already working and adding homeschooling to your life, or you are already homeschooling and entering the workplace this change can activate survival instincts.
All of a sudden you are doing new things. You have added responsibilities to an already full life.  Kids to teach, lessons to plan, a boss or clients to answer too, a house to run, food to shop for and prepare, and the list goes on.
This is a big change that no one wants to talk about.
9 Signs That You Are In Survival Mode
Survivor mode can make you feel like your world gets turned upside down and you have zero control. While you can't always avoid it getting out is vital.
9 Signs That You Are In Survival Mode Are:
You are doing everything you can just to get through the day.
You have focused all your energy on the next 24 hours. You are unable to even think about the next day never mind the next week.
You can only consider one task at a time. Everything is URGENT!
You feel utterly alone and helpless. You are the only one who can do the job right and you must do it yourself.
You push others away without thinking because you don't have time or energy to deal with them.
You don't eat properly, sleep is a foreign concept and your stress level is so high you feel like you are going to snap any moment.
You rush around like crazy but never get caught up.
You can't remember the last time you laughed and enjoyed a day.
All you can do is react to each situation that arises. You react to your boss, to the kids, to your family.
Do any of these sound familiar?
How To Get Out-Make a Plan
Knowing you are in survival mode is the first step. (See signs above)
The second step is a plan. We've talked about sitting down and making a schedule just for you and your family.
However, you might not be there yet. (If you are there, Read: Simple Scheduling for Your Crazy Working Homeschool Life and don't forget the worksheets!) 
Let's try a different plan.
When you feel buried or overwhelmed you need to simplify your life.
Think of a boat that is starting to sink. In order to stay afloat, the crew may start throwing things overboard to lighten the load making it easier to bail the water out.
The question is, what can you throw out of your life to help you stay afloat?
Please note, no one can answer this for you but you. Also, no one can do this for you but you.
Take a moment to think about your life. As you do this ask:
What is important?
What is necessary?
What changes need to take place?
Write it down. Focus on the NEEDS not want.
For example, having a Pinterest worthy home might be wonderful. But in reality not only does that not suit my lifestyle because we live here 😉 but also I don't have the time, energy or desire to have a spotless house.
Having a tidy house, on the other hand, is doable. I get my family involved. My kids do chores. My husband works all day and helps cook meals. We work together to get things done because the truth of the matter is I can't do it alone. I can't do it all. I need help.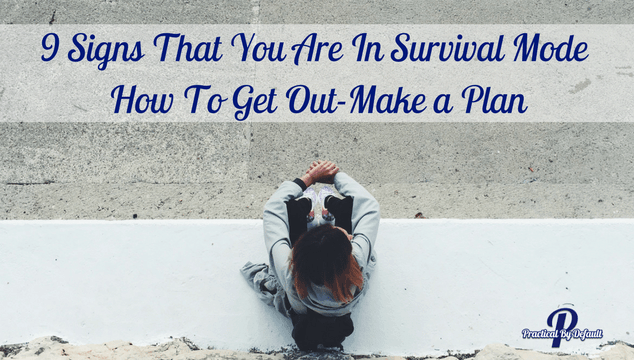 Where to Find Practical Help:
Are you in need of practical help? Someone to take the kids to a class? Someone to pick up the dry cleaning? There is nothing wrong with needing help.
You can find this help by making a list of people. Start inside your household, but don't forget willing family and friends.
If you don't have any family/friends living nearby you may need to hire out or trade-off tasks such as car rides, babysitting, and errand running, just to name a few.
How to Get Out – Take Care of You
Remembering to take care of you is the third step. Survival mode involves all of you.  It can be physical, emotional, and mental.
Remember the sailors in the boat throwing things overboard and bailing out water? If they don't take time to find the leaks, repair the cracks and fill the holes nothing will change.
We need to take time to take care of us. I can not stress this enough. Whatever recharges you, you need to do that. These activities help you cope with stress.
When you stop looking after you, you put your mental and physical health in jeopardy.
Ask yourself:
How I taking care of me?
How am I fueling my body? Am I eating enough healthy food or am I living on fast food?
When was the last time I exercised? Went for walk? Danced?
When can I find 5 minutes to recharge?
What hobby have I removed from my life?
Use these answers to put yourself back on the list. It is key in getting out of survival mode.
We share ideas on Sunday in The Working Homeschool Mom Club for how to take care of us each week. It is that important to me. If you need a list of ideas that you can do in 30 minutes or less be sure to read: How to Make Time for You When You "Don't Have Time"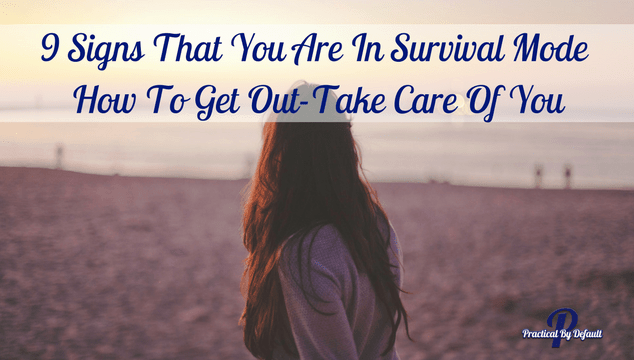 What About The Rest?
My advice? Put them on pause. Pare life down to the basics. This may include not just housework and errands but your homeschool.
When I returned to work I cut everything out that wasn't core from our homeschool. We focused on 3 Rs and the rest they learned through online games and play. Things they didn't need me for.
I just couldn't be there for them mentally or physically. It is not what I thought our homeschool would be. But you know what? We survived. At that time that was the goal.
Do that until you can slowly add in the rest. Now that we've been rocking this for a while, we are able to do the fun stuff, the hands on play, the cooking lessons I never had time for.
Where to Find Homeschool Help:
Do you think you need to do all the work and teaching in your homeschool? This can just add unnecessary pressure.
You can find help by taking advantage of online courses or local classes.
For example, some parents don't have the time, energy or desire to teach their children how to cook. They let Katie teach them through her course Kids Cook Real Food. This self paced online course lightens the load of the tired, stressed out mom.
Other places you can check for help are your local library, co-op, Facebook groups or online resources lists for ideas!
Welcome To The Light!
When you ask these questions, simplify your life, get help, and pare down to what needs to be done the end result is you allow you and your family time to adjust to the new changes. Maybe it isn't fun, right now. But some day it will be.
Similar to burnout, you need to take steps to change your life to suit your new lifestyle. You've added in a huge responsibility be it a new job or homeschooling. Both of these things are vital and important. Both of these take time, energy and money. You've made these changes and leaving survival mode isn't going to happen on its own. With these steps, hard work and time you will find survival mode is a distant memory.
Take care, 
Jen
PS. Did you know I run a free, private Facebook group with the most positive, supportive, and kick butt working homeschool moms out there. It's the perfect place to get feedback, make friendships, and ask questions. Join here. You can work and homeschool. You can do it your way. You don't have to do it alone.