Disclosure: I may receive commissions for purchases made through links in this post.
Have you ever heard of quiet boxes?
A quiet box is a box or bag full of special toys, crafts, and activities for children to play with when you need them to be quiet.
These are perfect for work at home moms who are going to be making phone calls, recording videos or podcasts, telecommunications, teaching online etc.
Or when you want some one-on-one teaching time with another child.
Or when you are camping and you don't want them to be bored.
Or when you are traveling long distances.
Or when you are waiting for appointments, restaurants etc.
As you can see they are super helpful to have on hand. How should we make them?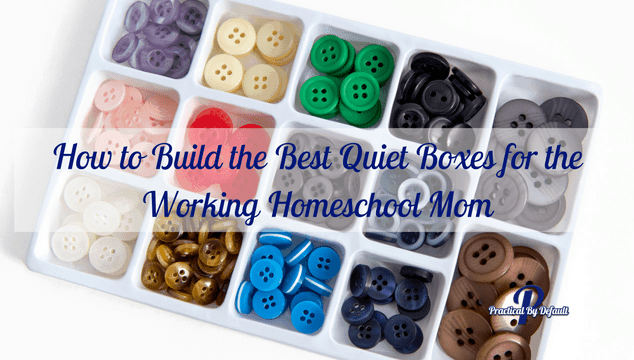 How to Build Your Quiet Box.
First, you will need to choose your container.
A small box can be used for years and then for storage when the children have outgrown them.
This one is the size I prefer, a little bigger at  15.25 x 14 x 6.25 inches.
My daughter's favorite is below. We picked ours up a few years ago.
Pro Tip: Moms love the Really Useful Box Brand, you can find it on Amazon. They come in all sizes and shapes and last a long time!
A few things you want to consider are the size of the items you will be using it (ie, large puzzles or small beads-adjust the size accordingly) along with storage size.
Bags such as backpacks are great for on the go learning.
Hint: Use two containers, that way you will always have a place to store the items and you can easily swap them out to keep kids from getting bored.
After choosing your box, you will add special toys, crafting materials and activities.
Second of all, keep anything out of the box that is loud. Many lists I have found around the web included metal buckets with hammers, balloons to pop, and other loud items.
Seriously as a working homeschool mom-NO! Just, no.
I have no plan to have to talk over these while trying to nail down specific details of a project.
Below you will find a list of items that are great for younger children and a list for older children. Yes that is right, I use Quiet Boxes for my big kids.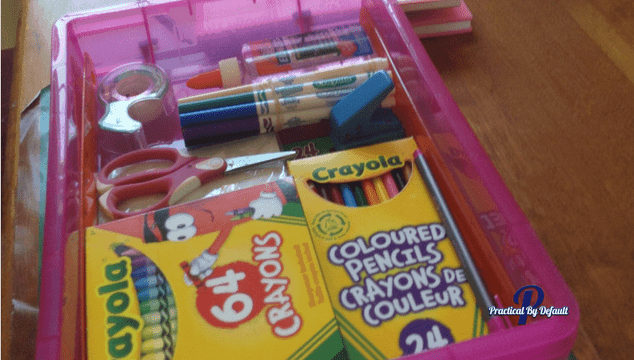 5 Tips for Building the Best Quiet Box:
Before we get started a few things to keep in mind:
To keep the child from being bored be sure to swap out the items from time to time.
Keep all of these items only in the box/bag and do not let them play with them when you don't need them to be quiet.
If you have smaller children please use discretion when deciding what to put in the quiet time box. If your child is young and puts items in the mouth, then do NOT give your child something with small objects.
Keep your child in mind and build accordingly. For example, don't give a child who hates audiobooks and bunch of audiobooks just because they are on the list.
Keep in mind your location. Kinetic sand is great until you are in a moving car. 😉
What to Put in Your Quiet Box: Younger Children
Here is a list of items that working moms have said are must have in their quiet box. I have included links for price comparison for you, or if you are anything like me I love to add things to my Amazon wish list. 😉 Or as I like to call it, my "hint hint" list! 
That said, you will probably have most of these things around your home, at your local dollar store, etc. You might want to grab this list to go. You can do that with by clicking on the bright button at the top of this page. (It says Read Later Download this post)
Quiet Box Ideas For Younger Kids:
Buttons-assorted sizes and colors
Scrap paper
Head phones Cozyphones come highly recommended for smaller children. My kiddos are too old so I haven't tested them but I have heard great things about them! 
Kid magazines
Makers and notebooks
Dry erase boards and markers
Shape cutters or cookie cutters
Construction paper
Lego
Beading
Coloring books
Load up a Tablet, Kindle or Laptop with educational apps (get a list of them here)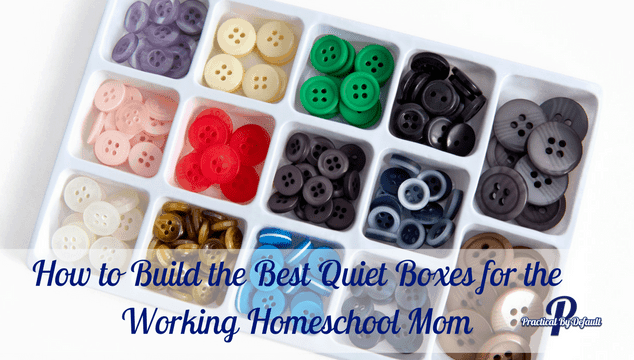 Quiet Boxes are perfect for the work at home or the busy mom on the go!
Click To Tweet
What to Put in Your Quiet Box: Older Children
Quiet boxes are great for older kids as well. My children always pack a quiet bag for trips, appointments or any other time we may be waiting for a long time.
Quiet Box Ideas For Older Kids:
Books
Ear buds or Headphones (for the quiet part;) )
Kids magazines (American Girl, National Geographic, etc.)
Puzzles (Choose harder ones, themed ones or ones with smaller or a higher number of pieces!)
Blank paper/blank cards
Dry erase markers
Markers/colored pencils/gel pens
Construction paper
Scissors
Washi tape
Tape
Playing Cards
Kinetic sand (Not great for travel)
Tablets with learning games
Lego/Magnetix
Don't forget you can get this list as a printable by clicking on the bright button at the top of this page. (It says Read Later Download this post)
Quiet boxes are a great way to keep your child learning, busy and quiet when you need them to be! I hope this list provided inspiration. Do you use quiet boxes in your homes? What items would you add to the list?
To taking care of business and having fun,
Jen
PS. If you are looking for other ways to keep the boredom at bay be sure to read 9 Summer Solutions to "Mom, I'm bored!"
PLEASE PIN ME: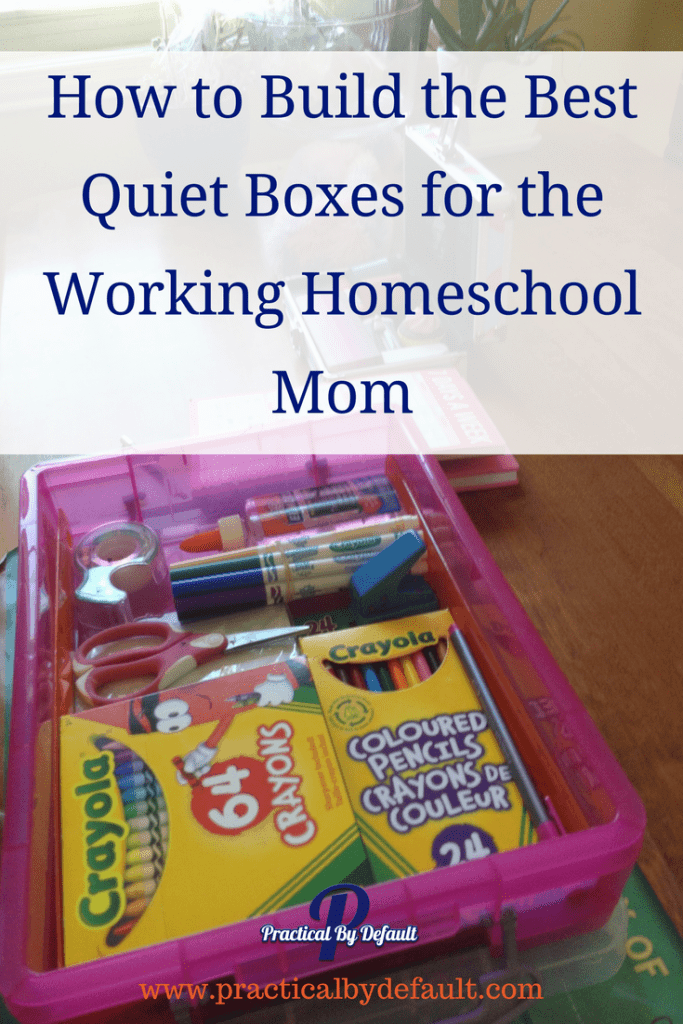 Hi, I'm Jen. I help working parents balance work and homeschooling by providing encouragement, support, and inspiration. You are warmly invited to Join the Online Community Here!