Summer is here and many have been out of the school routine for a while. You may have used all your boredom busters up. I figured now would be a good time to share a few (maybe brand new) ideas with you.
As a busy mom, having a handy-dandy list of ideas to keep boredom at bay is a life saver. You can totally print this list out by using the bright pink button at the top.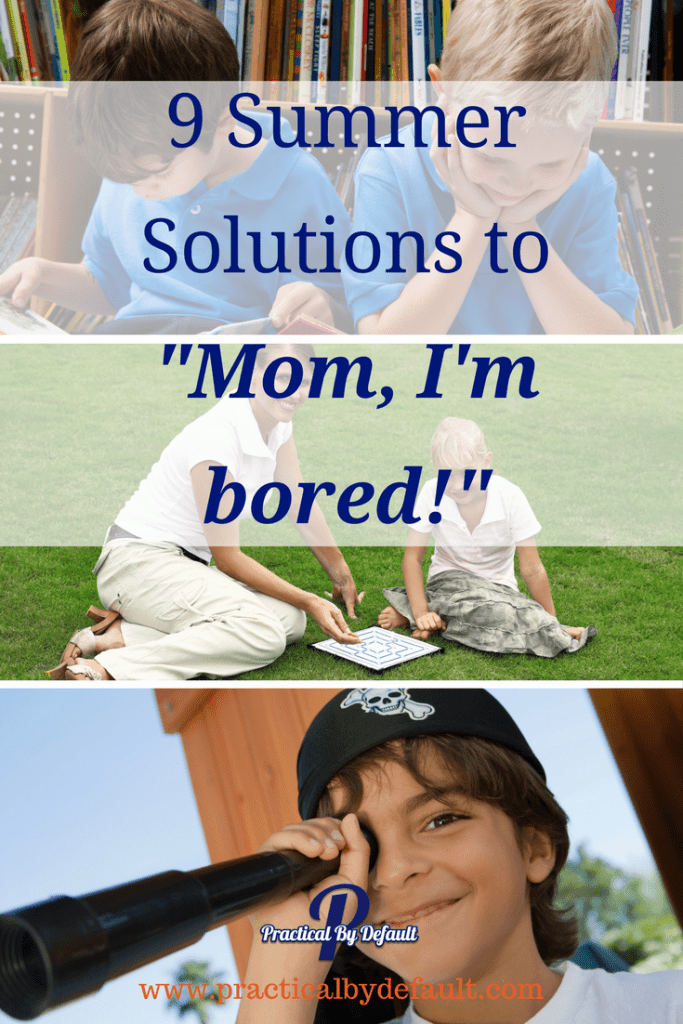 Put on a play/concert
If your kids love dressing up this works like a charm. Keeping a box of old clothes along with a few kid friendly toys such as keyboards and microphones and you have the makings of a performance of their life. Not recommended during conference calls but if this happens I hear outside makes for a great backdrop 😉
Create an art project
Now is a great time to dig out those art supplies you've been keeping in the cupboard. Do you have Thank you cards that need to be made? Using a homemade kit (learn more about thank you kits for kids!) give kids the freedom to explore new materials and methods. Perfect for a rainy summer day.
Read a book
Grab a printable reading chart (we like the one from Notebooking Pages.com)  and let them loose in the library. Now is the perfect time to let them roam and choose what they want to read. Encourage kids to follow their interest or explore new genres! My kids chose their favorite books from last year if you need a few ideas.
Water play
If you have a slip n' slide now is the time to dig it out on those hot days. Water balloon fights and good 'ol running through the sprinkler is a few fun outside water ideas to cool off and beat the boredom!
Get in the Bath
When the hot weather strikes and you don't want to run your hose all day long this is a great alternative. Especially when you are stuck home and unable to hit a beach or pool. Let them fill the tub and play, listen to books/music and bonus: No time limits! This works great for younger children.
Resurrect those Subscription boxes
Have you subscribed to any boxes for your kids this year? Maybe you have a few lying around. Dig them out and let them recreate the DNA experiment that was so much fun. Many of these boxes can be used again and again. When we parents let go of the rules you might be surprised what your children can come up with on their own. 😉
Do ALL the puzzles
My kids used to love puzzles. As they got older we got out of the habit. Go ahead pull out the puzzles and let the kids loose. Perfect for rainy day summer fun. Don't forget to choose age appropriate ones or they may get discouraged.
Board Game
Anyone else have a collection of board games gathering dust? Dig those baby's out this summer! Or better yet find something brand new. I know I've played just about enough "Go Fish" for a lifetime.
Hidden Toys
I don't do this anymore but when the children were younger I hid the old toys they never played with. When they seemed to be getting restless, tada! "Oh, look what I found!" Those old toys become new again.
Bye Bye "Mom, I'm Bored"!
There you have it, 9 boredom busters to the "Mom, I'm Bored" problem. The great thing about these is you can join in the fun if you are able and if not, most are self-lead. Perfect for the busy working momma, like me.
I had to laugh when I told my kids I was writing this they mentioned they never say "I'm bored." I'll agree. Would you like to know why? Because I am a mean parent. HA! If you say you are bored I will quickly find something you can help me out with. From this, my kids have learned to dig out different games, art supplies and use their imagination to play.
Do you have any favorite time-tested boredom busters you want to share? I'd love to know what is working for you this summer!
Take care,
Jen
PS. Right now Little Passports is having a Back To School Sale.  I am excited to announce that we have early access to the Little Passports Back to School Sale. Shop 4 days early and save 15% on all subscriptions from 7/31 until 8/14 with promo code: BTS15.