Disclosure: I may receive commissions for purchases made through links in this post.
The kids  studied Chemistry/Physics this year. I was terrified but it ended up being SO MUCH FUN!
When choosing our courses for this year they both agreed on Chemistry. My daughter could not wait! My son was "meh" and as for me? Well all I could think was I think I might have missed chemistry, atoms and the whole periodic table the first time around!
I did go to school, right? I blame mom brain (ha!)
Needless to say, "excited" was not the feeling I had.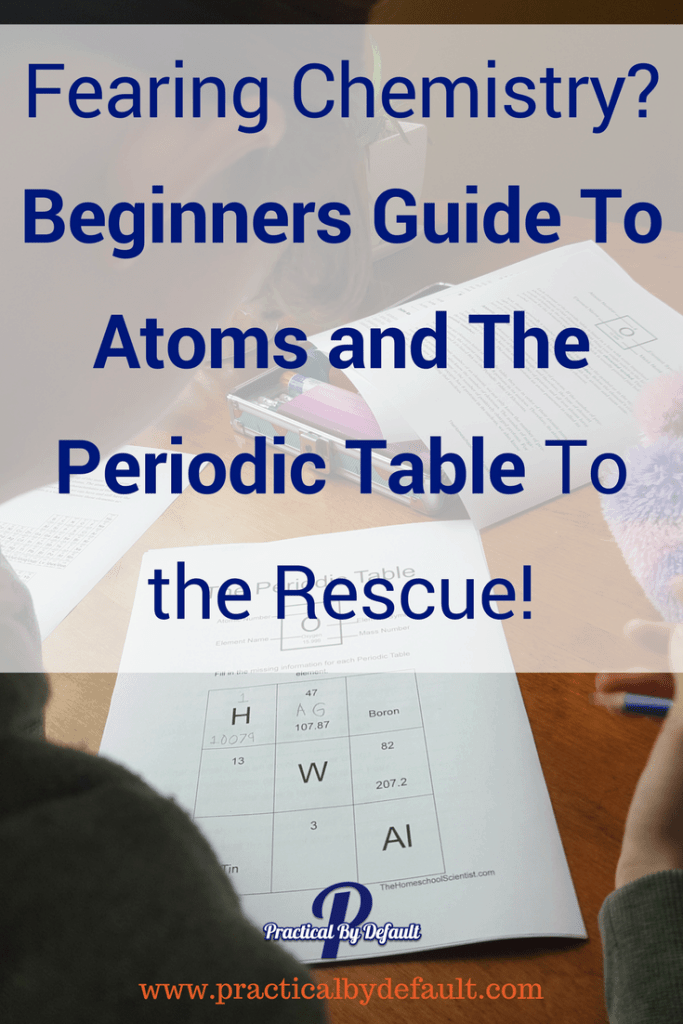 We use Eeasy Peasy for Science because of the step by step easy to follow instructions and the layout of the site. I don't always have time or the energy, (Okay! Okay!) or even the desire to do all the experiments.
Easy Peasy has you covered with videos or alternatives so if you "forget" to get the supplies (or eat them ;)) No big deal.
Due to my personal history and lack of memory of the whole "Periodic Table of Elements" I wanted a fun way to reinforce what we were learning.
When I saw Beginners Guide To Atoms and The Periodic Table I knew I wanted it.
Marci the creator promises that this guide would be "simple, easy to understand lesson pack broken down into bite-sized pieces. Young elementary students should pick this up easily with a little help from an adult."
Did you know? Right now for a limited time you can get The Beginner's Guide to Atoms and The Periodic Table along with Backyard Science and What Makes the Weather all for $9.97? Check it out here!
Let's dig in!
The guide comes with:
Printable 20+ page PDF (You may print as many as needed)
Includes links to additional resources and videos
Notebooking pages are included
Sketching and art opportunities
Experiments are included, along with a list of supplies needed.
Vocabulary list

Who this product is suitable for:
Anyone who is introducing Atoms or the Periodic Table to children is going to love this guide because the explanations are clear and to the point. No confusion.
What I appreciated about this study is that it is simple enough for younger students, but contains problem-solving activities and links for further study that are perfect for older learners.
It is also great for any homeschoolers who are busy! Seriously. I printed off a copy of each book for the children. I grabbed the list and picked up the supplies next run in town. Ta da!
The lessons are designed to be used in a way that teaches your student in they way they learn. There are written components, audio, visual and hands on. You can easily use what works for your kids!
My only complaint, if you call it that, was that the pages were not numbered and there were no answers.
Turns out this was a great thing for us! Why? Because my son got to teach me. Then he helped me work through the worksheet. My daughter assisted him in helping to explain the method used to identify the Atom and used the table to show me.
Did you catch that? The kids taught me! This is a great way to reinforce learning. (Just don't quiz me!)
Don't run away from chemistry! Use this guide and be on your way to learning fun!
Click To Tweet
The experiment:
My children had so much fun playing with food. We deviated from the instructions and decided to use different colored Ju-Jubes instead of different items. We used toothpicks to bind them all together.
They each chose an atom to replicate although I tried to encourage them to make their own.
It was really interesting to see how much they retained while having fun.
Warning my kids are weird.
First, they took the Ju Jubes and sorted them by color and then counted them as you can see below. I don't know why they did that. Don't know-don't care! 😛
Next, they chose their atoms and made two, can you tell what they are?
Answers: Sodium and Magnesium
Teaching and having fun!
I loved this book because print and go makes this momma happy. Step by step, clear instructions, and fun makes my kids happy. I recommend Beginners Guide To Atoms to anyone who is beginning to learn about Atoms and the Periodic Table and wants to have fun doing it.
Who doesn't want to have fun learning? 😉 
Take care, 
Jen
PS. Don't be afraid to have fun in your homeschool. Kick back a little, let loose and let your kids know fun and learning can go hand in hand. Don't miss this!! Did you know? Right now for a limited time you can get The Beginner's Guide to Atoms and The Periodic Table along with Backyard Science and What Makes the Weather all for $9.97? Check it out here!
>>>Click here for more information Beginners Guide To Atoms <<<