Disclosure: I may receive commissions for purchases made through links in this post.
Inside: Are you considering homeschooling high school but unsure if you can? Answering these 3 questions will help you decide what is right for your family! 
From day one of homeschooling people asked me what I was planning on doing once my kids were in high school.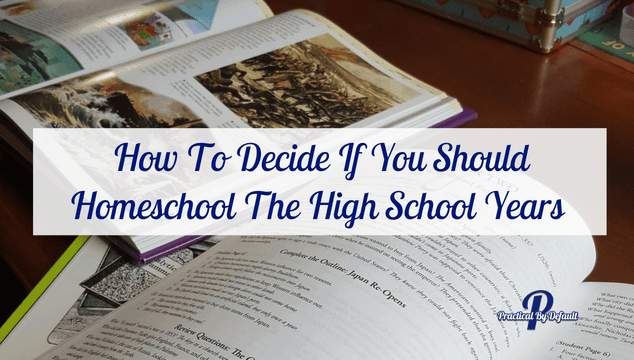 To be honest, at first, I never gave it much thought. I was focused on surviving the day with two energetic and stubborn kids that were 22 months apart to worry about what was going to happen when they were teenagers.
As they got older it came evident I
really was going to need to decide what would we do
. Would we homeschool? Would we send them to public school?
By the way, if you already know you are planning on homeschooling high school then be sure to pop over and read: Before Homeschooling High School Do These 3 Things I know you'll love it! Then come back here and finish reading 🙂
Don't Follow The Crowd
One trend I am seeing is that once homeschooled kids high the high school years parents ship them off to public school.
Now that is okay if that is what works for your family but if you are doing it because everyone else is doing it or because everyone else says high school is just too hard – please do yourself and your kids a favor and listen up!
What is right for one family is NOT always right for you.
We are all different and the wonderful thing about time passing is that now more than ever are parents equipped with the information to make the best choices for their family without relying on others to make decisions for them.
You can overcome any fears you might have about homeschooling high school. Trust me, I know. 😉 Let's talk about a few things you'll want to do before you decide YES or NO.
Talk To Your Kids
Before you make any decisions talk to your kids.
It might surprise you that they have already given high school years a lot of thought. Especially if they know where they are going in life and how they want to get there.
For example, I had no intentions of homeschooling high school. Or homeschooling at all actually. The fact I've been homeschooling high school for a few years now… is kind of a shocker. 😛
When we got closer to the high school years we held a family meeting.
It went like this:
"You'll be entering high school soon, do you think you want to attend public school? If so, which one do you want to attend?"
"I'm going to be homeschooled."
THE END
Yes, for us it was that EASY to decide what to do.
This was working for us, we loved our life as a homeschooling family and I had learned by this point that whatever hurdle we faced, we'd figure it out. I do realize it might NOT be that easy for you. Just because your kids want to be homeschooled for high school doesn't always mean that it is the overall best call.
Homeschooling involves your whole family. Communication is key. Take the time to talk to everyone involved.
3 Questions To Consider:
These questions are great to consider no matter where you are jumping in on the homeschool journey but I would say they are vital for the high school years.
1 Can I Outsource THIS?
Sometimes our children want to learn about something we have NO IDEA about. This might strike fear and have us scurrying to the nearest high school for those admittance papers.
Before you do anything drastic, stop and breathe.
Chances are whatever your child wants to learn you can teach them OR you can find someone who can. Because let's be honest here, you are not always the best teacher for your kid.
The internet is amazing. There are so many places and opportunities for your child to learn whatever their heart desires.
Get your teen involved in the hunt and you might be surprised what they can learn while homeschooling.
Places to look:
YouTube – don't overlook this amazing resource. Step by step guides and more for free!
Local tutors, co-ops, 4H clubs etc.
Online programs -> check our full list here that includes high school.
For example, I recently shared that I forgot to teach my teens how to use a sharp knife the RIGHT way.
For the record, you will never be able to teach your child everything they need to know. It's impossible as life changes too fast.
But it is never to late to realize you missed something and fix it! I found an online program that will teach them the knife safety and I watched and learned from them too!
If you are planning on homeschooling the high school years, be prepared to do research and outsource what you may not be able to teach.
2 How Organized Am I?
As a busy working mom, having a plan and knowing where your "stuff" is can really ease your mind and save your sanity.
Things like books, programs, what lessons have been completed, which ones they need help on etc. When you hit the high school years this DOES ease off you a bit. But not completely. They are still kids.
You'll need to see if they are slacking off, how each program/curriculum/"thing" you are using is working for them, and if they are still on task with their goals.
Because you have shifted roles and moved into a supporting role for high school ask yourself:
How will I communicate with my teen?
How will I stay in the loop as to curriculum/programs/co-ops?
How much will my teen take over the planning?
How will we check in with each other to make sure they are on track?
Don't let months go by without checking in, this can only lead to disaster! If you are NOT organized yet it is not a big deal.
Find a system that works for you or create one that will work for your family. Test it out for a few weeks to a month and then change what isn't working.
Don't be afraid to mix planner types. We use online and offline to keep track. We communicate while I am working through Google Hangouts, Email or text messaging.
Make technology work for you, not against you and you'll be on your way.
3 Will Homeschooling High School Work For MY Child?
Before you think this is a one size fits all type deal, think again.
Can you homeschool high school? Sure you can.
Should you? That is a whole other ball game.
You know your child best. What works for one of your children may not work for another.
Take into consideration YOUR child:
What do they want to do?
What is your fall back plan?
How hard is it to "change your mind" if Public School or High School doesn't work?
Because the truth of the matter is, you can always change your mind. It might be awkward, it might be hours of paperwork or it might be one call. Find out. Arm yourself with knowledge.
Just as I would never tell you to homeschool your child, I certainly WON'T tell you to homeschool high school.
What I will say is this:
You are the parent and you know your child best.
You have a choice, just like I do. We chose to homeschool for different reasons. You chose what is best for your child out of love. What's right for you is just that…right. Whatever that may be.
Can you homeschool high school? Absolutely! Should you…well, you'll have to decide that one for yourself ? If you decide you DO want to homeschool high school make sure to read: Before Homeschooling High School Do These 3 Things
Take Care,
Jen
PS. Fear of homeschooling high school is real. My absolute favorite book for overcoming this fear is Cure the Fear because it is a practical step by step plan which I love. Read how I used it to kick fear to the curb here: Cure The Fear: A Powerful Tool To Help You Homeschool High School With Confidence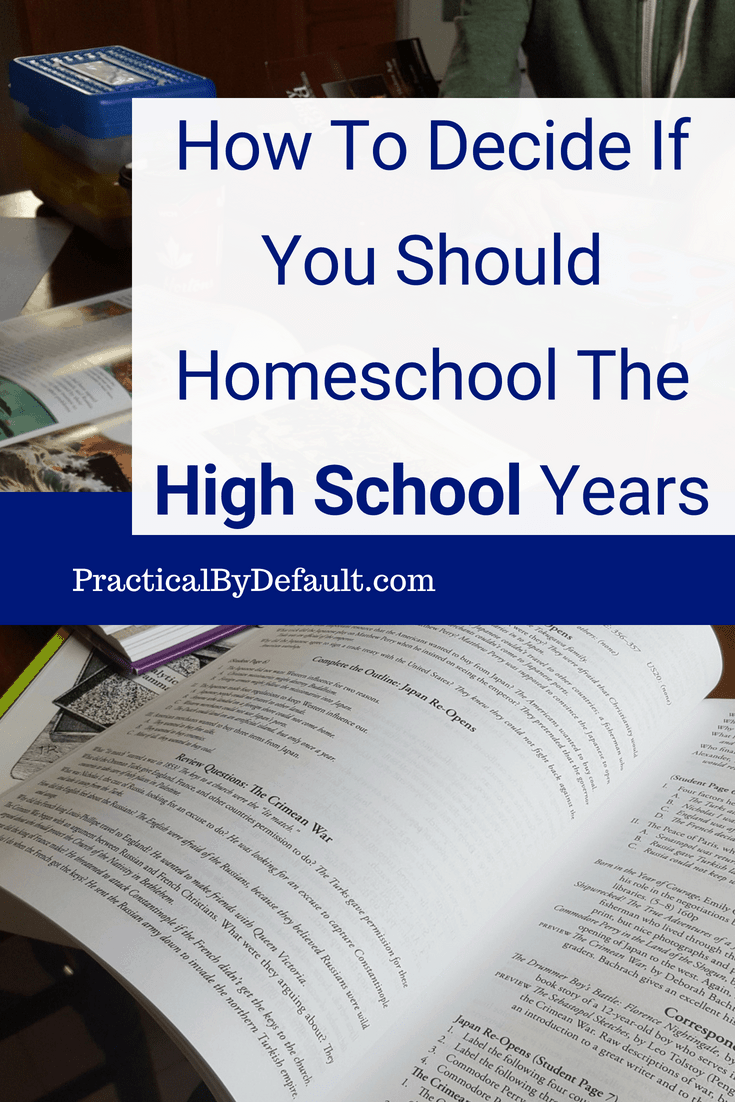 Hi, I'm Jen. I help working parents balance work and homeschooling by providing encouragement, support, and inspiration. You are warmly invited to Join the Online Community Here!