As the weather turns wet, cold, and damp my teens are more and more found inside than out. When school is done and chores are complete then it is time to have some fun, being snowed in might limit you but these games for teens are sure to be a hit for you and your family.
When our children get older we may find they are talking less and less to us. Combine this with our own work, errands, and running around we may find that we are not spending the time with our children as we want.
A great way to reconnect with your teen is to remember our teens are still children. What do children like to do? Play and have fun!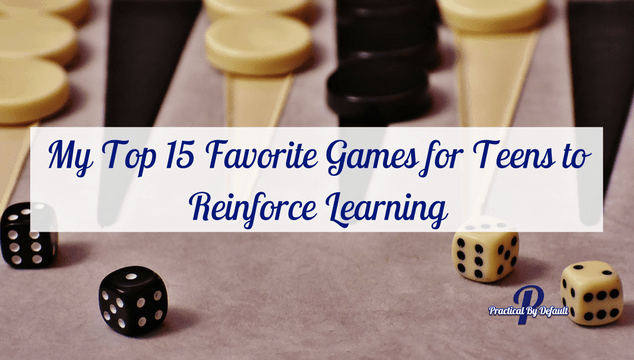 *This post may contain affiliate links. Please see our disclosure policy if you have questions. Thanks!
I always said I had children so I could raise them. When I returned to work I missed my kids. Plain and simple.
So when they asked me if I wanted to play a game, even though games are not my "thing", I said yes. Over time we have built up a list of board games we can all have fun with. Some of these are currently resting in our game chest others are happily residing at homes of family and friends.
How I Use Games In Our Homeschool:
I love to use games to reinforce learning. So many games teach spelling, reading, build vocabulary, use math skills and more. Instead of drilling tests, I prefer to show how these skills come into play in real life. Or in this instance, I make dreaded subjects such as math, fun!
We also use apps as a way to reinforce learning as well, if you want our favorite list read: Top 5 Homeschooling Apps We LOVE!
When the children are not feeling well and are not up to doing school, they will usually chill out with a game or two. This allows me to feel like the school day is not wasted as I know they are learning.
When the power goes out we use board games to relax and kill time while we wait. Below are some of our favorite games to play!
Before choosing a game for you and your family, be sure to consider the following:
Check the number of recommended players
Check the age requirements
Average time to play
Consider the difficulty of the game
Look and read the rules if possible
All of the above will help you find a game that is perfect for you and your kids and should be available on the box packaging or in the reviews.
Our Favorite Games for Teens:
1. Even Steven Odds. This one is always our top board game and there is no sneaking it off the shelf without them noticing. Trust me, I've tried. Even my mom who hates math games loves this one. Read my review here.
2. Sequence– I was introduced to this family fun game at a family members house. At first, I was thinking I am not going to like this but it takes strategy! Which I love. Also easy enough for children and adults to play.

3. Monopoly– This is our favorite game to play as soon as the power goes out. We set up candles and play around them. Why? Because it is a long game! It is a great way to kill the wait while the power is out. We live in Canada this means we get lots of snow storms. This family game is known for competition and time. You can play a quicker game if you deal out the cards.
4. Risk– I learned to play when I was a teenager. The group I hung out with insisted girls couldn't play. I loved to play and win. Just to prove them wrong. (Ha!) This game also helped me learn about geography. This family game takes time, so I don't recommend this if you are short on time. Another great game for power outages.
5. Jenga– One of my favorite games and my daughter holds the title. Her little fingers and a great instinct for knowing what to move and what to leave are awesome. When her and my mom play it quickly becomes "unbalanced"! This game is pretty short and perfect if you do not have hours to play. Think after a long day of working. Short and sweet.
6. Uno – Ah and oldie but a goodie. We play that each +2 gets added to the next! Apparently, these are the "rules". I always end up picking up many cards. This fairly short game is great for after work or a mind break in school.
Are you trying to connect with your teen? Play one of these games!
Click To Tweet
7. Trouble– This one lives at Nanny's house and is a favorite for them. Ages 5 plus, pretty much anyone can play. It is not super long and just an all around cute game.
8. Backgammon – I played this since I was little with my mom, she always won. Seriously I could never beat her. I remember playing this when my husband and I started dating, I won for the record, and now with my kids.

9. Crazy Train also is known as Mexican Train – I love this game! Word of warning if you don't like sound or loud noises don't get one with the battery operated train in the center. This is a great matching math game for the whole family. This one takes a few minutes to figure out, I recommend reading it before the kids get to it. However, it is so worth it in my opinion!

10. Apples to apples – Do you love words? This one is super fun to get creative with! The game of comparisons is pretty hilarious. Not heavy on the rules set up is quick and easy. You can change how long the game lasts to suit your mood.
11. Upwords– Much like scrabble but you get to stack the tiles for more word-building fun! Build your vocabulary one tile at a time. This one can be on the long side but if you are running short on time just lower the amount of points needed to win!
12. Pictionary-A fun fast drawing game this one messes with my mind. After all, it isn't how accurate you can draw that wins, but how well you can convey the message to your partners.  Great game for teams of family and friends or small groups. You can adjust the time as needed.


13. Cranium – I am listing this one even though I tend to avoid it at all costs. This one combines words, drawing, sculpting, puzzle solving, acting and more! Awesome game for a group of people!
14. Scrabble– Where every word counts! No, I couldn't resist. I prefer upwords but the children like this just as much. They insist on having the dictionary.com app around to play.
15. Sorry! -I absolutely love this game. I remember playing as a child and I wanted to play this with my own children. Very similar to Trouble mentioned above.
16. Boggle! This game is so much fun! I must admit I think this might be my all time favorite word game, it combines time and word building. You have to be quick and creative to win. Not limited to a small number of people which is  great for larger families!

There you have it! Our favorite family games. This winter why not take advantage of the early darkness to dig out some of your family favorites, try out some new snacks and share a laugh or two?
Tips for Game Night With Your Teen
So you have your game picked out and your teen is egar to play, now what? Let's take a quick look at some tips to keep it truly a family fun night.
If you have a limited amount of time to play let them know ahead of time and choose a game that will fit in that time frame or adjust the one you plan to play accordingly.
Pick something they want to play if possible. Or narrow it down to a few you like and let them choose. Control makes teens happy and they get to feel responsible. Kids like choice!
Have food and drinks with your game. Choose foods you don't eat often. I love to mix cranberry juice with ginger ale and put it in tall glasses for the kids. It looks fancy 🙂 My crazy kiddo's love crackers and dip, popcorn, and hot chocolate as well as nachos! Teenagers love food so pretty much anything edible works.
Try to relax. I know sometimes when I play after working I am super stressed. I try to make some tea, take a few breaths and switch gears from rushing around to having fun.
At the end of the game, I thank them for playing. You know I am big on saying please and thank you but letting them know I appreciate them wanting to spend time with me, makes me feel good. Hopefully ,that makes them feel valued as part of the family.
So there you have it, 15 awesome games you can use to reinforce learning, reconnect with your teen and destress yourself.
To having fun and learning,
Take care,
Jen
PS. We love playing games and sneaking in learning. It is one of our favorite things to do on a Learning Break. If you want to learn how to take a Learning Break with your kids be sure to read: How to Take a Learning Break This Winter