Did you know? Teaching your kids to cook gives them valuable life skills, builds their confidence and saves you time! Start simple with breakfast!
Breakfast used to be a hassle.
Finding things the kids not only liked to eat but also kept them full longer than an hour was half the battle. The other half was finding time to make it for them when I am rushing around.
I no longer have this problem. The solution was simple and perfect for busy moms.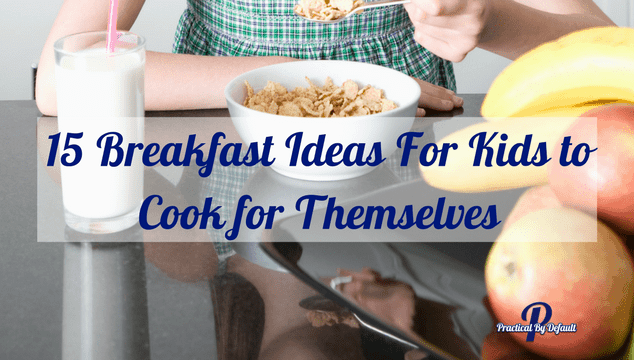 We came up with a list of breakfast ideas the kids can make on their own.
As much as a struggle it was and a strain on my patience to teach them to cook these meals. I am oh so thankful I have! (Read: How to teach your children to cook when you don't have time.)
I'll share our list of ideas you can use for your family.
Tips For Using The Breakfast List Ideas:
As you go through the list, take note of:
any recipes or ideas you think your kids would like.
the skills you might need to teach them before they can make it on their own.
and any ingredients you need to make it.
Bonus tip: start simple. Start with one new breakfast and work on it until both of you are comfortable. Cooking with your kids is a great way to connect and spend one-on-one time with them.
Hot breakfast:
We go through a ton of eggs in our house each week. We make them a variety of ways.
1. Fried Eggs:
Our number one cooked breakfast meal is fried egg and toast. The kids have learned through trial and error that non-stick frying pans work best along with some grapeseed oil or coconut oil.
For the record, we use a frying pan pretty much every morning between the four of us. We were burning through frying pans left, right and center, no pun intended. I was excited to find this T-Fal  Non-stick was the best and fell in love!  
Before, we would through several different brands of frying in a few months. This one has lasted almost a year so far.  I never realized the wear and tear on a frying pan before!
They've also learned that you shouldn't use a plastic spatula to scrape off any egg that ends up on the burner on a flat top stove. Also, our smoke detectors work. Always good to know. 😉
2. Omelets/Scrambled Eggs:
Omelets are currently a work in progress in my house and thus often get "saved" by turning into fancy scrambled eggs.
Filling ideas are: cheese, spinach and sliced sandwich meat.
I love this video teaching kids how to make scrambled eggs:
3. Baked Potato Hash browns:
Taking a baked potato from the night before, cubing it up and frying it makes excellent homemade hashbrowns.
Scramble an egg, add toast and you are all set. If we don't have a leftover baked potato they will also use bagged hash browns.
Hint: Make sure your kids have knife skills down with this one.
4. Breakfast sandwiches:
Take English Muffins and toast them in a toaster or toaster oven.
Then fill with: a fried egg or poached egg, cheese and tomato slices. Easy as pie!
Bonus: Quick video showing how to cut an English Muffin with a fork.
(Yes, it's an ad for the type of food but the 13-second video is perfect for kids to understand how the fork thing works! )
5. Breakfast burritos:
Another simple breakfast idea. Start with a scrambled egg, add cheese, add salsa and a wrap.
The hardest part is folding them! I found this short video on YouTube for my kids.
Add applesauce and you are good to go. These can be made ahead of time if you wish, wrapped and frozen.
6. Pancakes:
This is one of our favorites. I either pick up a boxed mix that you just add egg or water.
Or I make my own and add the instructions to the top of the bin.
Recipes:
Get kids cooking! 15 Breakfast ideas they can make on their own.
Click To Tweet
7. Oatmeal:
This is a great breakfast for the cooler months. You can make it in your instant pot or stove top with rolled oats, or use boxed.
We love this one.
Topping ideas: raisins, cinnamon, nuts, and seeds.
Recipes:
8. Frozen waffles:
Frozen waffles and frozen boxed pancakes are a major treat in our house.
I'm not a huge fan due to the additives and sugar but we grab these on days we need to be out the door quick like a bunny.
9. Bagels and cream cheese:
This is one of my daughter's favorite's because it is nice to have an easy, filling breakfast.
Everything bagels and cinnamon raisin being the top requested topped with plain cream cheese.
Side ideas: Fruit, yogurt, rolled sandwich meat and cheese.
Cold Breakfast:
On warmer days it is really nice to have cold breakfast ideas. Here is our favorites.
10. Muffins:
My daughter loves to bake and even though cupcakes and cookies are her "go to", she will also make the odd batch of muffins for breakfast.
I will admit, it is dad that eat the majority as I've been informed that muffins are a better snack than breakfast.
Recipes:
11. Boxed cereal and milk:
This is a super simple one for introducing kids to making their own breakfast. Fairly straight forward with cereal, milk and a bowl.
My kids like pretty much everything except Raisin Bran. This is also a treat for "running out the door because mom" is late type breakfast.
This is another breakfast I try to limit due to sugar and additives. I recommend reading the ingredients well.
12: Fruit and Yogurt Parfaits:
This is a fun breakfast to make with kids of all ages. Once they get the hang of it, let them get creative with the combinations of yogurt flavors and fruit!
You'll need:
Yogurt
cut fruit (Fresh or canned works)
granola
sweetener such as jam, honey or maple syrup (optional)
Get the kids to layers into a glass the yogurt and fruit, then top with granola.
Bonus: If you put this in to a "grab and go" container it makes an awesome breakfast for those rushing days.
Make Ahead Breakfast:
These are a few older kids can make these on their own and reheat in the morning or eat and go!
13: Breakfast Casserole:
There are many different versions out there such as Quick & Easy Breakfast Casserole.
Honestly we just took the idea and changed it up.
Here is how we made ours:
boil white potatoes, and cube
eggs
scramble fried hamburger and drain out any fat
peppers, chopped
Layer in your casserole in order and bake it until the eggs set at 350 degrees for about 30-45 minutes.
Then add shredded cheese.
We make ours the night before, cool and place covered in the fridge. In the morning you have two options, reheat in the oven as whole or take out a square and reheat in the microwave. Yum!
14: Overnight Slow Cooker Oatmeal:
We've only tried this a few times as we are all so picky in the texture of our oatmeal. One child likes it runny, the other does not.
My advice is to play around with recipes until you find one everyone likes.
Here are a few to get you started:
15. Baked Oatmeal:
This one we have not made in forever! I completely forgot about it until now.
We made this Baked Honey Berry Oatmeal and it was absolutely easy and good! You can eat it hot or cold the next day.
Here are a few other recipes on our list to try:
There you have 15 easy breakfast ideas for your kids to make all by themselves.
I appreciate having to not worry about making sure the kids are fed before we dig into our read aloud and school for the day or when we are running out the door.
Did you see these great recipe books for kids from Amazon? I love having a few actual books to let the kids dig into and get new ideas!
Do your kids cook breakfast? What is their favorite breakfast food?
Take care,
Jen
PS. Teaching kids to cook take time and effort but it so worth it. On of my favorite tools is Kids Cook Real Food. If you want more information read my review here: Homeschool Cooking Curriculum We Love – Our Experience With the Kids Cook Real Food Program
PLEASE PIN ME: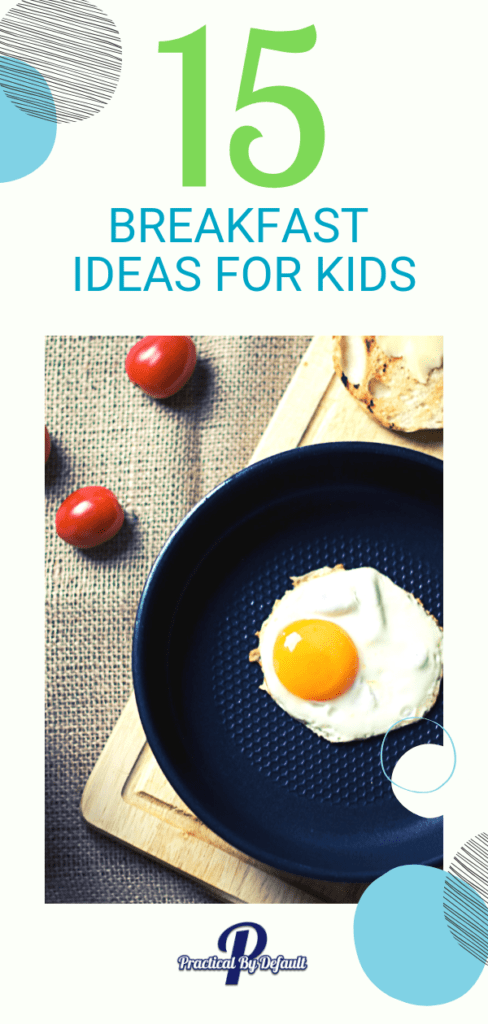 Hi, I'm Jen. I help working parents balance work and homeschooling by providing encouragement, support, and inspiration. You are warmly invited to Join the Online Community Here!