Disclosure: I may receive commissions for purchases made through links in this post.
When I returned to work there was one thing that saved my homeschool- Online Homeschool Resources!
Let's be honest, you really can't do all the things. And quite frankly sometimes children just learn better from someone besides mom or dad.
Using online homeschool programs and courses to teach my kids worked out amazing for me. Finding them was a struggle!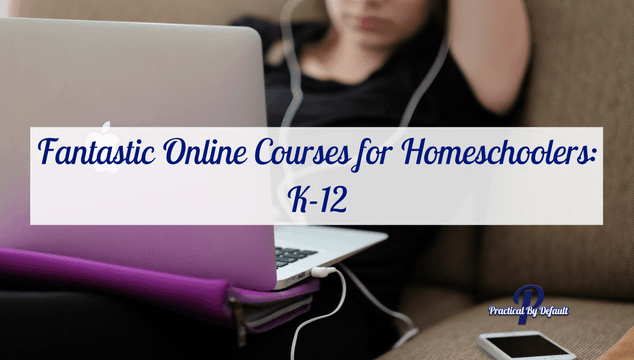 Full Online Homeschooling Courses and Curriculum
Below you will find a list of online homeschooling courses and programs.
Some are our favorites, we love and use them all the time. You can find our favorites homeschool resources here. 
Others were new to me but highly recommended by busy moms in our online working homeschool mom community.
As with all things: You need to test, check and use your own judgement. It has been pointed out that all content may not be suited for all ages.
---
Faith Based Online Homeschool Programs
A Free Online Homeschool Course Co-op. Covers K-12
Complete, All Free Curriculum K-8.
Complete, All Free Curriculum 9-12
Full K-12, Flexible, Bible Based Lessons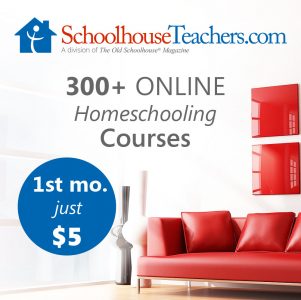 Equipping families worldwide with high-quality, self-paced homeschool resources grounded in a Biblical worldview. No Textbooks, 100% Self-paced and Online and 300+ Courses. Test drive it for $5.00/month. 
READ: Should You Have A SchoolhouseTeachers.com Membership For Your Homeschool?
Providing both Self-Paced Student classes and Live Collaborative Classes. Please note it looks like they focus on middle school and high school courses for Christian homeschooling families.
Inspire Learning & Teach Biblical Values with Comprehensive Christian Curriculum Preschool–Grade 12 Textbooks, Video Lessons, and More!
Compass Classroom is a video based program for K-12, along with digital downloads. Find free downloads here! 
50 Courses. 4 Budget-friendly Plans. 1 Christian Online Curriculum. Covers Grades 3-12
Known to provide quality distance-learning video lessons. Pre-K-12
Complete Grade Level Solutions in all subjects. Includes a free online playground.
Online Education for Pk-12. You will want to check out this homeschool page to see if Time4Learning is right for you.
150 courses available from PreK-12. Self-paced a tailored to fit any learning style. Includes grading and reporting for parents.
K-12 program including SAT, CLEP and more. You can read my review here: Homeschool High School College Prep Tips: Save Time & Money (And Get Your Child Into Upper Level Courses Faster!)
---
Online Unit Study (All Ages)
These unit studies use all online tools and hands on activities. Providing over 20 different unit studies for all ages.
You can read our review here: Teaching With Technology-Online Unit Studies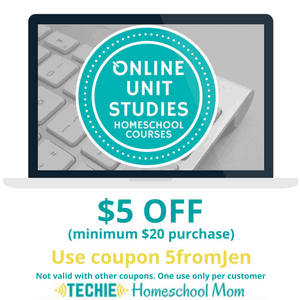 You can save an additional $5.00 off if you use the discount code 5fromJen for one time use on purchases over $20.00.
Literary Adventures For Kids
These "done for you" online book clubs for your kids are amazing! They help parents and students to dig deeper, go on rabbit trails, and add a little adventure all while enjoying great literature.
Considered language arts/reading or unit studies.
Are they Christian or Secular? I'll let Dachelle answer: "Well, according to the definition of secular, they are secular. However, not according to some people. I will say they are neutral. But, if a book involves discussion about religion or quotes the Bible, it might have references (ie just finished Number the Stars about Jews in WW2, so obviously there'll be references to religion)"
Check out her complete list here: Literary Adventures For Kids and use our special discount code "WHMC" at the checkout and save an extra 20% off!
K12O Online Curriculum:
K120 is perfect for homeschool moms that love to teach but dislike planning.
The program offers live group lab sessions, hybrid online courses, a homeschool support portal, and courses created by certified teachers.
Parents can use K120 to supplement their current programs or as a fully comprehensive program.
You can check it out here: K12O Online Curriculum 
---
Secular Based Online Homeschool Programs
Needless to say, I learned how hard it is to find out if something is secular or not while researching this list.
I ran most of these by the mom's in Secular, Relaxed, Eclectic Homeschooling with Older Kids but please be sure to double-check first!
Online homeschool platform & curriculum for pre-k to 12th grade. You get access to 7 standard courses: Language Arts, Reading/Literature, Math, Science, History/Social Studies, Visual/Performing Arts, and Physical Education.
Creative distance learning for grades K-12.
Unique nature based education promoting imaginative and seasonal learning. Inspired by nature! K-12
Small online classes for K-12, live online classes by independent teachers.
This is one of the most popular among working homeschool moms. Online, tutoring included, video based and covers K-12.
Offers personalized learning to help find, fix and fill in the gaps. Grades K-8
A homeschool program online K-12 Pre-College Prep. Your child has the opportunity to participate in online clubs, discussion groups, and study groups.
Providing time-tested curriculum, with all the tools and support for Grades K-12. Free placement tests are available.
Connections Academy is a tuition-free online public school for grades K–12.
K-12 Program, based on Common Core and is secular. There is a free option with ads or a paid monthly option that includes worksheets, guided lessons, trackers and more!
Offers small, live online classes for grades K-12 in a fun, engaging atmosphere. Classes are recorded as well, just in case your child misses one. They offer core courses as well as fun ones like a series of 15 Harry Potter themed classes called Hogwarts for Muggles, Dungeons and Dragons, and necessary classes like Executive Functions, Study Skills, and Goal Setting!
Personalized 3rd – 12th Grade Online Program. Choose the grade level that is right for YOUR child! Feel free to mix and match!
Do you want 6th grade Math, 7th grade Science, 8th Grade Language Arts, 7th grade History, and a Coding elective? No problem–you choose your courses, grade levels, and electives!
Self-paced.  Access anytime 24/7 online! Automatic grading for most assignments. Only grade written responses and assignments. Easy Reporting!
For more information on secular homeschooling resources, Nadine has a massive list here: Ultimate Guide to Secular Homeschool Curriculum
---
Free Online Video Based Homeschool Programs
Educational films and videos for your classroom.
Educational Games and Videos, K-12
Online courses for all ages, K-12
This program is free. Most people think math, however, Khan Academy covers arts, computer, science and more. Totally worth checking out. K-12 They even made my son's favorite Free Math Help Sites list 😉
Create digital classrooms, customize textbooks, and learn K-12 STEM concepts truly is a great resource! K-12
Youtube Channel for Educational Videos. My kids love these!
Free educational videos K-12
---
I want to thank those of you who helped me pull together this list of online homeschooling resources.
I find the best people to ask about homeschooling programs are the busy moms using them day in and day out. While I haven't used all of the programs above, the ones I have used have been an amazing asset to our homeschool.
Do you use online homeschooling courses in your homeschool? If you have a favorite I'd love to know!
Take care, 
Jen
PS. We combine online programs with textbooks in our homeschool. If you are wondering what our all time favorite resources are check out: My Favorite Homeschool Resources
Hi, I'm Jen. I help working parents balance work and homeschooling by providing encouragement, support, and inspiration. You are warmly invited to Join the Online Community Here!