Often times questions about homeschooling come from parents whose children are currently in the public school system. They worry about managing the transition from public to homeschool, what is it really like? What about friends? How do you overcome these challenges?
As I have homeschooled from the beginning I can not answer these questions, however, I am happy to introduce you to Jackie from You Really CAN Homeschool. She is willing to stop in and share not only her challenges of a new homeschooler but how she overcame those challenges and you can too!
Managing the transition from public to homeschool
My daughter is 10, and in 5th grade. She's been in public school for 7 years (including preschool). She's been begging for at least 1 of those to come home for school. Last year, we made the decision to bring her home.
Being a planner and a researcher I investigated, searched, and basically buried myself in everything homeschool. I had grand plans, identified the type of homeschoolers we would be, and the curriculum we would use, long before our first school day at home ever started. I had delusions of grandeur in my head of just how smooth, and delightful it would be, how well we'd work together, all the learning we'd do, and the smiles we'd wear.
Yeah, those delusions lasted until our second day of school.
I'd read piles of books outlining the basics of deschooling. I'd even seen the comment
"Don't think you can count summer as deschooling… it's not deschooling until the pressure of September comes around".
Pshaw. That's not us. We're awesome. We're gonna be great. We can do this!
And then, day 2. 🙂
Day 1 was everything I dreamed it would be. Day 2. The exact opposite. By Day 4 we'd thrown out the grand delusional plans and I was scrambling for something that would work, for us, in our actual homeschool, not the fairy tale homeschool I'd created in my head.
We moved to a lot less book work aka anything that actually looked like school, and began to follow my kiddo's interests and see where they would lead. We took field trips, read books in the car, went on vacation, learned things that seemed completely unrelated to school ~ like how to catch catfish and cook it in different ways, like catfish stew. Things started looking up, but there was still one big bump in our road.
My kiddos public school friends.
She really, I mean really, missed them.
We were busy. They were busy. The times we had to connect just weren't matching up. I could see this disconnect from her old friends was causing her a lot of pain, and went about my researching and brainstorming to figure out a solution. Once we were able to reestablish that connection, things really turned around.
(Now, please understand, we live in a rural area ~ everything is at least 15 minutes away, her friends aren't just across the street, nah, that would make it too easy! We have also connected with a wonderful local homeschool group where she's already making new friends… she just really missed her old friends)
3 Ways to Stay Connected with Old Public School Friends
Email:
My daughter's had an email account for a while. It's how I share all the cool stuff I find (in my hunting and researching) with her. We connected with her friends and got their email addresses, and they started emailing one another.
It's kind of hilarious, in the evenings we'll all be hanging out and she'll be checking in with her friends via email. Have you ever seen how many emoticons pre-teen girls use in email?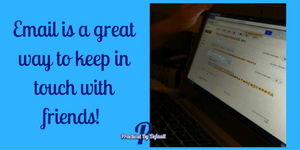 Email definitely was a step in the right direction, but it's not exactly the same as face to face contact. We kept thinking, and came up with…
SKYPE
I use skype daily to talk to my friends who live far away. I often joke I don't have any friends in the US. We'd discussed Facetime, or a google hangout, but it seemed the easiest option was to let my kiddo use my computer and skype with her friends. They worked out the details amongst themselves (via email) and set up a time they'd skype.
I'm going to tell you, it had been a rough night up to this point. I could feel my daughter's frustration with her situation. She was lonely, and didn't really know how to handle those big emotions, which meant there was some yelling, some foot stomping, a little bit of door slamming, and eventually tears, and hugs. She continued to tell me she loves homeschool, she just really missed her friends. So, skype came at the perfect time for us.
As soon as she saw and heard her friends on skype she was instantly transformed, from a sullen and angry preteen to the joyous little girl I know (most of the time).
Since their first skype session the girls have set up a day/time to skype, so they get to catch up regularly, and they know when it will be. This has helped immensely. My kiddo looks forward to these skype sessions all week.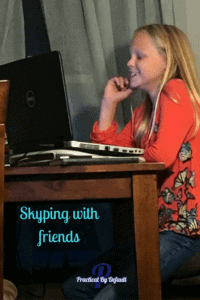 Keep up some old habits.
When we were in public school we always went to the park on Friday afternoons after school. It was a great way to celebrate the end of the week, and let my kiddo have time to connect with her friends in a non-school setting. We've continued to do this. Friday afternoons we head to town, to the park to hang out with friends.
We have also been involved in some extracurricular activities that her friends were also part of. When we started signing up for gymnastics this fall session, I connected with her friends' mom to see what night they would be attending class so they could be in the same class together. She also very much looks forward to gymnastics, although her friend is progressing quickly and will soon be moving up to the next level class. This is still a great way to stay connected to old public school friends.
Transitioning from Public School to Homeschool can be scary. Use these 3 tips to help your child cope!
Click To Tweet
Managing the Transition:
I'm sure it would be easier if we lived in town, and she could just run over to her friends' house and play, but that's not our situation, so we've had to be a little creative when it comes to staying connected to her old friends.
She's definitely making new homeschool friends she looks forward to seeing every week, but maintaining her old relationships has really been a big part of her transition into homeschool.
I don't know if she'll keep these friends forever, or the differences in their lives will create a natural separation, but for now, to help her make that transition we've found some ways to help them stay connected, and it's making the process a lot easier.
Guest post by:
Jackie Lee is a veteran introvert blogger and newbie secular homeschooling mom to her spirited tween daughter. She's quickly found all the education in the world doesn't teach you what you learn homeschooling. Follow her homeschool journey on her blog You Really CAN Homeschool, her Facebook page https://www.facebook.com/youreallycanhomeschool/ and Instagram https://instagram.com/momtohanna