Disclosure: I may receive commissions for purchases made through links in this post.
Working from home is not always easy. Sharing one quick and easy hack you can use to find time to actually get the work you need DONE-kid free!
You sit down at your desk ready to work. Coffee, notes, to-do list, pen, paper, files, and folders. Your desk is a hot mess but that's okay because you finally get to dig into your work.
"MOM!"
"Mom, Mom, Mom!"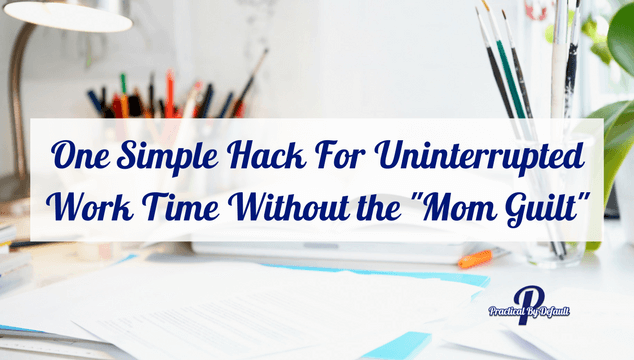 And here we go …again.
Shouted. Soft-spoken with tapping. Staring at you until you take notice.
You love your kid but you need to get your work done.
Kids are unique in the fact that they seem to be totally oblivious to the fact you are trying to work. Or is that just mine?
I don't know about you but every time I am interrupted I lose my train of thought or forget what I was doing and I have to start all over again.
Which means it takes me twice as long to do everything!
Add in the mom guilt of "You are always working", "You are always on the computer and you never play with me", "You're always busy!"…
Makes you feel like you just can't win!
What's a mom to do?
This one simple, easy hack that will let you focus on your work, kid free. AND have set one-on-one time with your kids, kicking the mom guilt to the curb.
All you need is one thing. A timer.
Chances are you have one on your cell phone, computer or in the kitchen somewhere.
⇒Any timer will work but having one with an audible ending, set out of YOUR reach and where your kids can see it tends to work best.
For an example, this timer by Harbor is on Amazon's best seller's list.
It is a digital timer with big numbers, perfect for smaller children to see. It also has a loud alarm and a magnetic back which means you can stick it on the fridge or wherever.  You will need to purchase 1 AAA battery.
 ⇒There is a newer model which comes with two timers and batteries, Habor Kitchen Timer.
How Using A Timer Works:
Using a timer for time block work is really easy.
It looks like this:
You set a timer for a set time.
You work
Your kids learn not to interrupt, bother you, tap on you, etc. during this time.
When the timer sounds you stop!
Now you spend time with your kids. You can set a new timer for this as well. But do not work.
When the second timer goes off you stop doing whatever you are doing with them.
And move on to your second time block.
Totally works! However you do need do a few things first.
Set Yourself Up For Success
This method will work best with a little ground work in place.
First of all, divide your work into time blocks. You may find it helpful to create a list of tasks you can complete in 15 minutes, 30 minutes, and ones that take longer.
For example, as a blogger I know I can knock out all the steps to creating a featured image (the one above with a title on it) in a few minutes IF I have the image chosen already.
Writing a blog post, on the other hand, take much longer as a whole. BUT if I break down each task I can make it easier to handle and take breaks between the tasks.
⇒Pro tip: Create a list of tasks you can do for different time blocks.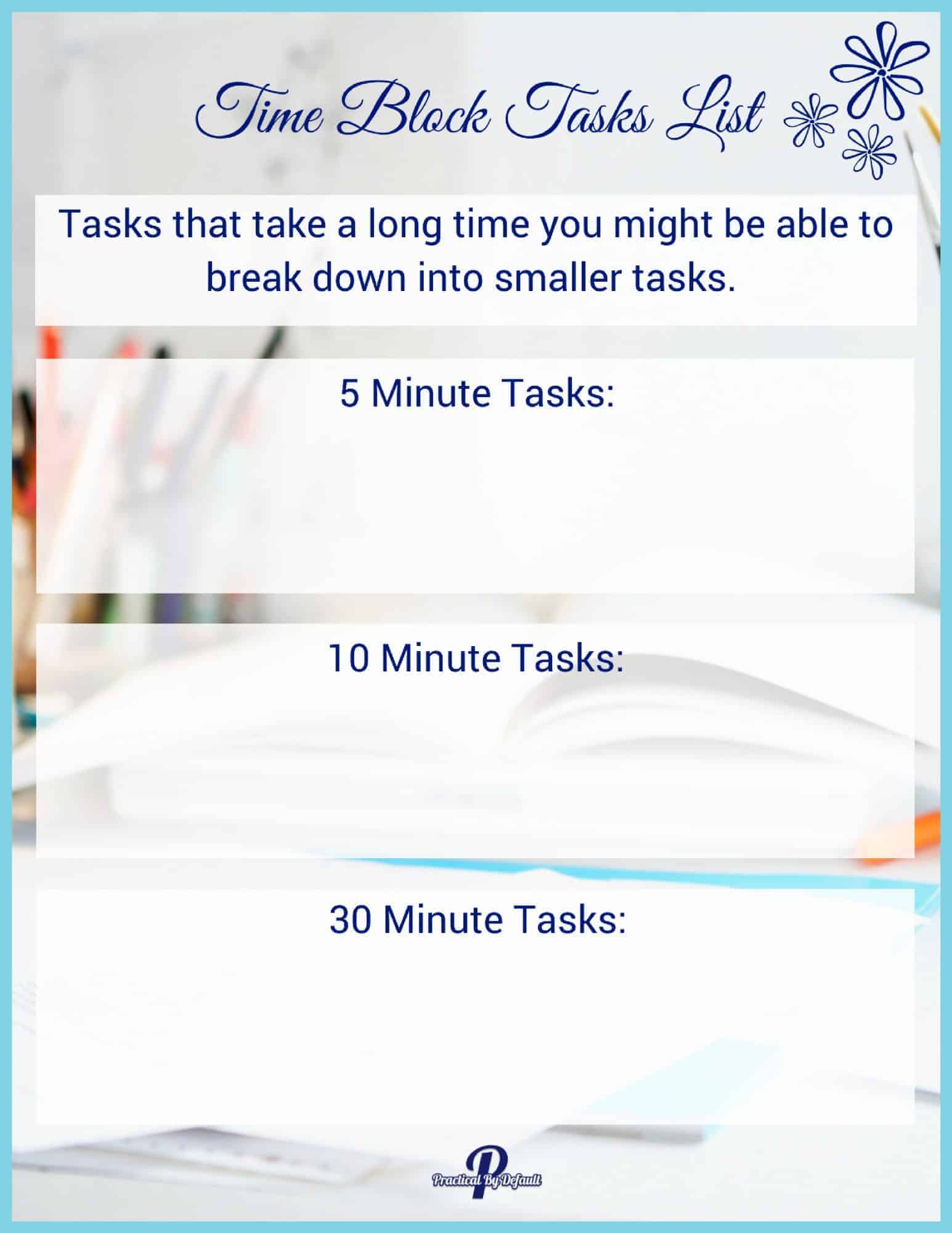 Time Block Tasks List
2 Page printable lists to help you mange your time.
Be determined to stick to it.
When the timer goes off, you finish your task and walk away. This is WHY I suggest moving the timer out of your reach.
If I don't do this, I reach over, turn it off and keep working.
In turn, the timer becomes useless and the kids will learn very quickly mom lied. They don't care it was not intentional.
All they know is you said you'd stop and you didn't. 
If you want this to work you need to be consistent.
How To Train Your Kids With A Timer
Now you are ready to train the kids.
First, get your kids and show them the timer. Explain how it works and demonstrate the sound they are listening for.
One mom, I talked to said her kids liked the egg timer (like this one) as they loved listening to the "ding".
Another busy mom said she uses a fancy hourglass they had and that worked really well. The kids were the "audible" because they would freak out when the sand was all gone.
⇒Just pick what works and use it.
Be clear and specific. Set the rules and stick with them. 
For example, 
"Mommy is not able to answer your questions or talk to you while this timer is counting down. Do not interrupt me or talk to me because I am working. When the timer goes off, I am all yours."
Expect to remind your child at first.
Remind them the timer is going and you can't talk now.
Remind them to listen for the sound and to come back then.
Remind them you will be all theirs when the timer goes off.
Depending on your child and their age you may need to repeat this often.
Remember there is going to be a training period.  For you and them.
You will need to lay down the ground rules, explain what happens when you are interrupted and then follow through.
For example, I will remind them before I start the timer.
My son tends to ignore me when he is supposed to be listening. I counteract this by using his name, making sure he is looking at me and I get him to repeat it back to me.
"When the timer is going I am working. You can not interrupt me unless you are bleeding or on fire. When the timer is off I will be happy to help you. Now, what did I say?"
Yes this is annoying. Yes it works.
If they interrupt me, I first stop the timer. I show them the timer and tell them it was going. I show them that the timer didn't go off yet AND I reassure them I am all theirs when it DOES go off.
I don't argue. I state the facts and restart the timer and continue to work.
If this persists I will do one of two things:
1. Rethink how long I set this timer and make smaller time blocks until the kids are trained.
2. OR tell them each time I get interrupted I have to start the timer over again and that means it is longer until we can do something together.
You know your kids best. Adjust the time and remind until they get it.
Sometimes my kids stare at me without talking or tapping me. It can be really unnerving. But eventually the top of my head gets boring and they go away. Ha!
If you are worried your kids will be bored while you are working you can give them a quiet box. I use these even with older kids. You'll find more information about how I use Quiet Boxes both for younger kids and older kids here. 
Benefits Of Using A Timer
I really like doing block work. It makes me zero in on the task, knock it out and move on.
It even helps me with the "social media time suck".
This is when you jump on Facebook or Pinterest to do something and then 2 hours later you've learned how to braid hair, picked out your summer garden plants, and decided a baby goat needs to come live with you. I'm only half joking! Ugh! 
But with a timer, you only have a few minutes so you pop on to do what you gotta do and pop off. Lazer focus!
Using a timer is a GREAT simple little hack you can use to get more work done, guilt-free.
Do you have a favorite little trick you use and love to get more work done while working at home? I'd love to know. Let's chat!
Take care,
Jen
PS. Time management for working moms that homeschool is often a struggle. I share my step by step process of how I fit time to work, homeschool and "mom" in my life. READ: Simple Scheduling for Your Crazy Working Homeschool Life and don't forget to grab the worksheets!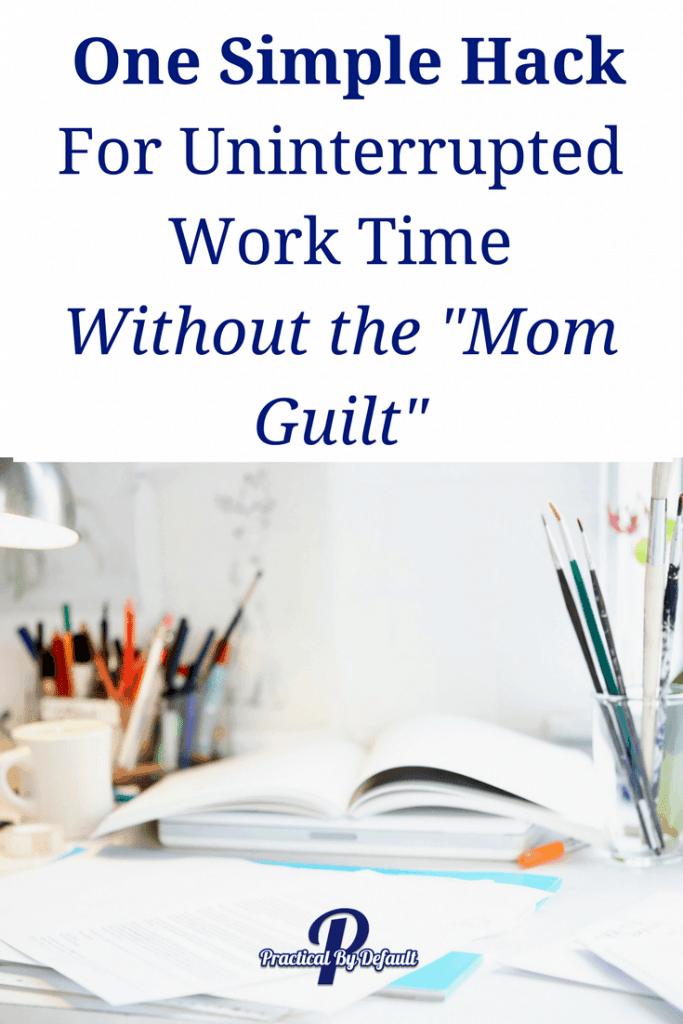 Hi, I'm Jen. I help working parents balance work and homeschooling by providing encouragement, support, and inspiration. You are warmly invited to Join the Online Community Here!